Roasted Cauliflower Recipe With Lemon Tahini Cream Sauce
This Roasted Cauliflower Paleo Recipe with tahini-lemon cream sauce is quick, easy, and off-the-charts delicious! Try it for tonight – as a side, or as the main. And what about serving it as a healthy, low carb, and plant-based meal at a family gathering?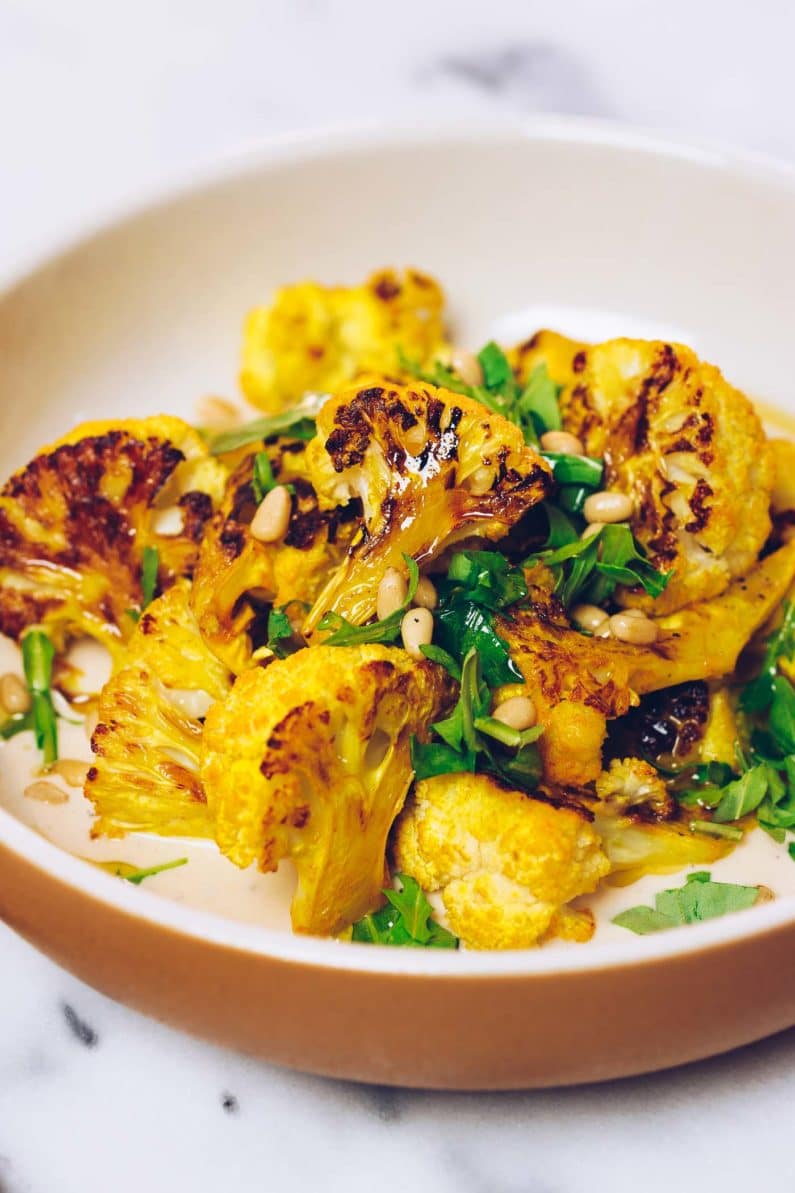 I decided to share a Paleo Cauliflower Recipe for this year's mother's day. I love cauliflower, particularly when they are roasted in the oven. The cauliflower florets taste extra umami delicious after being caramelized. For my Paleo Roasted Cauliflower Recipe, I pair it with a creamy and light lemon tahini sauce and with a hint of turmeric and cumin flavor. It makes a great side dish and is Paleo, Whole30, Keto, and Vegan friendly!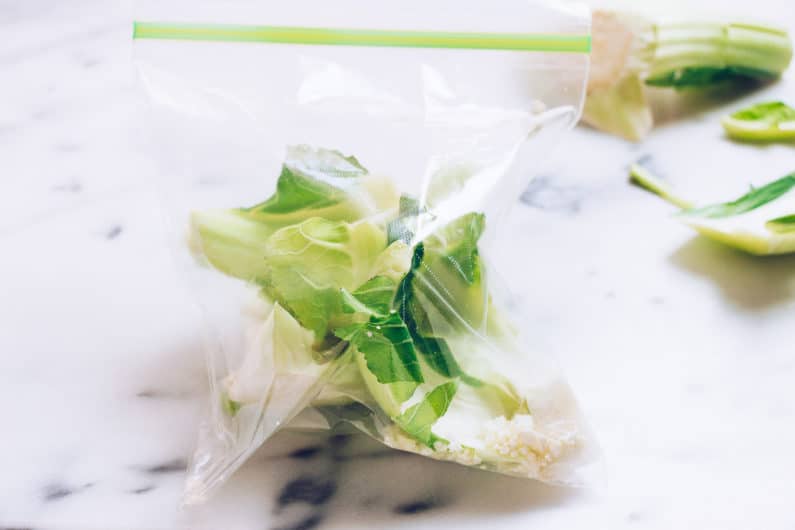 How can cauliflower be prepared?
From a whole cauliflower, slice off the bottom end so it can lay flat on your cutting board.
From the top of the cauliflower crown, slice it in half, then quarter.
Slice of outer-tier stems that are tough and fibrous.
Use a chef's knife at angle cut to cut along the cauliflower core so that the florets can fall apart.
Save the inner tender layer of leaves and stems for later use.
What do you eat cauliflower with?
It's easy to serve roasted cauliflower as a side salad or pair it with a creamy and rich sauce to make it more substantial. Roasted cauliflower is delicious on its own but if you want to make it extra special for mother's day, for example, a tahini-lemon cream sauce with toasted pine nuts and chopped arugula will make an excellent roasted cauliflower salad.
What meat goes well with cauliflower?
Grilled shrimp, pan-seared salmon, my tempura-inspired fish taco fillets, almond flour crusted halibut or cod fillets are all excellent choices.
For a heartier pairing, creamy chicken mushroom casserole, simple herb roasted spatchcock chicken, and Vietnamese beef stew are great, too!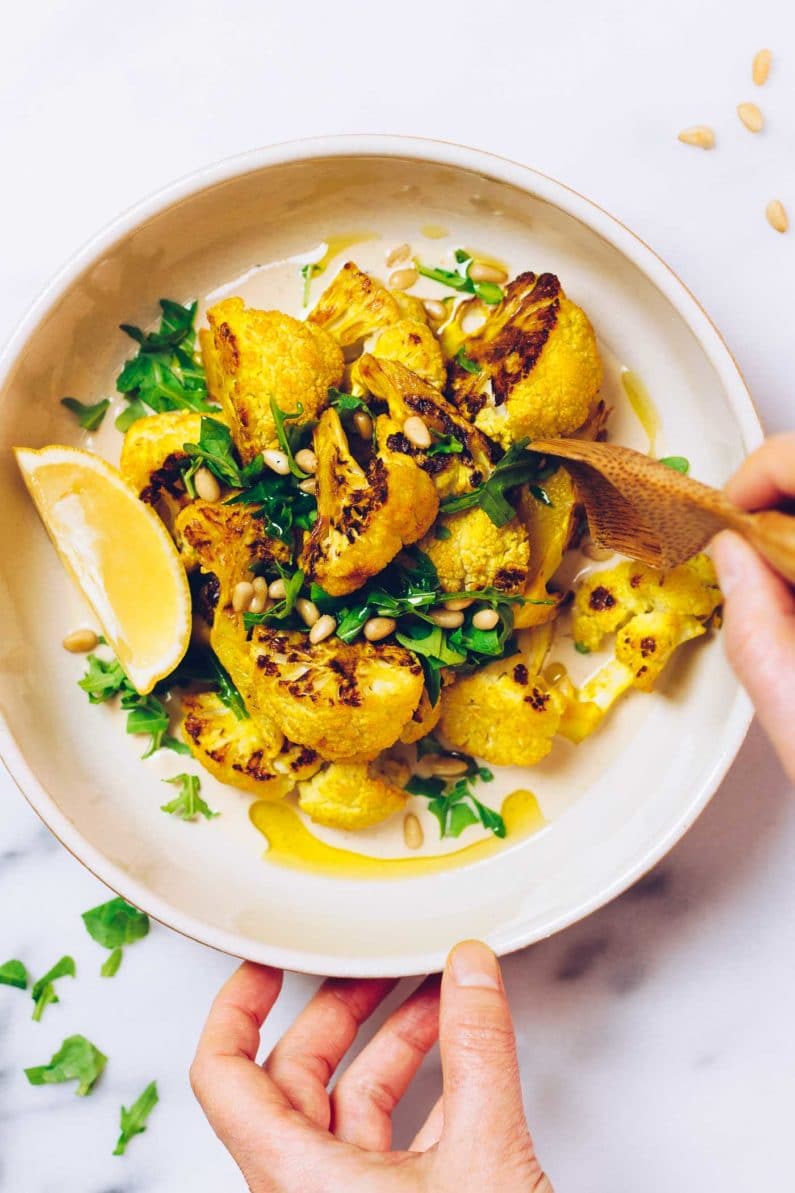 For more Paleo Cauliflower Recipes…
Complete the Paleo Roasted Cauliflower Recipe with…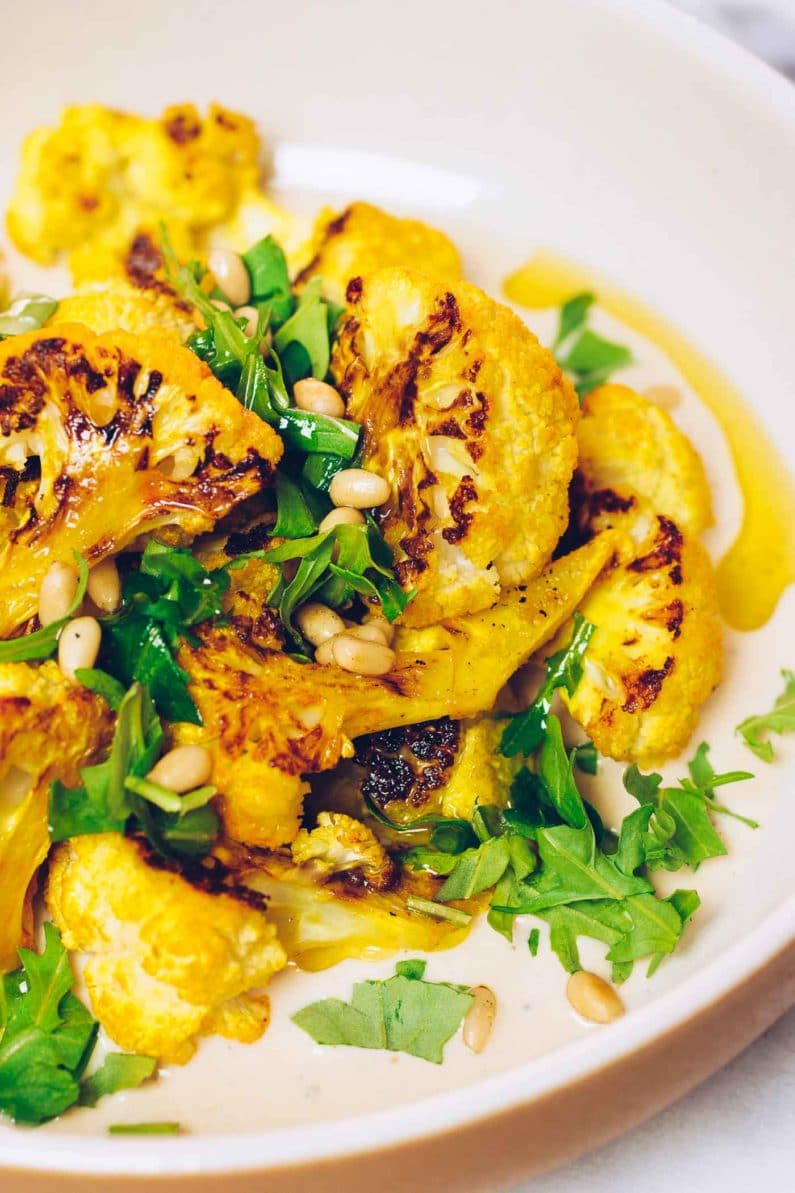 If you give this Paleo Roasted Cauliflower Recipe with Lemon-Tahini sauce a try, be sure to rate the recipe and leave a comment below. Every vote counts and it'll help me and my blog tremendously. Thanks in advance!
Love what you see so far? I share many Paleo meals that are easy to prep and big on flavor. Subscribe to my blog – I Heart Umami – for weekly free new recipes!
Paleo Roasted Cauliflower Recipe (Whole30, Keto, Vegan)
This Paleo Roasted Cauliflower Recipe with tahini-lemon cream sauce is quick, easy, and off-the-charts delicious! Try it for tonight – as a side, or as the main.
Print
Pin
Rate
Ingredients
2-2.5 lbs cauliflower, dice to medium-large size
2-2.5 tbsp olive oil
½ tsp coarse sea salt
½+ 1/4 tsp turmeric powder
Lemon-Tahini Sauce:
3 tbsp tahini, unsalted
0.2 oz. clove garlic, grated (about 1 medium-size clove)
3 tbsp lemon juice, or to taste
¼ tsp coarse sea salt
⅛ tsp cumin powder
⅛ tsp black pepper
3 tbsp water, or more to thin
Before serving:
2 tbsp raw pine nuts
⅓ cup baby arugula, roughly chopped
Lemon juice, drizzle
Olive oil, drizzle
Instructions
Pre-heat oven to 450F.

Dice the whole cauliflower crown into medium-large size florets. In a large mixing bowl, combine with olive oil, salt, and turmeric powder. Gently toss to coat well.

Prepare a large unlined sheet pan. Once the oven reaches the temperature, place it in the oven for 5 minutes in the middle rack.

Carefully remove the sheet from the oven with an oven glove, pour and spread the cauliflower florets over the sheet. Use a tong to separate each florets and place them cut-side-down so they aren't overlap with each other. Roast for 25 minutes total. Flip after 15 minutes.

In the meantime, make the lemon tahini sauce. Stir-well until creamy smooth. Add more water or lemon juice for thinner texture.

Lightly dry toast pine nuts in a skillet over a stovetop for about 1-minute. Toss often. Roughly chop baby arugula. Set them aside ready to use.

To serve, spread the lemon-tahini sauce over a medium-large size serving plate. Use a back of spoon to spread the sauce thin and evenly. Add roasted cauliflower on top of the sauce. Garnish with pine nuts and arugula and drizzle with more olive oil and lemon juice. Serve warm or in room temperature.
Notes
You can make the sauce 1 day ahead. Thin with more water or lemon juice before serving. Dice the whole cauliflower to florets also 1 day ahead to save time. I recommend roasting them on the same day.
Nutrition
Serving: 1serving, Calories: 225kcal, Carbohydrates: 15g, Protein: 7g, Fat: 17g, Saturated Fat: 2g, Sodium: 509mg, Potassium: 781mg, Fiber: 5g, Sugar: 4g, Vitamin A: 40IU, Vitamin C: 114.8mg, Calcium: 71mg, Iron: 1.9mg