Tsukune (Japanese chicken meatballs)
Tsukune, Japanese-style chicken meatballs, is off the charts delicious! With soft and juicy meatballs basted in a sweet, salty, and little sticky sauce. This tsukune recipe is keto and low carb. The meatballs are incredibly flavorful and I guarantee your guests will have no problem eating one after another!
I've long been a big fan of Tsukune (Japanese grilled chicken meatballs) and all things yakitori (Japanese grilled chicken skewers). The meatballs are soft and juicy inside and slightly charred outside, drizzled with a caramelized sweet soy sauce.
Our most recent trip to Tokyo brought back all the memories of these delicious Japanese chicken meatballs. I took several photos and even a quick iphone video below just to show you how amazing these meatballs are. And it goes without saying that I have to make a keto and paleo version to share with you!
Today's Tsukune recipe is simplified. It's perfect for home cooks and great for quick weeknight dinner or even meal prep!
What is Tsukune
Tsukune (つくね) means Japanese-style meatballs. The ground meat (or minced meat) could be chicken, pork, or even fish. The most popular version is made with ground chicken so people often associate Tsukune recipe with Japanese grilled chicken meatballs.
Often, the meatballs are cooked yakitori style – skewered and grilled over a charcoal fire – but they also can be pan-fried or baked.
Yakitori Tare
The meatballs are basted and brushed in a sweet soy sauce or yakitori tare, a thick Japanese grilling and dipping sweet soy sauce that tastes similar to teriyaki sauce. The flavor is salty and sweet and with great depth of flavor. Today I use my keto teriyaki sauce to simplify the recipe. I also have a Whole30 teriyaki sauce for Whole30-ers!
These grilled meatballs are perfect for summer BBQ recipes and I'll show you two methods to make this dish – pan-fried (indoor) and grilling (outdoor).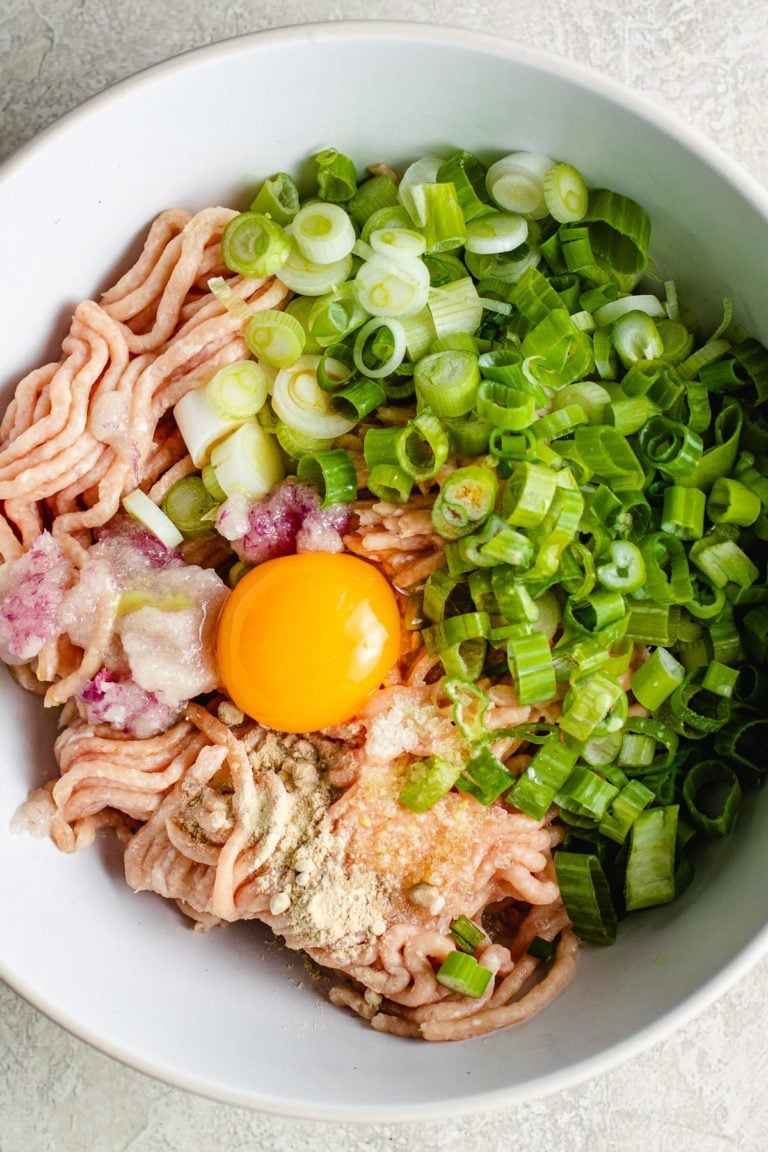 How To Make Tsukune (A simplified version)
I use ginger juice (from grated ginger) and grated shallot to make my meatballs extra flavorful. With only 7 ingredients, the meatballs are seasoned with toasted sesame oil, scallions, grated shallot, ginger juice from grated ginger, coconut aminos, egg yolk, and some salt and white pepper.
Combine all the ingredients with ground chicken and stir the mixture until it is very sticky. This step helps the meatballs come together since there are no binding ingredients (bread crumbs or starch).
The mixture is quite soft and easy to fall apart. Use a cookie scoop to help you form the meatballs. Then grease your hand with some olive oil to shape the meatballs into a smooth surface.
Pan fry a small amount of mixture first to test the flavor.

If pan-frying
This is a simple way to enjoy Tsukune fast! I use this method at home since I don't have an outdoor space.
If grilling
The meatballs are super soft and juicy because there are no binders. Here are some tools to help you: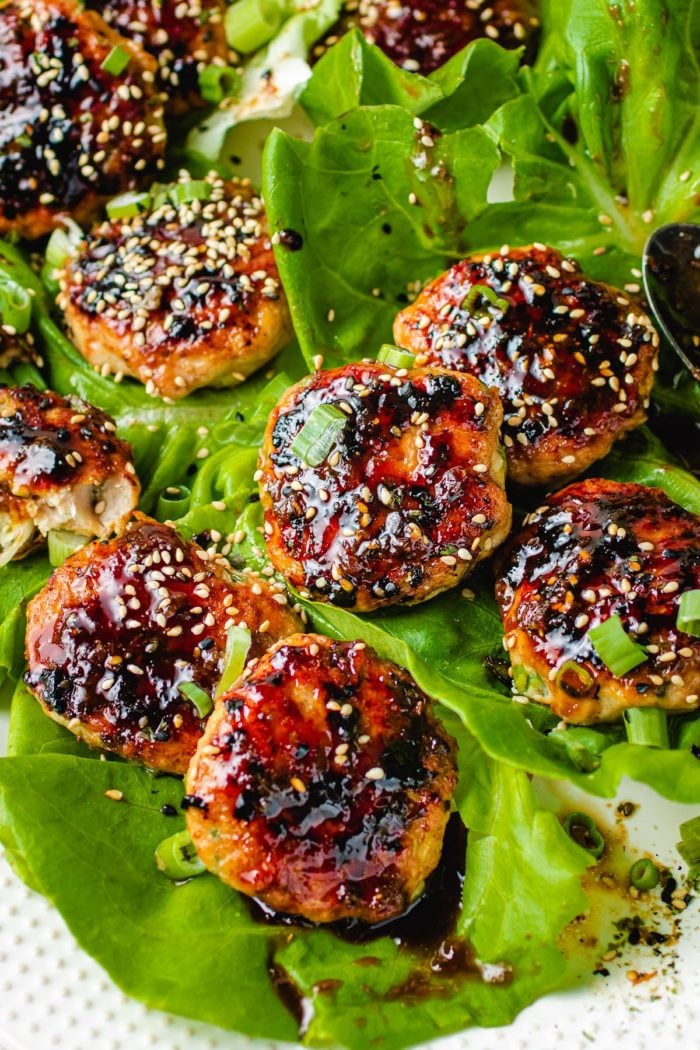 Side Dish Recommendations
Summary Recipe Tips For The Best Tsukune Meatballs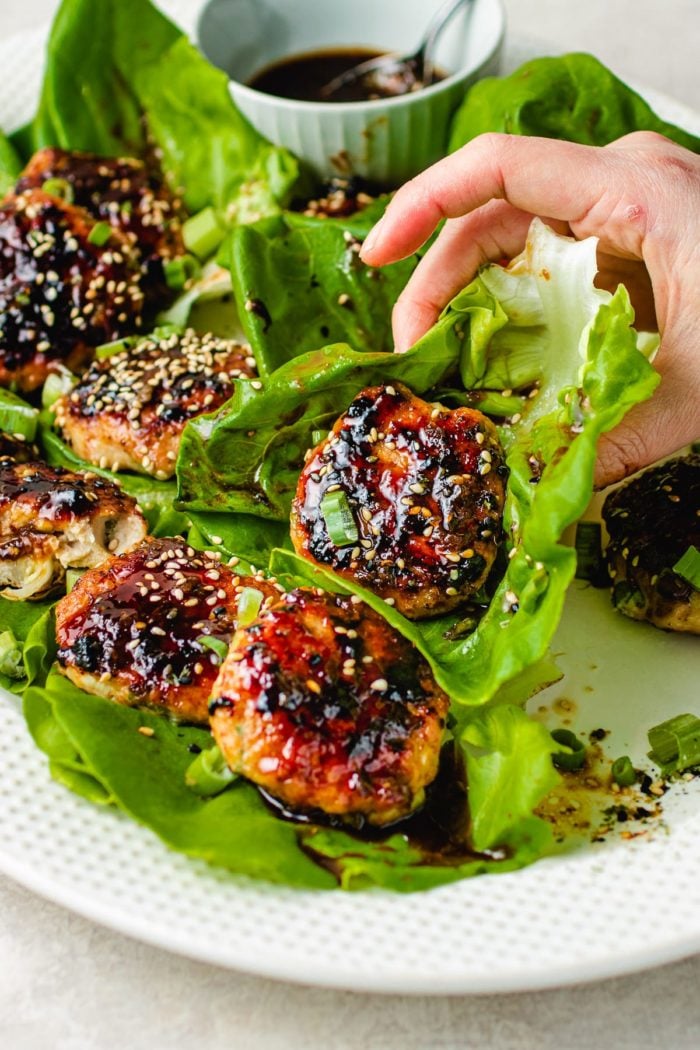 More Low Carb Grilling Recipes
Friends! These Tsukune grilled meatballs taste just like what you get in Japanese yakitori shops but are made keto and low carb! The meatballs are incredibly delicious, basted in a caramelized sweet, salty, and little sticky sauce. If you love meatballs and sweet BBQ, this recipe is for you! Give it a try and leave a comment below to let me know how it goes. I can't wait to hear!
Tsukune recipe (Japanese Chicken Meatballs)
Tsukune, Japanese grilled chicken meatballs, with keto teriyaki sauce is sweet, salty, and absolutely delicious! This is the best low carb Tsukune recipe!
Print
Pin
Rate
Ingredients
For the Tsukune meatballs:
1 lb ground chicken breast, or thighs or a combination
1 tsp toasted sesame oil
2 bulbs scallions, chopped
½ tsp coarse sea salt
¼ tsp white pepper
1 tbsp coconut aminos
1 large egg yolk
0.5 oz ginger, grated and squeezed into 1 tbsp ginger juice
0.8 oz shallot, grated
1-2 tbsp olive oil
1 tbsp avocado oil
For the sauce and serving:
Equipment
Flat skewers

Perforated grill tray or grill grid
Instructions
Make the meatballs:
In a large mixing bowl, add ingredients from chicken to egg yolk.

Grate the ginger and squeeze the juice into the bowl. You should have about 1 tbsp ginger juice. Grate the shallot and add the entire mixture into the bowl.

Stir the meat (I use a pair of chopsticks) in one direction until they become very sticky, about 2 minutes. If you have a stand mixer, use it to help you bind the meat together.

Line a large sheet pan with parchment. Use a cookie scoop to form 13 meatballs and place them on the sheet. My scoop is about 3 tbsp per scoop.

Grease your hands with some olive oil. This will prevent the meat from sticking to your hands. Shape the meatballs into a smooth surface.
If pan-fry (easiest way):
Flatten the meatballs into small patties (about ½-inch thick). Pan fry them with avocado oil over medium heat about 2.5 minutes on the first side. Flip the patties and brush with teriyaki sauce. Fry the second side for about 1.5 minutes. Flip the patties again, brush with more sauce, and fry 1.5 minutes more.
If grill:
Flatten the meatballs into small patties (about ½-inch thick) and thread them onto the skewers. Brush the grill tray with avocado oil. Cradle the entire skewer in your hand to keep the meat on the stick and place it on the grill grid.

Grill the first side about 3-4 minutes, rotate to grill the second side about 2-3 minutes, and rotate again to grill for 15-30 seconds longer. Brush with the teriyaki sauce as you rotate the skewers.
To serve:
Brush with a thin layer of teriyaki sauce and serve over butter lettuce. Enjoy it while it's sizzling hot!
Notes
The meatballs can be made up to 24 hours ahead in the fridge.
If on Whole30, try my Paleo/Whole30 Teriyaki sauce. The sauce will taste less sweet than the keto version.
Nutrition
Serving: 1meatball, Calories: 88kcal, Carbohydrates: 2g, Protein: 7g, Fat: 6g, Saturated Fat: 1g, Polyunsaturated Fat: 1g, Monounsaturated Fat: 1g, Trans Fat: 1g, Cholesterol: 44mg, Sodium: 133mg, Potassium: 222mg, Fiber: 1g, Sugar: 1g, Vitamin A: 434IU, Vitamin C: 1mg, Calcium: 8mg, Iron: 1mg