Grilled Peach Avocado Salad
The thing that sets this Paleo Grilled Peach Avocado Salad apart from others? Toss with a sweet aged balsamic vinegar first, then finish with fresh arugula and salty crisp prosciutto for that ultimate summer peach salad feast!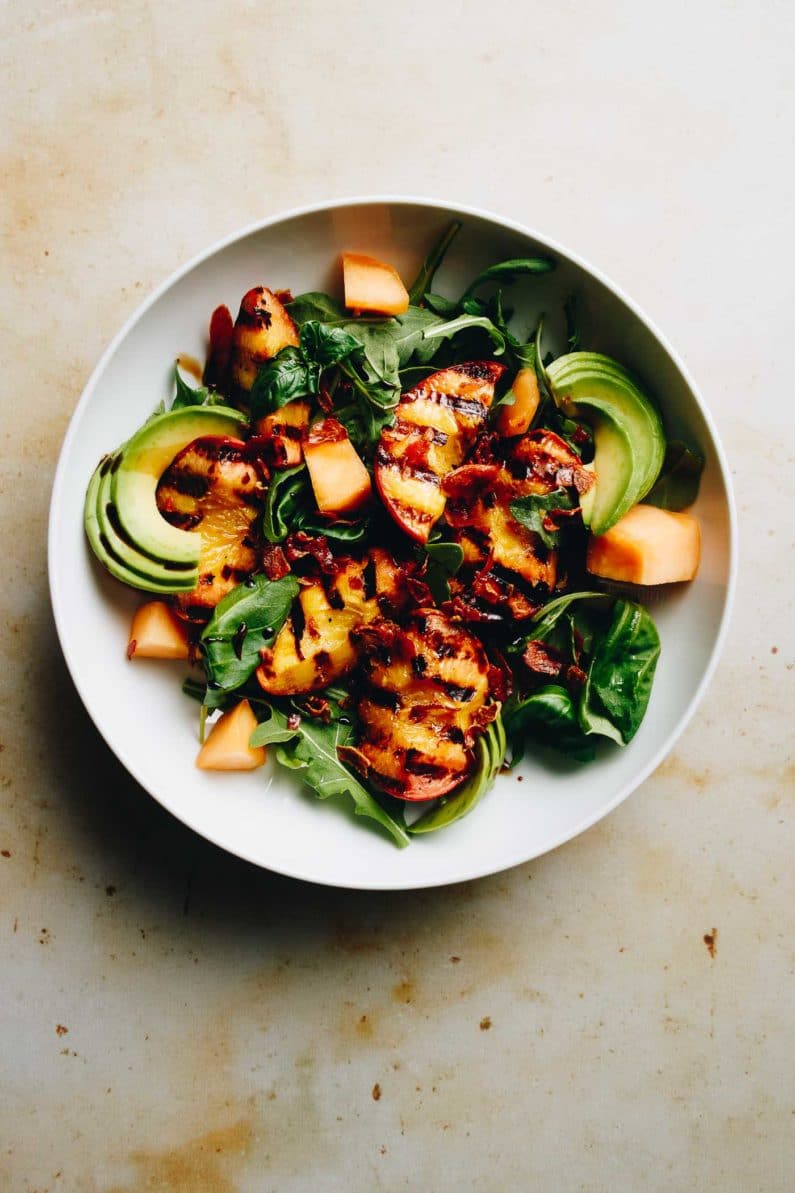 Grilled Peach Salad is terrific served as a side dish for sharing or as a light supper with roasted baby potatoes. The avocado adds creamy texture in the mouthfeel and with basil and arugula. Fresh and delightful!
Fourth of July holiday is right around the corner and summer time is not complete without grilled peach salad! Often grilled peach recipes can be overly sweet because of the caramelization. If you are like me who are more of a savory tooth person, caramelized fruits sometimes can be overpowering.
Be that as it may, who doesn't love caramelized juicy peaches? For this particular reason, I add my personal touch with a few simple ingredients to balance the sweetness from the grilled peaches.
How to pit a peach?
I have to give credit to this wonderful U-Penn Biology professor whom I discovered on Youtube. With only 2 simple cuts, you can remove the pit of any stone fruit without running the fruit. So neat! Here I did a step-by-step photo and also tested his technique in my own video below. Totally rocks!
Using a paring knife, slice the peach at a right angle to the seam and all the way around the fruit.
Gently twist the peach in opposite directions so it splits into half.
With the side that has a peach stone, slice it again so it splits into quarters.
Remove the pit with your fingers.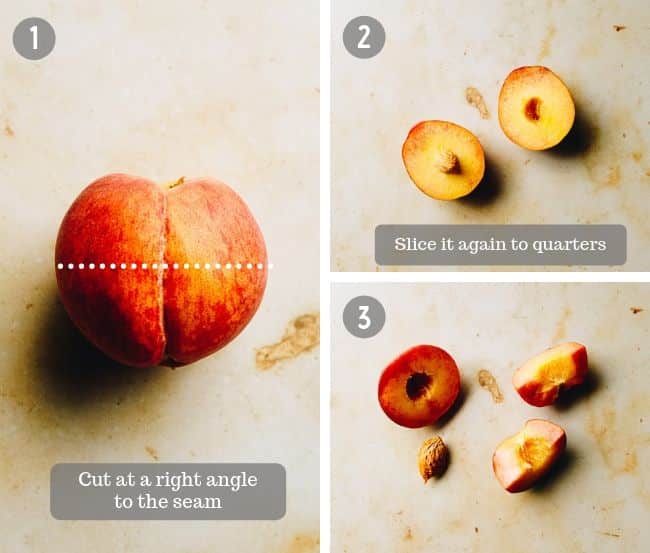 I made this grilled peach salad with a lodge cast iron grill pan over a stovetop. You can still enjoy these juicy delicious grilled peaches even if you don't have an outdoor grill.
Make this Grilled Peach Avocado Salad as…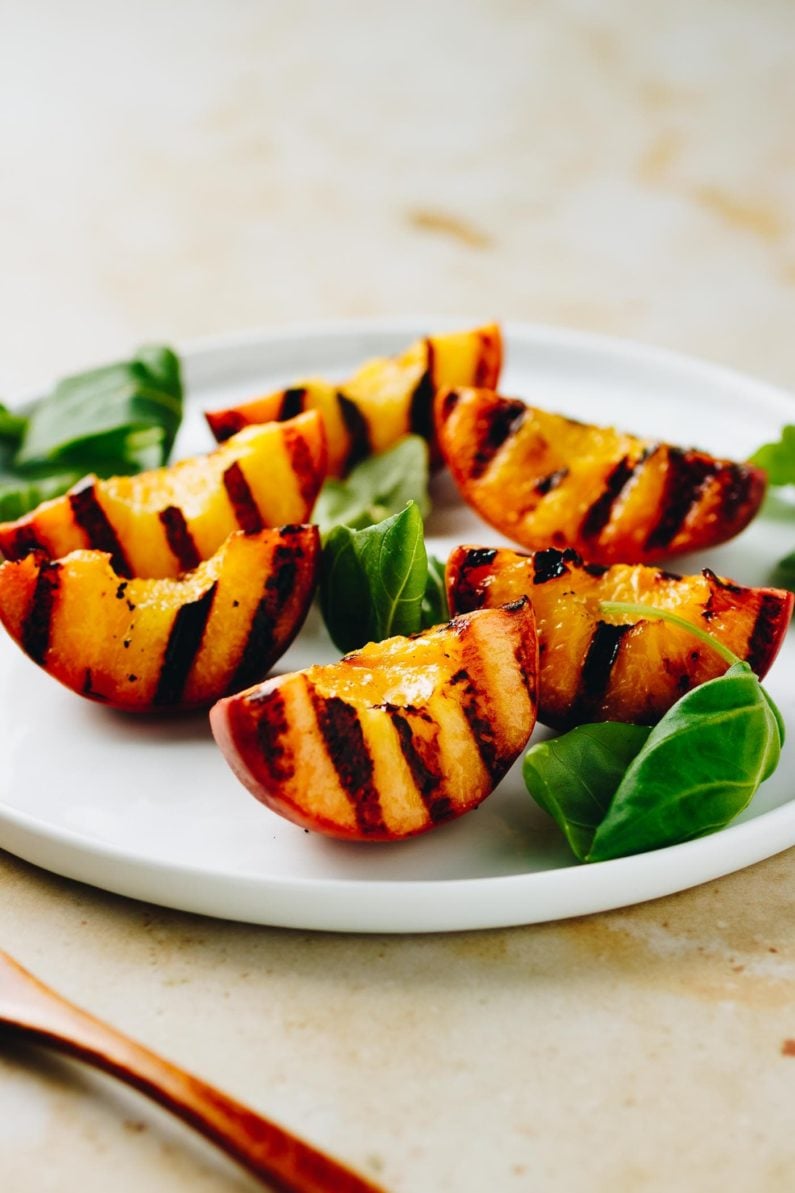 More Paleo Salad Recipes:
So friends! Make this Grilled Peach Avocado Salad for your next potluck, family gatherings, or summer BBQ parties! It's easy to make and everyone's going to love the juicy grilled peaches! If you give this recipe a try, please rate the recipe and leave a comment below so that more people can see my content. It'll help me and my blog tremendously so I can continue sharing free content with you!
Hungry for more?
Subscribe to my blog I Heart Umami for free weekly healthy delicious recipes and learn more about my online meal planning courses to help you kick start a healthy and stress-free life!
Grilled Peach Avocado Salad (Paleo, Whole30)
Grilled Peach Salad with avocado, tossed with aged balsamic vinegar first, then finish with fresh arugula and salty crisp prosciutto for that ultimate summer peach salad feast!
Print
Pin
Rate
Ingredients
3-4 large peaches, each weight about 5.5 oz., medium-ripe
Olive oil
4-5 pieces prosciutto
2 cups arugula, loosely packed
1 large avocado, medium-ripe, sliced
12 oz. diced cantaloupes
⅓-½ cup fresh basil leaves, loosely packed
2 tbsp aged balsamic vinegar or to taste
Instructions
Remove the core of the peaches (see notes/video). If using an outdoor grill, slice the peaches in half. If using an indoor grill pan, slice the peaches in quarter.

Preheat grill on medium-heat. In the meantime, Lightly brush the peaches with olive oil over the cut sides.

To the grill, place peaches, cut sides down, grill uncovered, until the peaches are well charred, about 3-4 minutes on each side, or until you have grill marks.

In the meantime, crisp up the prosciutto over a skillet with little oil or grill them until crisp. Set the peaches aside to cool and crumble the prosciutto.

To assemble the salad, add arugula to a large serving plate along with peach slices. Add avocado, cantaloupes, and basil. Drizzle with aged balsamic and a dash of olive oil. Top it off with prosciutto crumbles.
Notes
Feel free to play around the quantity of arugula, basil, and aged balsamic to your own liking.
Bacon will be a great substitute if you can't find prosciutto.
Nutrition
Serving: 1serving, Calories: 170kcal, Carbohydrates: 24g, Protein: 3g, Fat: 8g, Saturated Fat: 1g, Cholesterol: 1mg, Sodium: 26mg, Potassium: 728mg, Fiber: 6g, Sugar: 18g, Vitamin A: 3240IU, Vitamin C: 41.6mg, Calcium: 40mg, Iron: 1mg
Pair the peach salad with –