Spicy Thai Beef Salad – Nam Tok Neua "Waterfall Beef Salad"
Incredibly flavorful Thai Beef Salad – Nam Tok – is salty, tart, and with a hint of spicy kick. With loads of fresh herbs and sweet blistered tomatoes, this Spicy Thai steak salad comes together in minutes and is the best low carb meat salad that can be served as a meal or a side dish for family gatherings.
Originally published in 2016. Updated in October 2019 with new writing and photos.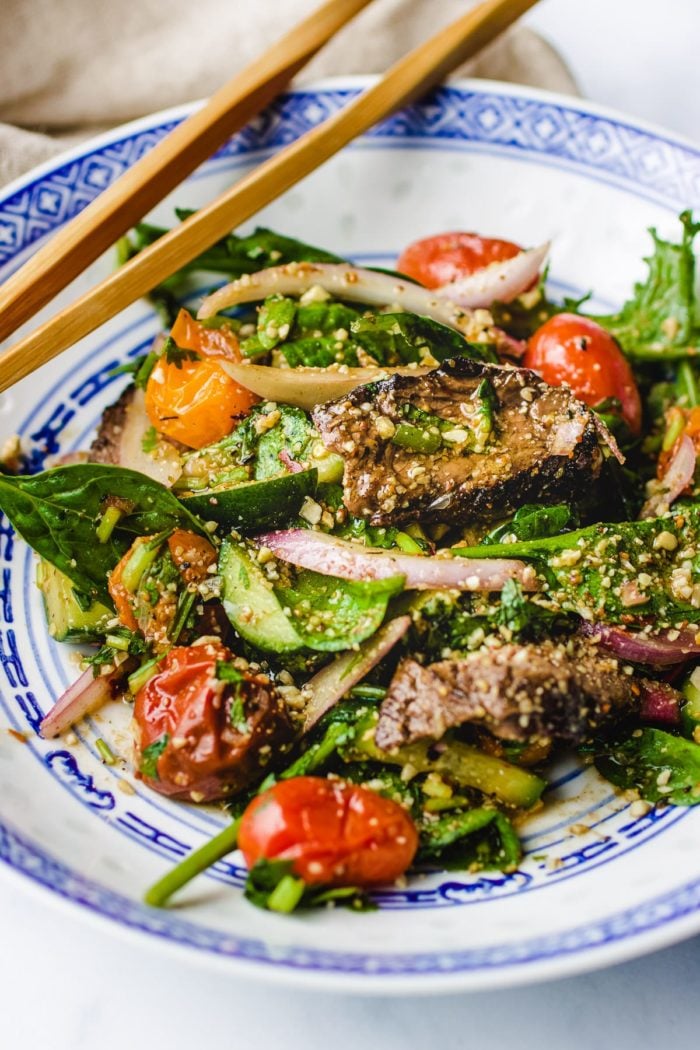 Thai Beef Salad – Nam Tok (Paleo, Whole30, Keto)
Thai beef salad (AKA Nam Tok "วิธีทำ น้ำตกเนื้อ" or Waterfall Beef Salad) is probably one of my favorite Thai steak salads. The flavor of this Isaan-region meat salad is actually very similar to Thai Larb except that this steak salad packed with even more umami deliciousness because of the grilled juicy steak.
If this is your first time trying Thai food, please don't feel intimidated. This Thai salad comes together fairly quickly and I have modified the recipe using all local ingredients and made it Paleo, Gluten-Free, Low carb, and Whole30. You will not find another super tasty Nam Tok recipe on the internet, made gluten-free and low carb. So if you are a lover of beef salad or Thai food, I've got your covered!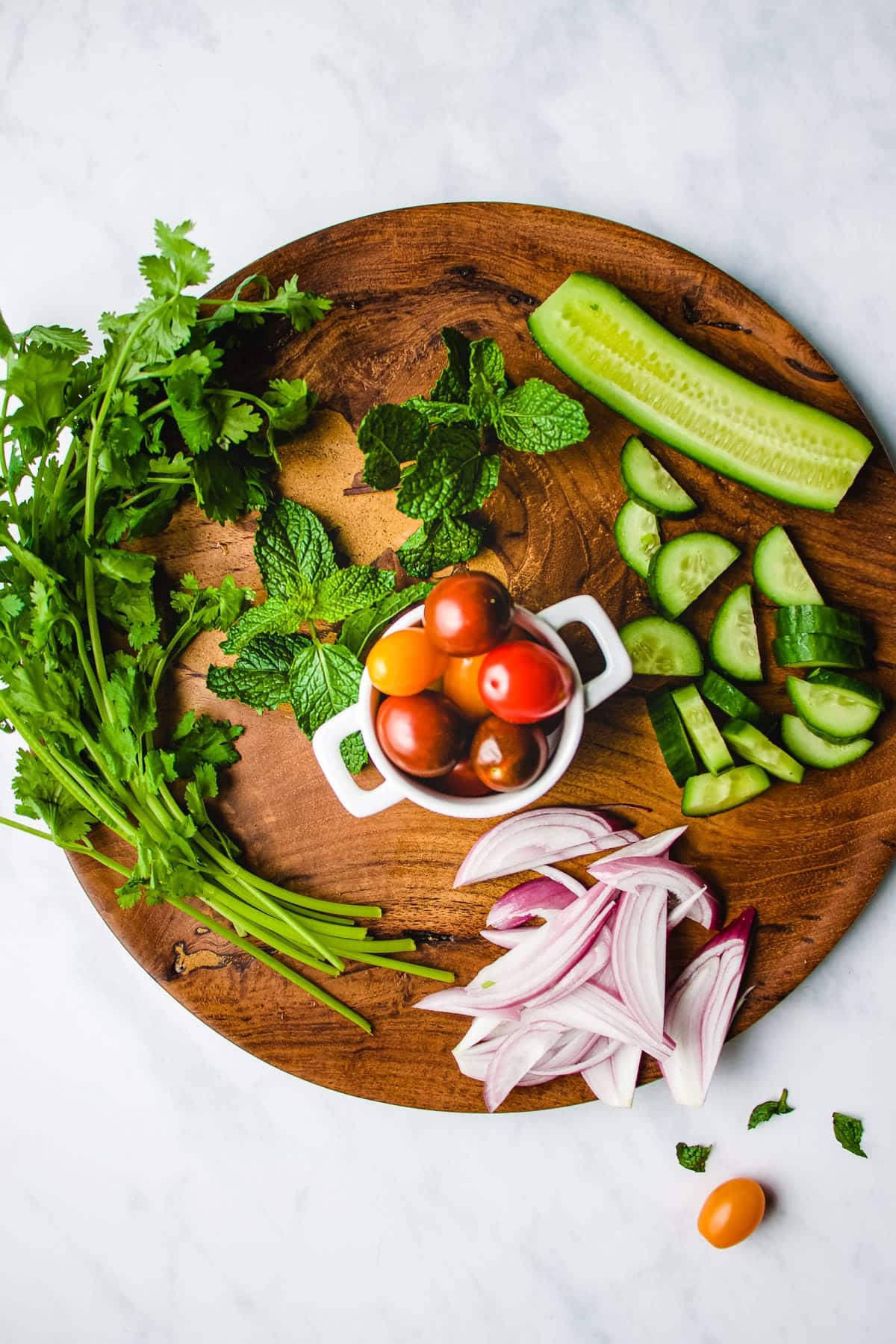 Some people also call this salad Waterfall Beef Salad. The name waterfall here is referring to the hot sizzling sound when grilling the steak. The beef is first marinated in an easy steak dressing. This one little extra step makes the beef so much more flavorful. It also makes it perfect for make-ahead meal or meal prep. Simply grill the beef, make the salad dressing, toss everything together and that's it!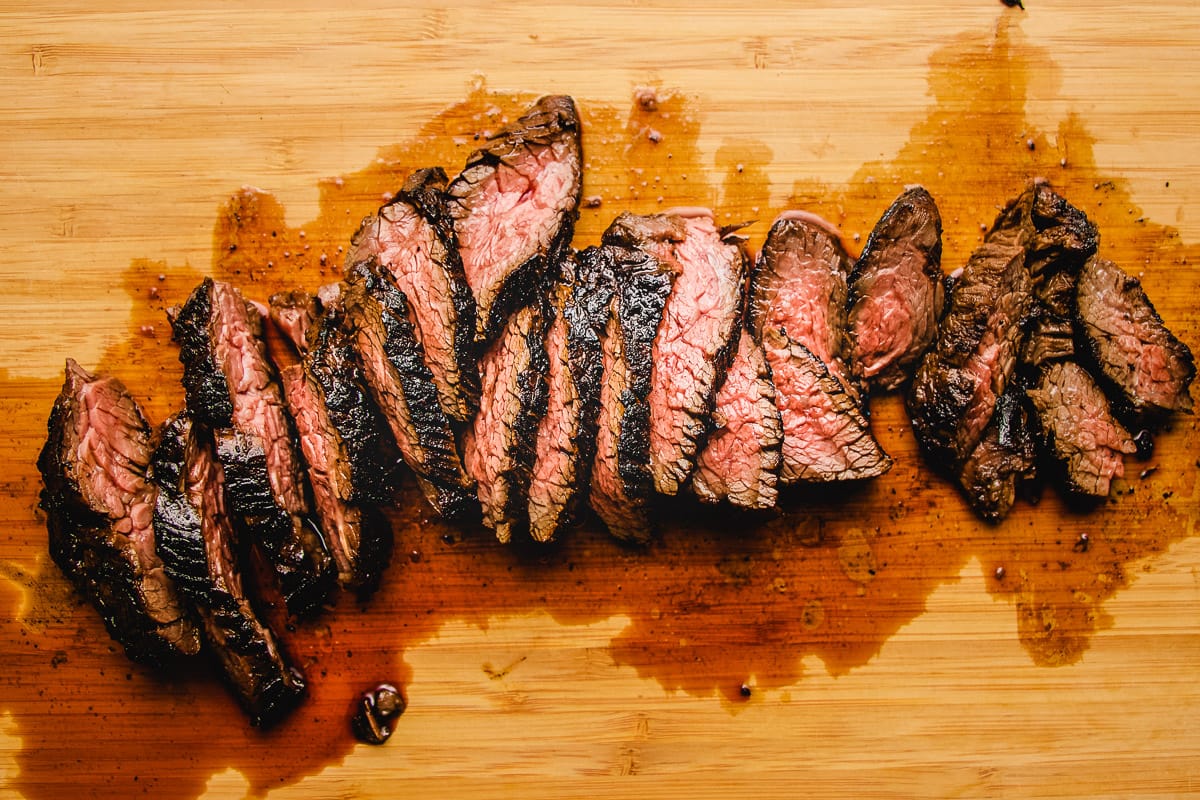 What Goes In Thai Beef Salad
Just like my Paleo Thai larb , and dishes from the Isaan region, toasted sticky rice powder – Khao Khua (ข้าวคั่ว) is extremely important in this Thai beef salad recipe. If you are scratching your head wondering what this rice powder is or if you can't have rice grains or want to keep this dish low carb, fear no further.
Just like many other Asian-inspired recipes on my blog, I have found an easy solution to replace the traditional rice powder with toasted cashew nuts and hemp seeds. These two ingredients mimic the toasted rice flavor extremely well. They are nutty delicious with a hint of smoky flavor just like roasted rice grains and the texture is crunchy. In my opinion, they make an excellent (and more nutritious) substitute for toasted sticky rice powder.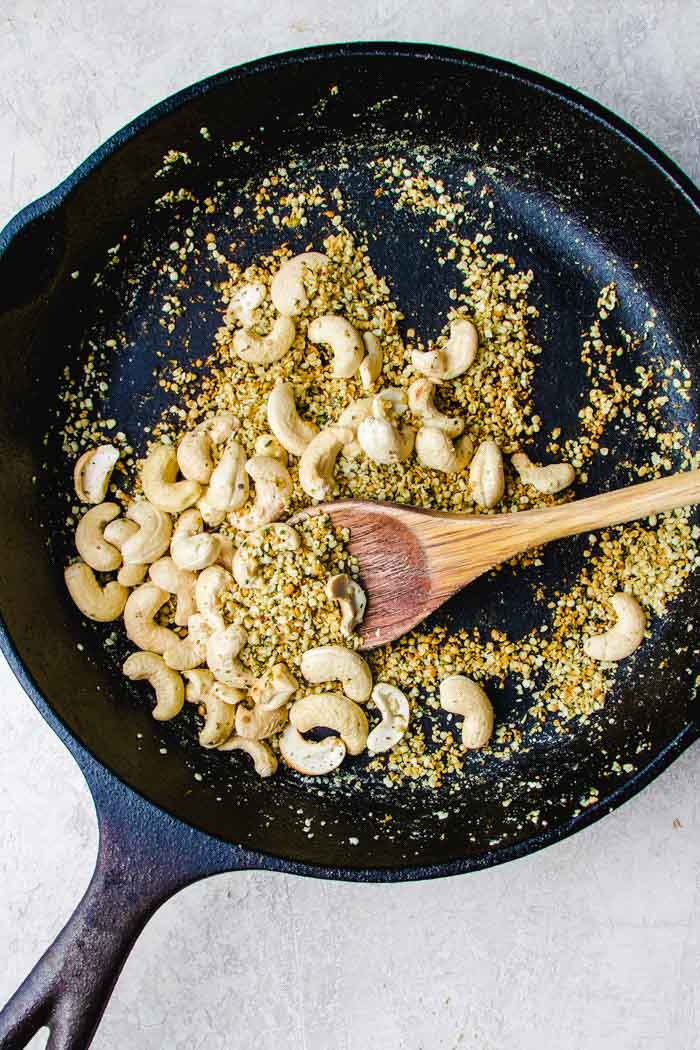 How to make Spicy Thai Beef Salad
1. Marinate the steak for at least 1-3 hours or up to 24 hours.
2. Make the Thai chili sauce dressing the same day or up to a day head.
3. Grill the steak, toss the salad dressing with baby salad greens.
4. Serve!
You can use various types of steaks to make this Thai beef salad suitable for your budgets. My favorite cuts (in descending orders) are – hanger steak, flap, skirt, sirloin, or flank steak.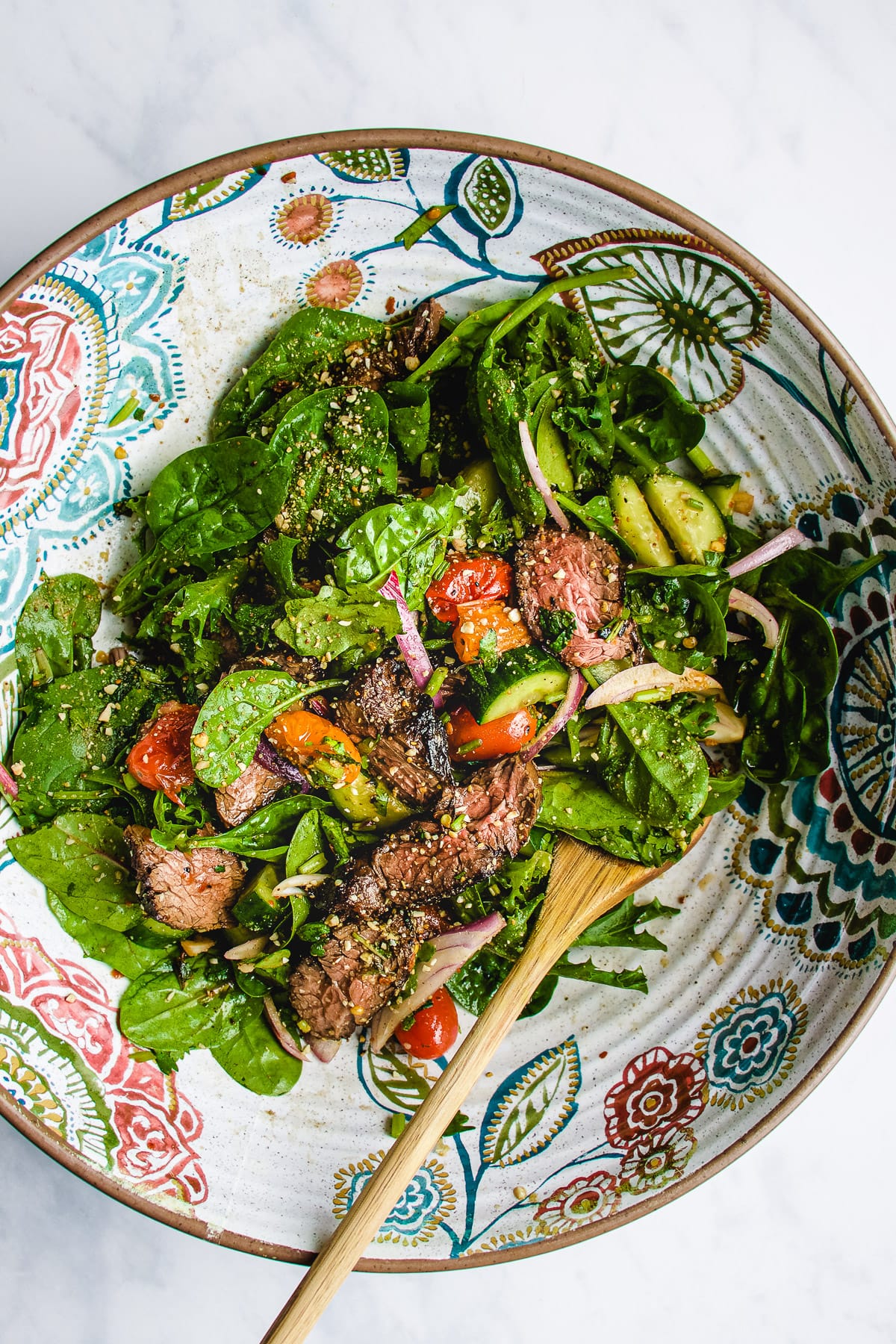 Thai chili sauce – Nam Jim Jeaw
The real flavor of this Thai meat salad comes from the salad dressing. My Spicy Thai chili sauce has all the right flavor characters you are looking for in an excellent steak salad. It's smokey, spicy, sweet, and sour. It's basically everything you love about Thai food in one bowl. This is one of the most popular sauces in Thailand and you can easily spot them on every street corner and I've made it gluten-free for you!
The reason you can marinate the steak between 1 hour and 24 hours is because the actual flavor of this Thai salad comes from the chili dressing. The extra marinating time makes the steak even more flavorful – it's like icing on the cake – but the chili sauce is just as important as the steak. So don't skip it!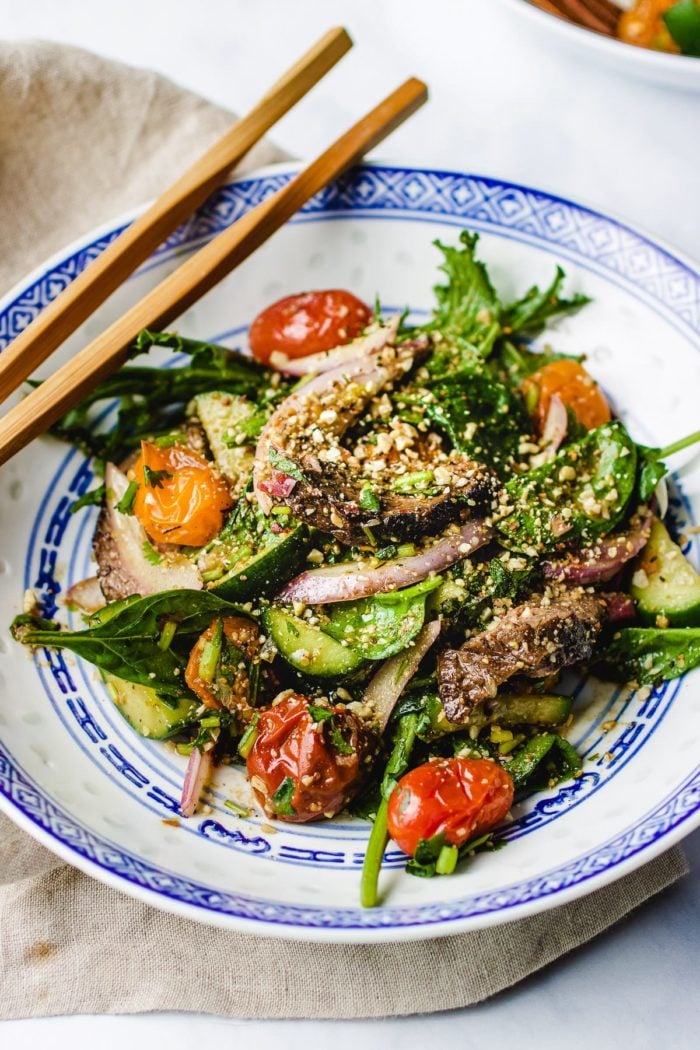 Pair this Thai Beef Salad Recipe with –
More Paleo, Gluten-Free, and Low Carb Thai Food Recipes –
In sum, this Thai beef salad makes an excellent everyday stand along meal as well as a perfect side dish for family and holiday gathering. Marinate the beef a day before and either make the salad dressing on the serving day or also a day ahead. Grill the beef, toss the dressing with the baby greens. A plate of gorgeous looking and healthy delicious Thai steak salad will be sure to satisfy even the pickiest eaters.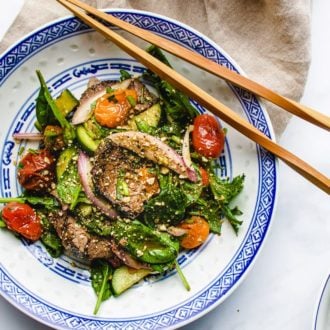 Thai Beef Salad (Nam Tok)
Incredibly flavorful Thai Beef Salad (Nam Tok) made paleo, gluten-free. This Spicy Thai steak salad comes together in minutes. A great low carb meat salad.
Print
Pin
Rate
Ingredients
Thai beef salad marinade:
1.5 lbs hanger, flap, skirt, sirloin, or flank steak
3 tbsp coconut aminos
2 tsp fish sauce
1 tbsp lime juice
2 tbsp olive oil
1 clove garlic, 0.2 oz, grated
⅛ tsp each ground black and white pepper
Salad greens:
1 tbsp olive oil, plus more
1 cup cherry tomatoes
Salt to taste
1-2 whole Persian cucumbers, diced
1 oz. shallot, thinly sliced
⅓ cup cilantro, finely chopped
¼ cup mint leaves, chopped
2.5 oz. mixed baby greens, baby romain, arugula…etc.
Instructions
Steak: Marinate steak for at least 1 to 3 hrs or up to 24 hours overnight with ingredients from coconut aminos to white pepper.

Salad Dressing: Prepare Thai chili sauce – Nam Jim Jaew. Set it aside ready to use.

Grill: Drip off the marinade, grill the steak to your desired doneness. Please refer to this steak cooking time chart if you need help with cook time info. After grilled, let the steak rest for 5 minutes before slicing.

In the meantime, in a separate cast iron skillet, preheat it over medium-heat until your palm can feel the warmth when placing it near the surface, about 2-3 inches away.

Swirl 1 tbsp olive oil around the skillet. Add cherry tomatoes and char them with 2-3 small pinches of salt until they are almost blistered, about 2-3 minutes. Shift and move the skillet often for even cooking.

Assemble: In a large salad bowl, toss ingredients from cucumbers to baby greens with 2 pinches of salt and 1 tbsp olive oil. Add-in sliced beef, tomatoes, and drizzle with 2-3 tbsp salad dressing, or more if desired. Toss to combine. Taste and make seasoning adjustments to your personal preference. Serve immediately.
Notes
You can prepare the Thai Chili Sauce up to a day before. Combine with the toasted nut powder before serving. Please see more info in the recipe card.
If the beef is marinated 1-3 hours only, season with salt to taste after grilling. If it's marinated overnight, you probably won't need extra salt.
Just like many Thai dishes, there aren't exact seasoning measurements. Make sure you do some taste testing as you mix the salad together. The predominant flavor should be sour, just salty enough, and spicy to your own liking.
Nutrition
Serving: 1serving, Calories: 478kcal, Carbohydrates: 7g, Protein: 35g, Fat: 35g, Saturated Fat: 12g, Cholesterol: 98mg, Sodium: 538mg, Potassium: 607mg, Fiber: 1g, Sugar: 2g, Vitamin A: 618IU, Vitamin C: 16mg, Calcium: 25mg, Iron: 4mg