Mung Bean Sprouts Recipe
Crunchy and refreshing Paleo Mung Bean Sprouts Recipe takes mere minutes to make. This bean sprouts salad will pair beautifully with most proteins and is a wonderful low carb side dish for hot summer!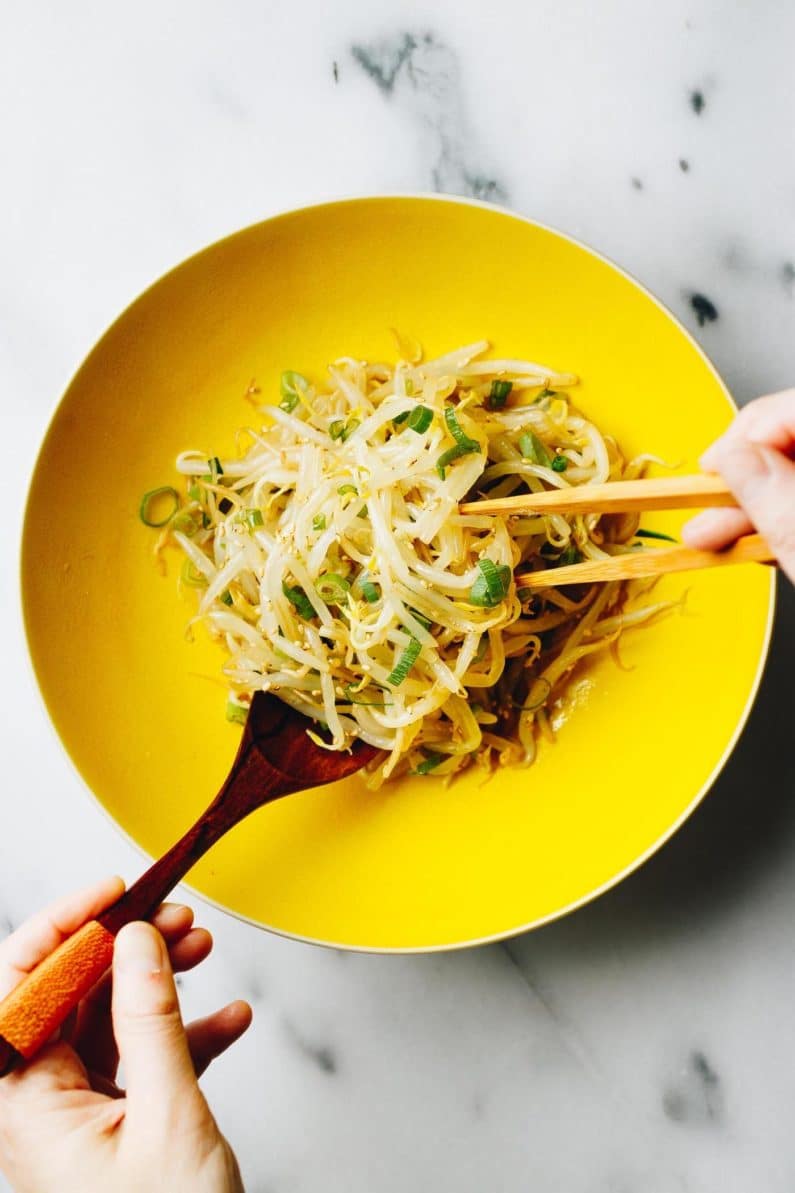 Mung Bean Sprouts Recipe (Paleo, Whole30, Keto, Vegan)
I'm seeing more and more bean sprouts available in the western grocery stores and that inspires me to share today's recipe. This Paleo Mung Bean Salad is inspired by Korean Sukju Namul. It takes minutes to make and is a terrific side dish for main dishes.
Are Bean Sprouts Paleo, Whole30, Keto?
Bean sprouts are pretty harmless. They contain very low levels of phytic acid and are easier to digest, which makes them quite benign. Most paleo advocates would agree that bean sprouts are safe for primal living.



Are mung bean sprouts the same as soybean sprouts?
No. Mung bean sprouts are different from Soybean Sprouts.
Mung bean sprouts or lǜ dòu yá (绿豆芽) are the thin, edible shoots produced from sprouted mung beans. They can be eaten raw or slightly cooked, and have a crunchy texture and subtly sweet flavor. They are most commonly used in Asian cuisine. For example, Paleo Pad Thai and Vietnamese Beef Brisket Pho.
Soybean Sprouts or huáng dòu yá (黄豆芽) is also a type of vegetable but produced from sprouted soybeans. It's pretty much to spot the difference because soybean sprouts have large yellow beans attached to the shoots.
Mung Bean Nutrition
According to livestrong, mung bean sprouts are low in calorie. Each 1-cup serving of mung bean sprouts provides 13.7 milligrams of vitamin C, 34.3 micrograms of vitamin K, and 3.2 grams of protein.
Can you eat mung bean sprouts raw?
Ideally, it's best to quickly saute or blanch the sprouts in hot water because bean sprouts grow in warm conditions and they might have a risk of bacterial contamination. Hot water blanch or stir-fry will kill the germs.
How long should you boil bean sprouts?
For 1 lb. bean sprouts, blanch about 1 minute in a large pot of hot boiling water.
How long do cooked bean sprouts last?
For the best texture and freshness, the blanched bean sprouts should be consumed within 3-4 days in the fridge.
What do you eat with bean sprouts?
How do you make bean sprouts taste good?
Bean sprouts have little to no flavor so they need seasonings. You can make cold sprouts salad with Paleo Thai Peanut Sauce or Creamy Ginger Dressing. You can also saute them with minced garlic. Simple and easy!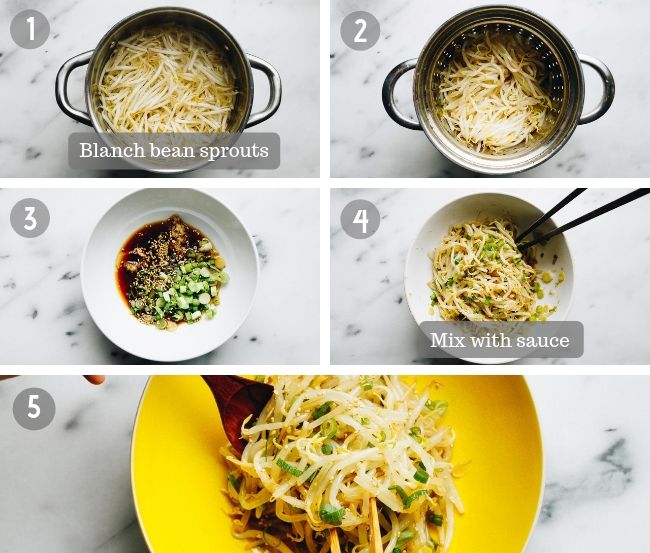 If you give this Paleo Mung Bean Sprouts Recipe a try, rate the recipe and leave a comment below. I'd love to see your creations!
Subscribe to my blog I Heart Umami for weekly healthy and new Asian-Inspired Paleo recipes for free!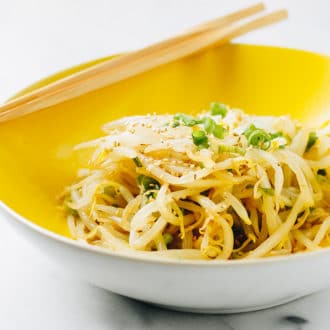 Mung Bean Sprouts Recipe (Paleo, Whole30, Keto, Vegan)
Paleo Mung Bean Sprouts Recipe is a super speedy salad that's low carb, Whole30, and Keto. Terrific side dish for main dishes, especially steaks, seafood, and chicken.
Print
Pin
Rate
Ingredients
1 lb. mung bean sprouts, rinsed
Mung Bean Sprouts Sauce Seasoning:
3 tbsp coconut aminos
2 bulbs scallions, chopped
¼-½ tsp coarse sea salt or to taste + 2 pinches
2-3 tsp toasted sesame oil, see notes
0.2-0.3 oz. clove garlic, grated or crushed (about 1 medium clove)
Toasted white sesame seeds, sprinkle, if using
Instructions
Bring a large pot (about 7 cups water to boil. Season the water with 2 small pinches of salt. Add mung bean sprouts and quickly blanch them for 45 seconds to 1 minute. Rinse in cold running water and set aside to drain well.

To make the sauce, in a bowl combine ingredients from coconut aminos to garlic. Gently mix well.

Place the blanched mung bean sprouts in a large serving bowl. Add the sauce and gently toss and mix. Taste to make seasoning adjustments. Sprinkle with sesame seeds, if using. Serve cold or warm.

Store extra in airtight container in the fridge. Best finish in 3-4 days.
Notes
Can't have seed oil? Use extra virgin olive oil for this mung bean sprouts recipe!
Nutrition
Serving: 1serving, Calories: 46kcal, Carbohydrates: 6g, Protein: 2g, Fat: 2g, Saturated Fat: 1g, Polyunsaturated Fat: 1g, Monounsaturated Fat: 1g, Trans Fat: 1g, Cholesterol: 1mg, Sodium: 237mg, Potassium: 113mg, Fiber: 1g, Sugar: 3g, Vitamin A: 15IU, Vitamin C: 10.3mg, Calcium: 12mg, Iron: 0.7mg
More Healthy Salads