Paleo Asian Chicken Cabbage Salad
There's a reason why people love my Paleo Asian Chicken Cabbage Salad. Easy, healthy, and flavorful Asian Chicken Cabbage Salad with Asian sesame ginger dressing. Full of flavor, fiber, and healthy delicious for the whole family!
We are officially kicking off the spring season if you live in the north hemisphere. And this Paleo Asian Chicken Cabbage Salad is one of many new spring recipes that will be coming up on this blog.
Hit the Play button to watch this super yum and mouthwatering Paleo Asian Chicken Cabbage Salad so you'll know exactly what to do in the kitchen in fast-forward!
Get the crispy chicken …
Choosing between chicken breasts and chicken thighs? If you are debating it, I'd say definitely pick the boneless and skinless chicken thighs. It will add so much more flavor to the Cabbage Salad.
In the recipe below, I used garlic, onion, salt, and sweet paprika powder. Feel free to use any Chicken seasonings you prefer. Pan fried them until golden brown and crispy with ghee butter. It's absolutely delicious !!!
Do this … Paleo Asian Chicken Cabbage Salad
Savoy cabbage gives a nice buttery and sweet taste after it's being lightly sauteed. After thin slicing (or shredding), give them a quick toss to release the natural sweetness of the vegetable.
The sauté time is completely opting to you. Sauté longer for a softer texture. A quick toss will give a crispier texture.
Savoy is perfect for make-ahead salads because it contains less water so it'll keep crispy and fresh longer in the fridge.
If you can't find Savoy cabbage the next best thing would be Nappa cabbage. Since Nappa cabbage contains more water, a quick and light toss in the sauté pan will be more than enough.
Now onto the rainbow color gorgeous looking salad
I topped the cabbage with sugar snap peas, red cabbage, almond slices, and scallions. They give a nice crunch and color contrast to the dish and make it even more appetizing and nutritious.
Make it for tonight or bring it to a house party! 
I paired the salad with a simple homemade toasted sesame vinaigrette dressing. You can easily double the salad dressing quantity from the recipe below.
My toasted sesame vinaigrette will go well with not only chicken but also grilled pork, shrimps, or beef.
I hope this recipe will help you enjoy Savoy cabbage in a brand new way.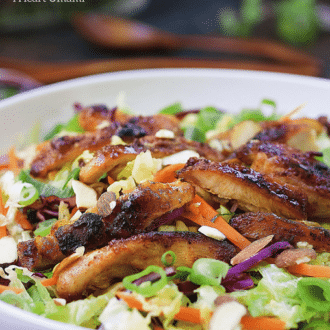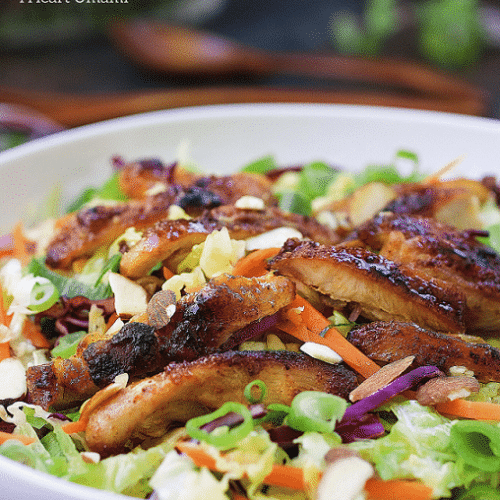 Paleo Asian Chicken Cabbage Salad
A Chinese-inspired Asian Chicken Cabbage Salad with sesame vinaigrette dressing. Whole30 friendly !
Print
Pin
Rate
Ingredients
Chicken seasonings:
1 3/4 lbs chicken thighs (boneless, skinless) alt. Chicken breasts
Salt, Garlic, Onion, Sweet paprika powder, , lightly sprinkle over both sides of chicken
Salad:
8 cups savoy cabbage, , cored and thinly sliced alt. Nappa cabbage
2 1/2 cups carrots, julienned (about 1 large carrot)
Small handful red cabbage, cored and thinly sliced
Sugar snap peas or snow peas, roughly chopped & almond slices, as much as you like
Aromatics:
1 large garlic clove, minced
2 thin slices ginger, finely chopped
2 bulbs scallions, chopped. Separate white & green parts
1/4 tsp red pepper flakes, optional, , optional
Half one whole star anise, (or ⅛ tsp five spice powder)
Dressing: (can be easily doubled):
Instructions
Chicken: Season the chicken thighs with salt, garlic, onion, sweet paprika powder on both sides. Pan fry them with 1 tbsp ghee until both sides are golden brown and cooked through. Lightly covered w/ aluminum foil & set aside.

Saute: Saute"aromatics" with 1 tbsp ghee. Season with a small pinch of salt. Stir-fry until fragrant (about 10 secs.). Add thin sliced savoy cabbage and julienned carrots. Lightly toss them a few times until the vegetables turn slightly softer yet still crisp. Season with a pinch of salt. Set aside to cool.

Prepare dressing. Taste and see if more vinegar is needed.

Combine sauteed veggies with thin sliced red cabbage, chopped sugar snap peas, almond slices, and sliced chicken. Pour dressing over. Give a quick toss and serve.
Nutrition
Serving: 299g, Calories: 256kcal, Carbohydrates: 12g, Protein: 29g, Fat: 10.5g, Saturated Fat: 2.2g, Cholesterol: 124mg, Sodium: 506mg, Fiber: 5g, Sugar: 4g, Vitamin A: 8800IU, Vitamin C: 52mg, Calcium: 70mg, Iron: 1.8mg
More Healthy Asian Salads and Vegetable Dishes