Bok Choy Salad with Toasted Sesame Dressing
Crunchy Bok Choy Salad recipe (or Pak Choi) with creamy toasted sesame dressing, finished with a drizzle of coconut aminos. This Asian bok choy side dish is so good, yet so easy. It's terrific for every day and gorgeous looking for family gatherings!
If you are looking for a soup version, my bok choy soup is another fantastic choice, plus a comprehensive guide on all things Chinese vegetables for you to pick and choose from!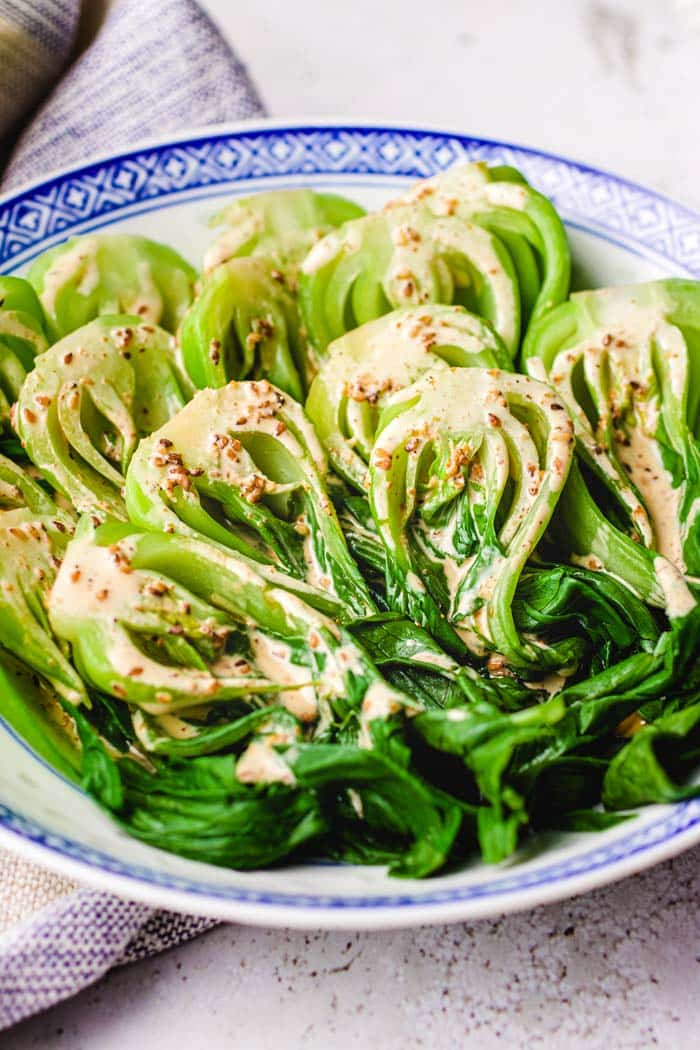 Bok Choy (Pak Choi) Salad
No more wondering what to do with baby bok choy! My Asian Bok Choy Salad is dressed with a creamy sesame dressing that is nutty and toasty delicious. Friends, if you love bok choy as much as I do, this is the recipe you want to keep. Yup, it's that simple and delicious.
I invented this baby bok choy recipe one late evening. Normally I would make stir-fried bok choy with some chopped garlic but I was looking for a less oily vegetable dish that evening. I had just returned from my local Chinatown with a big bag of baby bok choy so I thought let's make a salad for dinner!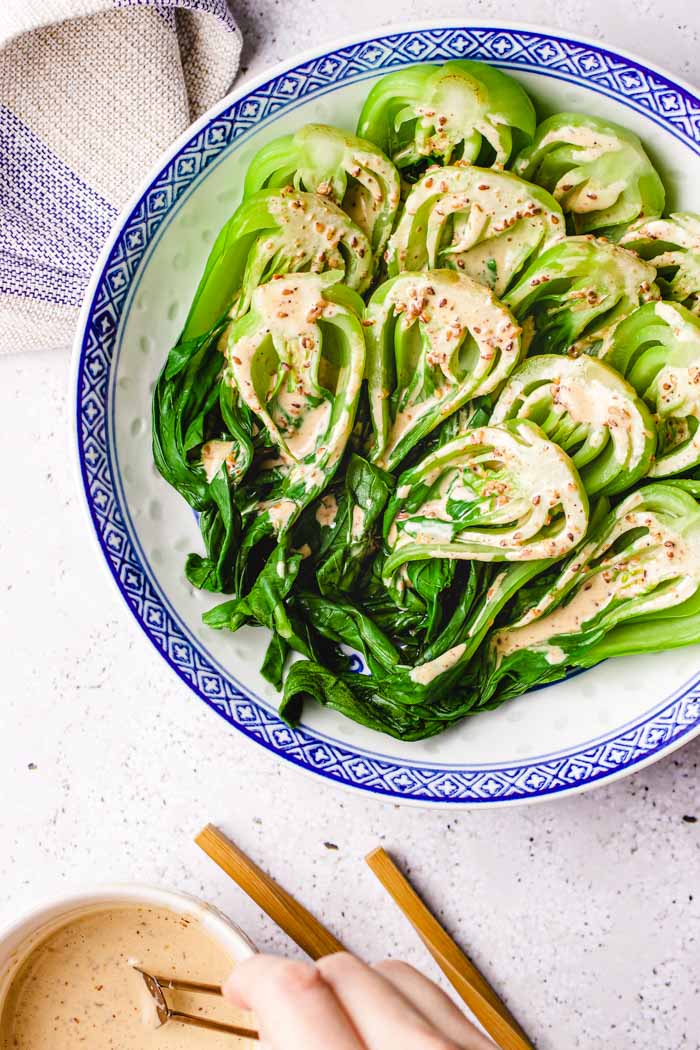 For blanched Asian vegetables, most often people use vegetarian oyster sauce or sweet soy sauce as seasoning. I actually think my toasted sesame dressing works perfectly with blanched bok choy. The sauce is creamy, sweet, and slightly tangy. You can see the creamy and rich sauce slips through each layer of the pak choi and every bite is bursting with flavor. Absolutely amazing!
What is bok choy (or Pak Choi)
Bok choy (or pak choi) is a type of Chinese cabbage. It literally means "white vegetables". Bok Choy is a Cantonese pronunciation. In fact, the bok choy we often see in the West is Shanghainese Bok Choy. If you walk into a grocery store in mainland China or Taiwan and ask for bok choy, people might not know what you are referring to because the name is vague.
The mandarin characters for Shanghainese Bok Choy are 青江菜 [qīng jiāng cài], and it literally describes the color of the vegetables which are in light blue and pale greenish color.
The original baby bok choy (see photo below) has white color stems and deep green leaves. We call it 奶油菜[Nǎiyóu cài], which translates to milk butter vegetable. Learn more about Chinese greens here.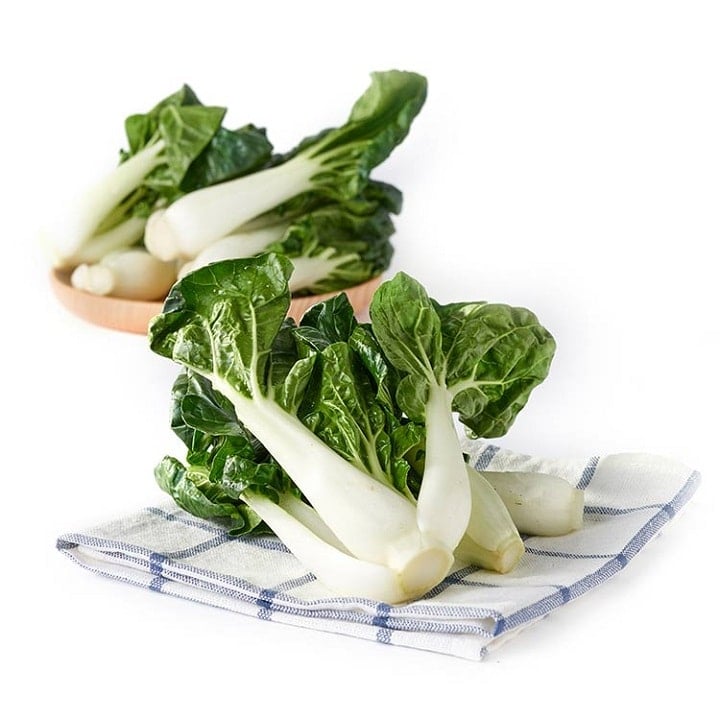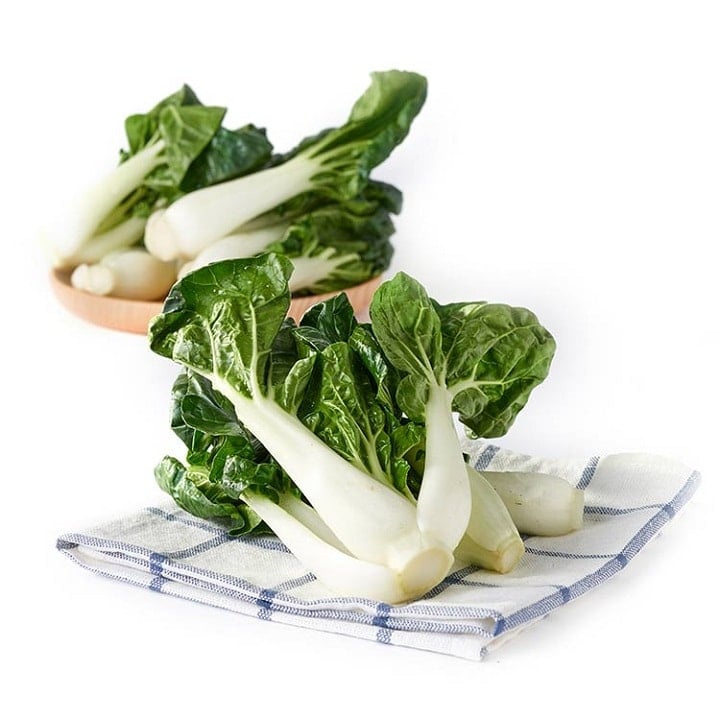 How To Cook Bok Choy
There's a reason why this dish is invented with no recipe. Because it's that easy! Learn how to cut bok choy based on the sizes!
Bring a large pot of water to a boil.
Halve or quarter the baby bok choy and rinse under running water until clean.
Hot water blanch for 1 to 1.5 minutes and shock in cold water.
Drizzle with roasted sesame dressing and a few dashes of coconut aminos (or gluten-free tamari).
Enjoy the bok choy salad at room temperature or chilled.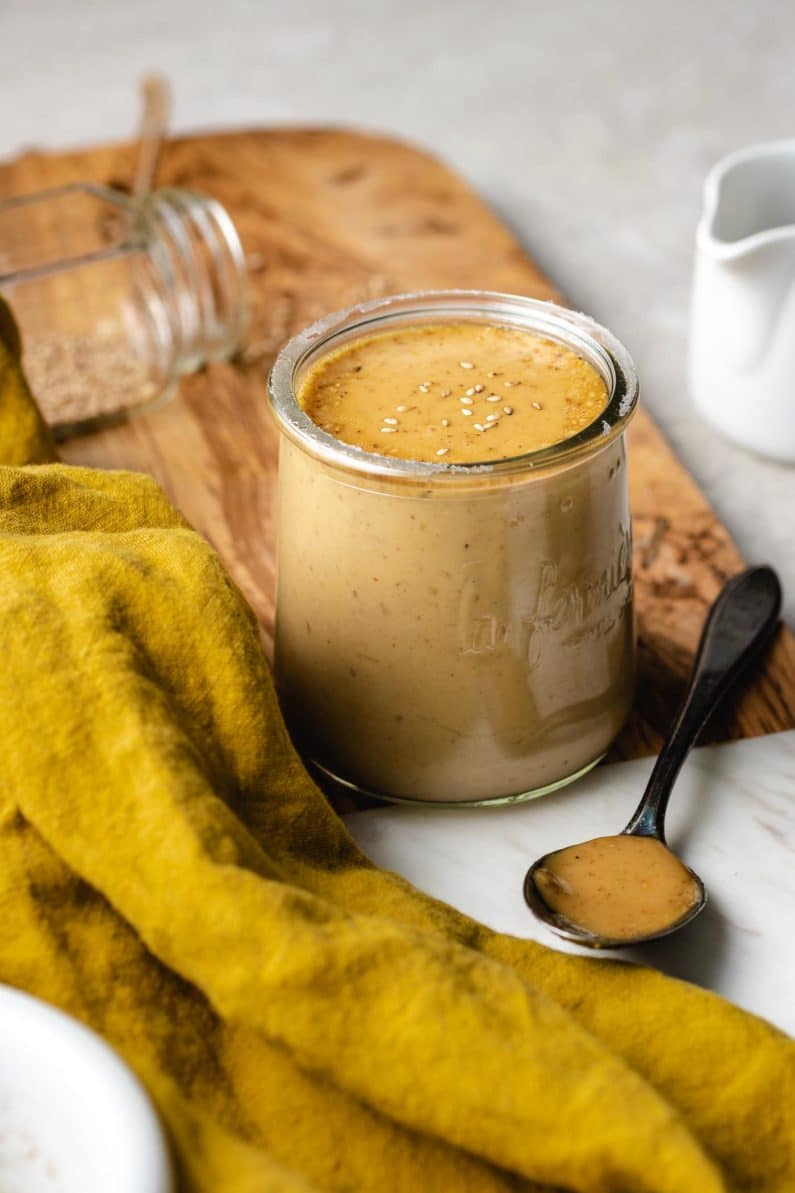 More Bok Choy Recipes
If you are a lover of bok choy recipes, you've come to the right place! For soup lovers, you have to try my bok choy soup. It's a readers' favorite!
For a classic Chinese dinner with your loved ones, I recommend making my bok choy dim sum or bok choy stir-fry.
For meal prep and salads, roasted bok choy is perfect for larger portion meals. Chopped bok choy salad and Thai bok choy salad are perfect for summer months. And if you like a little bit of spicy flavor, my bok choy kimchi is a fantastic choice!
Serving suggestions
Pair the refreshing bok choy with my Air fryer Thai Chicken Wings or Chinese Sweet and Sour Chicken for a balanced meal with protein and fiber!
In colder months, give my Gluten-free Wonton Soup a try. It'll keep you warm and healthy!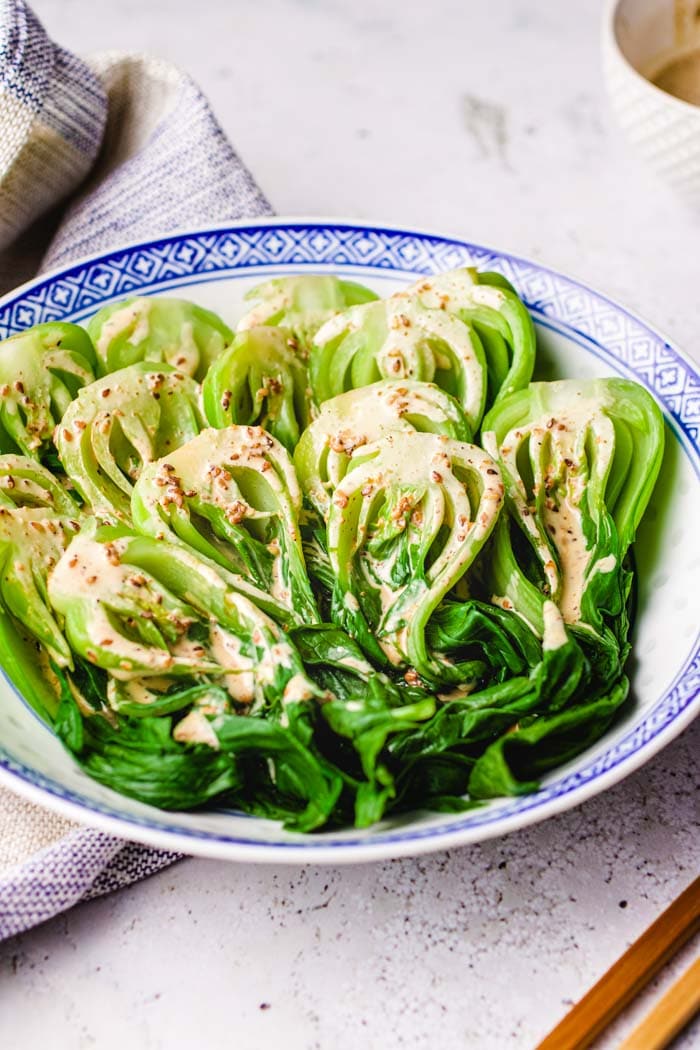 Whether you prefer to sauté or blanch or enjoy it raw, baby bok choy is a healthy and versatile Chinese vegetable that everyone should give a try. My Asian-style bok choy salad recipe is the perfect chilled side dish that takes minutes to put together and goes well with practically any savory main dish. After you give this dish a try, come back here to leave a comment. I would love to hear from you!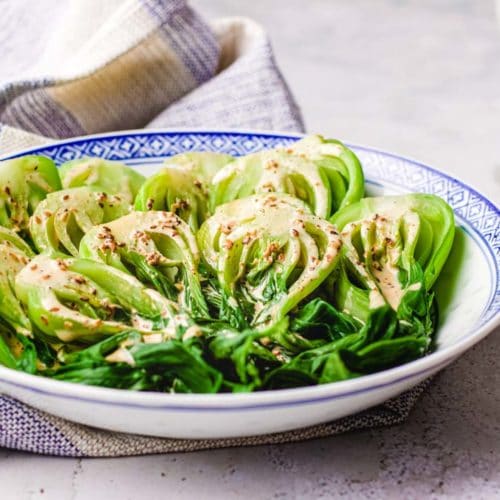 Bok choy salad recipe
Baby bok choy salad (or Pak Choi) with creamy toasted sesame dressing. This is the best Chinese bok choy recipe that's easy and super delicious.
Print
Pin
Rate
Instructions
Bring a large pot of water to boil.

In the meantime, halve or quarter the baby bok choy. Rinse them under tap water to remove dirts hidden inside the layers.

Blanch them in hot boiling water for about 1 to 1.5 minutes. Use a large slotted spoon to scoop out the bok choy and shock them in cold water. The bok choy will remain crunchy this way.

Gently squeeze the bok choy to remove the water. Place them over a serving dish. You can place them either cut side up or down. Personally, I prefer cut side up.

In a bowl, combine the sesame dressing with coconut aminos. Spoon the sauce over the bok choy one tablespoon at a time until your desired quantity. The more sauce the stronger the flavor it will be.

Serve at room temperature or chilled.
Nutrition
Serving: 1serving, Calories: 22kcal, Carbohydrates: 3g, Protein: 1g, Fat: 2g, Saturated Fat: 1g, Cholesterol: 1mg, Sodium: 153mg, Potassium: 6mg, Fiber: 1g, Sugar: 1g, Vitamin A: 3787IU, Vitamin C: 38mg, Calcium: 100mg, Iron: 1mg
Made a dish and love it? Please remember to rate the recipe and leave a comment in the comment section below! It helps my blog grow organically so I can continue sharing free and awesome content with you. Thank you!