Stir-Fried Beef In Oyster Sauce
Tender, flavorful Stir-Fried Beef in Oyster Sauce, made Paleo, Gluten-free, and Whole30 with homemade Vegetarian Oyster Sauce! Who needs to order takeout when you can have healthy Oyster Beef stir-fry at home easily? Get your chopsticks ready!!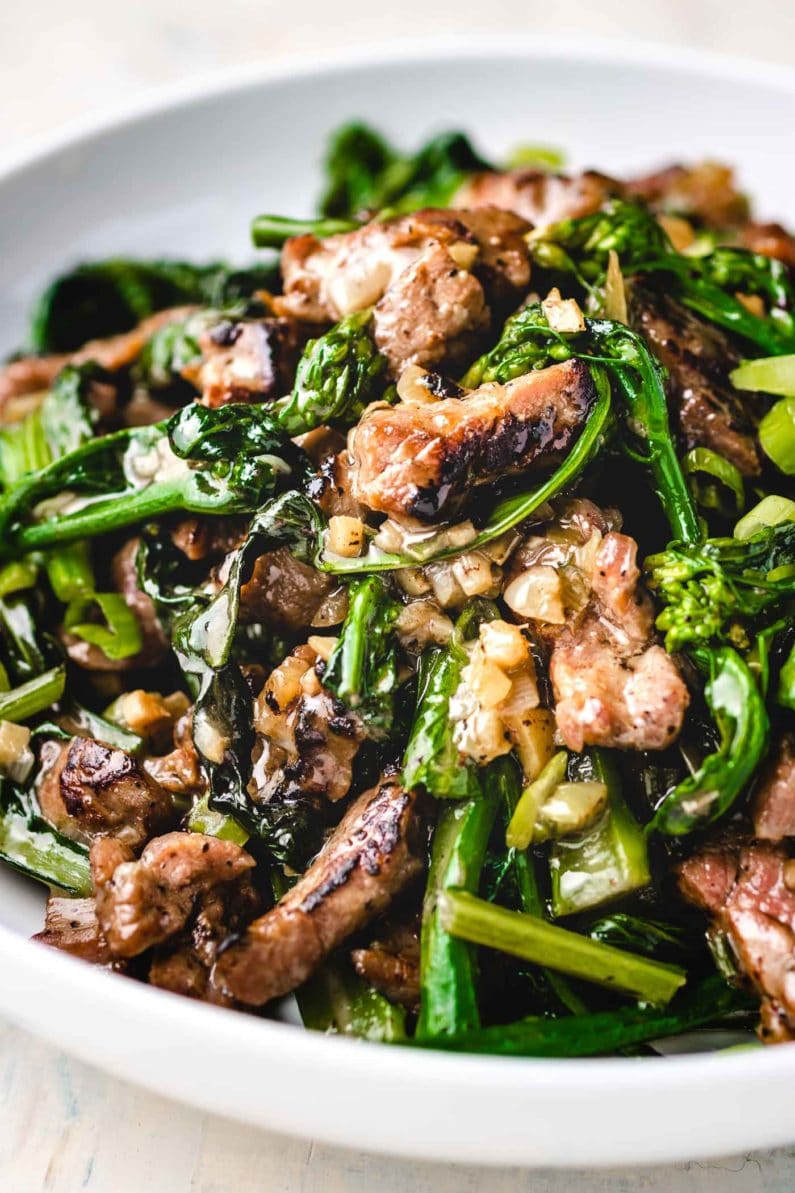 Stir-Fried Beef In Oyster Sauce
A great Paleo beef stir-fry in oyster sauce recipe loaded with Chinese yu choy sum veggie! This is a must-try beef stir-fry recipe for Chinese food lovers. Best of all, it's made Paleo, gluten-free, and Whole30. You'll be amazed at how quick and easy this flavor packed oyster beef recipe is! Are you ready??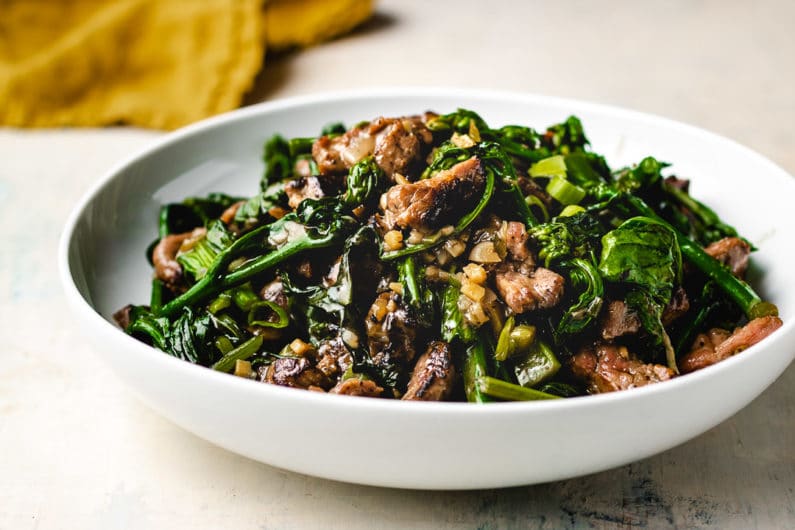 Paleo Oyster Beef Stir-Fry with Yu Choy
Stir-fries are my must-have meals in my weekly meal planning. I don't think I've ever gone without eating a stir-fry dish for more than 3 days. 😀 I know this might sound a bit crazy but if you grew up with my grandmother, 3 different style of stir-fry dishes served within one meal is considered a norm in her household.
Most of the time she does simple stir fry dishes with minced garlic, chili, and a bit of seasonings here and there but a bottle of oyster sauce is always within reach. So naturally I consider oyster sauce as a must-have stir-fry sauce to make Chinese food!
And recently, I finally found the time to make my own version of Vegetarian Oyster Sauce. It's Paleo, gluten-free, Whole30, and sweetened with dates. Because my husband and are allergic to shellfish so I know I have to make a vegetarian version.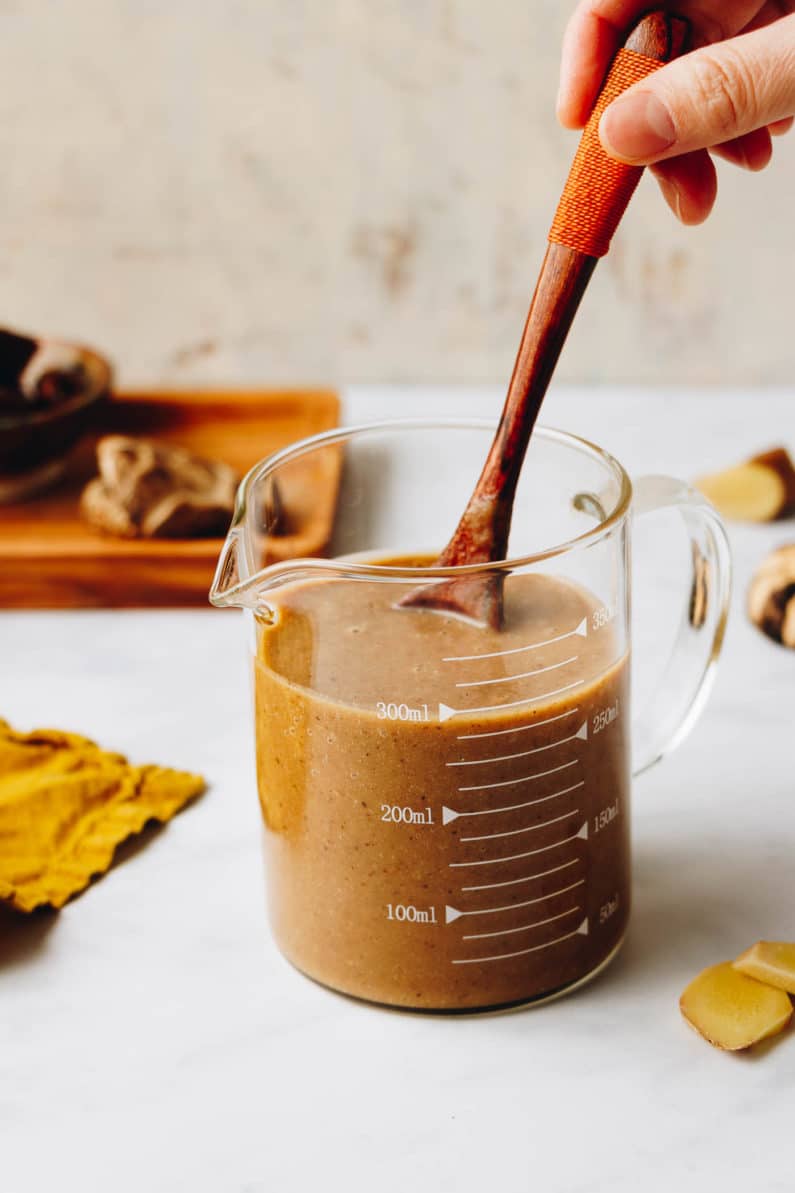 My vegetarian oyster sauce is not only easy to make but packed with loads of umami deliciousness. It stores well and freezes well. And because there's no coloring, artificial flavoring, the color is lighter than the store-bought version.
What do you use oyster sauce for?
There are many dishes you can make with oyster sauce. Stir-fried beef in oyster sauce is a famous Chinese beef stir-fry dish, often made with Chinese broccoli or yu choy, Sauteed baby bok choy with oyster sauce is a common vegetable dish, blanched vegetables drizzled with oyster sauce is another quick and easy Asian side dish, too.
What does beef in oyster sauce taste like?
Because oyster sauce is salty and sweet, stir-fried beef in oyster sauce tastes savory and has a hint of caramelized sweet flavor from the oyster sauce. Garlic, ginger, and sometimes chilies are often used in oyster beef stir-fry to add depth and character to the dish.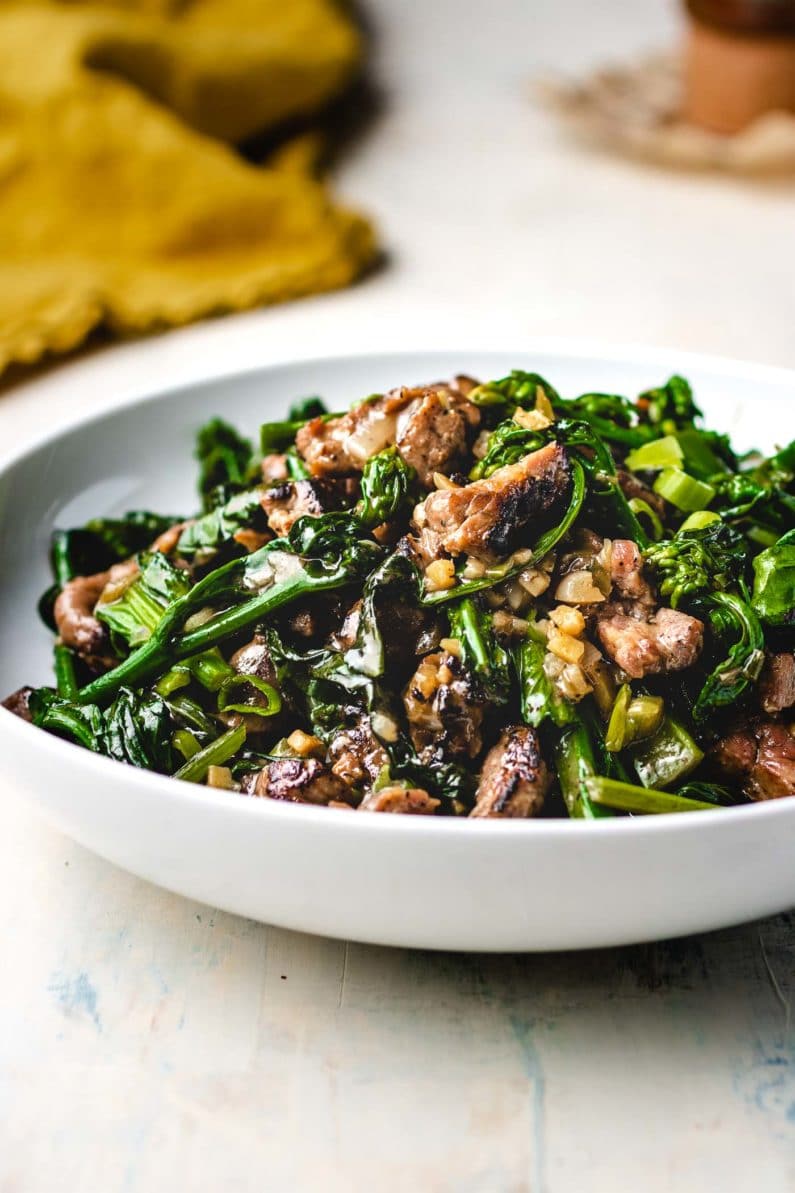 How to make tender and juicy beef stir-fry?
If you are new to my blog, be sure to check out the article I share on how to make tender beef stir-fry at home and my simple marinade for beef stir-fry. Many I Heart Umami readers love this technique. Learn the basic technique and you'll be able to use it for all stir-fry dishes on my blog!
What other vegetables can you use?
Besides yu choy, you can also use Chinese Broccoli (gai lan), broccolini, or broccoli florets. Check out my Chinese broccoli in garlic sauce recipe and Chinese broccoli in oyster sauce.
More Chinese Beef and Chicken Stir-Fries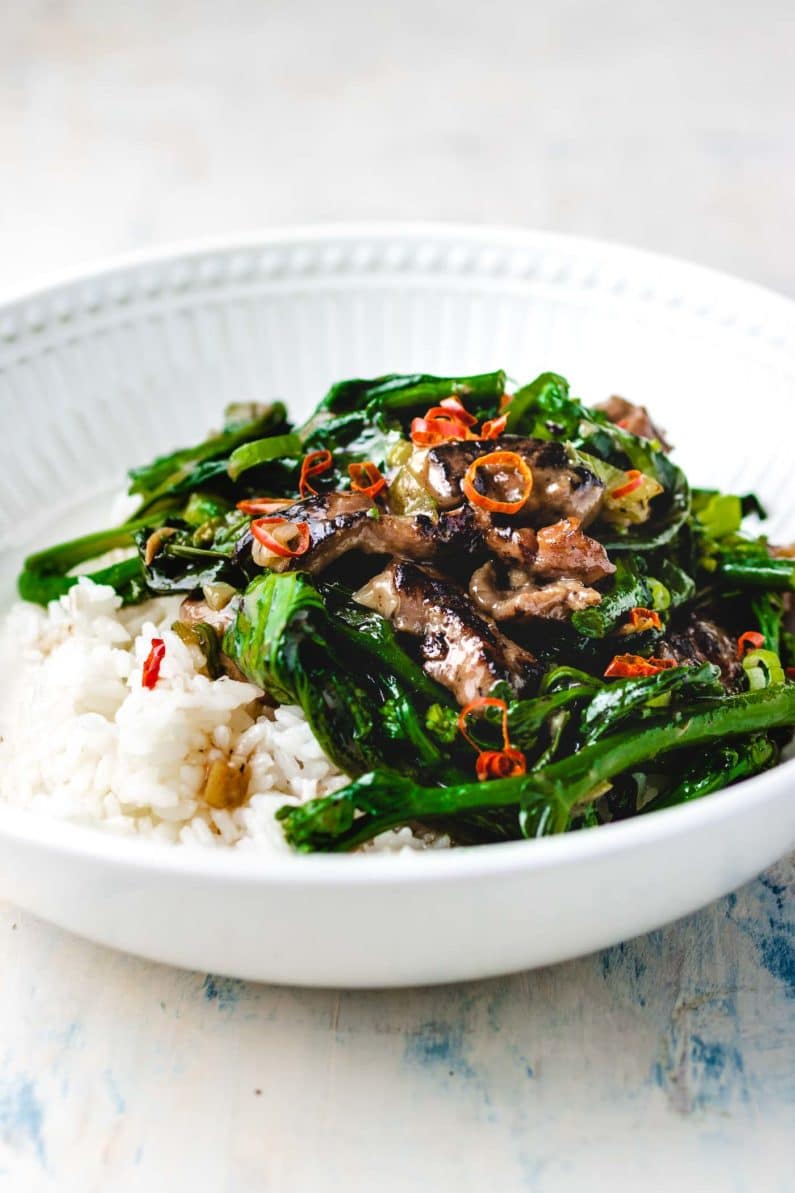 Hungry For More?
Subscribe to my blog to get weekly new and bold-flavored Asian-inspired Paleo recipes to satisfy your cravings!
And if you give any recipes on my blog a try, leave a comment and rate the recipe! Your comments will help me reach more people and it'll help my blog grow so I can continue writing more yummy recipes for you! Thanks in advance! Xo!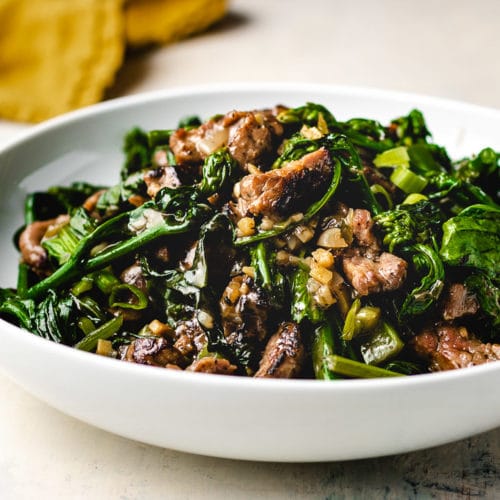 Stir-Fried Beef In Oyster Sauce recipe
Tender, flavorful Stir-Fried Beef in Oyster Sauce, made Paleo, Gluten-free, and Whole30. Who needs takeout when you can have oyster beef stir-fry at home easily!
Print
Rate
Ingredients
Aromatics:
1.5 tbsp chopped garlic
1 tbsp finely chopped ginger
3 bulbs scallions, chopped and separate white and green parts
Instructions
Thinly slice the beef against the grain. In a bowl, marinade the beef from coconut aminos to arrowroot starch. Stir-well. Set aside in the fridge for 15-20 minutes while you prepare the vegetables.

Rinse and wash yu choy. Set aside to drain well. Dice and separate the stems from the leafy parts. For large/thick stems, you can either halve them or dice them into smaller rounds.

Chop garlic, ginger, and scallions. Separate white and green scallion parts.

In a small bowl combine and stir-well arrowroot and water to make a slurry, if using.

In a well-heated large cast iron or stainless steel skillet, add 1 tbsp avocado oil. Pan sear the beef over medium-high heat in one layer without disturbing for about 2 minutes or until the beef is in golden brown color. Use a spatula with a firm tip to flip and cook for about 30 seconds. Off heat, set the beef aside in one bowl along with the pan juices.

While the skillet is still hot, add 3 tbsp avocado oil. Fry the garlic, ginger, and white scallion parts with a pinch of salt over medium-heat for about 10 seconds. Stir-fry and toss often. Take care not to burn the aromatics.

Turn the heat up to medium-high, add yu choy stems. Season with 2 pinches of salt and saute for about 2 minutes. Add the leafy parts, season with another pinch of salt. Keep stir-frying for 1 minute and if the skillet feels dry, add 1 more tbsp oil.

Add the beef along with the pan juices back to the skillet. Add oyster sauce. Quickly give the slurry another stir then pour it over the beef and yu choy. Keep tossing and stir-frying for 10 seconds.

Off heat, serve over a large serving plate and garnish with green scallion parts.
Nutrition
Serving: 1serving, Calories: 345kcal, Carbohydrates: 7g, Protein: 26g, Fat: 24g, Saturated Fat: 5g, Polyunsaturated Fat: 1g, Monounsaturated Fat: 1g, Trans Fat: 1g, Cholesterol: 71mg, Sodium: 414mg, Potassium: 348mg, Fiber: 1g, Sugar: 1g, Vitamin A: 3470IU, Vitamin C: 36.1mg, Calcium: 98mg, Iron: 2.6mg
Complete the meal with –