Gomaae Japanese Spinach With Goma Dressing
Super quick and nutritious Gomaae Japanese Spinach Salad with roasted sesame dressing (Goma dressing) that will pair beautifully with any main dishes. It makes minute to cook, and is a great way to incorporate a vast volume of leafy greens into a meal without even realizing it!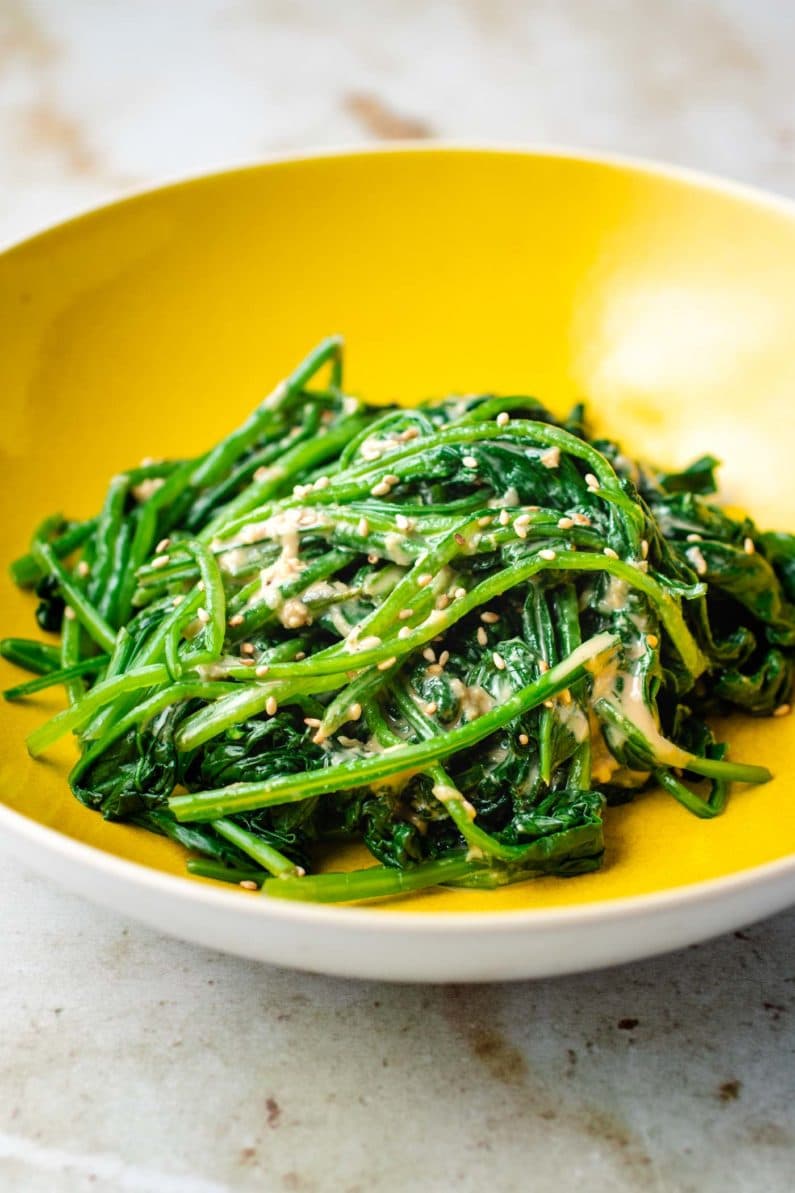 Gomaae Japanese Spinach Salad
This is part II of a three part Paleo Asian Side Dish series. For part I we made one of my favorite Chinese chilled appetizers – Garlicky Smashed Cucumbers. In this post, I will show you how to make a popular Japanese side dish – Gomaae Japanese Spinach Salad – from my Cookbook Asian Paleo.
Goma-ae (胡麻和え) or Gomae. Goma means sesame and Ae means sauce in Japanese. It's made with vegetables and sesame dressing. The most common version in the west is in the form of spinach salad.
This chilled Japanese Spinach Goma takes merely minutes to cook. The only time you need is probably waiting for the water to boil! Nate and I enjoy this Japanese Spinach side dish so much it becomes one of our must-have items whenever we visit Japanese restaurants!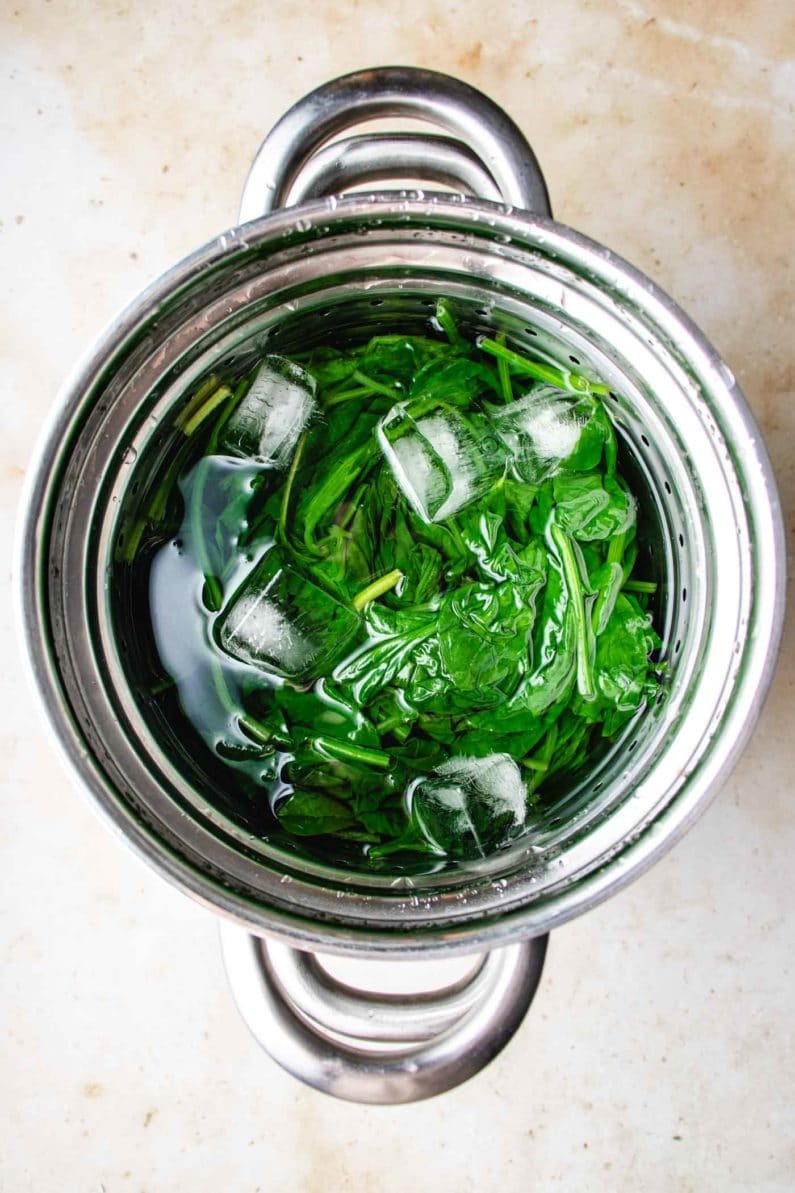 Creamy Roasted Sesame Dressing or Sesame Tahini Dressing
My Japanese Spinach Salad comes with two dressings for your to pick-and-choose. The roasted sesame dressing is creamy, rich, and nutty delicious; the sesame tahini has a lighter texture and with no mayo so feel free to pick-and-choose or try both!


Nutritious Spinach – So GOOD for you!
Part of the reasons I prefer to make this Gomaae Japanese Spinach at home because the restaurants never give me big portion that satisfy my spinach jones. Spinach wilts fast and this chilled appetizer goes well with so many dishes so be sure to grab a large bundle. Trust me, if you are a spinach lover, you won't be able to resist not eating this dish right away!
Spinach is low in calories and packs with vitamins C, A, iron, and minerals. It's easy to find and great for our skin, hair, and bone health. Time to eat more spinach!
The spinach bundles you find in Asian grocery stores have slightly sturdier texture than the ones you find in western markets. Quickly blanch them for 10 seconds is more than enough. Just please make sure to plunge them in cold water to stop cooking and gently squeeze the spinach to remove water before mixing with the salad dressing.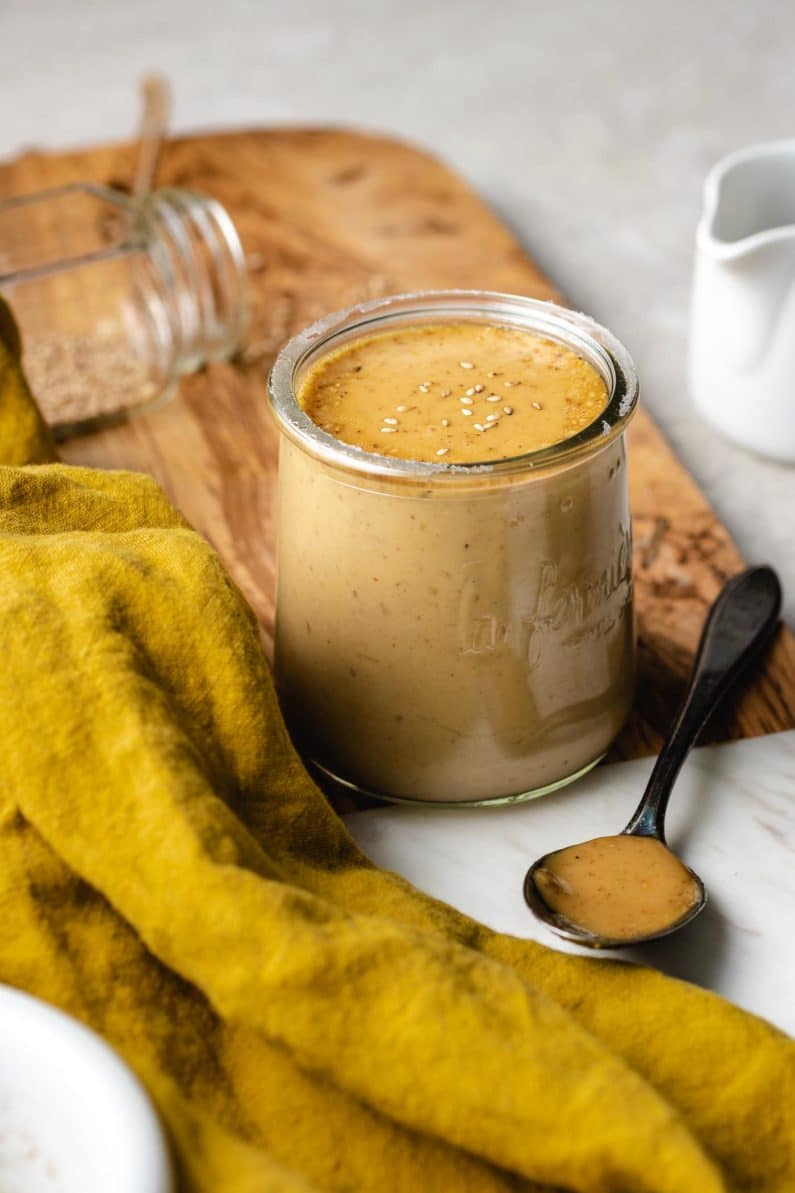 Pair this Gomaae Japanese Spinach with –
If you give this dish a try (or any other recipes on my blog), please rate the recipe and leave a comment below. Your comments will help me and my blog tremendously so I can continue dishing out awesome and free content for you! Thanks in advance!
Hungry for more?
Subscribe to my blog I Heart Umami to learn how to make 10 mouthwatering Paleo meals in under 10 minutes each!
Watch 3 Simple & Easy Asian Side Dishes Here (Paleo, Whole30, Keto)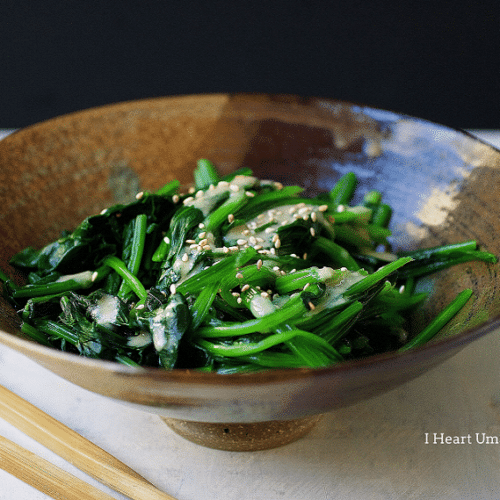 Gomaae Japanese Spinach Salad (Paleo, Whole30, Keto)
Easy Gomaae Japanese Spinach with roasted sesame goma dressing is a fantastic Paleo/Whole30/Keto side dish to incorporate a vast volume of greens into your daily meal!
  
Print
Pin
Rate
Ingredients
Coarse salt
1 large bundle Fresh spinach
Toasted sesame seeds, optional
Sesame Sauce (without mayo) - Dressing Choice 2
Instructions
Bring a pot of water to a boil. Season the water with a pinch of salt.

In the meantime, prepare the sesame sauce: Mix together the sauce ingredients with 1 ½ tablespoons water (add more for a thinner saucin a small bowl and set aside.

Rinse the spinach. roughly cut the whole bunch of spinach into three to four large sections.

Quickly blanch the spinach in the boiling water for 10 to 15 seconds. drain and rinse under cold water to stop the cooking and preserve the vibrant color.

Gently squeeze the spinach with your hands to remove all of the excess water. Place the spinach in a serving bowl. drizzle with the sesame sauce and give the spinach a quick toss. Sprinkle with toasted sesame seeds before serving, if desired.
Notes
The nutritional label is calculated with Dressing no. 2 (without the mayo). 
Nutrition
Serving: 1serving, Calories: 69kcal, Carbohydrates: 4g, Protein: 1g, Fat: 5g, Saturated Fat: 1g, Polyunsaturated Fat: 1g, Monounsaturated Fat: 1g, Trans Fat: 1g, Cholesterol: 1mg, Sodium: 183mg, Potassium: 34mg, Fiber: 1g, Sugar: 1g, Vitamin A: 35IU, Vitamin C: 0.7mg, Calcium: 11mg, Iron: 0.3mg
More Healthy and Easy Side Dishes/Salads Here: