Thai Cauliflower Shrimp Fried Rice
Irresistibly crispy Thai Cauliflower Shrimp Fried Rice is a match made in heaven for fried rice lovers! You'll love the crispy texture of the Thai fried 'rice' with juicy and garlicky jumbo shrimp/prawn.
Try swapping shrimp for chicken, pork, or beef. Honestly, you can use any protein you like. Serve this crispy Thai cauliflower fried rice as a main course or a side dish from Chinese sweet and sour chicken to Beef and Broccoli, or from Thai basil chicken to Dim Sum-Shumai!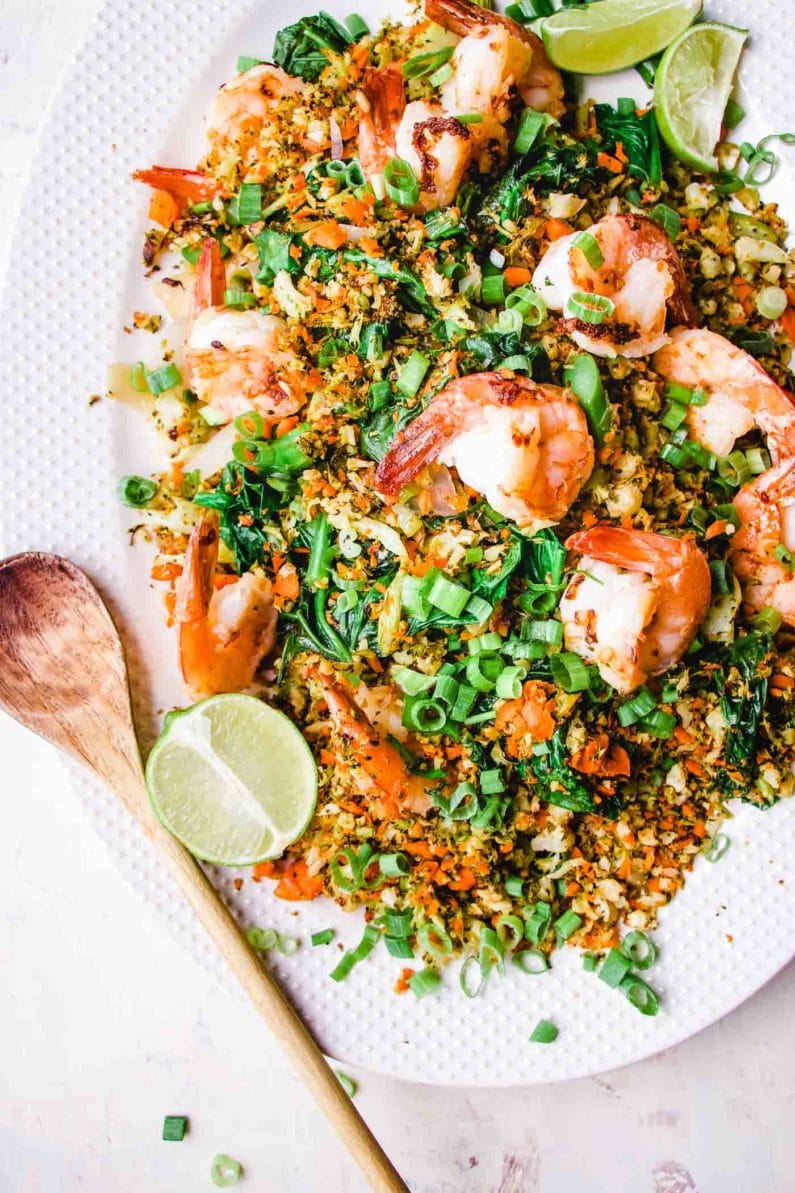 Thai Cauliflower Shrimp Fried Rice (Crispy, Easy)
I will always associate fried rice with happy memories. This is how much I love them. 🙂 My family makes them at home whenever there's extra cooked rice from the night before. We order them whenever we go out with family and friends. The moment the waiter brings-in a big plate of golden gorgeous fried rice, you can always see the excitement on everyone's face.
In that spirit, it makes total sense for me to find an easy way to make cauliflower fried rice that tastes just as yummy as the real fried rice but much lower in carbs. Pair with jumbo garlicky shrimp/prawns sauteed with Chinese broccolini. I'm totally hungry just thinking about it!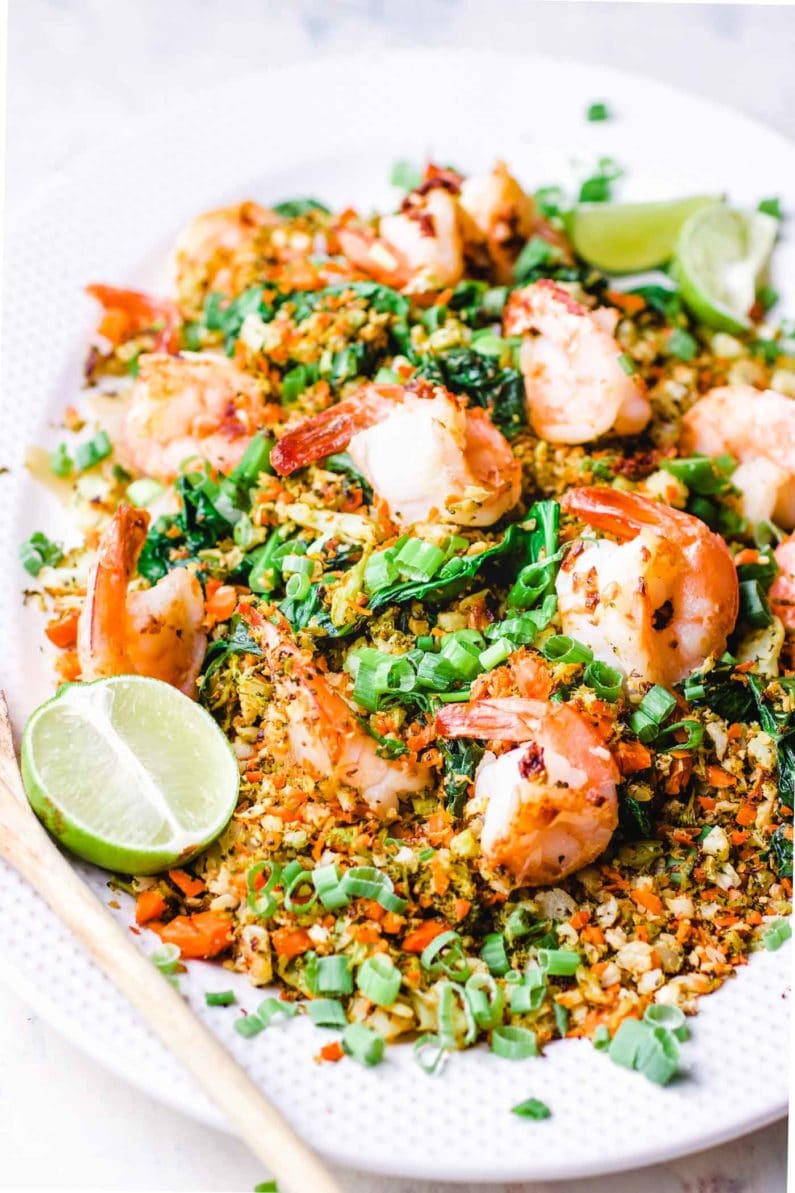 What's the difference between Thai Fried Rice and Chinese Fried Rice?
The type of rice used in Chinese and Thai fried rice is different. Thai uses jasmine rice whereas Chinese uses long or short grain or jasmine rice. It's also not common to season Chinese fried rice with fish sauce and that's a distinction separate Chinese-style fried rice from Thai-style fried rice. Although in recent years, many Thai stir-fry dishes are influenced by Chinese so nowadays it's quite common to see Thai fried rice (or any Chinese-influenced Thai stir-fries) uses oyster sauce, light and dark soy sauce.
Because I love oyster sauce so much, I wrote my own Paleo and Whole30 Vegetarian Oyster Sauce. It's made with shiitake and dates. No additives and 100% yummy!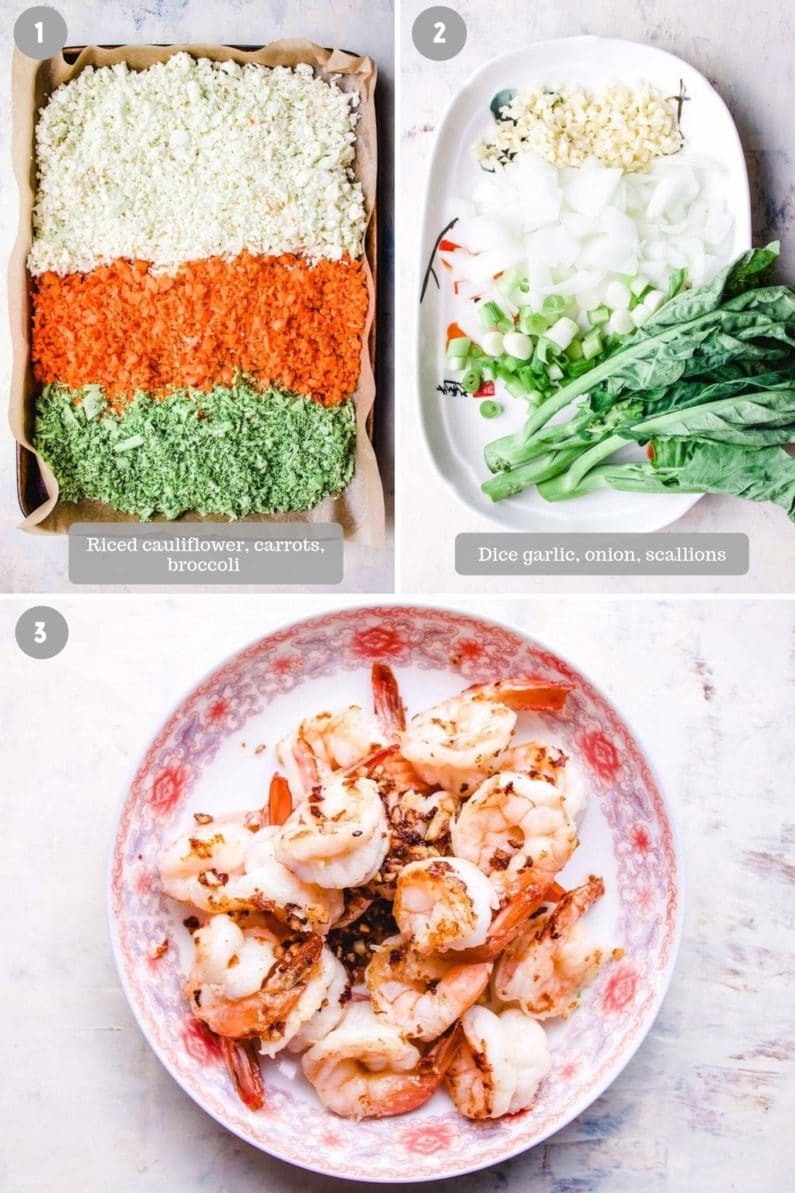 How To Make Cauliflower Fried Rice Non-Soggy/Mushy
I intentionally keep the cauliflower rice "grains" slightly larger so they don't turn into couscous size. In my meal planning program the Paleo Cook Once Eat All Week, I also recommend baking the cauliflower rice so you can prep them in much larger quantity (often 2 sheet pans) and it's easy to reheat with a quick saute.
The trick is to not overcrowd the sheet pan and with just the right amount of olive oil to season the rice. In this recipe, I also add riced carrots and broccoli for extra color and crunch. With a simple salt, pepper, garlic, and onion powder seasonings, they turn out beautifully crisp and are delicious.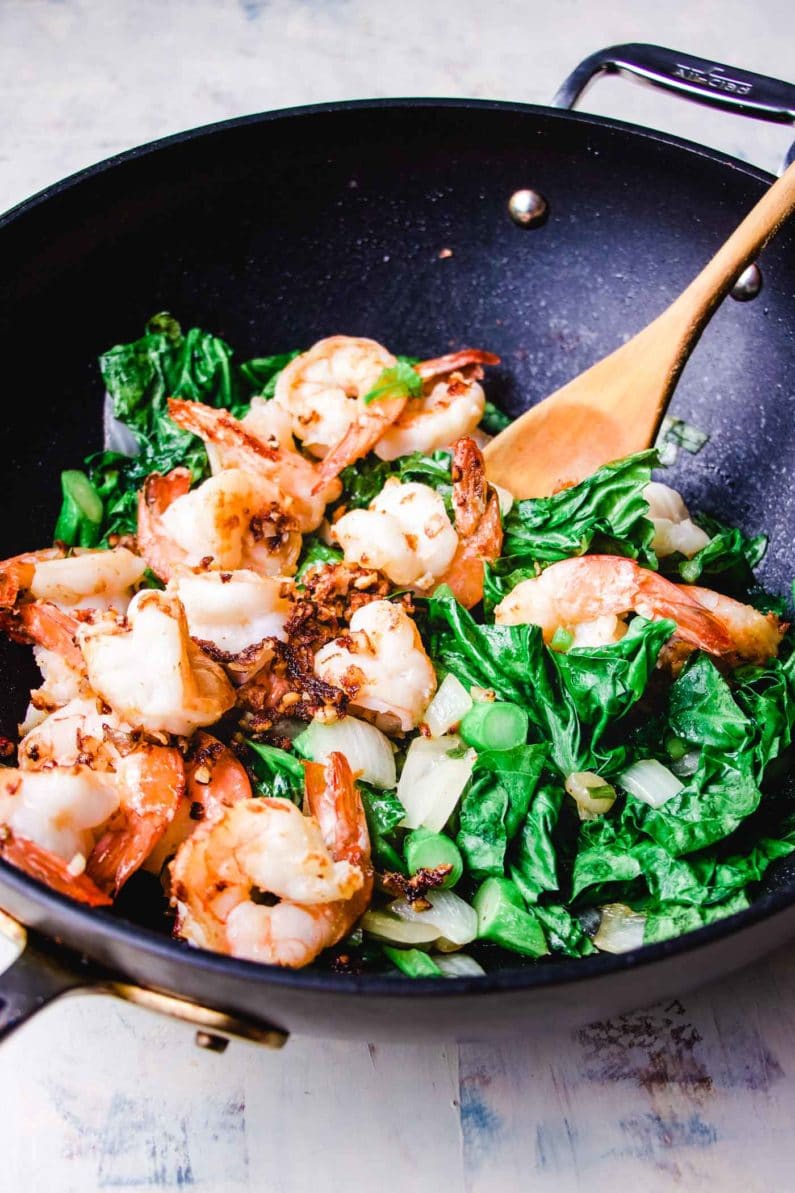 How To Make Thai-style Cauliflower Shrimp Fried Rice
Bake the cauliflower rice first because it takes about 40 minutes in the oven, plus cooling time so they can get even more crispy.
Similar to my Vietnamese easy garlic shrimp, butterfly the shrimp.
Chop your garlic, yellow onion, and select a leafy green that's great for sautéing. Here I use Chinese broccoli but you can also use broccolini or broccoli florets.
Sear the shrimp then saute the veggies with onion and garlic. Once the "rice" is crispy, simply combine the two and garnish!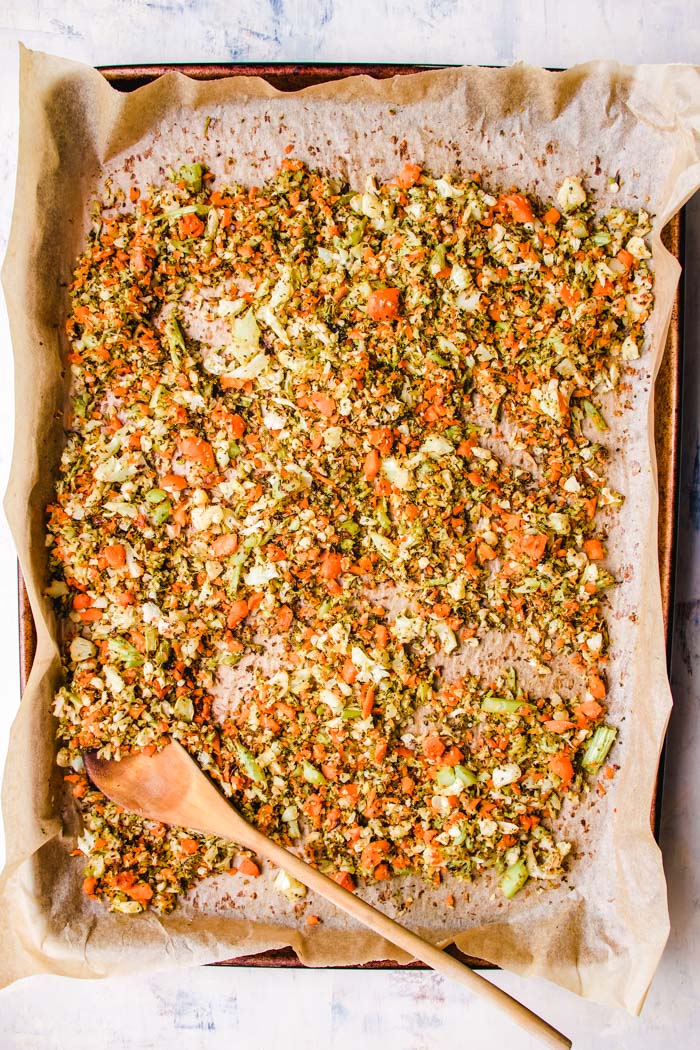 What to serve with Thai Cauliflower Fried Rice with Shrimp?
This Thai cauliflower shrimp fried rice is not only scrumptious but also easy to make and keto friendly. I can eat this whole plate of Thai fried rice with shrimp all by myself.
If you are looking for a dish that goes well with this Cauliflower fried rice with shrimp, you can either serve the dish with more vegetables or with more proteins. For example, Chinese broccoli stir-fry with garlic sauce, Korean chilled zucchini sides, Chilled mung bean sprouts,or lemon garlic broccoli.
For extra proteins, Chinese cashew chicken, chicken and broccoli, sesame chicken, Mongolian beef, or cumin beef stir-fry are all great choices!
Check out more of my stir-fry dishes here.
For more Paleo, Whole30, and Keto Thai recipes, browse my Thai recipe archive!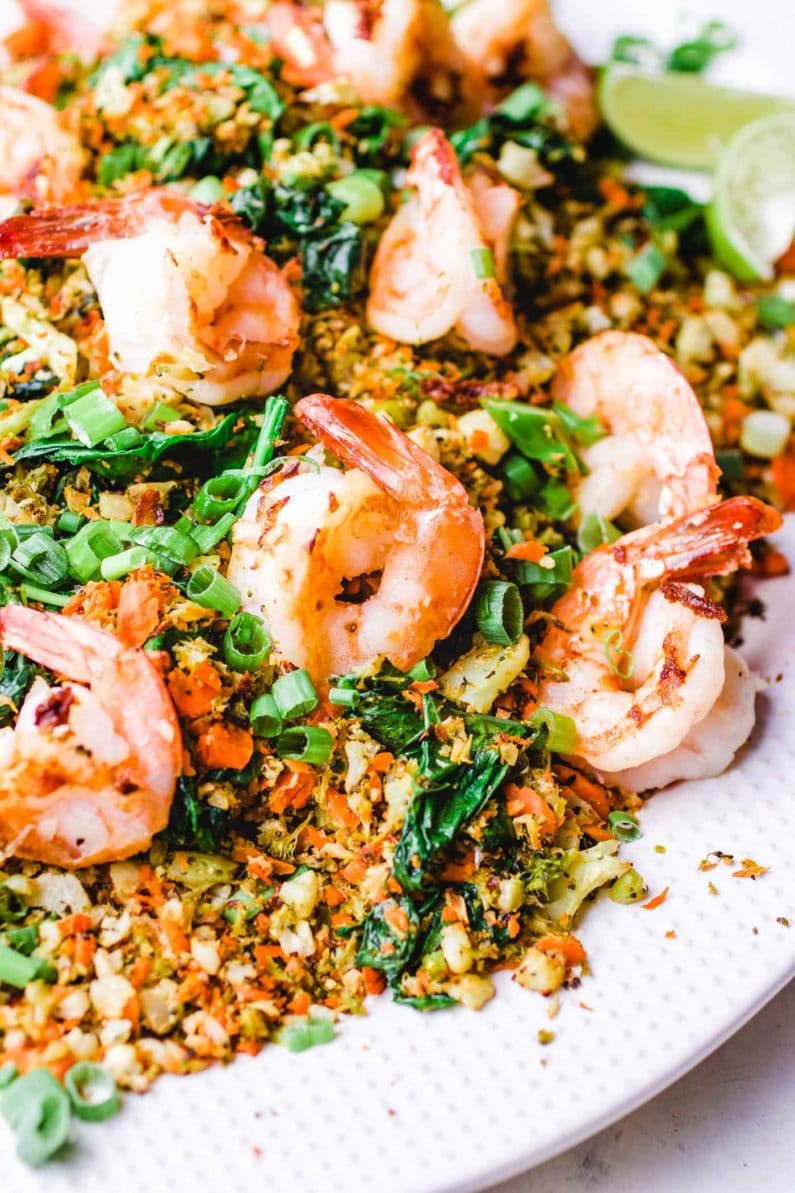 How To Make Cauliflower Thai Fried Rice with Shrimp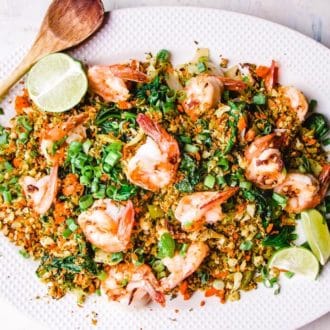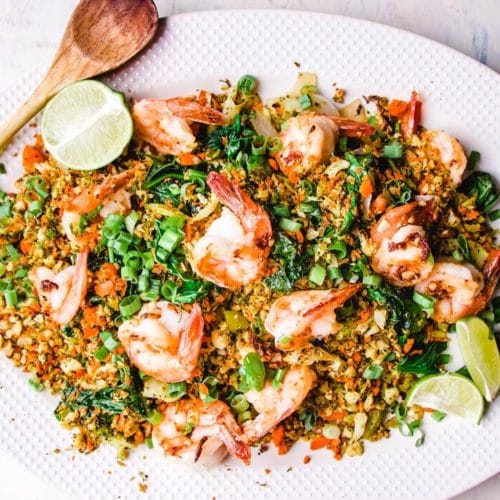 Thai Cauliflower Shrimp Fried Rice
Thai Cauliflower Shrimp Fried Rice with golden crisp cauliflower fried rice with shrimp. Easy Thai fried rice made keto and absolutely delicious!
Print
Pin
Rate
Ingredients
Cauliflower rice:
12 oz. cauliflower, whole, florets, or riced
10 oz. carrots
10 oz. broccoli florets
½ tsp coarse sea salt
¼ tsp each white pepper, garlic, ginger, and onion powder
1 tbsp olive oil, per sheet pan
Thai Fried Rice with Shrimp:
1.5 tbsp finely chopped garlic
2.5 oz yellow onion, diced
2-3 bulbs scallions, chopped and separate white and green parts
0.75 lb. large shrimp, peeled or with tail on and deveined
5 oz. Chinese broccoli (gai laor broccolini, broccoli florets, baby bok choy
Other:
3 tbsp avocado oil, sauteing
1 whole lime, slice to wedges (serving)
Instructions
Preheat oven to 400F or 375F(convection oven). In a food processor, process cauliflower, carrots, and broccoli to a little larger than rice grain size.

Line a large sheet pan (you might need twwith parchment, season with salt, pepper, ginger, garlic, onion and toss with olive oil. Spread the "rice" in a single layer. Bake for 20 minutes. Remove the sheet from oven, fluff the rice, then bake an additional 15 minutes. Set aside to let cool. It'll crisp further.

In the meantime, prepare garlic, onion, and scallions. Butterfly the shrimp. Chop broccoli stems to smaller rounds and dice the leafy part to slightly larger pieces. Combine the oyster sauce, fish sauce, and white pepper in a bowl.

Pre-heat a large saute pan or wok over medium heat until it's too hot to place your palm nearby, about 2-3 inches away. Turn the heat up to medium-high, add 1.5 tbsp avocado oil, fry the shrimp with garlic for about 2-3 minutes without touching then flip to cook 1 minute additional. Set them aside along with the pan juices.

Use the same pan, add 1.5 tbsp oil. Saute onion and white scallion parts, and season with a pinch of salt over medium-high heat until fragrant, about 10 seconds. Add broccoli stems and season with another pinch of salt. Saute until the stems turn softer, about 10-15 seconds. Add the broccoli leafy parts, keep sautéing until they turn deeper green color. Add the sauce and shrimp back to the pan, give a quick toss. Off heat, season with a small pinch of white pepper.

In a large serving tray, layer the shrimp and vegetable saute in the bottom layer. Toss in cauliflower rice. Garnish with green scallion parts and serve with lime wedges on the side.
Notes
If baking the rice with 2 sheet pans, the tray in the lower rack will get baked quicker than the middle rack. Keep an eye on it. A slight burnt bits are totally normal and part of the charm. 🙂
You can swap shrimp for ground chicken, pork, or beef. Season the meat with 2 pinches of salt during saute. Taste and adjust with more stir-fry sauce. 
Nutrition
Serving: 1serving, Calories: 208kcal, Carbohydrates: 14g, Protein: 16g, Fat: 11g, Saturated Fat: 1g, Cholesterol: 143mg, Sodium: 788mg, Potassium: 544mg, Fiber: 4g, Sugar: 5g, Vitamin A: 8605IU, Vitamin C: 98mg, Calcium: 155mg, Iron: 2mg
You may also like