Paleo Granola with Strawberry Yogurt Parfait
The BEST Paleo Granola Yogurt Parfait recipe! It's easy to make, packed with protein and omega-3s and just a hint of sweet and perfectly crunchy! Layered with strawberry compote, dairy-free yogurt, fresh berries, and crunchy paleo granola on top. This is the Perfect make-ahead breakfast, quick snack, or after dinner treat. Bottom line? It's absolutely downright delicious!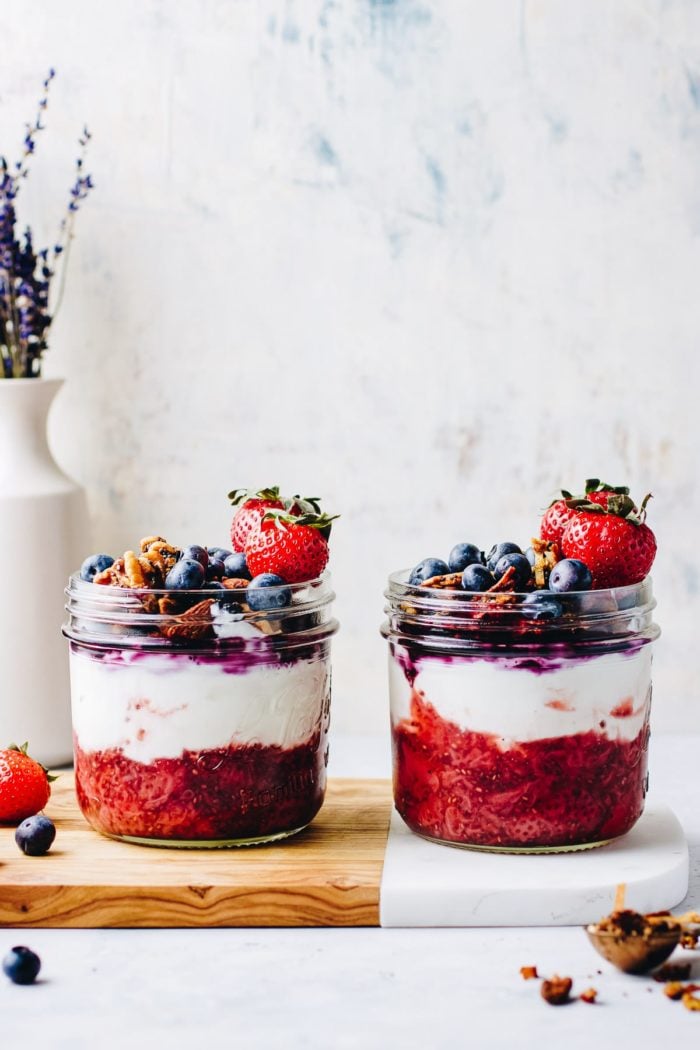 Did you know granola is a novel item to have in Asia, especially if you try to purchase boxed brands from America? I knew they are much cheaper in the U.S. so when I first moved to the states, store-bought granola was one of my must-have wishlist items. With a splash of cold milk or a spoonful of creamy yogurt…hmm…DELICIOUS!
I'm also a nerd when it comes to western style breakfast – omelettes, muffins, frittata, breakfast sandwiches, hash browns, sausage platter…etc. you name it. And today's Paleo Granola with fresh strawberry yogurt parfait is the perfect combo of delicious – great for breakfast, snack, or healthy dessert!
But first..what is yogurt parfait?
Yogurt parfait sounds fancy but in reality it's simply layers of yogurt with fresh fruit or fruit compote topped with a scoop of granola. 🙂
In this recipe, I'll show you how to make grain-free, gluten-free, paleo and vegan friendly healthy granola that are super crunchy and with a hint of sweetness. You can store my paleo granola at room temperature or freeze for later!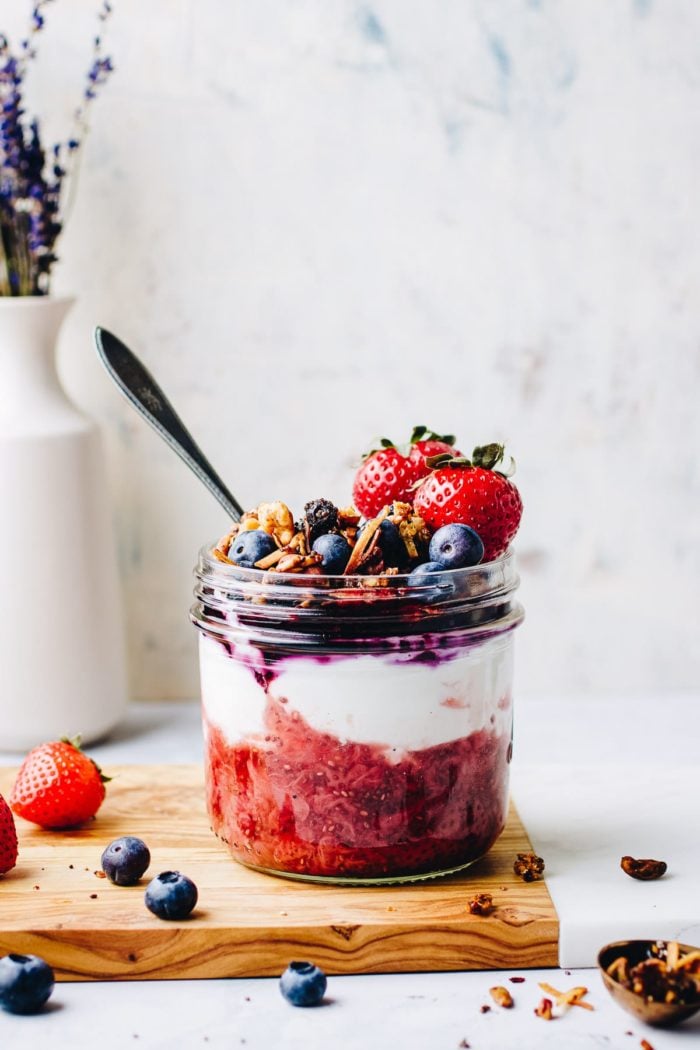 Are yogurt parfaits healthy?
It depends. The store bought version contains many hidden sugar – from sweetened yogurt to sugar coated granola clusters. I recommend making your own strawberry yogurt parfait at home so that you can control the type of yogurt and granola.
For example: the strawberry compote in the parfait is sweetened with fresh orange juice and thickened with chia seeds so there's no added sugar and starch thickener. It's also made in 1 minute in an Instant Pot! Perfect topping for yogurt or chia puding! Or swap strawberry for blueberry syrup. All super yummy!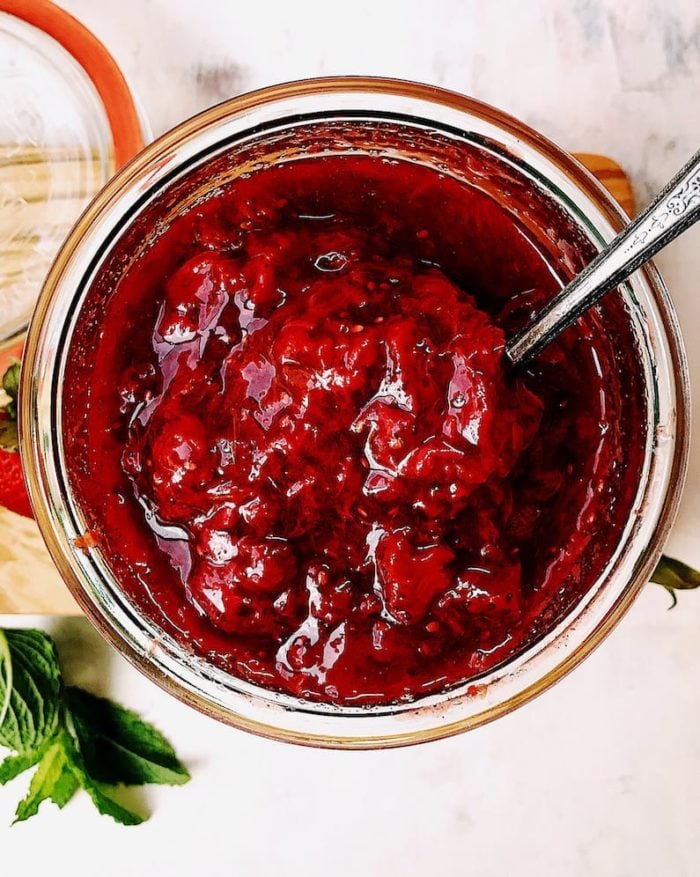 Healthy Paleo Granola Ingredients (grain-free)
Can I swap out the seeds for something else?
Absolutely! Feel free to experiment and use whatever you have handy. I love walnut and almond combo or pecans with pistachios!
What type of yogurt to use in the Paleo granola yogurt parfait?
Plain unsweetened yogurt is the best so you can control the level of sweetness and the type of sugar in the parfait. You can use dairy-free yogurt or regular full-fat yogurt if you are okay with dairy. Personally I love creamy thick Greek style yogurt. Anita's coconut yogurt is my favorite; Forager's cashew milk yogurt is also very tasty.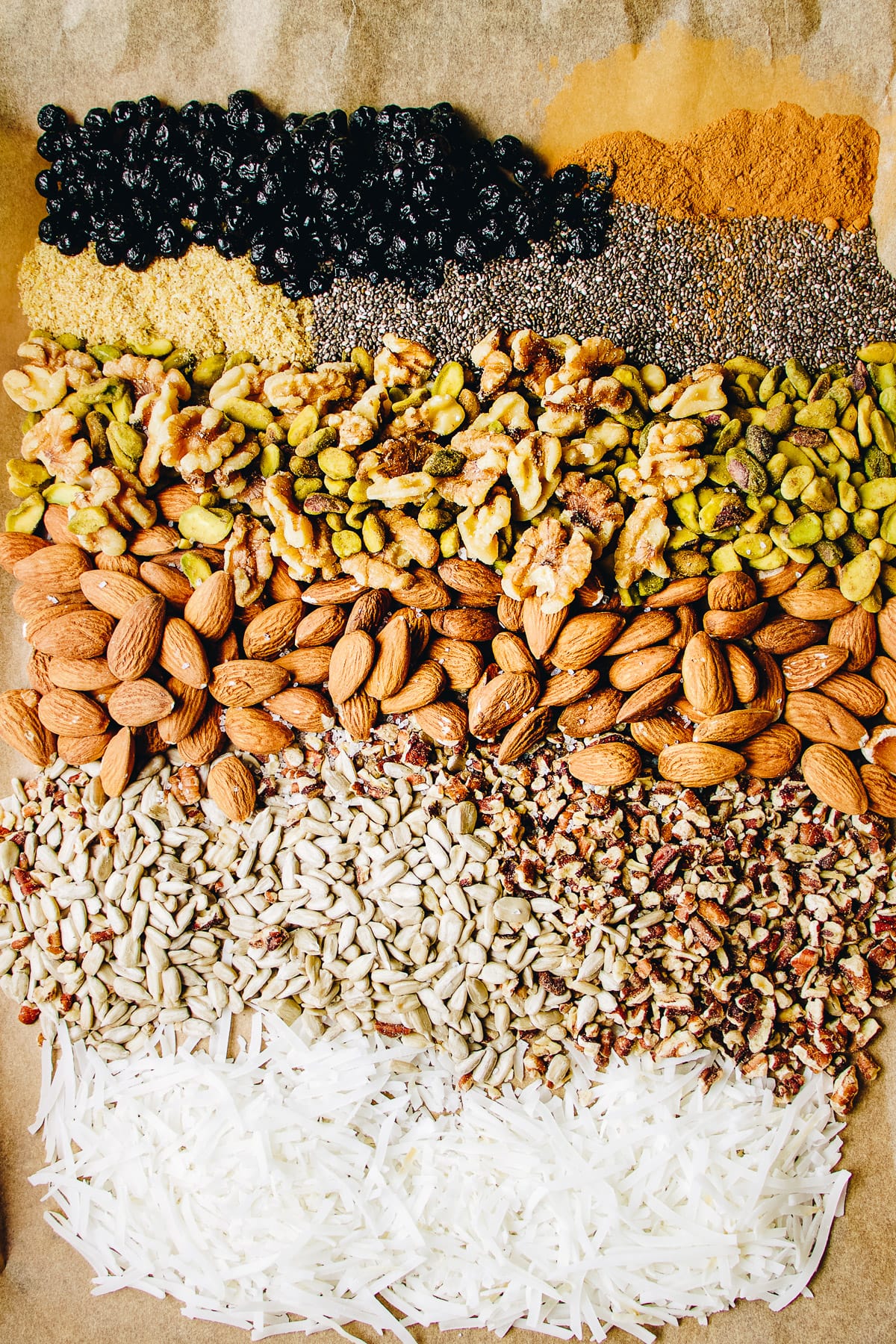 How to avoid soggy granola in yogurt parfait?
Pack the Paleo granola separately from the rest of parfait ingredients. Pack the yogurt, fruit compote, and fresh berries in a wide a wide mouth mason jar and pack the granola in a separate small container. Only sprinkle it over the yogurt parfait before serving so it'll remain crunchy.
Can you make Paleo Granola with Yogurt Parfait ahead?
Yes! The paleo granola can be made 2 weeks ahead; store airtight at room temperature, or freeze up to 3 months.
The fruit compote stays fresh in the fridge for up to 1 week.
When you combine them together in yogurt parfait combo – yogurt + fruit compote + fresh berries – they keep well in the fridge for 2-3 days.
Only sprinkle the granola on top before serving to keep it crunchy.
What type of container is best for yogurt parfait?
Wide mouth mason jars are the best. I love Ball 16 oz. Mason Jars (affiliate link) or La Parfait 16 oz. Mason Jar (affiliate link)
More ways to enjoy homemade Paleo Granola!
Enjoy it as is. Healthy crunchy snack. Super good!
Sprinkle on top of Paleo chia pudding for extra nutty deliciousness!
Sprinkle on top of salad for extra crunchy and just a hint of sweetness! Try it with this grilled peach salad.
Perfect holiday gift for loved ones!
More Paleo Breakfast Recipes
More healthy low carb recipes
This Paleo granola with strawberry parfait is high in protein, dessert worthy, yet totally perfect for breakfast. I've made this recipe grain-free and you can swap the ingredients and use whatever you have in the pantry! So if you are on the search for perfectly crunchy, all kinds of deliciousness, and feel-good paleo granola recipe, I highly recommend giving this one a try. I think you're going to love it!
Please let me know how this recipe turns out for you in the comments! I love hearing from you and hope this granola recipe becomes your new favorite.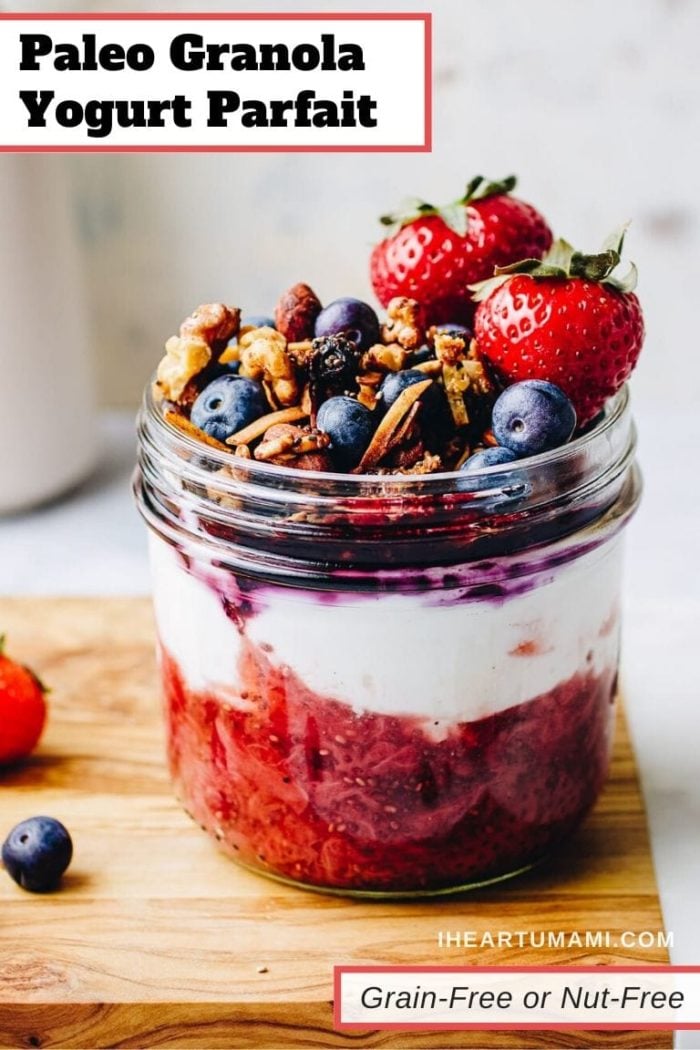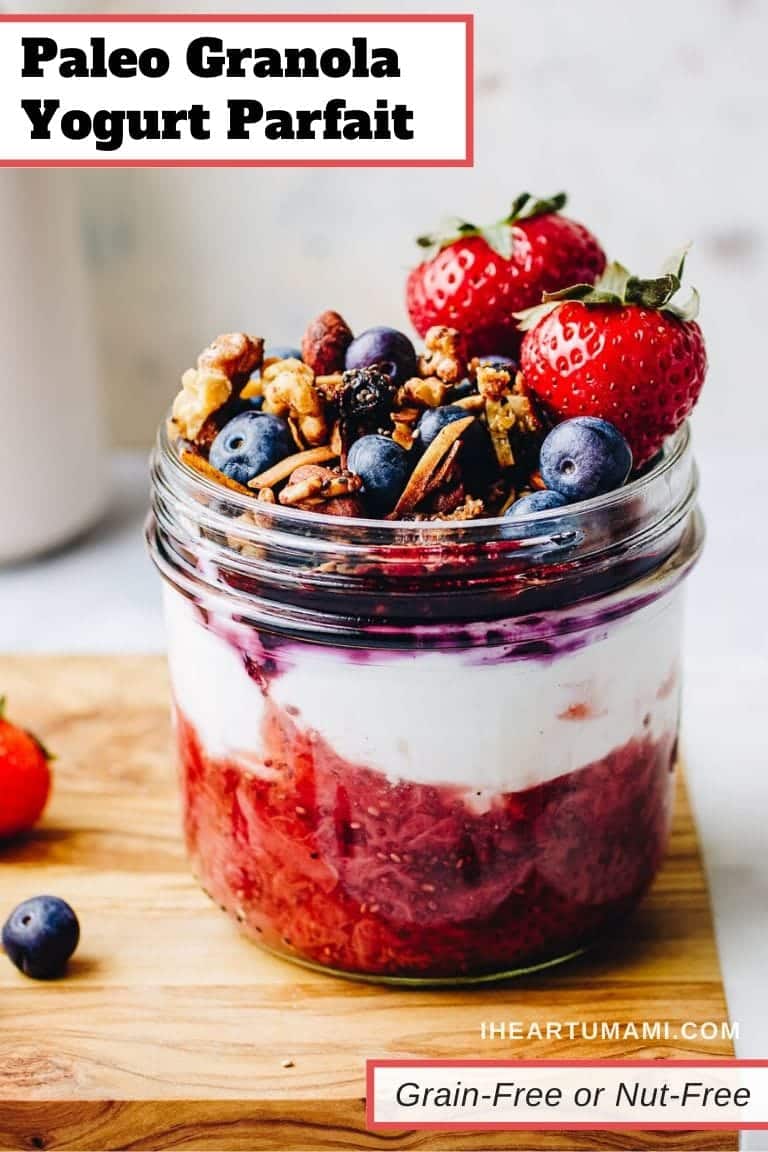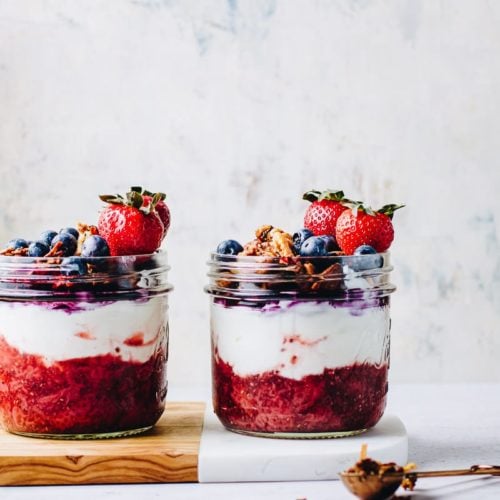 Paleo Granola Yogurt Parfait
Paleo Granola Yogurt Parfait with grain-free or nut-free choices! With fruit compote, dairy-free yogurt and crunchy granola. Best healthy Paleo breakfast on the go! Makes 7 cups granola.
Print
Pin
Rate
Ingredients
For the Paleo Granola:
4 cups mixed seeds and nuts, such as pumpkin seeds, sunflower seeds, flaxseeds, chia seeds, hemp seeds, goji berries, almonds, walnuts, pecans, pistachios
½ cup cacao nibs
½ cup coconut flakes
½ cup olive oil
¼ cup maple syrup, or 2 tbsp monk fruit maple-flavored syrup
1 tsp coarse sea salt
1.5 cups mixed dried fruits, such as golden berries, mulberries, figs, dates, raisins, dried sour cherries, and/or apricots, finely chopped
To Serve:
Dairy-free yogurt or greek yogurt, unsweetened and plain, about ½ cup per serving
Fresh berries of choice, strawberries, black berries, blueberries
Instructions
For the Paleo Granola:
Preheat the oven to 350F. Mix everything well except the dried fruits in a large mixing bowl.

Line a large sheet pan with parchment. Spread the seeds onto the prepared sheet in one single layer. Bake for 18-20 minutes or until golden brown. Stir every 10 minutes.

Use this time to finely chop the dry fruits in a small food processor. You might need to scrap the bowl and pulse a few times.

Once the nuts and/or seeds are out of the oven, let cool for 5 minutes. Toss in chopped dry fruits and set the sheet aside to let cool completely (it'll crisp up more).
To Serve and Store:
To store: Granola can be made 2 weeks ahead; store airtight at room temperature, or freeze up to 3 months.

To serve or pack: add the strawberry compote to a wide mouth mason jar and top with yogurt and fresh berries on top. Pack the granola in a separate container or it will get soggy. Sprinkle it over before serving.

More ways to serve: Serve the granola with cold dairy-free milk or enjoy it straight as a healthy snack!
Notes
If you can't have seeds, use 4 cups of raw mixed nuts of your choice. If you can't have nuts, use 4 cups of raw mixed seeds of your choice. This recipe makes about 7 cups of Paleo granola. The nutritional label is calculated with monk fruit maple flavored syrup with half cup of granola per serving. It's calculated without the yogurt and fruit compote.
Nutrition
Serving: 0.5cup, Calories: 407kcal, Carbohydrates: 24g, Protein: 10g, Fat: 32g, Saturated Fat: 6g, Sodium: 172mg, Potassium: 433mg, Fiber: 8g, Sugar: 11g, Calcium: 117mg, Iron: 2mg