Paleo Asian Coleslaw
This is a terrific fresh, and crunchy Paleo Asian Coleslaw that I call it Asian Slaw because it has shredded vegetables and with a creamy toasted Japanese sesame dressing. The crunchy vegetables and nutty delicious salad dressing make this Asian Whole30 coleslaw extra special. Crunchy delicious and easy!
This is a great all-rounder Asian Coleslaw to serve as a side for any main dishes, including Chinese/Taiwanese, Thai, Vietnamese, and Japanese. Make a big batch because it keeps for days!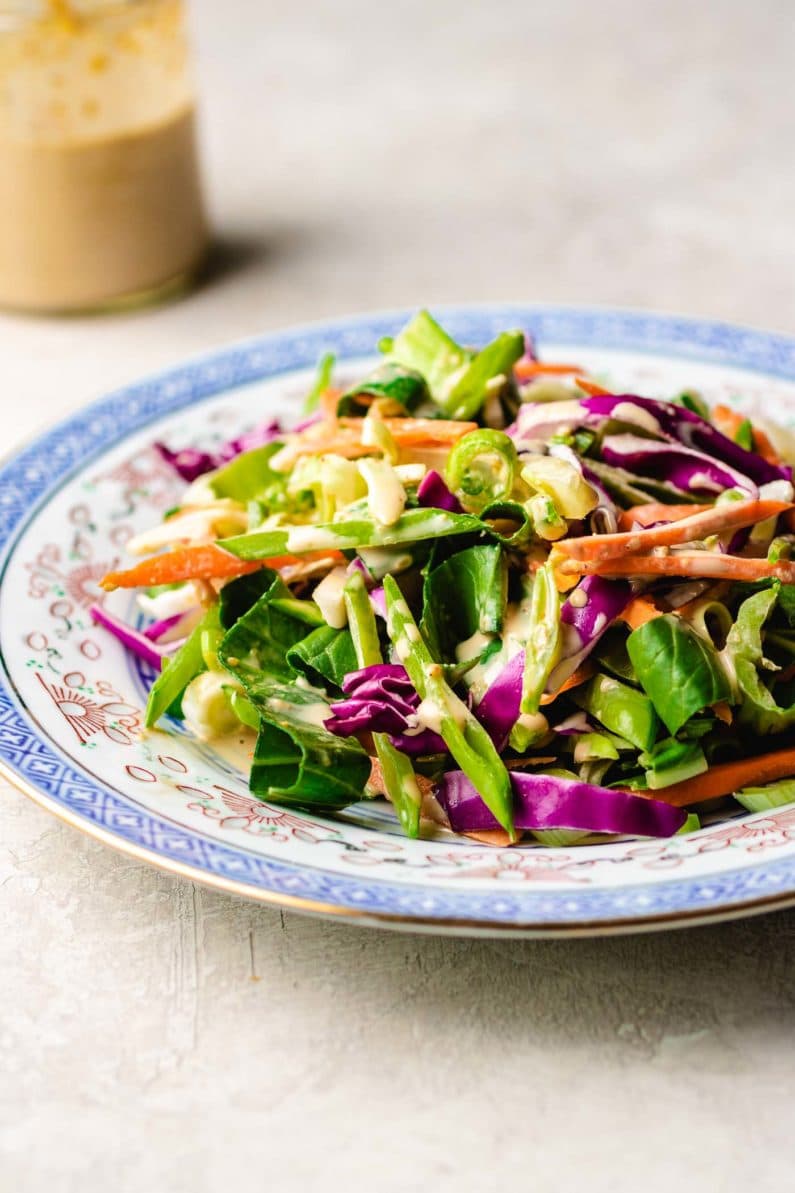 Paleo Asian Coleslaw (Whole30, Keto)
The reason I call this dish Asian Coleslaw because it's made with shredded vegetables that resembles traditional coleslaw – but other than that, it's very different! My Whole30 and Paleo Asian Slaw is fresh, light, and crunchy, and definitely not soggy or lack in flavor.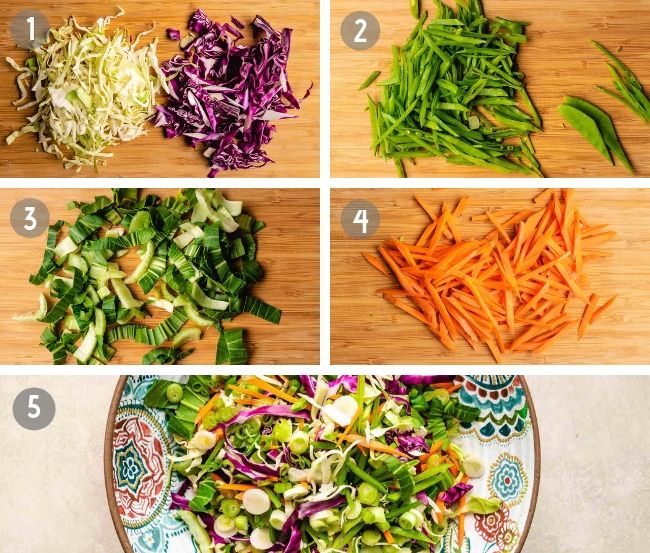 The three things that make this Asian Paleo Coleslaw extra yummy and different from others:
A nutty delicious Japanese Sesame Dressing – I gave this salad a Japanese touch with roasted Japanese goma (sesame) dressing, inspired by kewpie roasted sesame dressing,
Extra crunchy – thinly sliced snow peas and carrots make all the difference,
More dark leafy greens – Baby bok choy is probably one of my favorite Asian vegetables. Simply chop them up for extra crunch and dark leafy greens.


What goes in Paleo and Whole30 Asian Slaw
Shredded green cabbage and purple cabbage.
Snow peas and carrots, julienned
Baby bok choy, chopped
Scallions
I added purple cabbage for extra color. It's totally optional. You can also use Napa cabbage but if you want to keep the salad for days, green and purple cabbage contain less water and will keep fresh longer.
TIP: Make a big batch! This Asian Whole30 Coleslaw keeps fresh for days – just keep the dressing separate from the veggies. Combine the two and give them a quick toss, a healthy delicious salad is ready at your fingertips!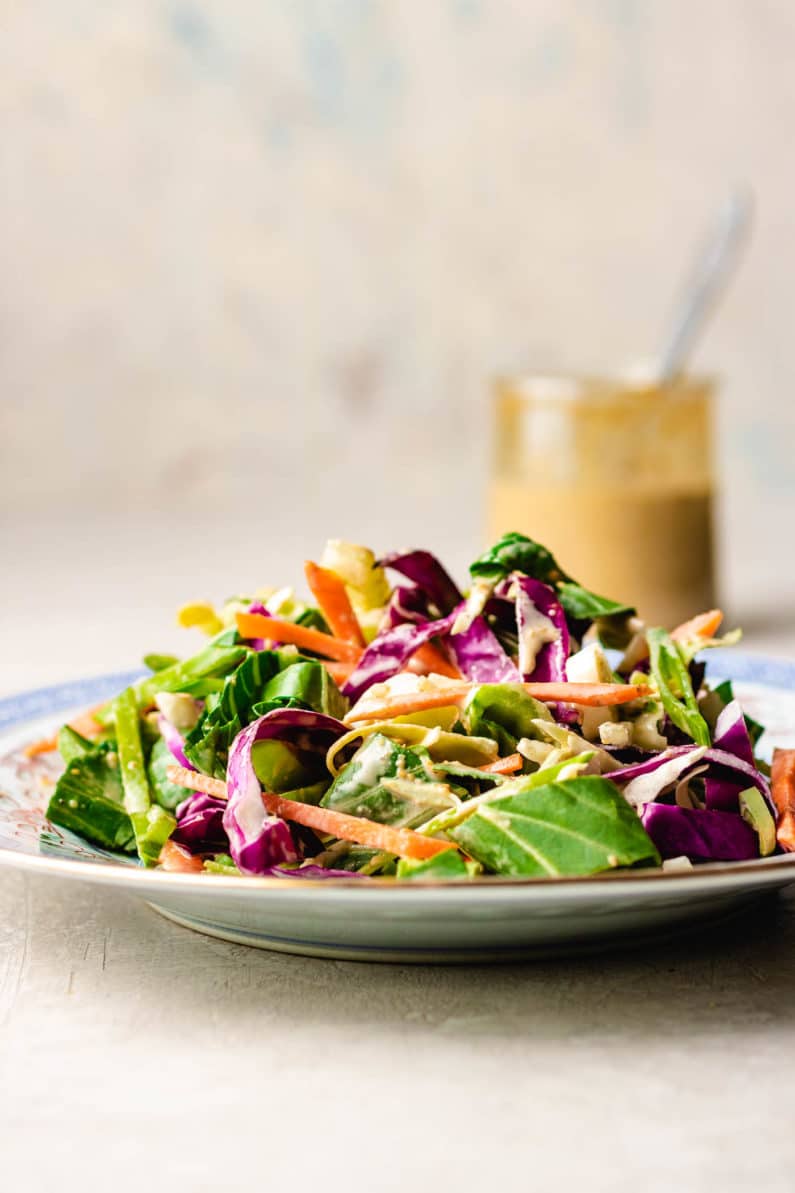 As I mentioned, this Paleo Asian Slaw is not an authentic recipe of any cuisine but the flavors are reminiscent of Japanese and American salads.
I intentionally wrote a big serving quantity in my recipe because the salad stores terrifically in the fridge and you can easily add extra protein – grilled chicken, beef, pork, or seafood – to make a complete light meal. It's perfect to feed a big family as well as suitable for singles.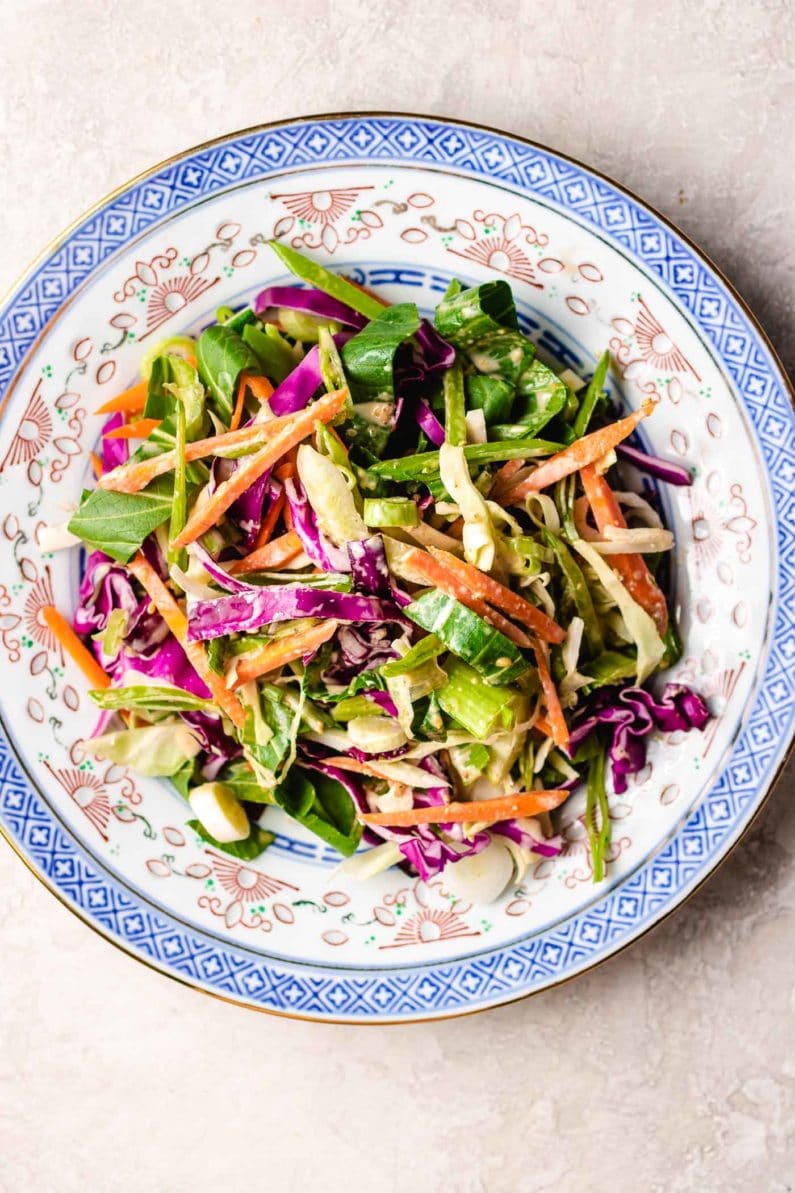 Try this Paleo and Whole30 Asian Coleslaw on the side of:
More Great Asian Salad Recipes:
Hungry for more? Subscribe to my newsletter and follow along on Instagram and YouTube for all for the latest updates!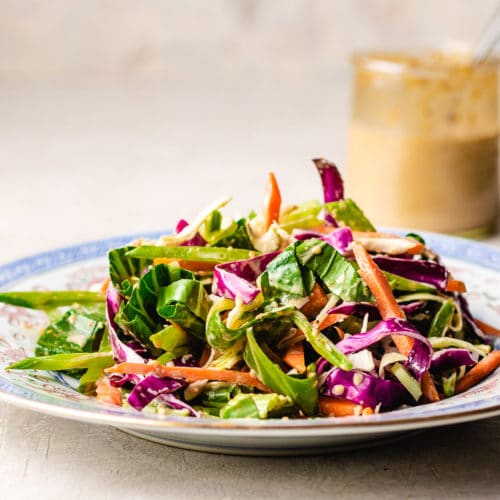 Paleo Asian Coleslaw with Creamy Sesame Dressing (Whole30, Keto)
Paleo Asian Coleslaw with crunchy vegetables, tossed in a creamy Japanese sesame dressing. This Whole30 coleslaw is easy to make and is a great all-rounder healthy salad!
Print
Pin
Rate
Ingredients
Paleo Asian Coleslaw ingredients: (Whole30)
2-2.5 cups chopped baby bok choy
2 cups shredded green cabbage, I use TraderJoe's shredded cabbage packet
1 cup shredded purple cabbage, optional, see notes
3.5 oz. snow peas, julienned
1 cup julienned carrots
2 bulbs scallions, chopped
Instructions
Chop baby bok choy. Rinse well and set aside to drain.

Thinly slice or shred the green and purple cabbage, if using, to thin strips.

Slice snow peas diagonally to thin strips.

Slice carrots diagonally then slice them again to thin strips.

Dice scallion bulbs.

In a large salad storage box/bin, combine all the ingredients from bok choy to scallions. Store it in the fridge until ready to use.

Before serving, drizzle-in sesame dressing. Toss well and serve immediately.
Notes
Store the coleslaw in the fridge up to 1 week. Keep the salad dressing separate from the slaw.
Can't have sesame seeds in your salad dressing? See more of my salad dressing recipes here. Select a creamy version that will go well with the coleslaw. 🙂
The nutritional label is calculated without the sesame dressing. 
Nutrition
Serving: 1serving, Calories: 31kcal, Carbohydrates: 7g, Protein: 2g, Fat: 1g, Saturated Fat: 1g, Sodium: 48mg, Potassium: 177mg, Fiber: 2g, Sugar: 3g, Vitamin A: 5610IU, Vitamin C: 45.1mg, Calcium: 72mg, Iron: 0.9mg