Homemade Dairy-Free Fudge Pops
This Homemade Dairy-Free Fudge Popsicle may well be the ultimate chocolate ice cream fix! Rich and creamy, yet dairy-free and low carb.
The velvety chocolate flavor in this will blow your mind! A no-churn and no-blender fudge pops that are incredibly creamy and smooth. 6 ingredients, easy to make, and will always leave you wanting more…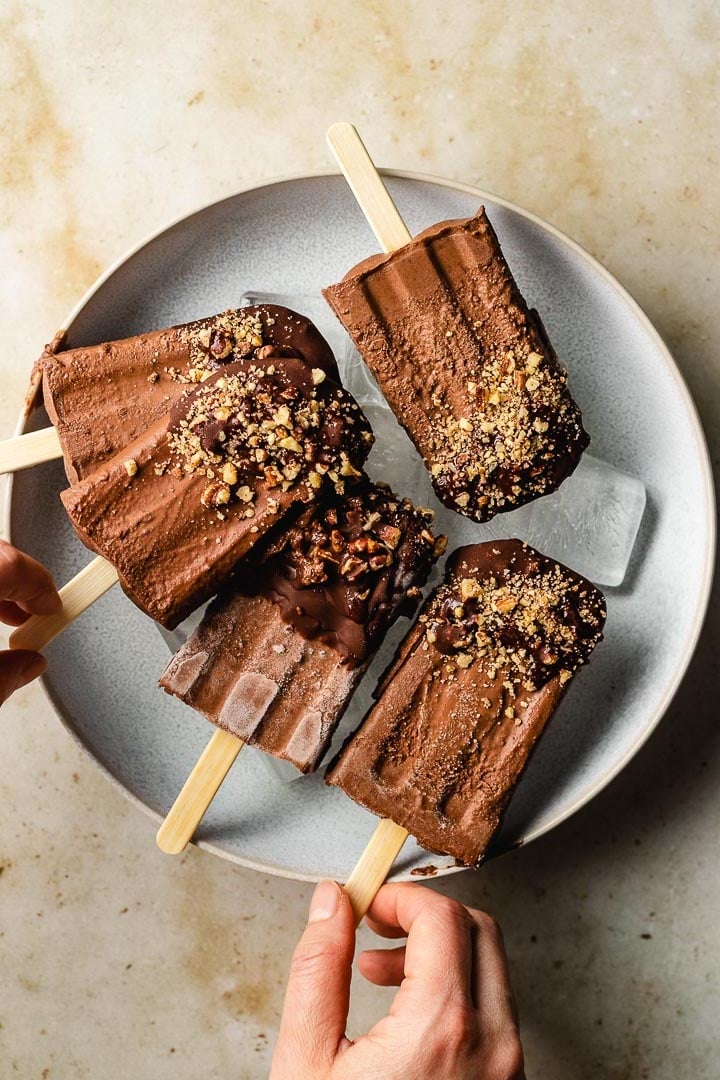 Homemade Dairy-Free Fudge Pops (Paleo, Keto, Low Carb)
Chocolate fudge pops – you are my favorite and always will be. The simple trick that makes this dairy-free ice cream tastes creamy rich is to use dairy-free coffee creamer!
It makes these Paleo fudge popsicles ultra smooth and gives it that intense chocolate flavor and a beautiful creamy mouth feel.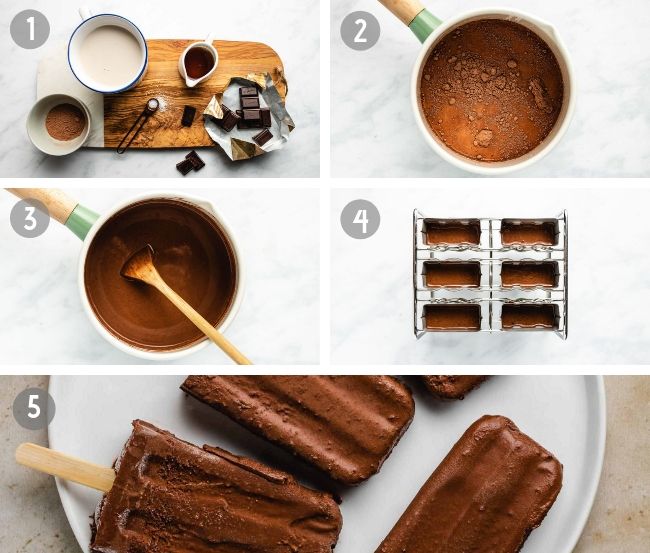 Many of you know how much I adore dark chocolate sweets. If you browse my dessert archive, you'll see that more than 50% of the time I'll write a chocolate flavored sweets than any other kind. I also love making my own sweets at home because I can control the type and the amount of sweetener and the quality of the chocolates.
Good Quality Cacao Powder and Dairy-Free Creamer Are The Key
A good quality of cacao powder has a rich chocolate aroma. The flavor is intense and you can smell it the moment you open the bag. I like to use Navita's cacao powder. It's unsweetened.
I also found that using dairy-free half-and-half is a great way to make dairy-free fudge pops. Quite often, I feel that coconut milk cream makes my fudge taste too coconut tasting so a dairy-free coffee creamer that has a combination of almond and coconut milk gives just the right amount of creaminess without being too overpowering.
How to make dairy-free fudge popsicles?
You'll need –
Dairy-free half-and-half creamer
Unsweetened dark chocolate bars
Cacao powder
Monkfruit maple-flavored syrup or maple syrup
Coarse sea salt
Vanilla extract
The recipe will give you 6 fudge popsicles. I use a stainless steel molds. You can, however, use any molds you have.
How many calories are in a low-carb dairy-free fudge pop?
For 1 serving of dairy-free, Paleo, and Keto Fudge Popsicle, it has 111 calories, 7-gram carbohydrates, and 0-gram sugar.

Do fudge pops have gluten?
My Paleo Homemade Dairy-Free Fudge Pops are gluten-free, dairy-free, and low-carb.
I also provide two types of sweeteners – Monkfruit maple-flavored syrup or maple syrup. For people who are on keto or prefer a low-carb sweetener, Monkfuirt maple syrup will be a good alternative.
More chocolate recipes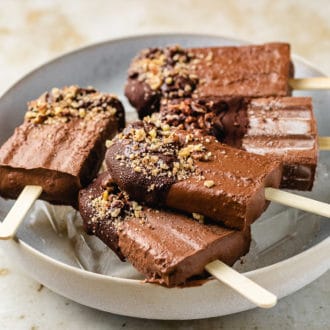 Homemade Dairy-Free Fudge Popsicles recipe
Homemade Dairy-Free Fudge Pops are rich and creamy yet keto, low carb. No churn dairy-free Paleo fudge pops with velvety chocolate will leave you wanting more.
Print
Pin
Rate
Ingredients
Homemade Dairy-Free Fudge Pops (Paleo, Low carb, Keto):
Instructions
In a medium sauce pot, add ingredients from dairy-free half-and-half to coarse salt.

Simmer over medium-low to low heat. Stir often with a wooden spoon until the chocolate is completely melted and the texture becomes creamy smooth, about 5 minutes.

Off heat, stir-in vanilla extract. Taste and adjust sweetener quantity to your own liking. Set the fudge mixture aside to let it cool completely.

Pour the fudge mixture into popsicle molds and leave about 1-2mm from the top to allow ice expansion. Chill in the freezer overnight or at least 4-6 hours.

To remove the popsicle molds, soak them in room temperature water for 2-3 minutes.

Optional step, place chocolate bars with coconut oil in a heat-proof bowl. Melt them in a microwave for about 30 seconds. Stir to mix well. Dip the fudge pops into the melted chocolate sauce and sprinkle with nuts.
Notes
Start with the lowest amount of maple syrup (sweetener) quantity. If not sweet enough to your taste, add ½ tbsp more until your desired level.
The nutritional label is calculated with monkfruit maple-flavored syrup and without the topping.
The recipe makes six popsicles in this stainless steel popsicle mold.
Nutrition
Serving: 1popsicle, Calories: 111kcal, Carbohydrates: 7g, Protein: 2g, Fat: 11g, Saturated Fat: 7g, Sodium: 207mg, Potassium: 131mg, Fiber: 4g, Calcium: 1198mg, Iron: 2.6mg
More dairy-free ice cream recipes