Whole30 Breakfast Hash Browns
Whole30 Breakfast Hash Browns with no eggs! This Whole30 Hash is perfect for meal prep and breakfast on-the-go. Freezer friendly and easy to build a healthy Whole30 Breakfast bowl!
Whole30 Breakfast Hash Browns with no eggs
I love eggs. Growing up my grandmother made the best boiled eggs simmered in Taiwanese meat sauce. They are one of my favorite childhood snacks after school. So why made a recipe with no eggs today? Well, besides for people who are allergic or can't have eggs, a lot of people ask for no egg Whole30 breakfast recipes for a change so they don't feel bored eating eggs all the time during the 30 day reset.
To make no egg Whole30 Breakfast Hash Browns without using a ton of starch actually is quite easy thanks to America's Test Kitchen. I was inspired by an article from the magazine making better hash browns so I thought it'd be nice if I can borrow parts of the techniques and make my Whole30 breakfast hash with no eggs.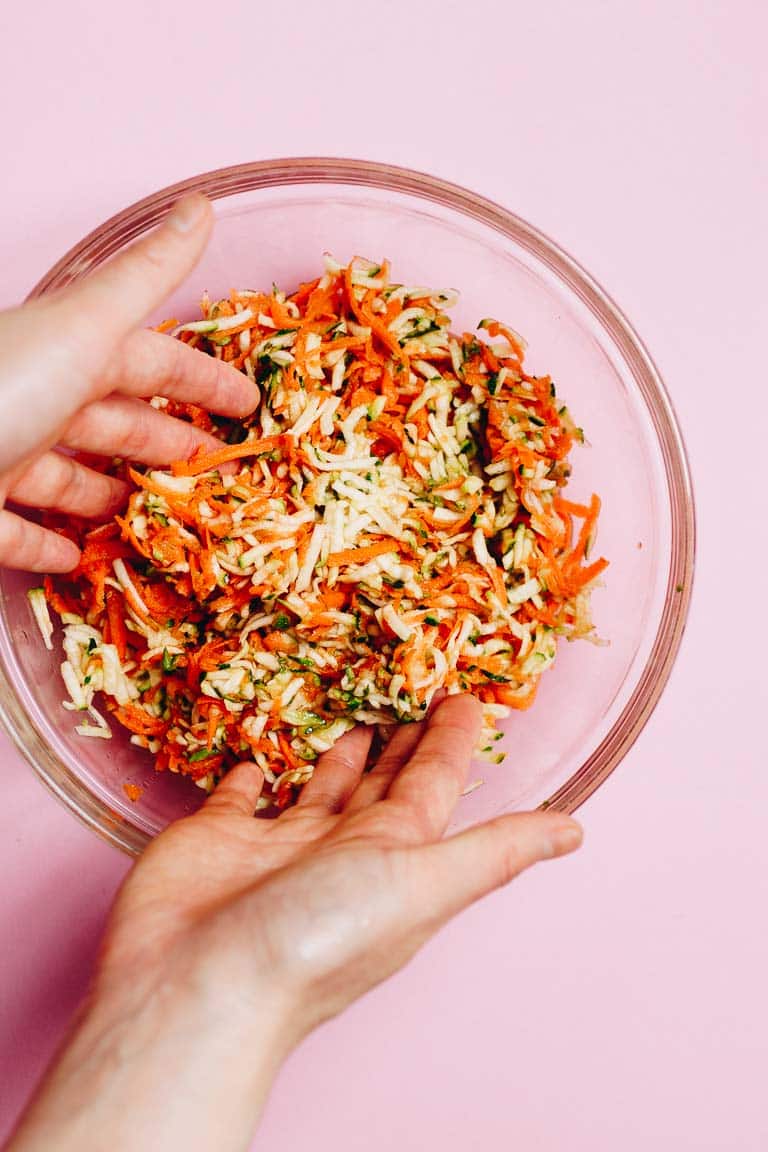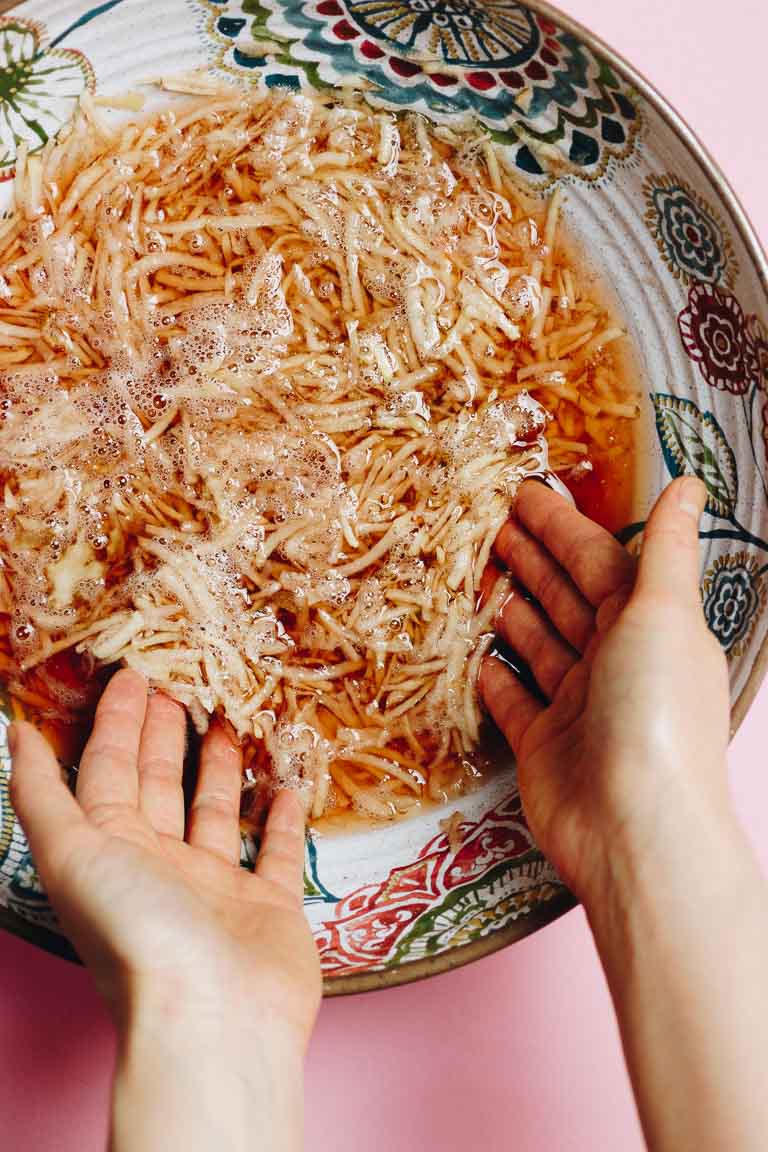 It took a few trial and error but nothing complicated. It turns out shredded potatoes once cooked release more starch and we can use that starch for binding. I also deployed the technique of soaking the shredded potatoes in a salt water bath to keep them from turning pinkish brown color. The same method I've seen my mom did for diced apples – soaking them in a lightly salted water to prevent the fruit from turning yellow-brown color.
Perfect make-ahead and freezer friendly hash browns
Similar to my Whole30 Breakfast Sandwiches, these hash browns are perfect for make-ahead and on-the-go. They store well in the freezer and you can pan fry them straight in a hot skillet without having to defrost. It's a great way to sneak some extra veggies to your kids' lunch boxes, too! They taste great without any dipping sauce or if you want to have a more diner breakfast feel, I highly recommend Tessemae's Whole30 approved ketchup, any of their ranch, or caesar dressing!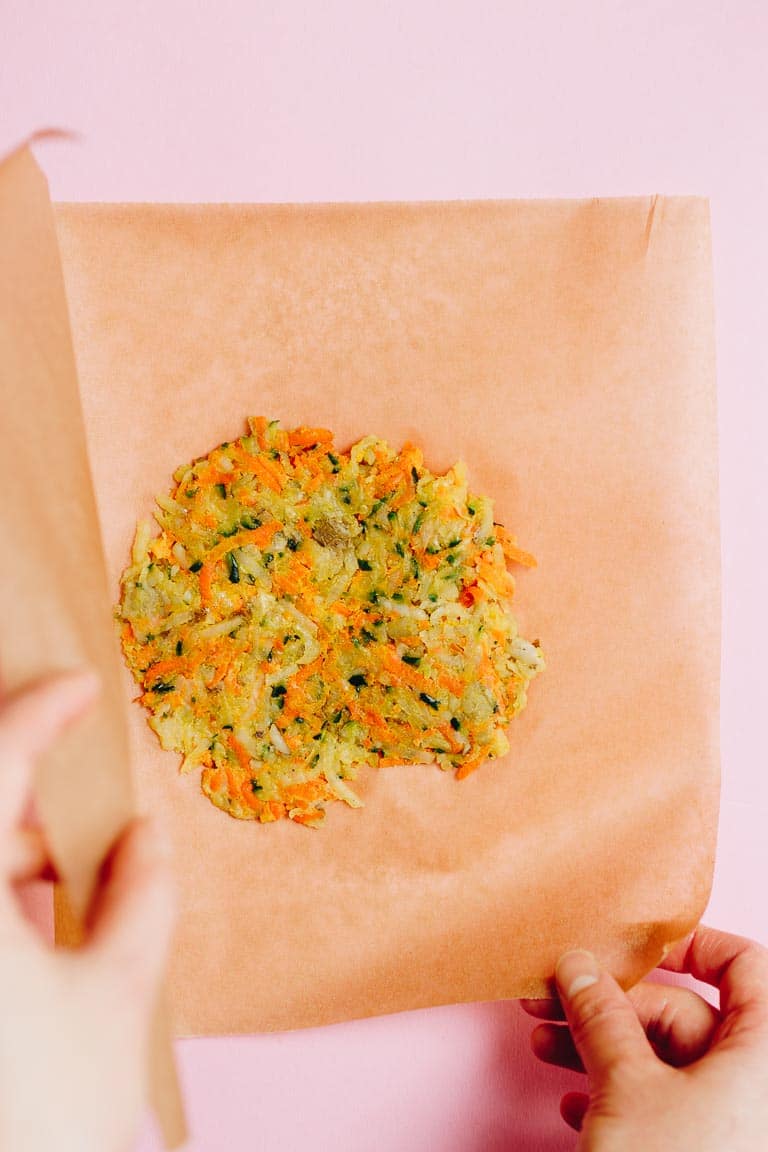 Build a healthy Whole30 breakfast bowl
To build a healthy Whole30 meal, we recommend protein, fiber, good carbohydrates, and a small serving of nuts/fruit. Here I pair mine Whole30 Breakfast Hash Browns with leafy greens and chopped tomatoes to keep the hash light and refreshing. Adding a side of cooked protein like chicken, avocado, or bacon will help boosting your protein intake and therefore keep you feel full longer. Personally, I think these healthy hash browns are so convenient to have in the freezer. You can use them as a side dish for lunch and dinner, too.
So my friends, these Whole30 Breakfast Hash Browns are –
No eggs
Freezer friendly
Packed with vegetables
Not greasy
& Yummy delicious!
If you give this Whole30 Breakfast Hash Browns a try, be sure to leave a comment and rate the recipe below. Your ratings are an important element to my blog. If you are sharing on Instagram, be sure to tag #IHeartUmami, I would love to see your lovely creations!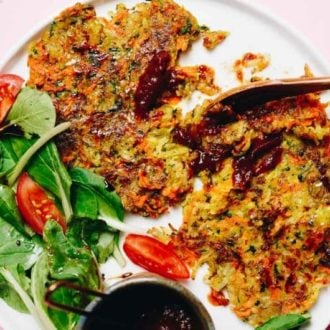 Whole30 Breakfast Hash Browns (No Eggs)
Whole30 Breakfast Hash Browns with no eggs! This Whole30 Hash is perfect for meal prep and breakfast on-the-go. Freezer friendly and easy to build a healthy Whole30 Breakfast bowl! Pair with any dipping sauce you like from Whole30 ketchup to ranch dressing! Makes about six 4 by 5-inch hash browns.
Print
Pin
Rate
Ingredients
10-12 oz. zucchini
5-6 oz. carrot
10-12 oz. yukon gold or russet potato
1 tsp + 2 tsp coarse salt
2 cups water
1.5 tbsp cassava flour
4 to 5 tbsp full fat coconut milk
⅛ tsp black pepper
¼ tsp onion powder, optional
Instructions
Shred zucchini and carrot in a food processor and place them in one large bowl. Shred potato and place the shredded potatoes in a second large bowl. Sprinkle 1 tsp coarse salt to zucchini and carrots. Use your hands to gently rub the salt in. Set aside. Add 2 cups water + 2 tsp coarse salt to the shredded potato bowl and set aside for 5 minutes.

Drain and squeeze out the liquid content of the shredded carrot zucchini over a cheesecloth or clean kitchen towel. Set aside. Do the same for the shredded potatoes. Keep the potato pile separate from the carrot and zucchini.

Spread out the potatoes in a microwave safe bowl. Cover and microwave on high for 3 minutes. Lightly fluff the potatoes and set aside to cool. The potatoes will feel slightly sticky to your hands after microwaved. This will help binding.

Combine carrots, zucchini, potatoes, cassava flour, milk, pepper, and onion powder. Use your hands to bind and gently press them to form a starchy veggie pile. It should feel a bit sticky to your hands. From here, you can 1) use your hands to form small veggie patties or 2) divide the large pile into 6 equal balls and press down/flatten the ball over a large piece of parchment paper by folding the paper in half.

To pan fry: Add 1.5 tbsp avocado oil to a well heated skillet. Pan fry first side about 4-5 minutes over medium-low heat. Carefully flip to cook the flip side. Add a bit more oil if need be. Serve in room temperature with your favorite dipping sauce, ranch, or ketchup.
Notes
Press the hash brown patties flat but not too thin or it'll be hard to flip them.   To make-ahead: Complete Steps 1-5. Wrap and divide the patties with a piece of parchment paper in between. Store flat in large freezer friendly ziplock bags. When ready to cook, they can go straight to pan-fry. No need to defrost.   The nutrition label is calculated for 1 patty out of 6 total. 
Nutrition
Calories: 129kcal, Carbohydrates: 15g, Protein: 2g, Fat: 7g, Saturated Fat: 2g, Sodium: 217mg, Potassium: 417mg, Fiber: 1g, Sugar: 2g, Vitamin A: 4040IU, Vitamin C: 12.7mg, Calcium: 29mg, Iron: 1.2mg
Love your hash browns with eggs? Check out my Paleo Zucchini Carrot Fritters and Paleo Green Buddha Bowls.
For a complete meal, consider adding my no egg savory breakfast meatballs!