Whole30 Breakfast Sausage Patties (egg-free)
Whole30 Breakfast Sausage Patties will be your new morning favorite! Tasty and juicy, and with a hint of sweetness, these sausage patties are loaded with flavor and you can mix together in mere minutes! Plus, there are no eggs and freezer friendly!
Bonus: These yummy Whole30 sausage patties remind me of Thanksgiving holiday season! They will bring comfort and smile to you and the family!
Heads-Up! Are You Doing A Whole30?
+ A Quick Video Walk Through So You Know What To Do!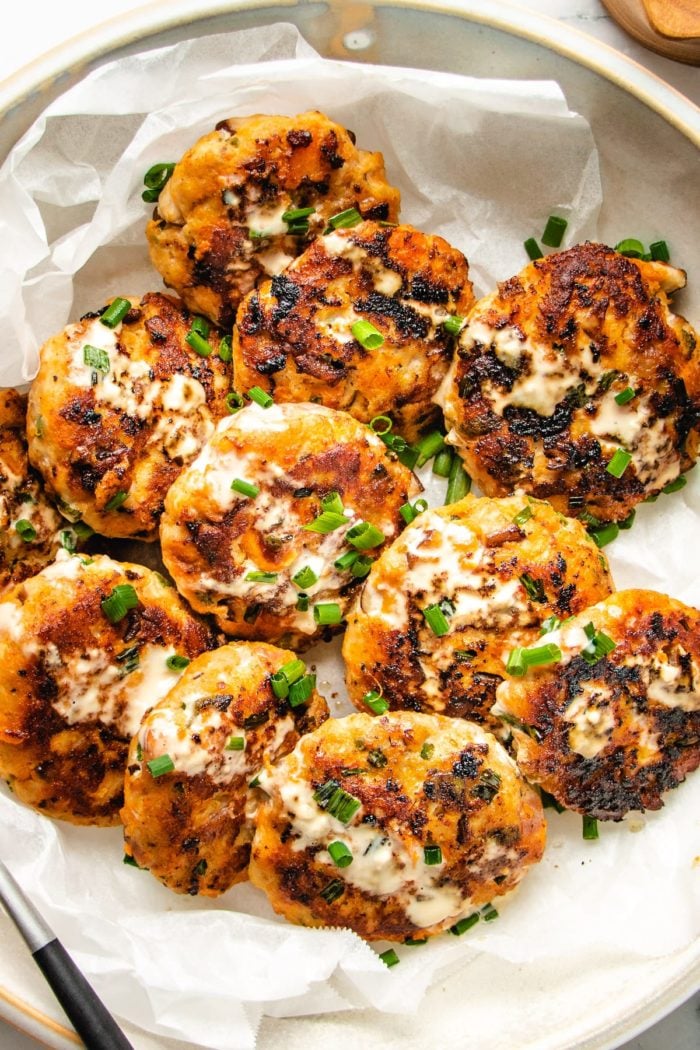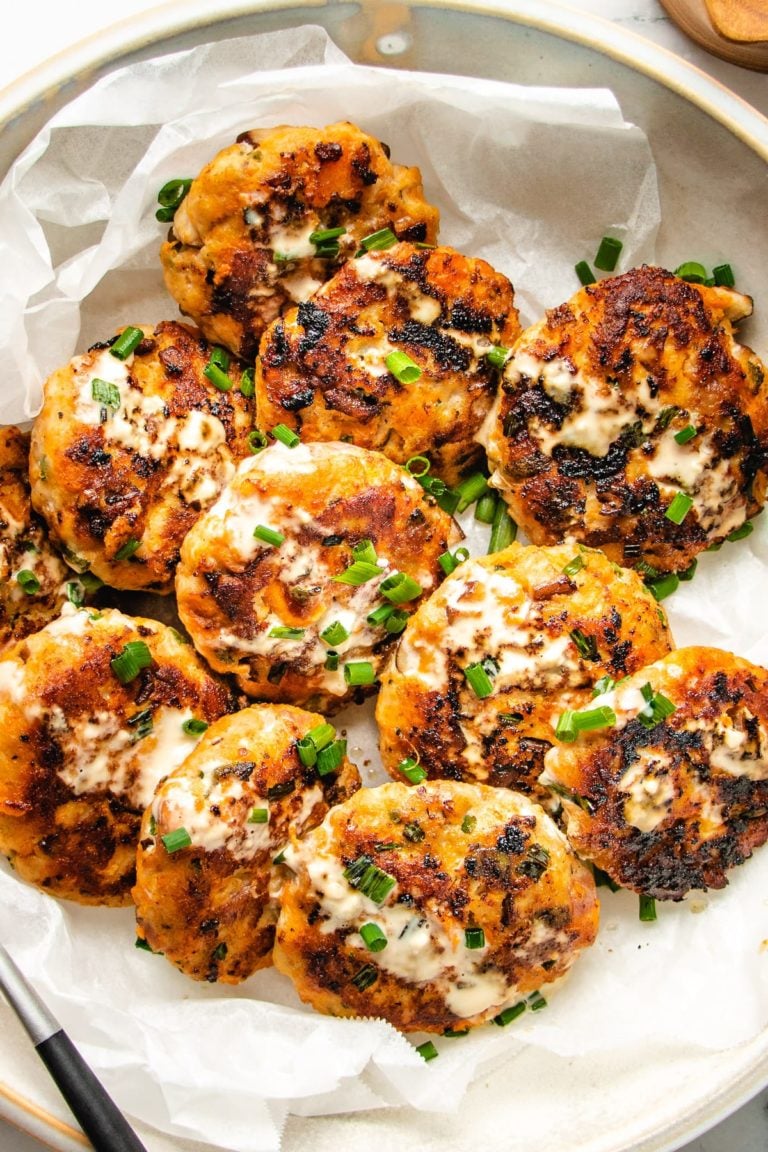 The original recipe was published in 2016. I updated the post with new photos, writing, and recipe instructions.
Breakfast For Dinner Or Lunch – Whole30 Breakfast Sausage Patties!
I'm a big fan of breakfast for dinner and today's Whole30 breakfast meatball patties are the perfect example! They taste so much better than store-bought sausage patties and they are filling and satiating. These patties make a great grab-and-go make-ahead breakfast or stay home lunch and dinner!
What makes these sausage patties extra yummy?
You'll be amazed how delicious these homemade patties taste. There's not even that many spices in the seasoning – but the secrets are sage and sweet potatoes! They are what give these breakfast sausage patties that extra sweet and savory holiday flavor. Plus, it's a great way to use up leftover mashed sweet potatoes.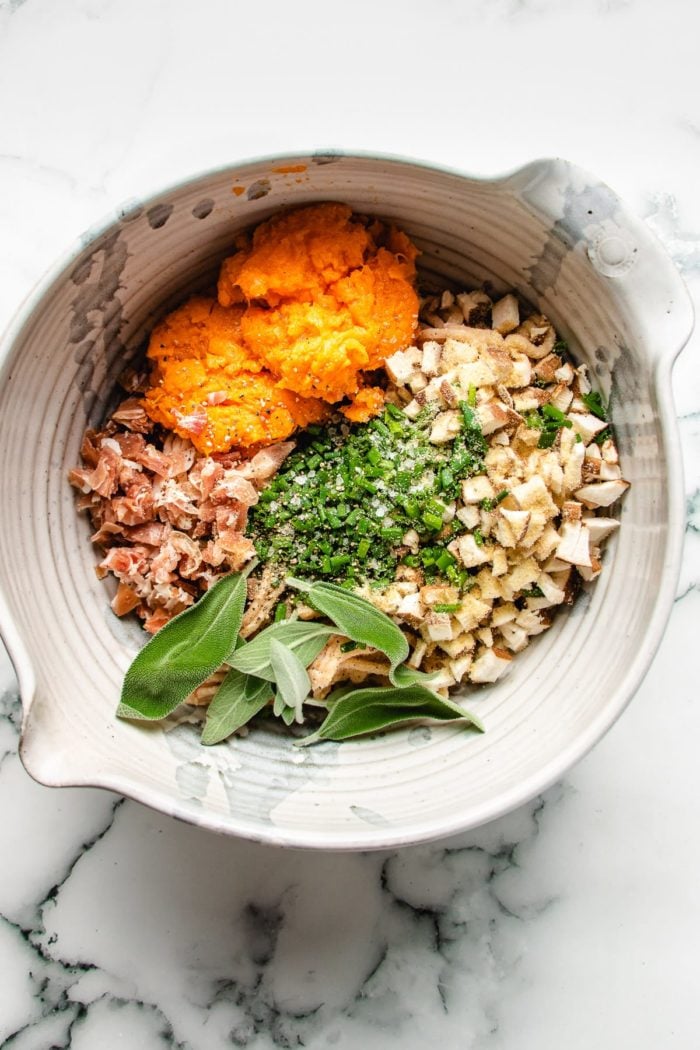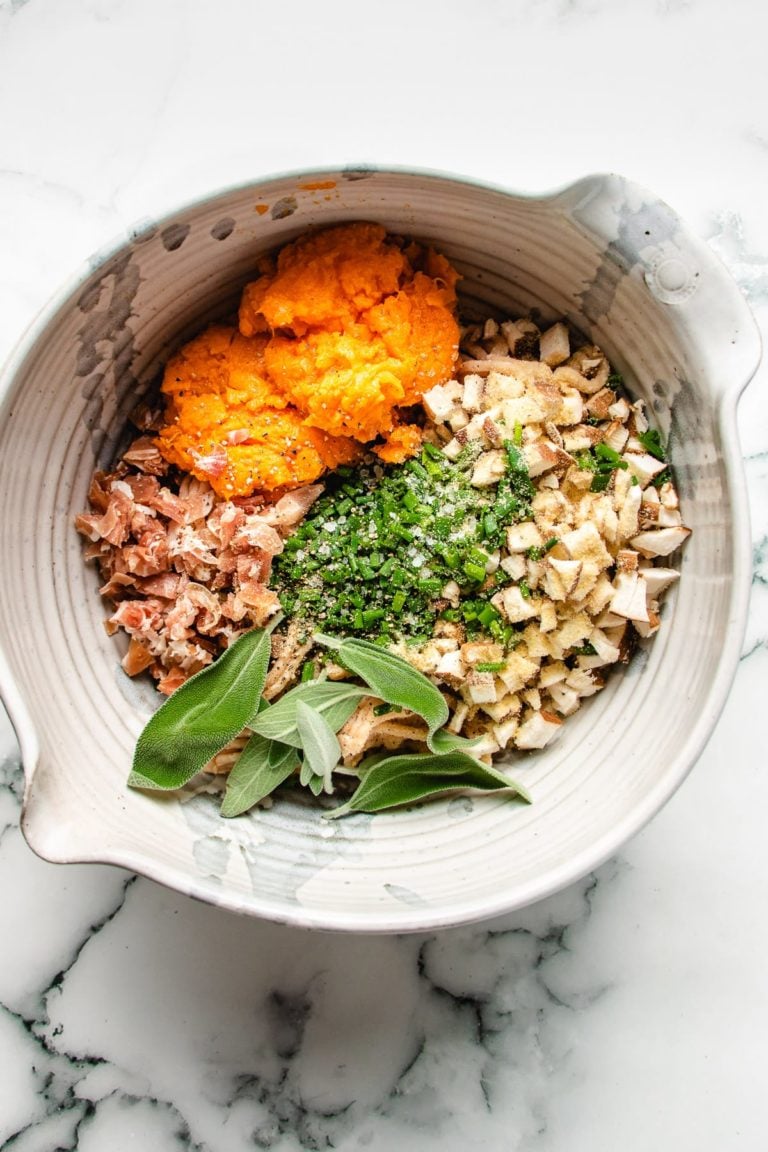 Ingredients you'll need for homemade healthy breakfast sausage patties
Ground chicken, turkey, or pork
Sage leaves
Cooked and mashed sweet potatoes
Chive
Fresh shiitake
Onion powder
Prosciutto
If there's one ingredient you cannot have or can't find, please scroll down to see more details under recipe variations.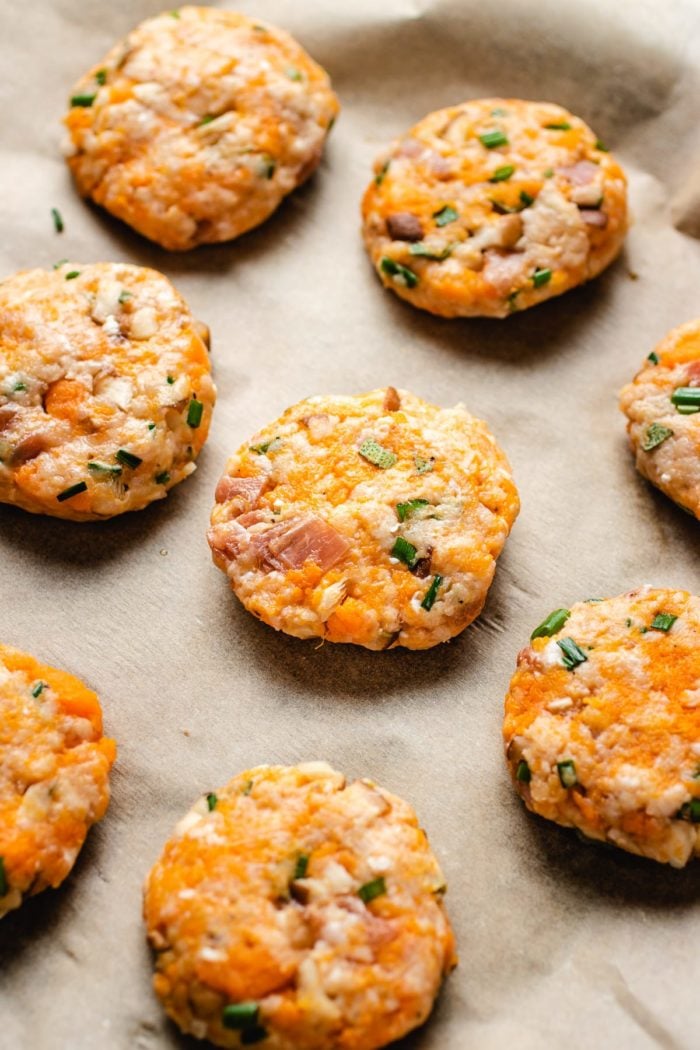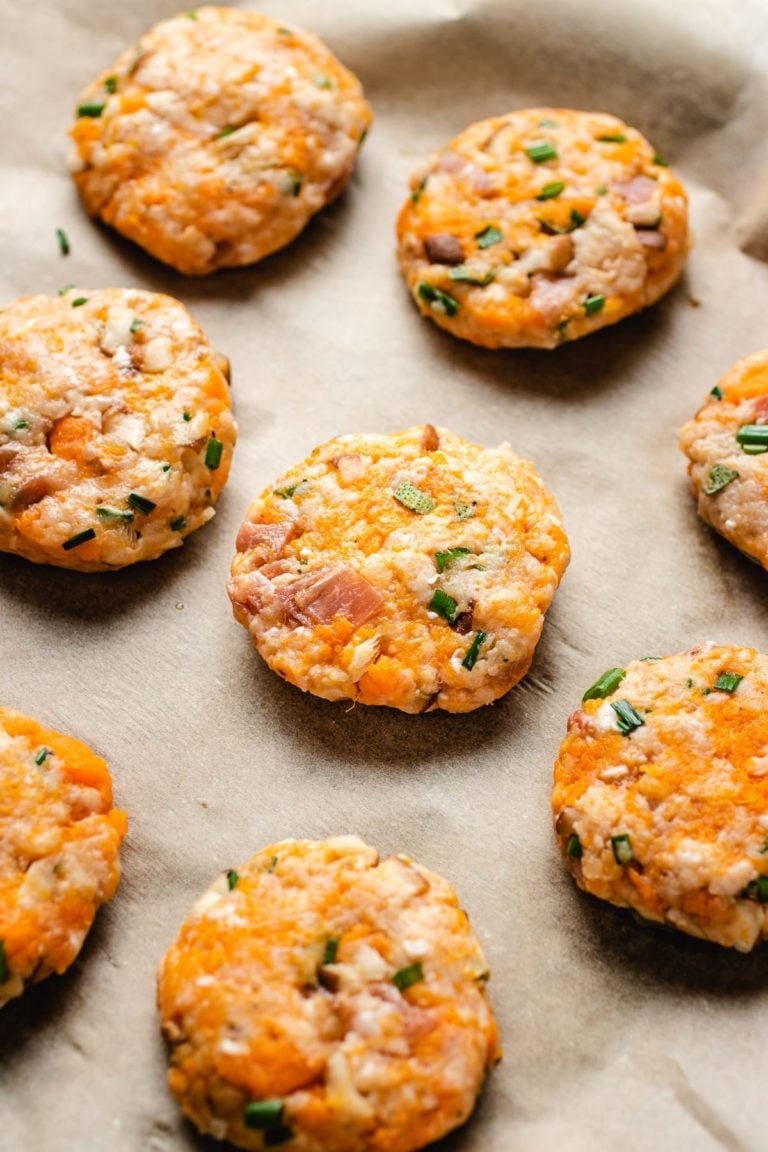 How to make breakfast sausage patties
It's simple and fun to make Whole30 breakfast sausage patties at home!
Find a big mixing bowl and add all the ingredients.
Use a cookie scoop to set aside 15-16 meatballs.
Grease your hands with a bit of olive oil (this will help binding and prevent the meat from sticking to your hands) and shape them into small round patties.
Pan fry the sausage patties until golden brown and cook through on both sides.
How to cook breakfast sausage patties
These Paleo and Whole30 breakfast sausage patties make a terrific make ahead breakfast or quick lunch idea.
If the sausage patties are cooked
If you store them in the fridge – they will last for 4 days in the fridge. Just need a quick microwave to reheat.
If you store them in the freezer – I recommend reheating them over stovetop frozen. Add a bit of olive oil and cover the pan with a lid to help the patties warm up quickly.
If the sausage patties are raw
I recommend storing them in the freezer with a piece of parchment layered between each patty. When you are ready, you can –
Cook from defrosted – You can follow the recipe instructions below – pan fry them with oil for 3 minutes per side.
Cook from frozen – cook from a stovetop with oil and cover the pan with a lid to half-steam and half-sear the raw patties. Add 2 more minutes per side or until the patties are cooked through.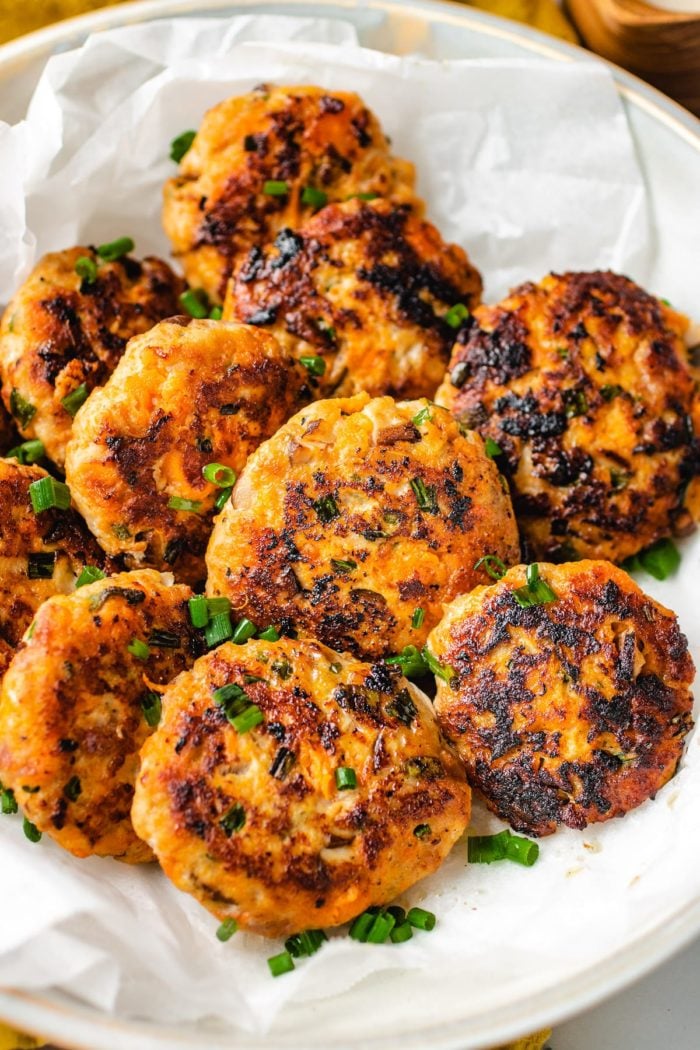 Variations on breakfast sausage patties
Can't find shiitake mushrooms, try cremini or baby bella mushrooms or skip the choice.
Don't like prosciutto, increase the salt seasoning quantity by ½ extra teaspoon.
No sage? try using rosemary or thyme.
Different ground meat? You can use ground pork, turkey, or chicken (ideally with 70% lean and 30% fat ratio)
Love little spicy? Sprinkle in your favorite dry spice chili powder!
What do you eat for breakfast on Whole30?
Plenty of choices! Quite often I either do fasting in the morning or I go for simple scrambled eggs with scallions. If I want a change, I would go with my Whole30 sausage with simple salsa, Whole30 breakfast grits, Whole30 hash browns, Whole30 breakfast sandwiches, Potato frittata, Zucchini fritters, or healthy shakshuka recipe. Check out more of my Paleo/Whole30 breakfast recipes.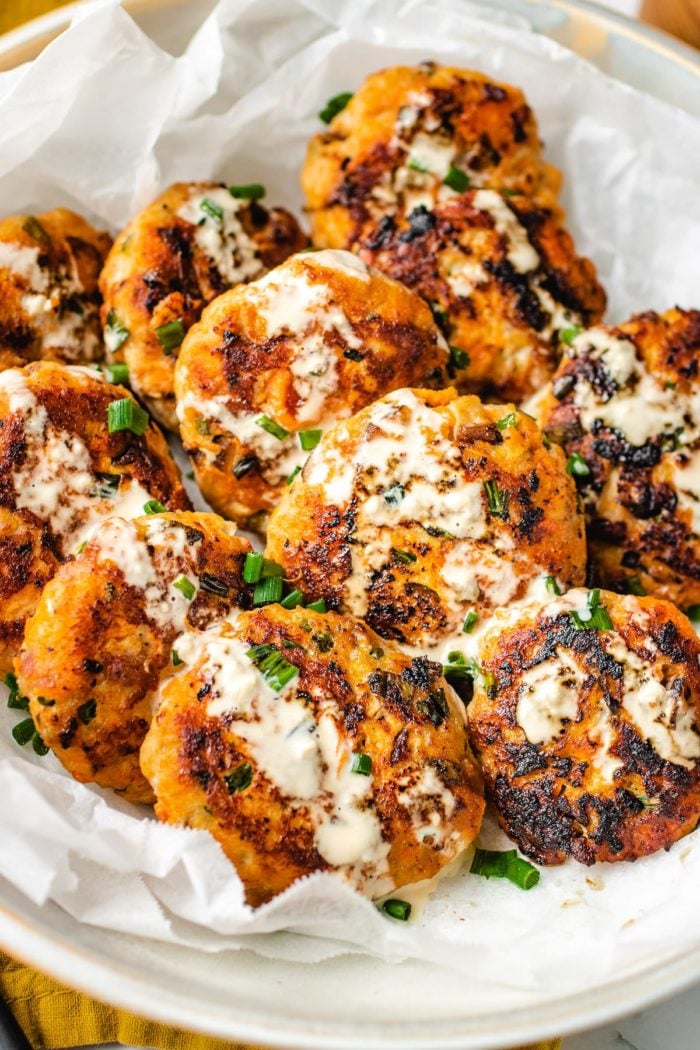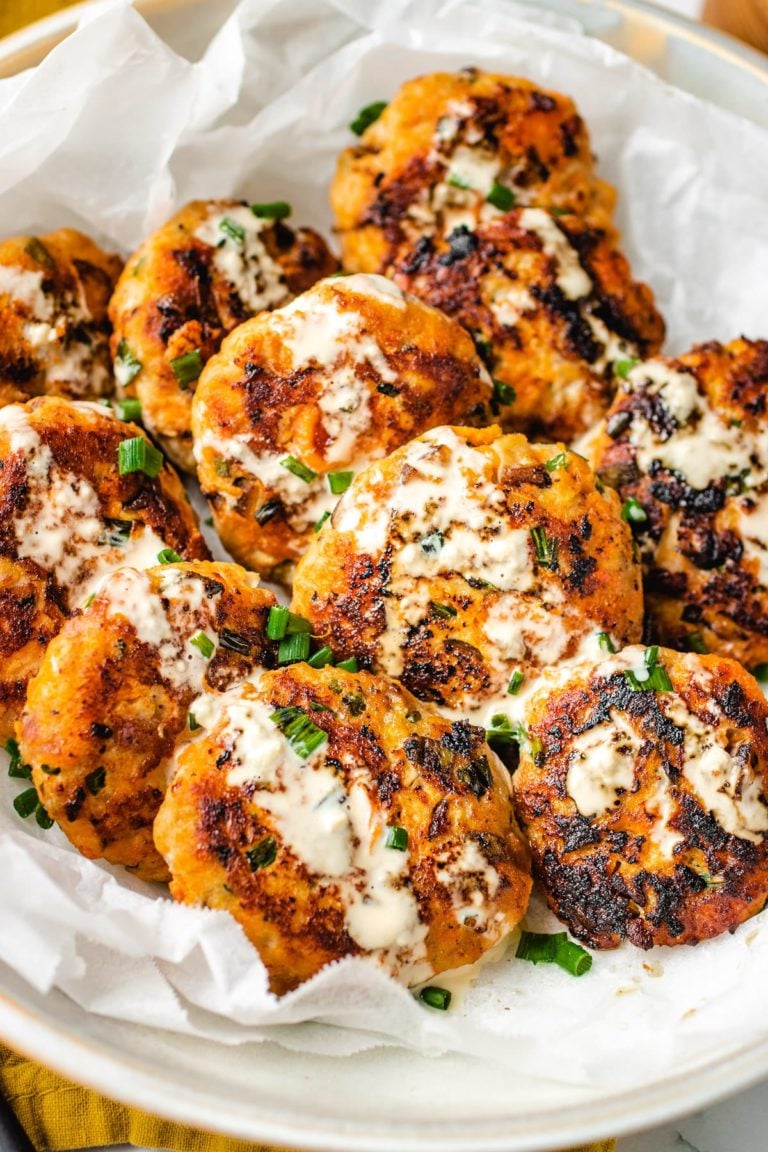 Some of my readers' favorite Whole30 recipes
Friends! These Whole30 breakfast sausage patties are seriously my new favorite breakfast for lunch or dinner! With a hint of sweetness from the sweet potatoes and savory herbs, these patties are like mini jewels loaded with flavor and texture. Adults love them and so do the kiddos! Give them a try and let me know what you think by leaving a comment below. I can't wait to hear from you!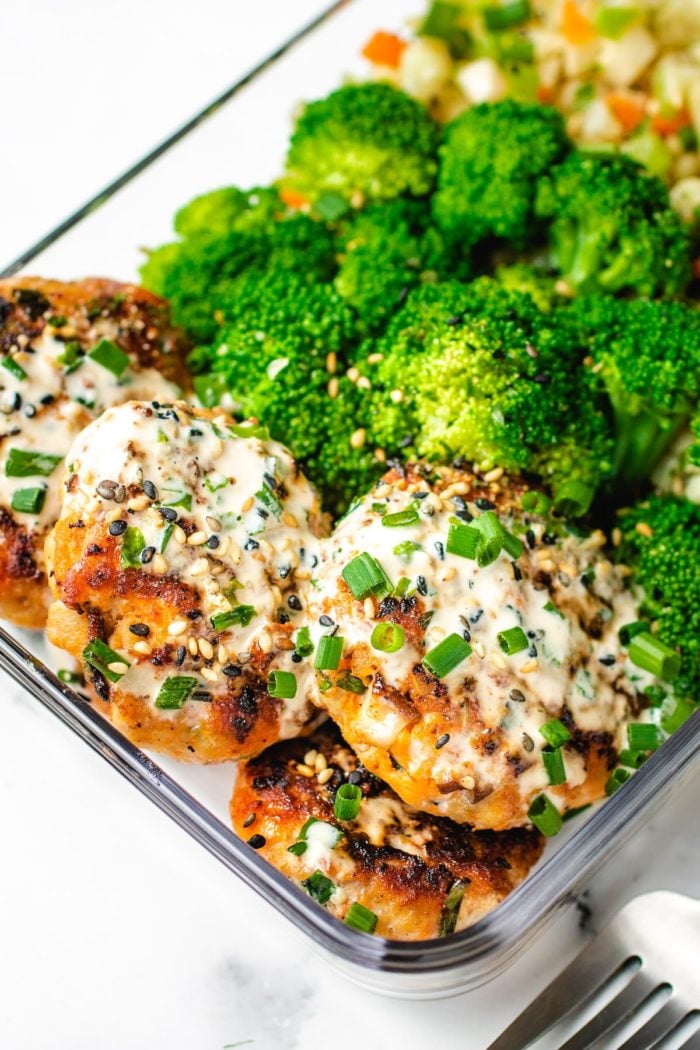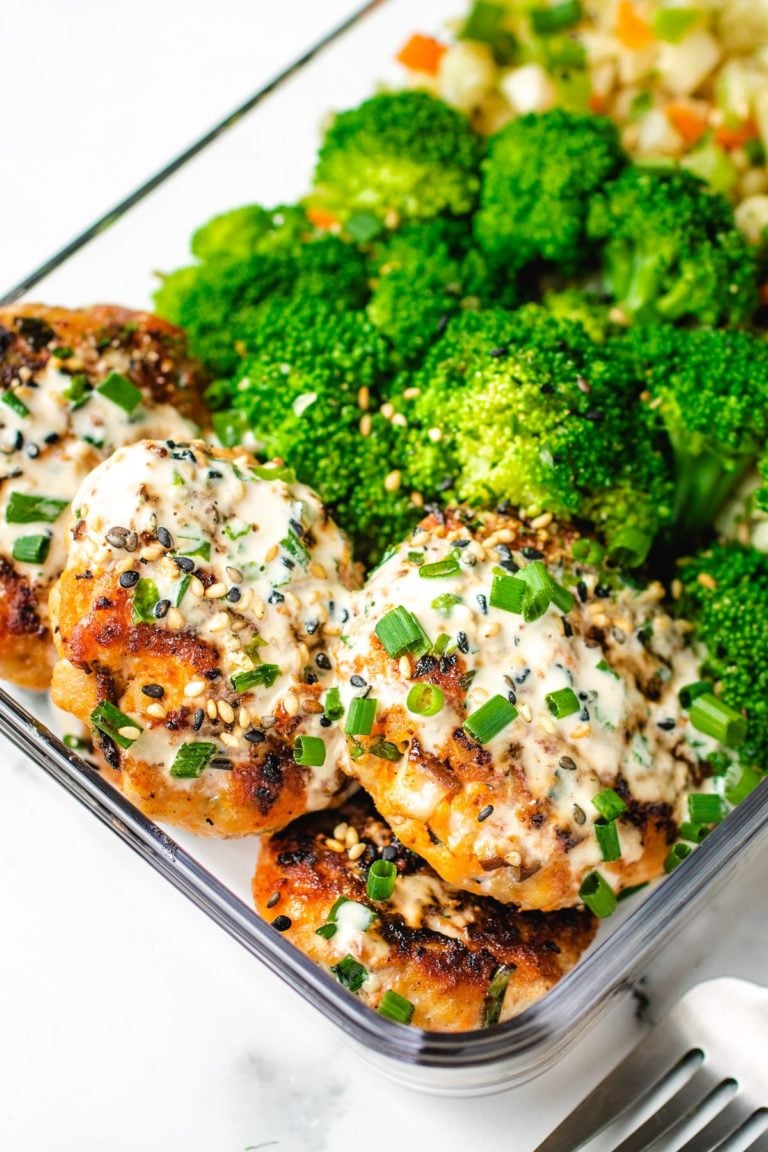 Whole30 Breakfast Sausage Patties
Whole30 Breakfast Sausage Patties are juicy, savory, and little sweet! These no egg Whole30 sausage patties are great for lunch and dinner, too!
Print
Pin
Rate
Ingredients
1 lb. ground chicken, or turkey, pork
2 tbsp chopped fresh sage leaves
0.3 oz. fresh chive, chopped
2 oz. fresh shiitake, finely chopped
3 slices prosciutto,, chopped
1 cup cooked and mashed sweet potatoes
½ tsp onion powder
½ tsp coarse sea salt, see notes
⅛ tsp ground black pepper
2-3 tbsp olive oil
Instructions
In a large mixing bowl, add ingredients from ground meat to pepper. Use your hands or a wooden spoon to mix/combine them well. The filling will seem loose as there are no eggs.

Line a baking sheet pan with parchment, use a cookie scoop to scoop out 15-16 meatballs. Grease your hands with ½ tbsp olive oil – this will help bind the meat together and also prevent it from sticking to your hands – and form them into mini patties, about ½-inch (1.27 cm) thick per patty.

To pan fry, preheat a large frying skillet until it feels warm when placing your palm near the surface, about 2-3 inches (5-7cm) away. Add 1.5 tbsp oil, swirl it around the pan. Cook the patties in separate batches. Try not to over crowd the skillet. Fry the first side over medium heat about 3 minutes and the flip side for another 3 minutes or until cooked through. Add more oil, if need be.
Notes
My cookie scoop is a medium size about 3 tbsp per scoop.
You can test the salt level by pan frying a small bite before forming into patties. I use 0.5 tsp salt because prosciutto is quite salty. If you aren't adding prosciutto, I would adjust the salt quantity to 0.75 tsp.
If you can't have or can't find certain ingredients, please scroll up the post to see detailed swap suggestions under "Recipe variations".
If you want to make-ahead and/or freeze it for later, please scroll up the post to see detailed recommendations under "how to cook the patties".
Nutrition
Serving: 1patty, Calories: 77kcal, Carbohydrates: 2g, Protein: 6g, Fat: 5g, Saturated Fat: 1g, Cholesterol: 27mg, Sodium: 112mg, Potassium: 206mg, Fiber: 1g, Sugar: 1g, Vitamin A: 1283IU, Vitamin C: 1mg, Calcium: 10mg, Iron: 1mg
Looking for a little help on Whole30?