Whole30 Scalloped Potato Frittata
Whole30 Scalloped Potato Frittata with mango salsa – an Whole30 frittata recipe, topped with naturally sweet and refreshing mango salsa. Perfect brunch or make ahead breakfast recipe !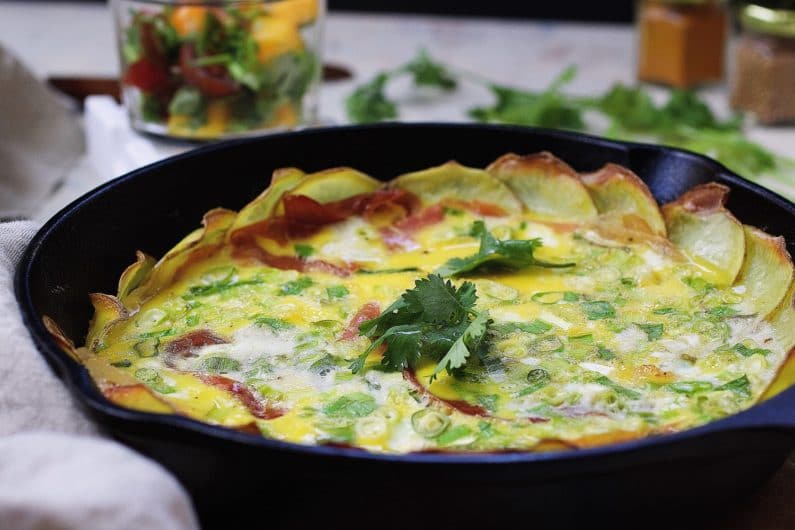 Hit the Play Button & let's make some amazing Whole30 Scalloped Potato Frittatas together !!!
Whole30 Scalloped Potato Frittata
I'm not going to lie to you.
After more than two dozens of eggs and numerous rounds of potato slices, I finally am able to share how to make a screenshot worth Whole30 Scalloped Potato Frittata !
I highly recommend using a mandolin slider to make potato rounds. Try to overlap the rounds from the edge of a well greased cast iron skillet to the center so each round touches the other round to make a beautiful scallop shape.
Slightly crisp them up over stovetop. Then, layer even more goodies like prosciutto and caramelized onions. Yum !!!
I gently whisk the eggs with coconut milk and scallions. Since the prosciutto slices provide some good saltiness to the mixture, I only lightly seasoned the batter with a bit salt and black pepper.
Bake until they are no longer jiggle in the center.
Once the frittata is cool to the touch, use a silicone heat proof spatula to carefully loosen the edges.
Note that some bottom parts of the potato rounds might stick to the skillet while they are fresh out of the oven so it's important to wait until the frittata has come to room temperature before attempting to slice to and scoop out the wedges.
To make the Whole30 Scalloped Potato Frittata even more lovely, add some chopped mango, cherry tomatoes, and shallots, and sprinkle with fresh lime juice and sea salt.
It adds a nice sweet and slightly tart flavor punch to the savory frittata. YUM !!!
Now you can make this Whole30 Scalloped Potato Frittata ahead of time and store it in the fridge for up to 3 days.
Whole30 Scalloped Potato Frittata
Whole30 Scalloped Potato Frittata with Mango Salsa. Crispy potato rounds layered with prosciutto and caramelized onions in silky smooth egg batter. Perfect Whole30 brunch breakfast recipe! This recipe is written for a 9-inch cast iron skillet. See notes section for more info if use larger size skillet. :))
Print
Pin
Rate
Ingredients
1 medium size yukon gold potato, (alt. Russet potato)
Half of one whole small yellow onion, , thinly sliced
5 large eggs
2-3 bulbs scallions, , chopped
4-5 slices prosciutto
2 ½ -3 tbsp full fat coconut milk, , stir-well & melted
Lightly sprinkle with coarse sea salt & black pepper to taste
Simple mango salsa:
1 ripe mango, (but not mushy), cubed
Cherry tomatoes, , diced/chopped, as much as you like
1 small garlic, , grated
2-3 tbsp , cilantro or flat parsley, finely chopped
1 tbsp shallots, , finely chopped (use more if you prefer a stronger flavor kick)
1 ½ tbsp extra virgin olive oil
Lime juice to taste
Coarse sea salt & black pepper to taste
Instructions
Potatoes: Preheat oven to 350 °F/ 177 °C. Grease well a 9-inch cast iron or pie pan with melted ghee. Slice the potato into very thin rounds (or use a mandoline) to about ⅛-inch thickness. Lay the potato rounds from the edge of the wall to the bottom of the cast iron. Try to overlap each potato rounds so they touch each other. Slightly crisp up the potato rounds over stovetop for about 5 minutes over medium to medium-low heat. Be careful not to burn the potato slices.

Onions: Sauteed thin sliced onions over a skillet. Season with a little bit salt until the onions turn softer and slightly caramelized but not burnt. Set aside.

Egg mixture: In a large bowl combine the eggs, scallions, coconut milk, and sprinkle of sea salt and black pepper. Gently whisk well.

Bake: Add prosciutto slices over potato rounds and spread out sauted onions evenly over prosciutto. Pour in the egg mixture. Bake for about 30-35 minutes or until the frittata is not jiggle in the center when moved. *Oven temperature varies, check after 25 mins.

Salsa: In the meantime, prepare salsa and set aside in the fridge.

Serve: Let frittata cool slightly before using a spatula to loosen edges of frittata from skillet.* Cut frittata in wedges and top with mango salsa. Serve in room temperature.
Notes
The potato rounds will firm/crisp up a bit more after they have come to room temperature.
In my experiment, I found it easier to loosen the edges and bottom of frittata and cut into wedges this way.
If you use a larger size skillet (larger than 9-inch), you'll need more potato rounds to cover the skillet and please also increase the egg batter quantity (I.e. eggs, scallions, prosciutto, coconut milk etc.)  The egg batter should cover up to a little less than three quarter of the edge wall of the potato rounds in the skillet.
To make ahead or save extra leftover, store the frittata in the fridge (separate from the mango salsa) with a glass and airtight container for up to 3 days for maximum freshness and flavor.
Nutrition
Serving: 188g, Calories: 206kcal, Carbohydrates: 16g, Protein: 11g, Fat: 11.4g, Saturated Fat: 3.9g, Cholesterol: 195mg, Sodium: 222mg, Fiber: 2g, Sugar: 6g, Vitamin A: 1000IU, Vitamin C: 39.6mg, Calcium: 50mg, Iron: 2mg