Vietnamese Easy Garlic Shrimp Recipe
This Vietnamese Easy Garlic Shrimp is hands down my favorite way to cook shrimp. Golden seared on the outside, juicy inside, and drenched in spicy chili garlic sauce. You can have this Paleo, Whole30, and Keto Garlic Shrimp stir-fry all year round!
Pair the sweet juicy garlic jumbo shrimp with my Vietnamese air fried chicken wings and Shirataki noodle salad for a fantastic food feast!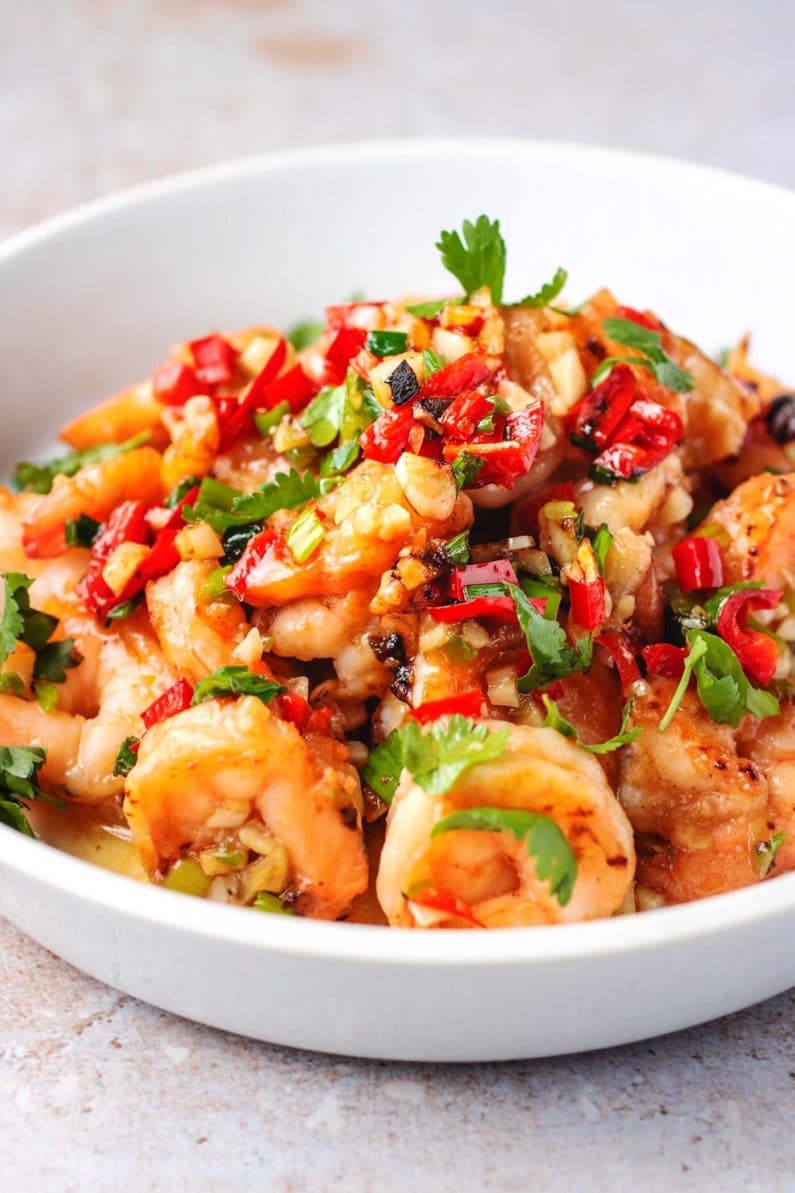 This Vietnamese Easy Garlic Shrimp is a total crowd pleaser to make all year round. Healthy and easy Paleo shrimp recipe packs with loads of flavor. Pair the spicy garlic shrimp with a side of broccoli fried rice or Instant Pot mashed sweet potatoes for a low carb, Whole30, and Paleo meal!
Vietnamese Easy Garlic Shrimp With Big Flavors!
My easy garlic shrimp stir-fry is inspired by Vietnamese Tom Rim – Vietnamese caramelized shrimp recipe. It's an easy stir-fried shrimp dish with a sweet and savory sauce. I omitted the sugar in the traditional recipes because coconut aminos naturally taste sweeter and once the sauce hits the hot skillet the caramelization turns the sauce sweet naturally.
To make a really awesome Spicy Garlic Shrimp Vietnamese-style, you'll need to pre-heat the skillet really well. If you aren't sure how to pre-heat your skillet, check out the article I wrote about how to make the best pan-seared beef stir-fry. I talked about how to properly prepare your skillet and test the temperature for the perfect sear!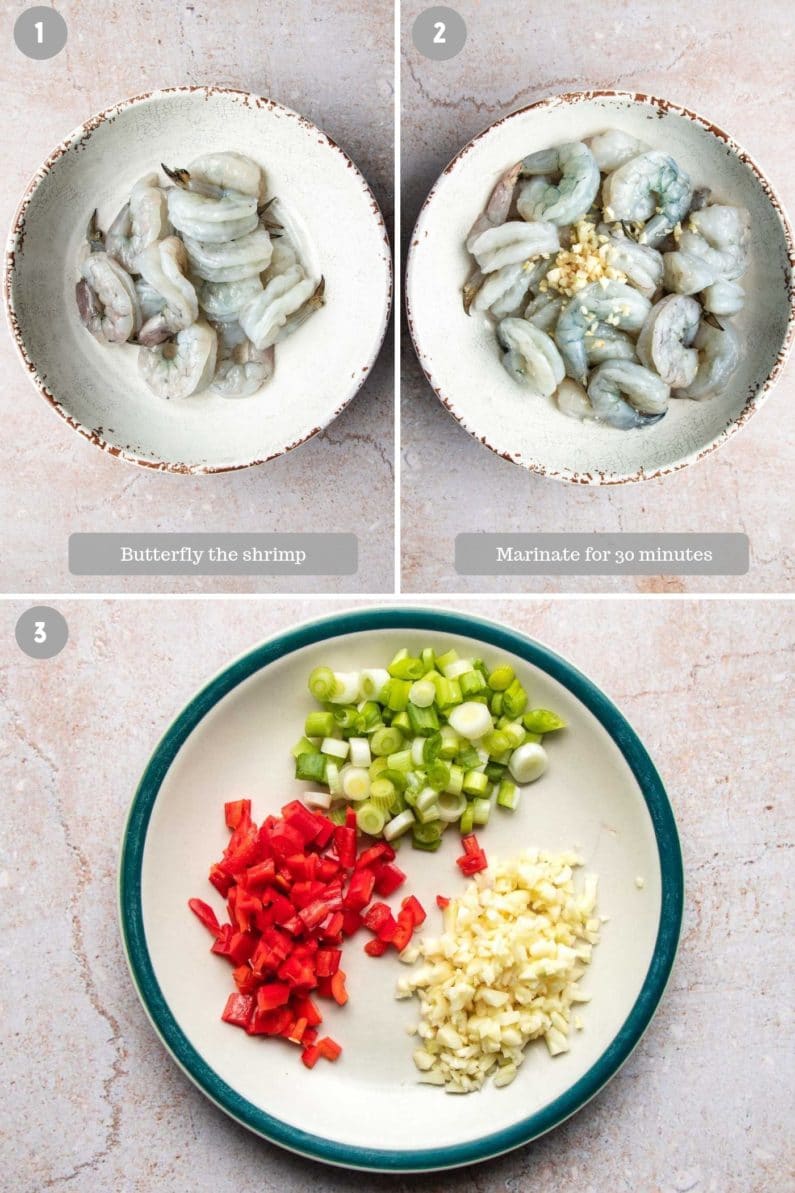 This easy garlic shrimp stir-fry literally takes minutes to make! The only time you need is probably waiting for the shrimp to get marinated. I recommend that you marinate the shrimp for 30 minutes before stir-frying.
The bold flavor of this garlic shrimp recipe comes from the fragrant oil with garlic, chili, and scallions. My grandmother always says that once you fragrant oil it then further fragrant everything else. So don't be shy away from using tons of aromatics. I remove the seeds of the chili peppers so they are mainly for color purposes. It won't be that spicy. :))
Sometimes, you'll also find people use shallots to replace scallions. I think both are interchangeable so feel free to swap the ingredients.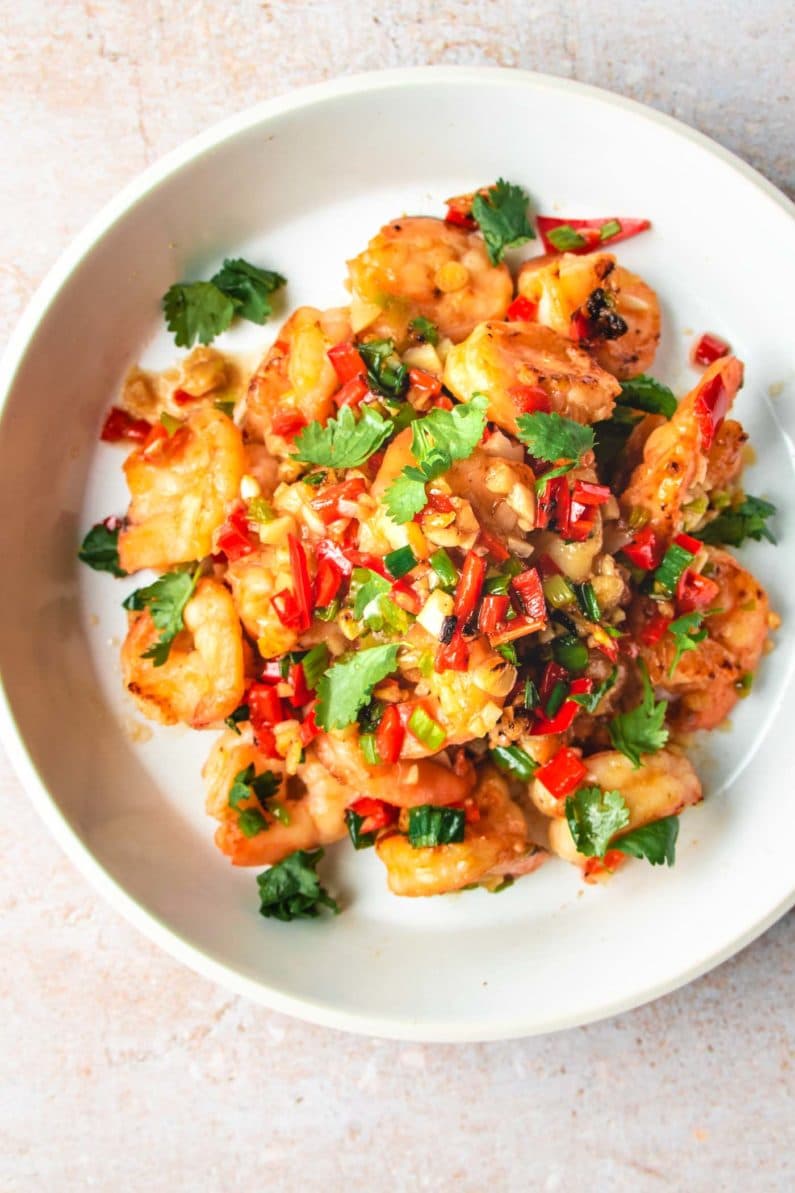 Is shrimp on the Whole30 diet?
Yes. Shrimp is Whole30 friendly. Shrimp is easy to prepare and an excellent source of lean protein. My Vietnamese easy garlic shrimp, Shrimp and zucchini noodle pasta, and Chinese jumbo shrimp stir-fry are all low carb, keto, paleo, and Whole30.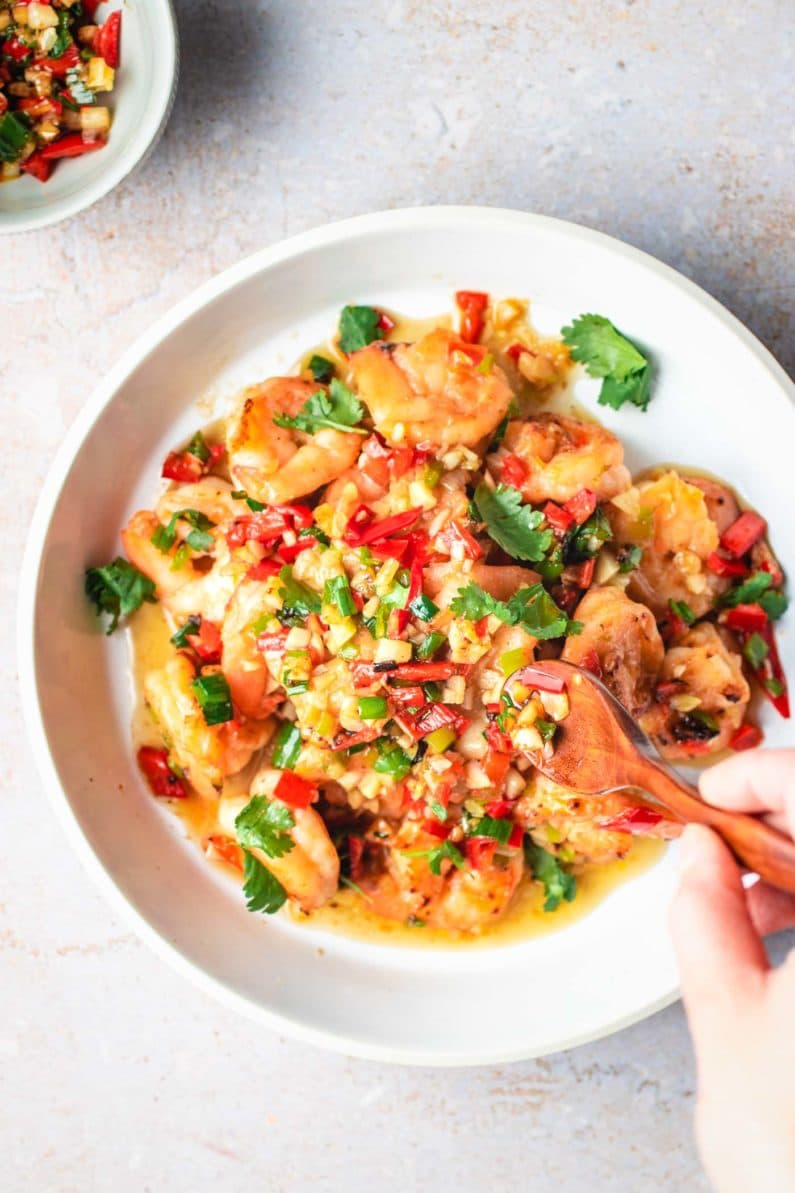 Pair This Stir-Fried Vietnamese Garlic Shrimp With These Side Dishes: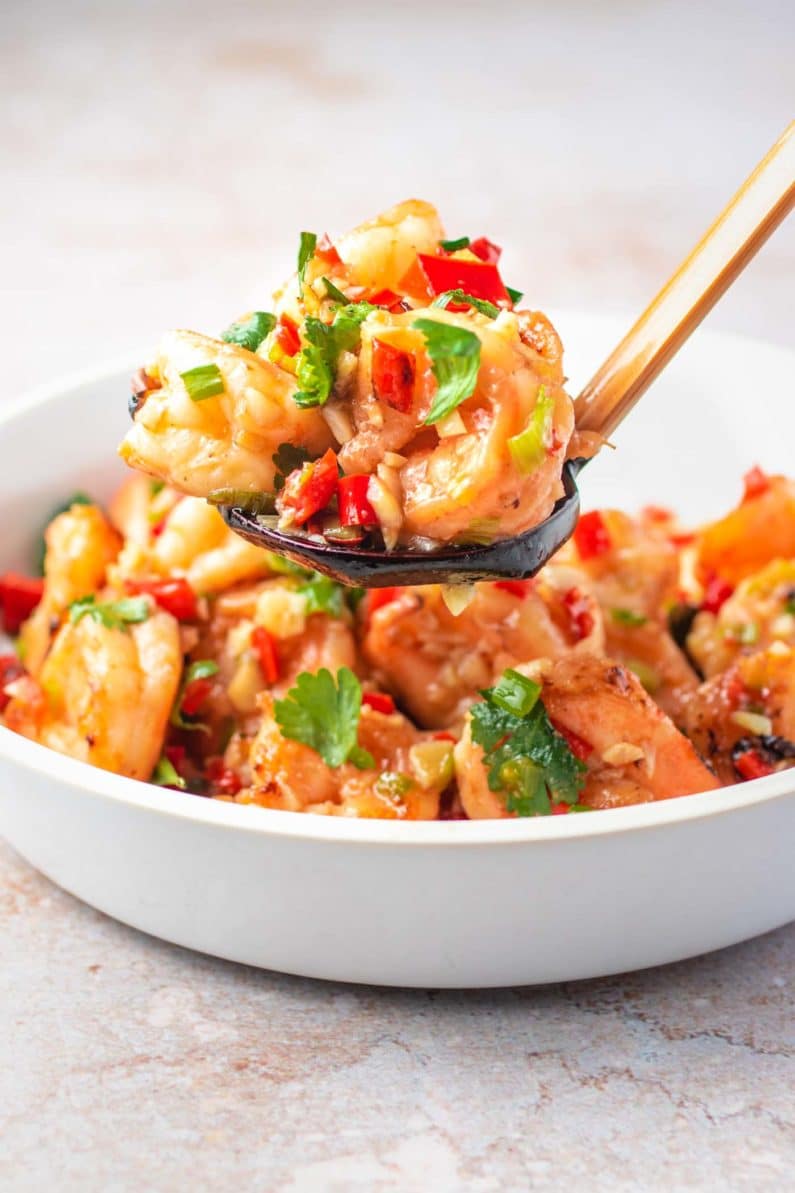 If you give this Vietnamese Easy Garlic Shrimp a try, please rate the recipe and leave a comment below. It'll help more people see my blog so that I can continue sharing more healthy and delicious Asian-inspired Paleo recipes with you! Thanks in advance!
Become A Blog Subscriber!
Subscribe to my blog – I Heart Umami – to learn how to make 10 mouthwatering Paleo meals in under 10 minutes each, plus weekly free bold-flavored recipes!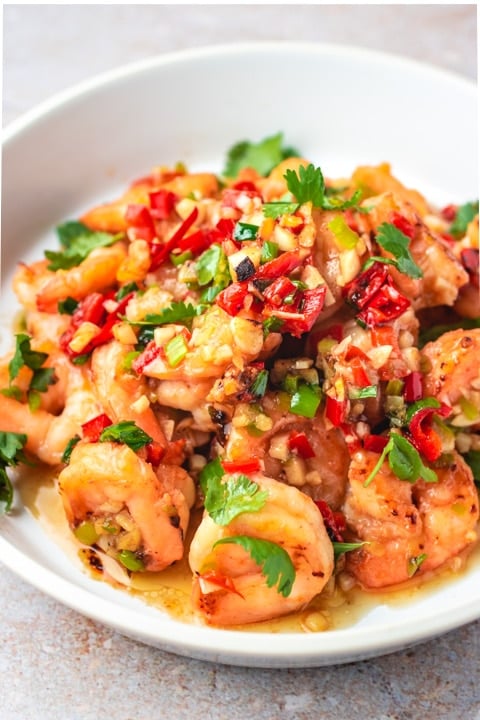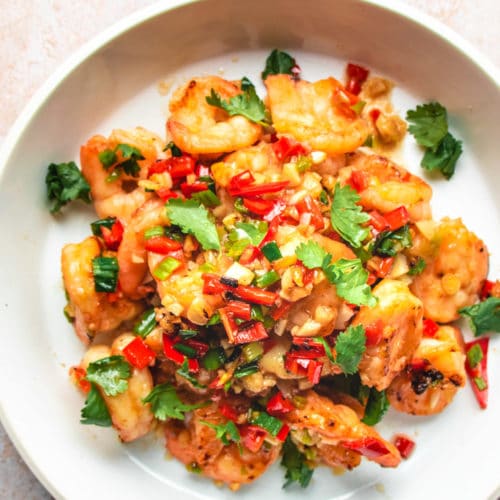 Vietnamese Easy Garlic Shrimp (Paleo, Whole30, Keto)
Vietnamese Easy Garlic Shrimp with spicy chili garlic sauce recipe is Paleo, Whole30, and Keto. This garlic shrimp stir fry is a total crowd pleaser to make all year around!
Print
Pin
Rate
Ingredients
Vietnamese easy garlic shrimp marinade:
1 lb. large shrimp, peeled and deveined
2 tsp garlic, minced (about 1 clove)
1 tbsp fish sauce
⅛ tsp coarse sea salt
Other:
0.8 oz. garlic, minced (about 4 cloves)
3 bulbs scallions, diced and use only white & pale green parts
1.5 oz. red serrano or fresno chili peppers, deseeded and finely chopped
4 tbsp avocado oil, divided
1 tbsp I Heart Umami Vegetarian Oyster Sauce, or 1 tbsp coconut aminos
Small handful Cilantro leaves, chopped. Optional
Instructions
Butterfly shrimp by inserting a knife about three-quarters of the way into shrimp near the head and cut nearly all the way down the center of the shrimp's back to the tail.

Combine shrimp with garlic, fish sauce, and salt in a bowl. Cover and marinate for 30 minutes.

In the meantime, prepare garlic, scallions, and chili peppers. Set them in one bowl.

Preheat a wok or stainless steel skillet over medium-high heat until it feels too hot to place your palm near the surface (about 2-3 inches away from the skillet), add 2 tbsp oil. Swil to distribute the oil evenly.

Turn the heat to high. Be careful the splatter. Add shrimp and try to distribute them in one even layer. Fry about 2 minutes without touching then flip to cook 1 minute additional. Set them aside in a medium size serving plate.

Your skillet should be dry (not waterat this point before moving onto the next step.

While the skillet is still hot, over medium-high heat, add 2 tbsp oil. Add garlic, scallions, and chili. Season with a pinch of salt and saute the aromatics until fragrant, about 10 seconds.

Add vegetarian oyster sauce and quickly stir-fry the sauce with the aromatics for about 5 seconds. Off heat, spoon the mixture along with the oil over the shrimp.

Garnish with cilantro, if using. Serve with steamed white rice (for gluten-free meal) or cauliflower rice (low carb).
Notes
In the winter, cover the sautéed shrimp with a foil wrap to keep warm while you make the sauce.
If you aren't sure how to preheat your skillet, check out this article.
You can also garnish the dish with chopped green scallion parts.
I use my homemade vegetarian oyster sauce (made with shiitake) for extra flavor and depth. I highly recommend that you give this sauce a try. If in a hurry, use coconut aminos instead.
Nutrition
Serving: 1serving, Calories: 255kcal, Carbohydrates: 4g, Protein: 24g, Fat: 16g, Saturated Fat: 2g, Cholesterol: 286mg, Sodium: 982mg, Potassium: 164mg, Fiber: 1g, Sugar: 1g, Vitamin A: 100IU, Vitamin C: 11.6mg, Calcium: 177mg, Iron: 2.6mg
More healthy and delicious Paleo recipes: