Chinese Smashed Cucumber Salad (拍黃瓜)
My Chinese smashed cucumber salad recipe is a Taiwanese take on the original. With garlicky cucumber salad dressing and a touch of my garlic chili sauce, this is a terrific easy side dish for hot summer.
If you love Asian salads, be sure to also check out my Din Tai Fung Asian cucumber salad that comes with a super addictive honey chili vinaigrette.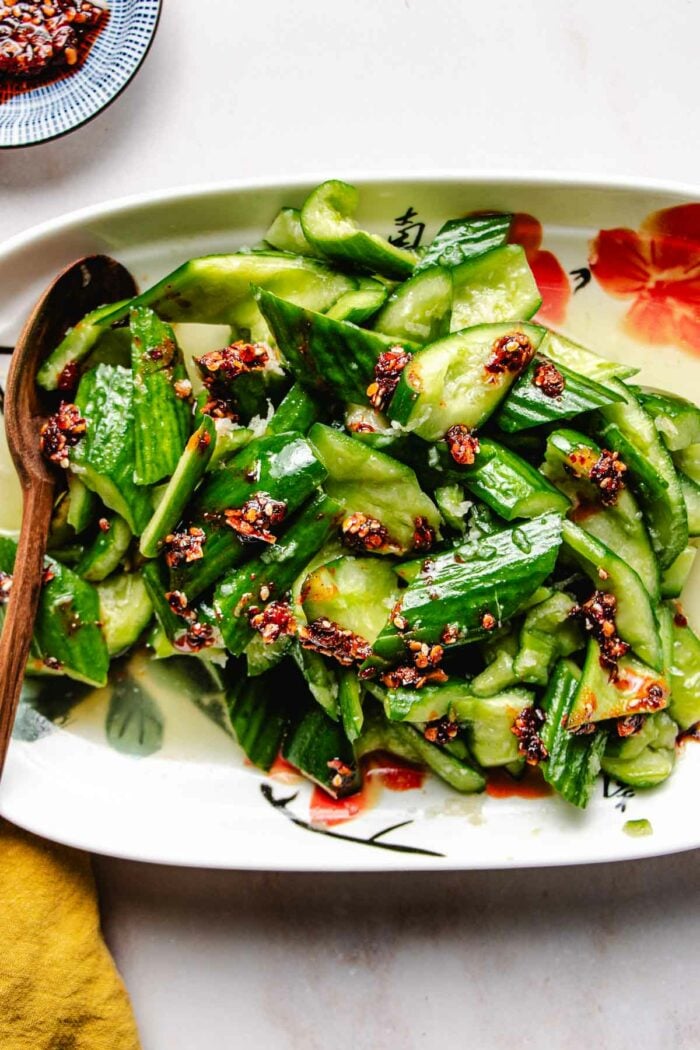 Which type of cucumber to use
To make the best cucumber salad, I highly recommend using cucumber with thin skin, but firm and crisp to the touch.
I prefer using Japanese or Persian cucumbers for their sweet and delicate flavor and tender seeds, but Chinese cucumbers like suyo long cucumbers are also a terrific choice.
If you can't find any of them, the best substitute would be English cucumbers. If the skin is tough, peel it with a vegetable peeler first.
Why smashed the cucumber?
Smashing the cucumber is a classic Chinese cooking technique. In Mandarin, this dish is called pai huang gua (拍黃瓜). Pai means smash, while huang gua (黃瓜) means cucumber in Chinese. It's also referred to as liang ban huang gua, which means chilled or cold cucumber salad.
The cucumber is smashed with a cleaver knife that cracks the skin and releases the seeds inside. This craggy, uneven shape helps it absorb the dressing and its flavors even better.
If you don't have a Chinese cleaver at home, you can use a rolling pin or any flat bottle, or even a meat pounder (meat mallet).
When smashing the cucumbers, be careful not to over-smash them into a mush. You only need a few light pats to crack the skin and slightly flatten the cucumber.
Ingredients
A crushed cucumber salad is as simple as it sounds. Ready in less than 20 minutes, you'll only need everyday pantry ingredients: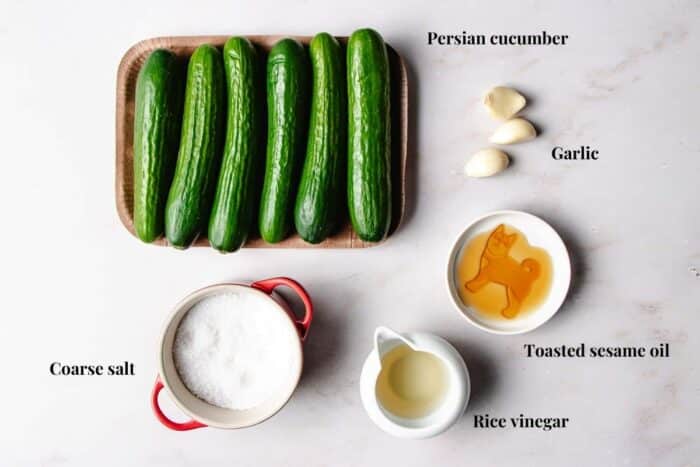 For the cucumbers: Persian or Japanese cucumbers, coarse salt
For the dressing: Garlic cloves, rice vinegar, toasted sesame oil, honey (optional), homemade chili garlic sauce for drizzle (optional)
Substitutions and variations
Sichuan style – Use light soy sauce, a dash of Chinese black vinegar to replace rice vinegar, and garnish with cilantro for cucumber salad with a Sichuan twist.
Chili oil – Make Chinese spicy cucumber salad by drizzling chili oil like lao gan ma from a local Chinese grocery store, or use my homemade chili garlic sauce.
Korean – For a Korean twist, season the cucumbers with gochugaru red pepper flakes and toss them with a tablespoon of gluten-free gochujang. Taste and adjust accordingly.
How to make the dish
There are two parts on how to make this dish — instructions on smashing the cucumbers and making the garlic vinegar dressing: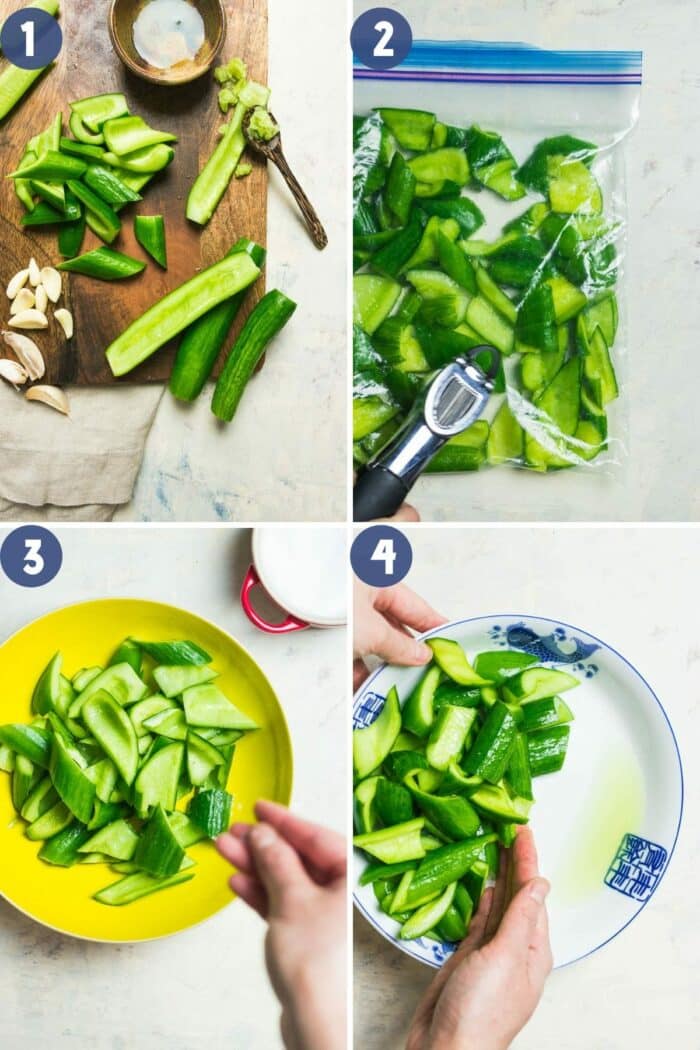 How to smash the cucumber
Cut the cucumber in half lengthwise. Remove the seeds by using a teaspoon. Chop them up into diagonal, bite-sized pieces.
Place the cucumber pieces in a sealed ziplock bag. The skin will start to crack after a few gentle smashes.
Transfer them to a large bowl and lightly salt the cucumbers. It should then be lightly marinated in the fridge for 30 minutes.
Remove any excess liquid at the bottom of the bowl.
Cucumber salad dressing
Plate up the cucumbers and add all the dressing ingredients. Mix them well.
This dish tastes best when it's cold. Drizzle some garlic chili sauce or chili oil on the cucumber before digging in.
Tips for the best result
Removing the cucumber seeds will make the cucumber less watery and therefore not dilute the sauce. However, it's not necessary to do so. My grandma removed the seeds whenever she made Chinese-style cucumber salad, so my family has continued using this technique.
When smashing them, some parts of the cucumber will crack while others won't, as you want to create uneven surfaces. Make sure that you don't smash the cucumbers too hard or they will turn into a mushy mess.
Storage and make-ahead
Make-ahead: You can make sesame cucumber salad in advance by preparing the cucumber and its dressing. Remember to pack them separately. Store them in the fridge and mix them right before serving.
Storage: Store any leftovers in an airtight container in the fridge. Refrigerated smashed cucumber salad is best enjoyed within 2 days.
FAQs
Do I need to remove the cucumber skin?
It depends on the type of cucumber. For Japanese and Persian cucumbers, you don't need to remove them because they have thin skin, whereas American cucumber skin should be peeled.
How do you keep cucumber salad from getting watery?
Remember to remove the seeds of the cucumber and pat them dry after rinsing, as this will help to get rid of excess moisture. You can also salt the cucumbers for 15-30 minutes. Salt will draw excess moisture from the cucumbers and keep them crunchy.
What are Japanese cucumbers good for?
Japanese cucumbers are great for salads and side dishes. Because they have delicata skin and are almost seedless, you can eat them raw and without peeling off the skin.
How long will cucumbers in vinegar last in the refrigerator?
If cucumbers are not pickled, a simple cucumber garlic salad with vinegar dressing should last in the fridge for 3-4 days. For the best texture, finish the dish within 2 days.
More Asian cucumber salad recipes
Aside from this smashed Chinese cucumber salad recipe, you can make dressing for different styles of Asian cucumber dishes:
If you like creamy flavors and unique textures, you'll love Japanese cucumber salad. Another option is the no-cook cucumber noodles tossed in Thai peanut sauce, perfect for the summer.
For spicy lovers, I've got you covered. A side dish like cucumber kimchi or Chinese spicy cucumber salad pairs well with many main dishes. Alternatively, Korean cucumber salad is quicker to make if you're short on time. Top them off with a generous amount of sesame seeds.
My best tips
Choose the right cucumber: I recommend using Persian or Japanese cucumbers as they have thin skin and fewer seeds. English cucumber is my second choice.
Smashing is essential: Smashing the cucumber creates an uneven surface and cracked skin that holds onto the sauce better. You can do this with a rolling pin or a flat bottle.
De-seed the cucumbers: Removing the cucumber seeds will make them less watery and avoid diluting the sauce, especially if you use English cucumber.
Smashed cucumber salad dressing: Use a strong dressing with garlic, rice vinegar, and toasted sesame oil. Balance the flavor with a touch of honey or sugar and chili oil for the heat.
Add the Dressing Just Before Serving: If the dressing sits on the cucumbers for too long, it can make them soggy. Combine them right before serving.
Garnish for extra flavor: A sprinkle of toasted sesame seeds or fresh herbs (like cilantro or green onions) can add an extra layer of flavor and visual appeal.
Serve chilled: The cucumber should be cold and crisp. This salad is best eaten immediately after the dressing is added.
Chinese smashed cucumber salad recipe
Chinese Smashed Cucumber Salad with the best vinaigrette dressing is an easy side dish perfect for summer and healthy and delicious!
Print
Pin
Rate
Ingredients
14 oz. Persian cucumbers, Japanese cucumbers, or 1 English cucumber
1/2+1/4 ts] coarse salt
Instructions
Rinse and pat dry the cucumbers. Cut each piece in half lengthwise. Use a small teaspoon to scoop out the seeds.

Roughly chop the cucumbers in diagonal shape, about 1.5 inches in length. They don't need to be in a uniform shape.

Place the cucumbers in a large ziplock bag. Seal the bag and lightly smash them with a flat-bottom bottle or meat pounder. The skin will begin to crack.

Transfer the cucumbers to a large bowl and sprinkle in the salt. Use your hands to gently rub it all over the cucumber. Let rest for 30 minutes in the fridge.

After 30 minutes, you'll notice some excess liquid sitting at the bottom of the bowl. Discard the water. There's no need to rinse the cucumbers.

Transfer the cucumbers into a serving bowl, and add the garlic, vinegar, sesame oil, and honey, if using. Toss and combine well.

Chill the dish in the fridge for 10-15 minutes before serving to allow the flavor to come through. Drizzle with a few teaspoons of garlic chili sauce, if using. Serve chilled.
Notes
When smashing the cucumbers, some parts will crack while others won't. Try not to smash them too hard or they will become a mushy mess.
Traditionally, people use a Chinese cleaver to flatten and smash the cucumbers. I found it easier, and safer, to smash it in a sealed bag with a flat bottle. 
Removing the seeds of the cucumber will make the dish less watery and therefore not dilute the sauce further. It is, however, not a necessary step to do so.  My grandmom removed the seeds and therefore that's how my family makes the dish, too.
Nutrition
Serving: 1serving, Calories: 55kcal, Carbohydrates: 5g, Protein: 1g, Fat: 4g, Saturated Fat: 1g, Polyunsaturated Fat: 2g, Monounsaturated Fat: 2g, Sodium: 7mg, Potassium: 160mg, Fiber: 1g, Sugar: 2g, Vitamin A: 105IU, Vitamin C: 4mg, Calcium: 23mg, Iron: 0.3mg
Made a dish and love it? Please remember to rate the recipe and leave a comment in the comment section below! It helps my blog grow organically so I can continue sharing free and awesome content with you. Thank you!