Smoked Salmon Salad Recipe with Creamy Caper Chive Dressing
Keto Smoked Salmon Salad recipe makes a wonderful easy healthy meal! With a creamy caper and chive salad dressing, fresh baby greens, and soft-boiled eggs, this salad takes less than 10 minutes to assemble and every bite is nourishing yet refreshing.
Smoked salmon with a green salad makes a perfect brunch recipe for Mother's Day, baby shower, Easter dinner, or anytime you want a healthy meal but don't want to cook. If you are looking for a salmon appetizer, my air fryer salmon bites recipe is another fantastic choice!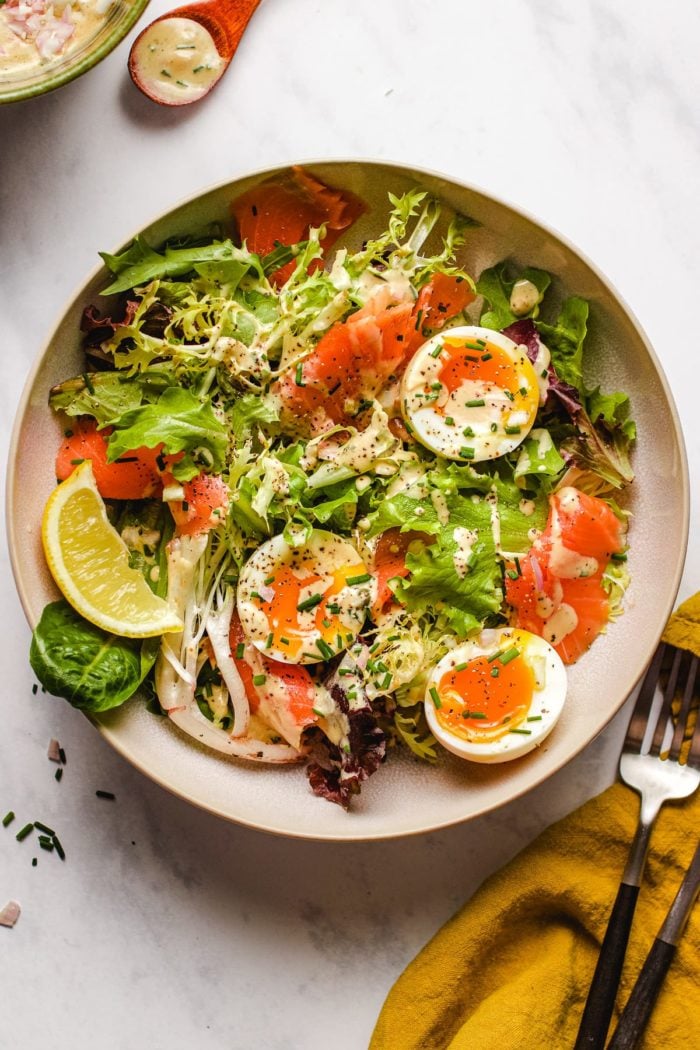 Smoked Salmon Salad Recipe (Keto, Paleo, Whole30)
I am blown away by how good this smoked salmon salad is! It's simple, healthy, and comes together in less than 10 minutes. Perfect for spring and summer! If you are like me, you don't want to spend too much time on preparing a quick brunch or lunch meal, this smoked salmon recipe is not only gorgeous looking but also filling and nourishing.
Let me show you a few tips I learned to make the best salad with smoked salmon!
Best smoked salmon to buy
My mom always said that when a dish is really simple, the quality of the ingredients become really crucial and today's recipe is an example of that.
When shopping for smoked salmon, try to look for wild-caught Alaskan salmon. Wild-caught salmon has a better ratio of omega-3 fatty acids to omega-6 fats, compared to farm-raised. The color is naturally dark pink.
The flavor is smoky, salty, and absolutely delicious!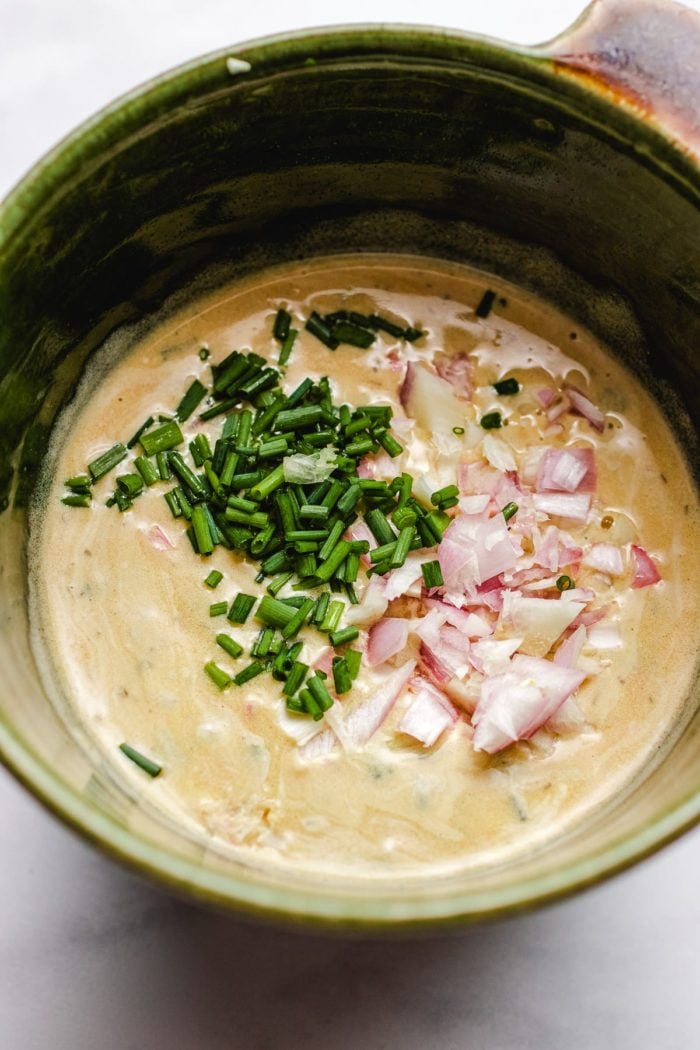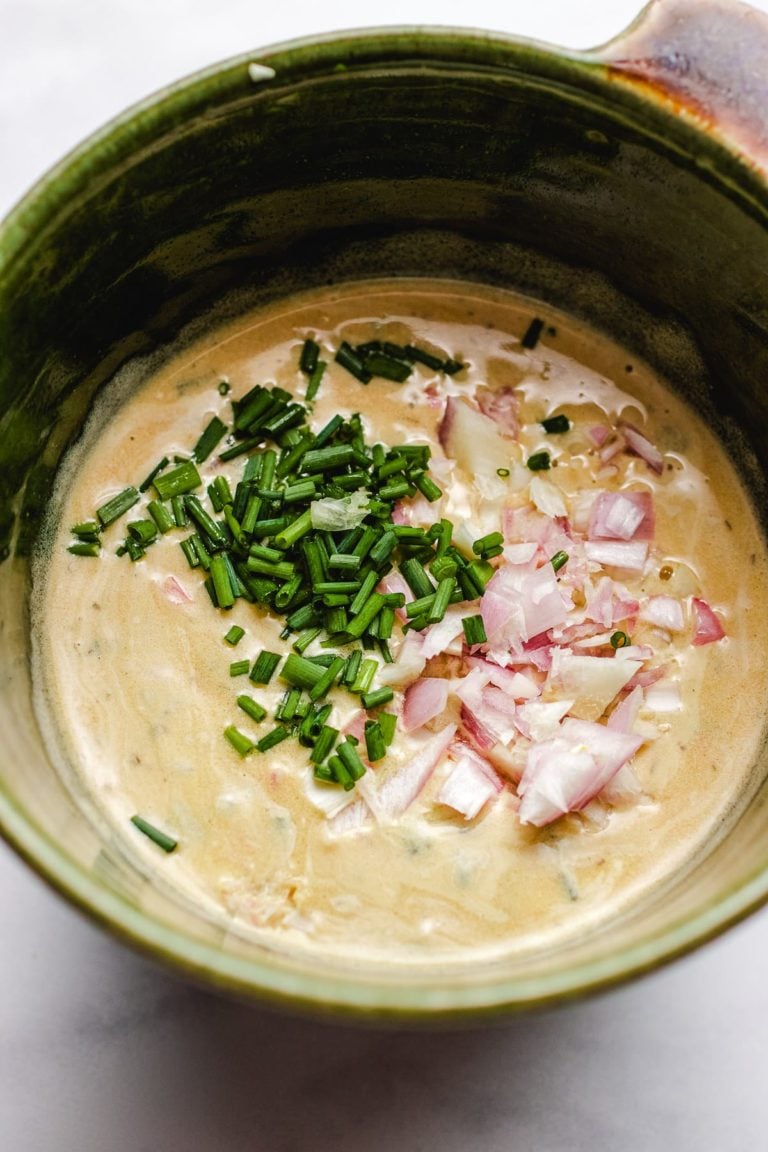 What salad dressing works with smoked salmon
Chive, dill weed, and capers with lemon or vinegar make an excellent salad dressing for smoked salmon salad. You can pair the same salad recipe with a light vinaigrette dressing or a creamy rich salad dressing.
Here I selected a French-influenced creamy caper and chive dressing to go with my smoked salmon. I love the salty and brainy flavor from the capers paired beautifully with the salmon and the acid from the red wine vinegar helps to cut the fattiness of the fish.
Because this dish is light, a creamy and rich salad dressing makes it more substantial and keeps you full longer.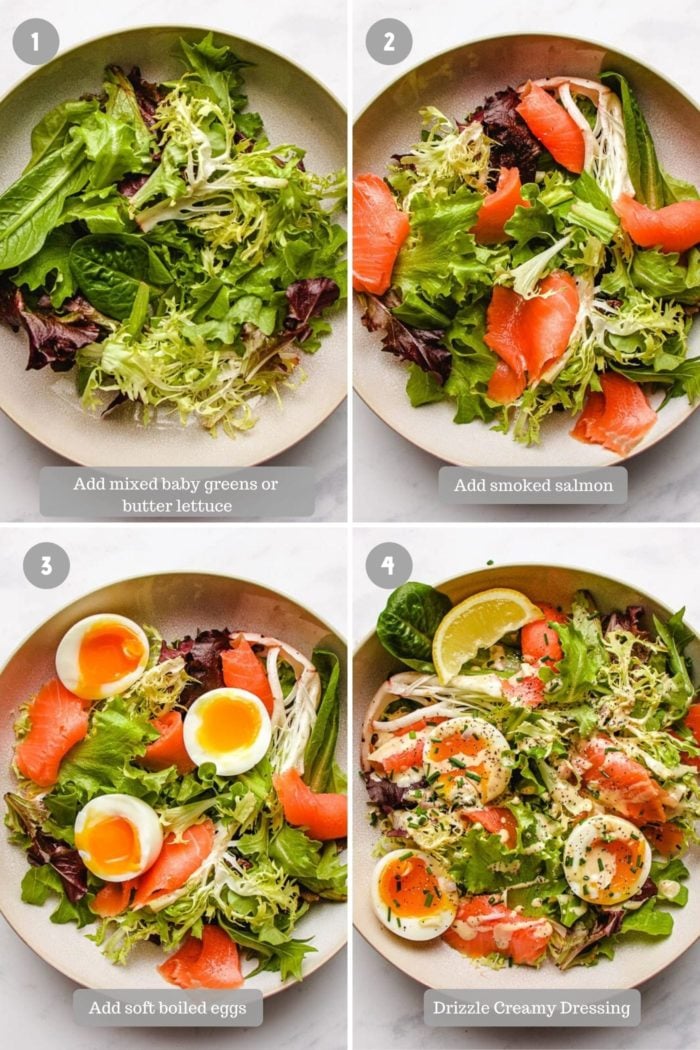 How to make this Keto friendly Smoked Salmon Salad
The salad is gorgeous looking and super simple to assemble.
Add baby greens – you can use mixed greens and butter lettuce and with a few sprinkles of frisee or radicchio.
Add healthy fats – serve the salmon straight from the packet and add soft-boiled eggs or avocado.
Dress it up! Drizzle and gently toss with a ranch style creamy dressing or a light citrus and herb based salad dressing.
More Easy and delicious salad recipes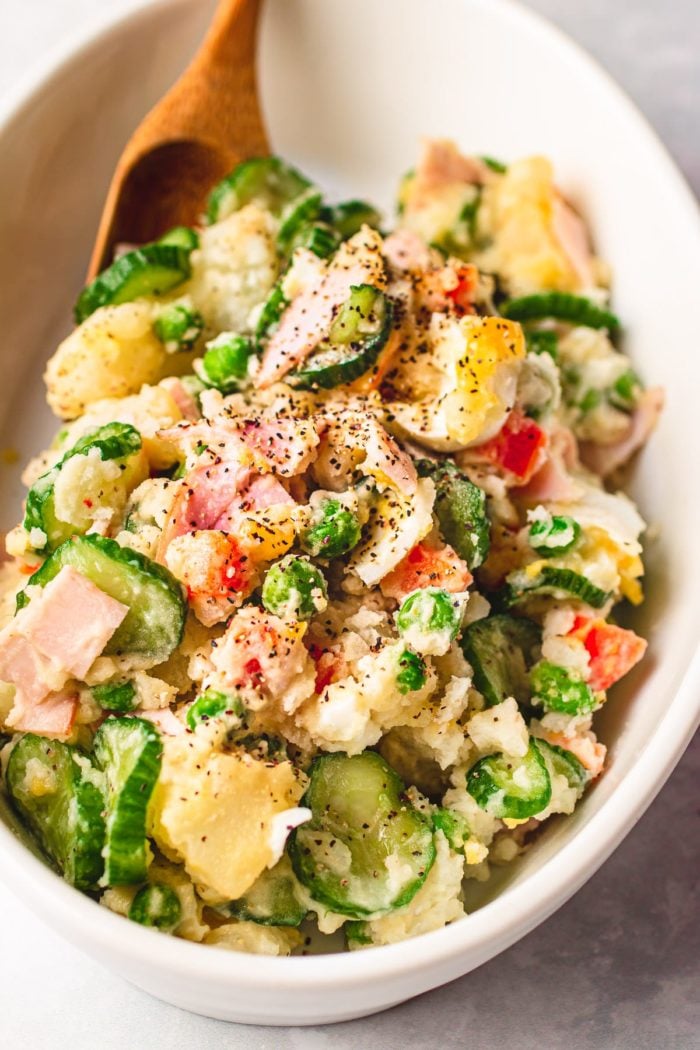 Pairing suggestions for smoked salmon salad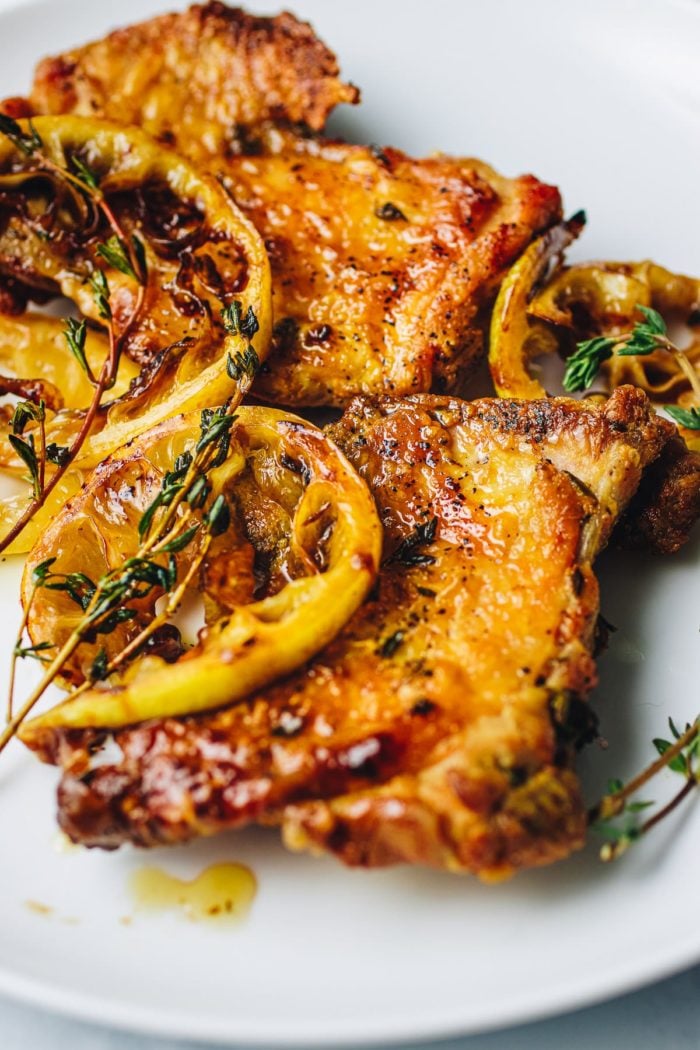 This smoked salmon and soft-boiled eggs salad with creamy caper chive dressing is a fast and hearty entree salad. It reminds me a little of my favorite smoked salmon bagel, but in a bowl of healthy leafy greens. It's a beautiful dish to entertain family and friends and unbelievably simple for everyday indulgence.
If you give this recipe a try, please rate the recipe and leave a comment below! My readers love reading your comments and learning new tips and tricks from the community. It also helps me grow organically with your love and support. Thanks so much in advance!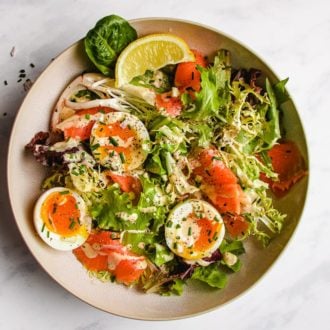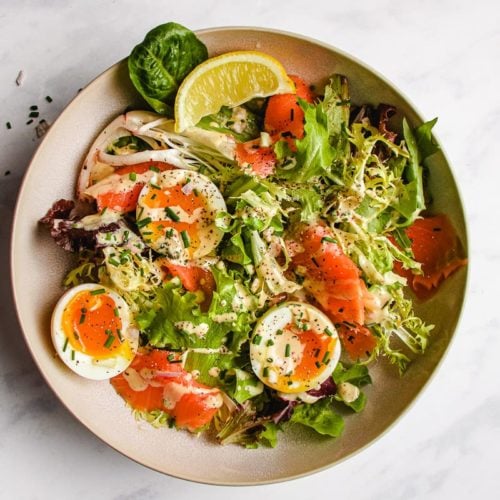 Smoked Salmon Salad With Creamy Caper Chive Dressing
Keto Smoked Salmon Salad with creamy caper chive Whole30 Salad dressing makes a wonderful summer meal in less than 10 mins!
Print
Pin
Rate
Ingredients
4 large soft-boiled eggs
4-5 tbsp creamy caper chive salad dressing
5 oz. mixed baby greens, butter lettuce, mesclun, or baby romain
3.5 oz. smoked salmon
Salt and pepper to taste
Half One whole Lemon, serve on the side
Instructions
For the soft-boiled jammy eggs:
Bring a medium pot of water to boil and bring the heat down to low simmering. Carefully and slowly add the eggs one-by-one into the water, using a slotted spoon.

Turn the heat up to medium-low and simmer the eggs for about 6 ½ minutes. You should see small bubbles, coming from the eggshell. After about 3 minutes, use a spoon to gently push and move the eggs in the water so that the yolks will remain in the center.

Soak the eggs in room temperature water and peel once they are cool to touch.
For the smoked salmon salad:
Make creamy caper chive dressing.

In a large salad mixing bowl, add baby greens and smoked salmon. If the salmon pieces are too large, use your hand to gently tear them apart.

Cut the eggs in half and add them to the salad. Drizzle with salad dressing and season with salt and pepper to taste. Serve with lemon wedges on the side. Enjoy the salad right away or slightly chilled.
Notes
You can swap eggs for avocado.
Add a few sprinkles of frisee or radicchio to your salad bowl for more color and texture contrast.
Once you open the smoked salmon packet, store the salmon in a sealed container in the fridge. It's best to consume the salmon in 2 days for best flavor!
Nutrition
Serving: 1serving, Calories: 384kcal, Carbohydrates: 4g, Protein: 23g, Fat: 30g, Saturated Fat: 6g, Cholesterol: 396mg, Sodium: 887mg, Potassium: 335mg, Fiber: 1g, Sugar: 2g, Vitamin A: 1368IU, Vitamin C: 16mg, Calcium: 79mg, Iron: 2mg
Salmon Lovers!