How To Make Tender Beef Stir Fry (velveting beef)
This how to make tender beef stir fry guide is your one-stop resource for achieving perfectly tender beef for stir-fries, every time. If you've ever wondered how Chinese restaurants make their beef so tender and juicy, read on!
In this guide, you will learn the best beef for stir fry, tips for cutting beef for stir fry, how to velvet beef (tenderize and marinate), and pro techniques for high-heat cooking. I have a separate in-depth guide for creating the perfect beef stir fry marinade.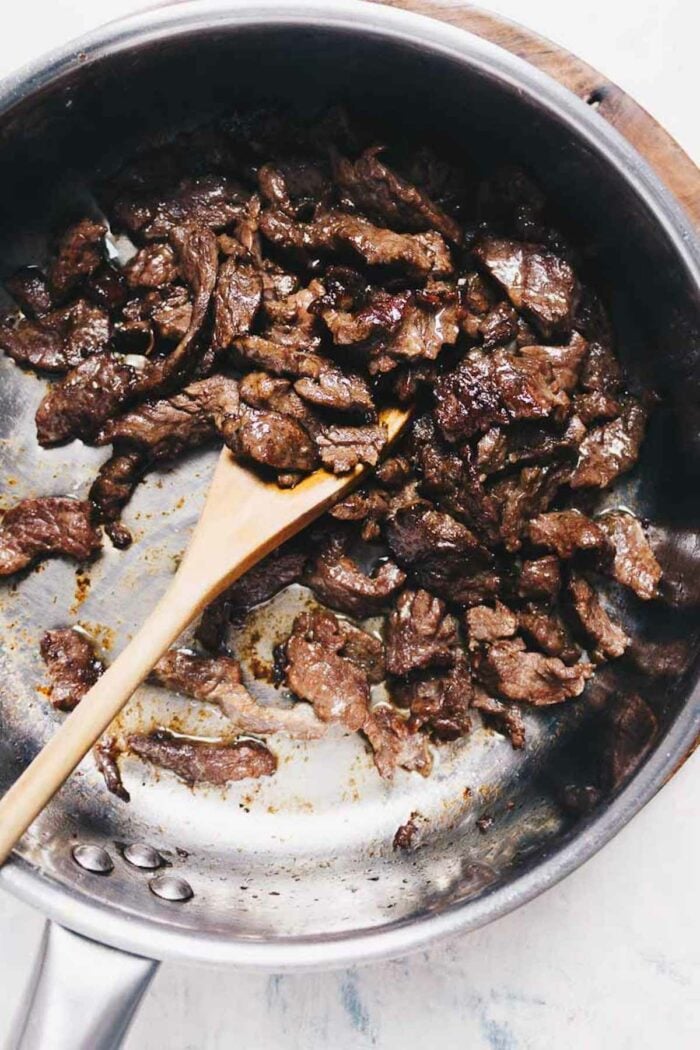 Best cut of beef for stir fry
The first step in making truly tender beef stir fry is choosing the best meat for stir fry. The best cuts of steak for stir fry are lean, don't have too much moisture, and are rich in flavor.
Here are my top picks for best beef cut for stir fry (in order):
Skirt steak: In my opinion, the best stir fry beef cut because it's lean and easy to cut very thin. Low moisture gives skirt steak a great sear.
Sirloin tip: Similar to skirt steak, sirloin tip is a very lean and tender beef for stir fry with a rich, beefy flavor. Try it in my cumin beef stir fry or Thai basil beef!
Flank steak: Another great option for lean beef that slices easily (not too much fat). It's a great option for my Paleo beef and broccoli or this stir-fried beef in oyster sauce.
Top sirloin steak: Top sirloin is tender and not overly moist.
Rump steak (also known as round steak): Another lean cut with a lot of flavor, making this a great type of beef for stir fry. Perfect for my Hunan beef!
Hanger steak: A less common choice for stir-fry, hanger steak is a lean cut that can easily be sliced thin. It has a robust, smokey flavor that's great for high-heat cooking.
Next, we'll talk about how to prepare beef for stir fry, beginning with how to slice it.
How to slice beef so it is tender
Once you've selected the best cut of beef for stir fry, the first step in ensuring your beef stir fry will be tender is slicing it correctly. Here are my pro tips for how to slice beef for stir fry: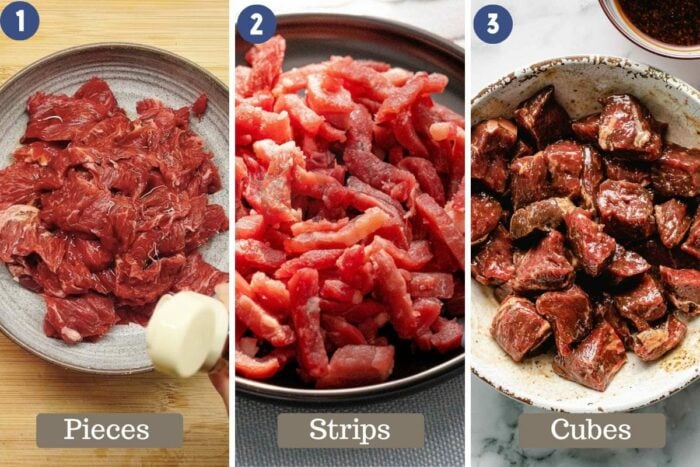 Slice it into thin pieces: Hold your knife at a 45-degree angle to make the slice wider and flatter. Slice the beef against the grain into thin pieces (about ⅛").
Slice it into thin strips: After slicing into thin pieces, stack a few pieces to cut lengthwise into thin strips. For easier cutting, I recommend freezing the steak for half to 1 hour before slicing. Try this method with my crispy sesame beef recipe.
Slice it to small cubes: Dice the meat into similar-sized cubes so they cook evenly at the same time and temperature.
Tip 1: If the steak has a lot of fat or thick membrane such as a boneless beef chuck steak, please trim them off before thinly slicing. Otherwise, stir fry chuck roast will be tough and chewy.
Tip 2: Match the type of cut (strips or cubes) with the rest of the ingredients on the plate. Beef cubes go well with cubed carrots and chunky mushrooms and onions while; thin strips go well with noodles and veggies like cabbage and red bell pepper cut into strips.
How to velvet beef (tenderize beef) for stir fry
The Chinese technique of velveting beef (not "velveteen beef"!) is the secret to tenderizing beef for stir fry. Velveting involves three main components: tenderizing beef with baking soda, marinating in a balanced marinade for flavor and moisture, and quickly stir frying beef strips to sear the meat.
Step 1. Tenderize beef for stir fry (2 different methods):
Restaurant method (more time-consuming)

Add a heaping teaspoon of baking soda for every pound of meat + ¼ cup water and massage into meat to distribute evenly.
Let it soak for 1-2 hours. Discard the water, rinse, and drain well, squeezing the meat to remove extra moisture.

Homecook method (easier and faster)

Sprinkle 1-2 tsp baking soda for 1 lb (16 oz) of meat and gently toss to coat with Chinese beef marinade. Let sit for 15 minutes before stir-frying.
You don't need to add extra water to the beef because the marinade already contains liquid for the beef to soak up the flavor. You won't taste the baking soda in the marinade, so no need to rinse and dry the meat.\
Step 2. Marinate beef for stir fry:
After adding baking soda to tenderize beef stir fry, coat the meat in a balanced beef marinade to season. I have an in-depth guide on how to marinate beef for stir fry, so be sure to check that out! I also include a recipe for my signature beef marinade at the bottom of this post.
Basic must-haves for marinade: Soy sauce (or coconut aminos), oil, starch (Velveting beef with cornstarch is popular in restaurants, but I opt for tapioca or arrowroot for a healthier stir fry at home. Potato starch will also work.)
Step 3. Lightly sear the meat
In restaurants, chefs quickly fry the meat in a big pot of hot oil so that the beef maintains a velvety soft texture and the moisture is sealed within. (Referred to as silk meat or velvet steak.)
Heating a whole pot of oil is not a practical solution for home cooks. I recommend searing the meat in a well-heated hot pan or wok to keep it lighter and easier.
Now that you know how to make beef tender for stir fry, let's go over some pro tips for how to cook beef strips tender and juicy.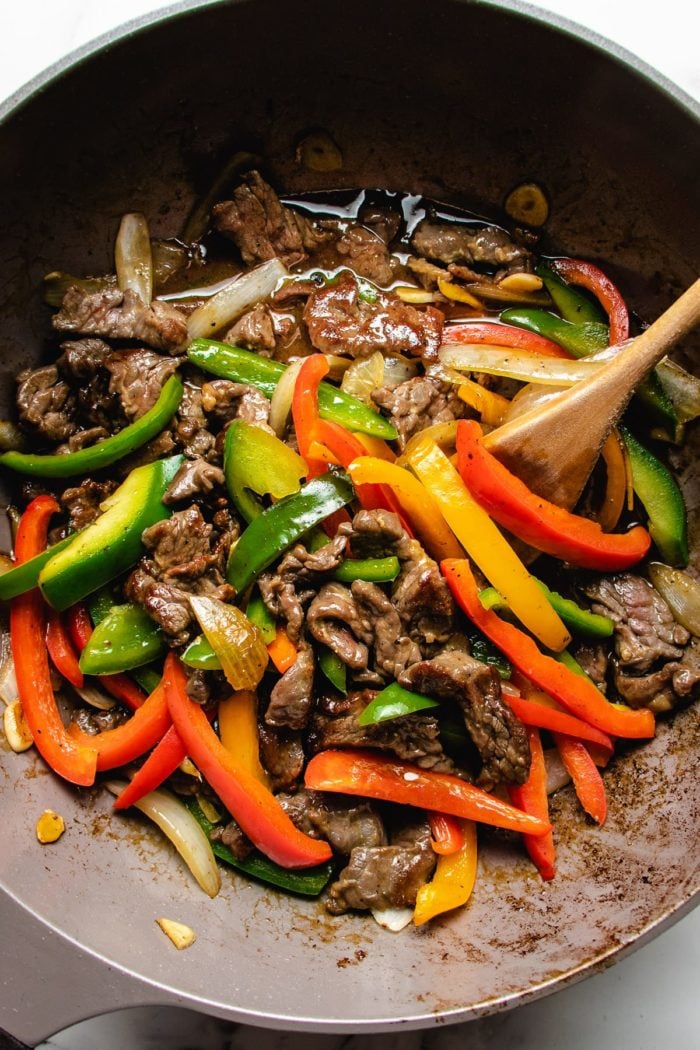 How to make the best beef stir fry
Once you've mastered how to make beef soft and tender (easy, right?!) it's time to get cooking. Many online guides talk about what is velveting meat but skip this section altogether. However, choosing your pan and cooking at the right temperature is critical to making a great Chinese-style stir fry.
Type of pan
While a wok is great, you don't need one in order to make a good stir-fry. The most important thing is that your pan is big enough for the contents to sear rather than steam. A stainless steel sauté pan, cast iron skillet, or even a non-stick saute pan that's 12 inches wide will do.
The temperature of the pan
The temperature of your skillet plays an important part in Chinese stir-fry. It must be hot before you start cooking! So, how do you know when it's hot enough? There are two ways to test:
Method 1 – Water Drop Test
Preheat your skillet over medium-low heat. Test the temperature of the skillet with ½ tsp water. When the skillet is at the perfect temperature, one or two beads will form immediately and the pan is ready.
Method 2 – Hand Test
Preheat your skillet over medium-low heat. Carefully place your hand about 3 inches away from the surface to test the temperature. When it feels too hot to place your hand nearby, the skillet is ready.
Be sure to check out our How to stir fry in stainless steel pan article for 7 stir fry mistakes to avoid!
How to make ahead, store, and freeze
Velveting beef may sound intimidating, but rest assured—it's easy to do in as little as 10-15 minutes! For an even easier tender beef stir fry, here's how to velvet beef Chinese style ahead of time.
Make-ahead: Slice the meat and sprinkle with baking soda. Mix the marinate (oil, starch, soy sauce) in a small bowl. Mix together to coat and let sit for at least 10 minutes or overnight.
Storage: Let sit in the marinade for 10-15 minutes to use the same day; If cooking the next day, store the marinated beef in the refrigerator in an airtight container overnight.
Freeze: Store extra batches of marinated, tender beef strips in the freezer for easy meal prep! Add them to a freezer-friendly zip-lock bag, and keep them flat so it'll be easier to defrost. Store in the freezer for up to 2 months. Defrost overnight in the fridge before stir-frying.
Umami Tips for Success
Select the right cut of beef: Using quality meat and the best beef for stir fry is essential. Skirt steak, sirloin tip, flank steak, and top sirloin are good options.
Slice it against the grain: This technique breaks up the muscle fibers in the beef, making it tender and easier to chew. The grain of the meat looks like parallel lines. Cut perpendicular to these lines to cut against the grain.
Velvet the beef: The velveting technique involves tenderizing, marinating, and a quick searing of the meat.

To tenderize: Sprinkle with baking soda (the secret Chinese meat tenderizer).
To marinate (a quick marinade): Add basic beef marinade and mix to coat evenly. Let marinate for 15 minutes or up to overnight. Essential for seasoning beef for stir fry!
To pan sear: Quickly stir fry in a hot pan to sear and seal in moisture.

Stir-fry: Velveted beef can be quickly stir-fried with vegetables and stir-fry sauce. Use high heat and cook quickly to retain the tenderness of the meat. (Cook veggies and aromatics—like ginger, garlic, and spring onions—separately before mixing them with the meat and sauce.)
Use the right oil: For stir-frying, use an oil that can withstand high heat, like avocado oil. Toasted sesame oil can be added towards the end of the cooking process for flavor.
FAQs
How to make beef stir fry tender?
For tender beef stir fry, choose a lean cut like skirt steak or flank steak and slice it thinly against the grain. Velvet the beef by marinating it in a mixture of oil, starch, baking soda, and soy sauce for 15 minutes, then quickly pan sear it in a hot pan with oil. Pan-sear the velveted beef quickly on high heat to preserve its tenderness.
How do Chinese people make beef tender?
Chinese cooks often use a method called velveting to tenderize beef. This involves marinating the meat in baking soda, corn starch, oil, and soy sauce, then lightly frying it in a pot of hot oil. For home cooks, it's easier to pan-sear the beef in a large, well-heated saute pan to reduce the amount of oil and grease.
What is best tender beef for stir fry?
For stir fry, lean and quick-cooking cuts of beef are best. Skirt steak, flank steak, and sirloin tips are all good options. They have the right balance of lean meat and fat, and when sliced thinly against the grain, they are great for quick marinade and high-heat cooking like stir-frying.
Does cornstarch tenderize meat?
Cornstarch itself does not tenderize meat. However, when used in a velveting marinade with baking soda and oil for dishes like stir-fry, it forms a protective barrier that locks in juices and helps prevent the meat from drying out under high-heat cooking. Cornstarch or any starch such as potato starch, tapioca starch, or arrowroot starch retains the moisture of the meat and gives a little crisp exterior texture to the cooked meat.
What to make with tenderized beef
Now that you have perfectly tenderized and seasoned beef, use it in some of my most popular beef stir-fry recipes! Serve with rice for a healthy and delicious homemade meal.
How to make tender beef stir fry recipe
Learn how to make tender beef stir fry with the Chinese velveting beef technique, the best beef cut, how to tenderize, slice, and marinate.
Print
Pin
Rate
Ingredients
Optional garnishes:
1 whole spring onions
Sprinkle Toasted white sesame seeds
Instructions
How to slice it
Thinly slice the beef against the grain at a 45 degree angle. Each slice should be a little thicker than ⅛ inch but thinner than ¼ inch in thickness.
Quick marinade
In a bowl, add the ingredients from beef to starch. Gently mix them well and set aside in the fridge for 10-15 minutes or up to 24 hours.
Preheat the pan
Preheat a 12 inch large saute pan over medium heat. Carefully place your hand 2.5-3 inches away from the pan surface to test the temperature. When it feels too warm to place your hand nearby, the skillet is ready. If your panis overheated (i.e. smoking), simply set it aside for a few minutes to cool down a bit.
Sear the beef
Add the oil. Add the beef and quickly spread them out into a single layer. You should hear sizzling sound. This means your pan temperature is correct. Pan sear the beef over medium-high heat without disturbing for about 2 minutes or until the beef is in golden brown color. Some beef slices might overlap with one another and that's totally okay.

Use a spatula with a firm tip to flip the beef and sear the flip side for 30 seconds extra. Please don't over cook the beef or they will turn watery.

Turn off heat. Transfer the beef and the pan juice onto a serving plate. Garnish with scallions and sesame seeds, if using.
Notes
If you use soy sauce to marinate the beef, reduce the quantity to 1/2 tbsp for 1lb of beef and you do not need fish sauce. Season the beef with a touch of sugar if needed to balance the salty flavor.
Coconut aminos naturally tastes sweeter and less salty than regular soy sauce. 
Nutrition
Serving: 1serving, Calories: 232kcal, Carbohydrates: 4g, Protein: 25g, Fat: 13g, Saturated Fat: 4g, Polyunsaturated Fat: 1g, Monounsaturated Fat: 7g, Trans Fat: 0.4g, Cholesterol: 71mg, Sodium: 387mg, Potassium: 339mg, Fiber: 0.01g, Sugar: 0.1g, Vitamin A: 10IU, Vitamin C: 0.01mg, Calcium: 8mg, Iron: 2mg
Made a dish and love it? Please remember to rate the recipe and leave a comment in the comment section below! It helps my blog grow organically so I can continue sharing free and awesome content with you. Thank you!