Baby Bok Choy Stir-Fry with Shiitake
Baby Bok Choy Stir-Fry with Shiitake is a simple, fast, and oh-so-yummy side dish. With perfectly crisp stir-fried bok choy and savory meaty shiitake mushrooms, this is a healthy and super flavorful vegetarian bok choy stir-fry recipe that everyone will love in the family!
Not a fan of mushrooms? See my 3-ingredient bok choy stir-fry with garlic sauce!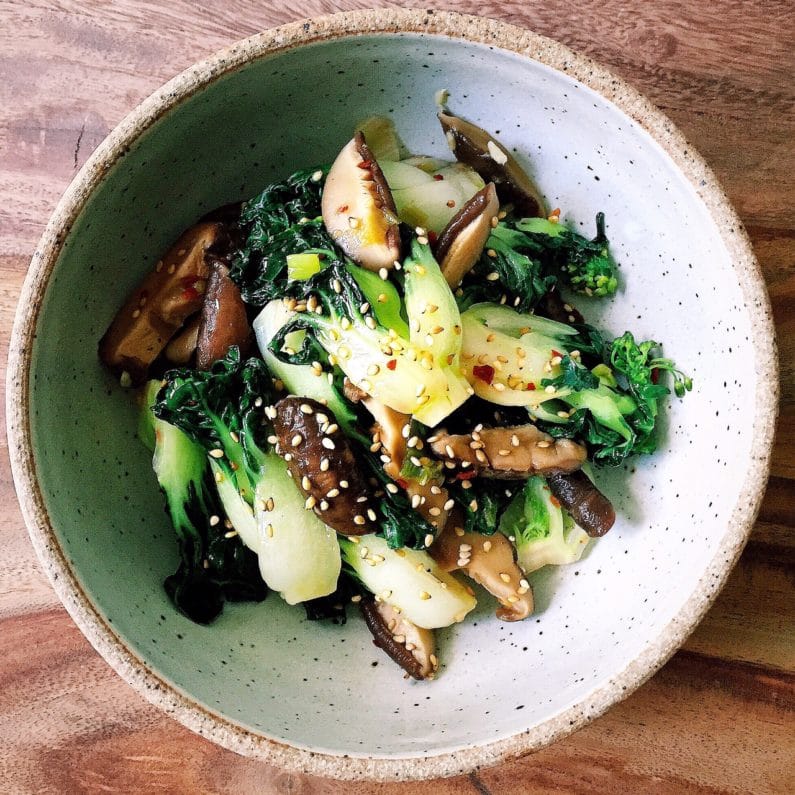 Baby bok choy stir-fry with shiitake is one of my favorite childhood favorite dish. The shiitake mushrooms are savory and add tons of umami punch to the dish. The baby bok choy is crunchy and very refreshing. Baby bok choy also packs with tons of vitamins and is among the top 10 anti stress foods that are good for you!
I prefer slicing the baby bok choy in half (halve), rinsing under colder water, and pat dry before sauteing. If they are too large, you can also slice the vegetable into 3-4 sections. Saute the steam parts of the vegetable first for a few seconds in a saute pan before adding the leafy green part. Learn more about Chinese vegetables here.
Why do I use re-hydrated dry shiitake mushrooms for this recipe?
Re-hydrated shiitake mushrooms pack more umami (delicious savory meaty) flavor than the fresh ones. If you can get your hands on (usually I purchase them through local Chinese grocery stores), they are a wonderful addition to have in your Paleo Kitchen Pantry.
Check out the video below on How to select and use dry shiitake mushrooms
[embedyt] https://www.youtube.com/watch?v=WbKzjE_dhQc[/embedyt]
If you are a fan of baby bok choy like me, you'll love this stir-fried baby bok choy recipe with shiitake. Also check out my bok choy soup, bok choy dim sum, Thai bok choy salad, Bok choy salad with toasted sesame dressing, and 60+ Whole30 vegan vegetarian dinner recipes.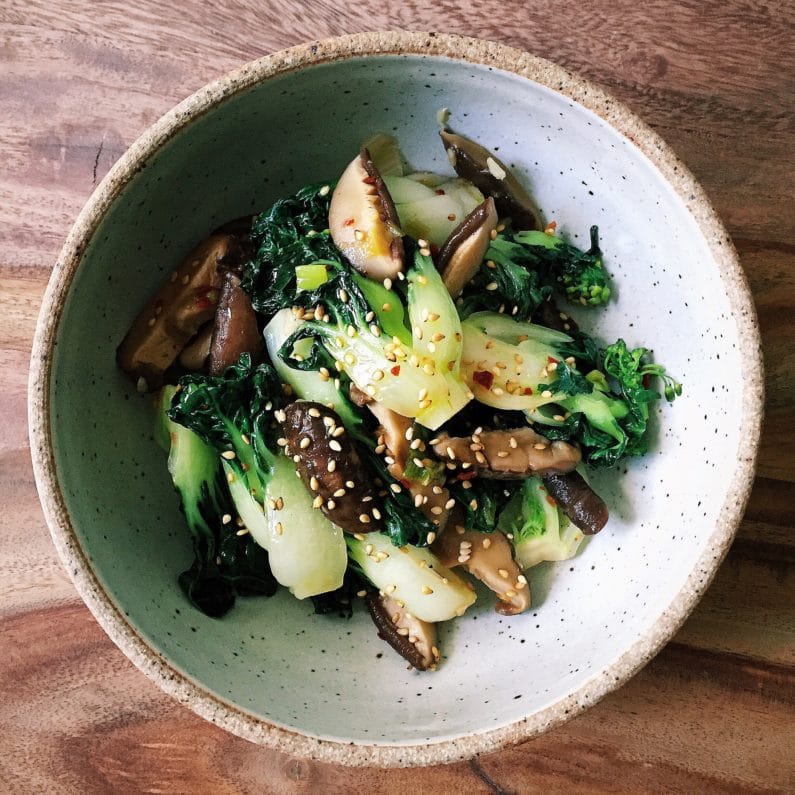 Baby Bok Choy Stir-Fry with Shiitake
Baby Bok Choy Stir-Fry with shiitake is vegetarian and vegan friendly. Stir-fried bok choy is a fast and easy delicious side dish.
Print
Pin
Rate
Ingredients
Aromatic combo:
3 clove garlic, thin sliced
1 tsp fresh ginger, finely chopped
1 ½ tbsp Avocado oil
1 tsp sesame oil
Sea salt to taste
Sesame seeds, (optional)
Instructions
Halve baby bok choy (slice in half or quarter them) Rinse then pat dry. Thin slice garlic and finely chop ginger. Set aside.

Aromatics: Heat a skillet over medium-high heat with 1 ½ tbsp avocado oil. When hot, add garlic and ginger, quickly season with a small pinch of sea salt and stir-fry for 8-10 seconds or until fragrant (be careful not to burn the ingredients).

Mushrooms: Add sliced mushrooms. Continue stirring and flipping for another 1 min. until the mushrooms are soft. Add a bit more oil if the skillet feels a bit dry.

Bok Choy: Add baby bok choy and cook until the color turns light green yet still crisp, about 1-2 mins. Season with salt to taste. Sprinkle with sesame seeds & drizzle with 1 tsp sesame oil before serving. Serve either hot, room temperature, or slightly chilled.
Notes
Rehydrate the dry shiitake mushrooms covered with tab water a night before using.
See the video link below on How to select and use dry shiitake mushrooms. Check this video here: https://iheartumami.com/shiitake-mushrooms/
Don't like mushrooms ? You can absolutely skip the mushrooms. It'll still be a lovely bowl of baby bok choy stir-fry that's good to go with any main dishes. :))
Nutrition
Calories: 120kcal