Vegetarian Oyster Sauce (Vegan)
You'll want to put this Vegetarian Oyster Sauce on everything! 5-ingredients only, 15 minutes to make, this shiitake mushroom-made homemade oyster sauce is gluten-free, vegan friendly, and with no additives. It tastes deeply savory and umami delicious!
Add it to any Chinese and Asian stir-fries from beef in oyster sauce to Chinese broccoli in oyster sauce. This is a terrific homemade seasoning sauce you'll want to have in your fridge!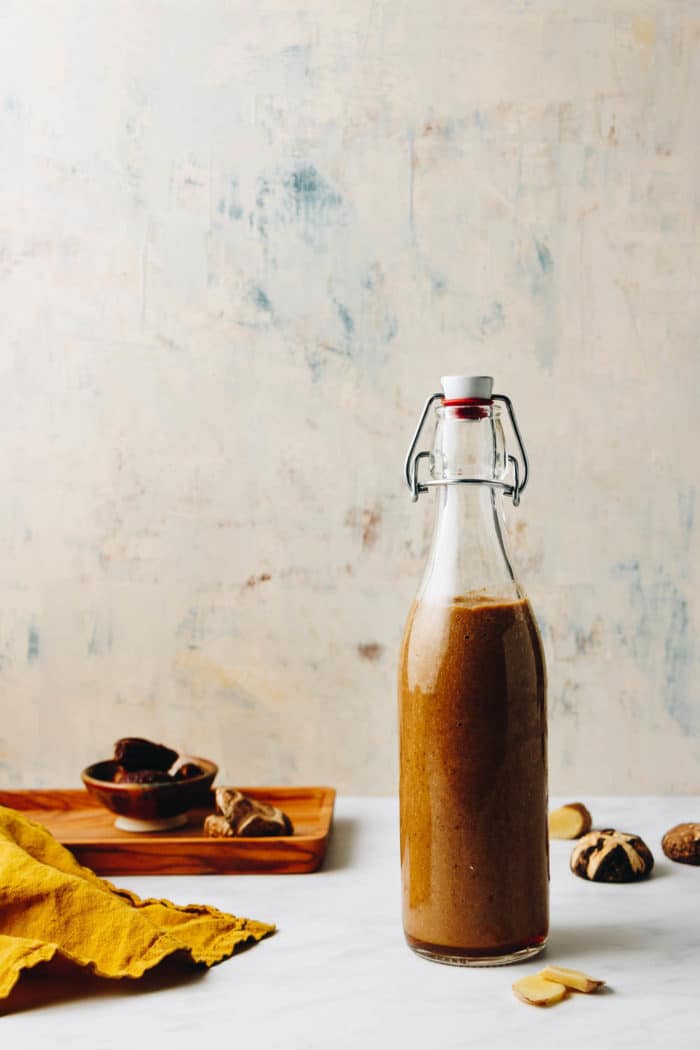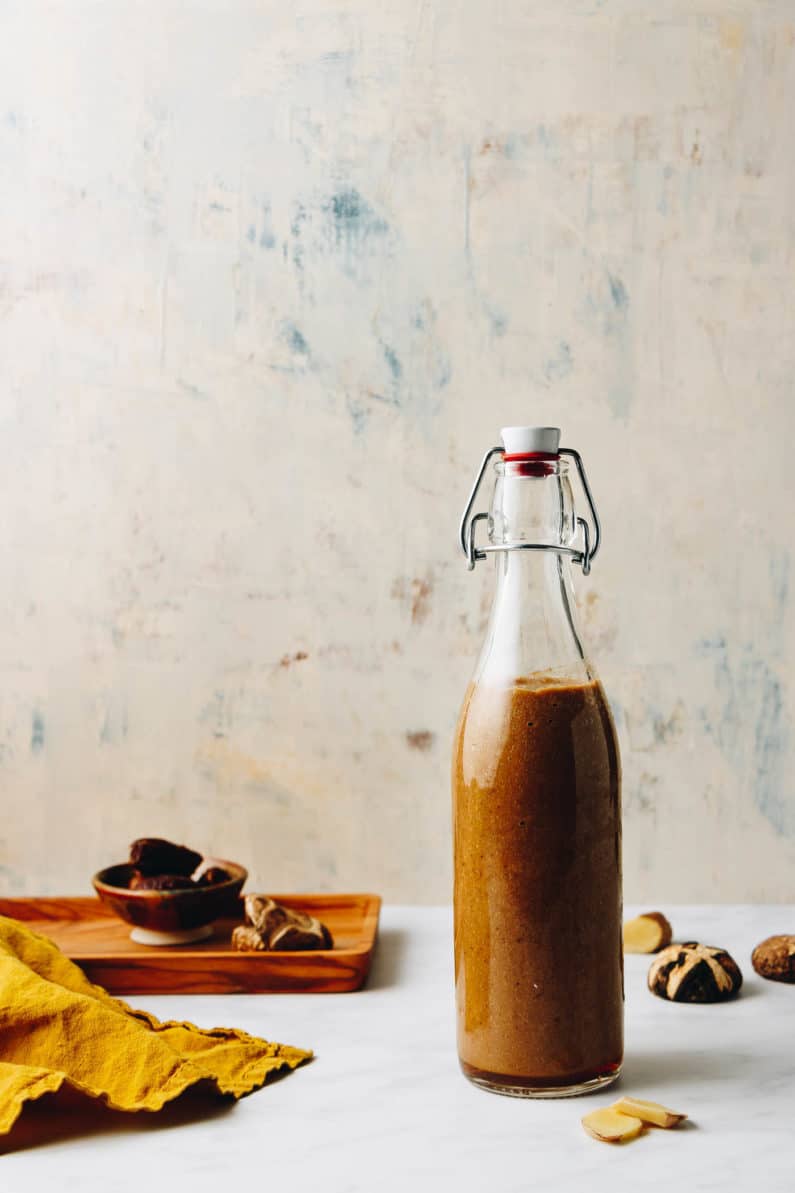 Vegan and Vegetarian oyster sauce (with no additives)
It turns out homemade vegetarian and vegan oyster sauce is super simple to make! With 5 ingredients only, a quick simple saute and let the blender do the rest of the job for you. In 15 minutes, you'll have a bottle of the fresh flavor of the vegetarian sauce in your fridge in no time!
Why Homemade Version Is Better
Homemade v.s. Store-Bought Oyster Sauce
Oyster sauce is probably the only Chinese stir-fry sauce that I consider a must-have for any Chinese and Asian food lovers. I, however, stop using it a few years ago because the ingredients, sadly, in today's fast food/mass productions, aren't that great for our bodies.
I took photos from my recent trip to a local grocery store. One photo is for "oyster-flavored" oyster sauce and the other is called Vegetarian mushroom-flavored stir-fry sauce (AKA Vegetarian oyster sauce).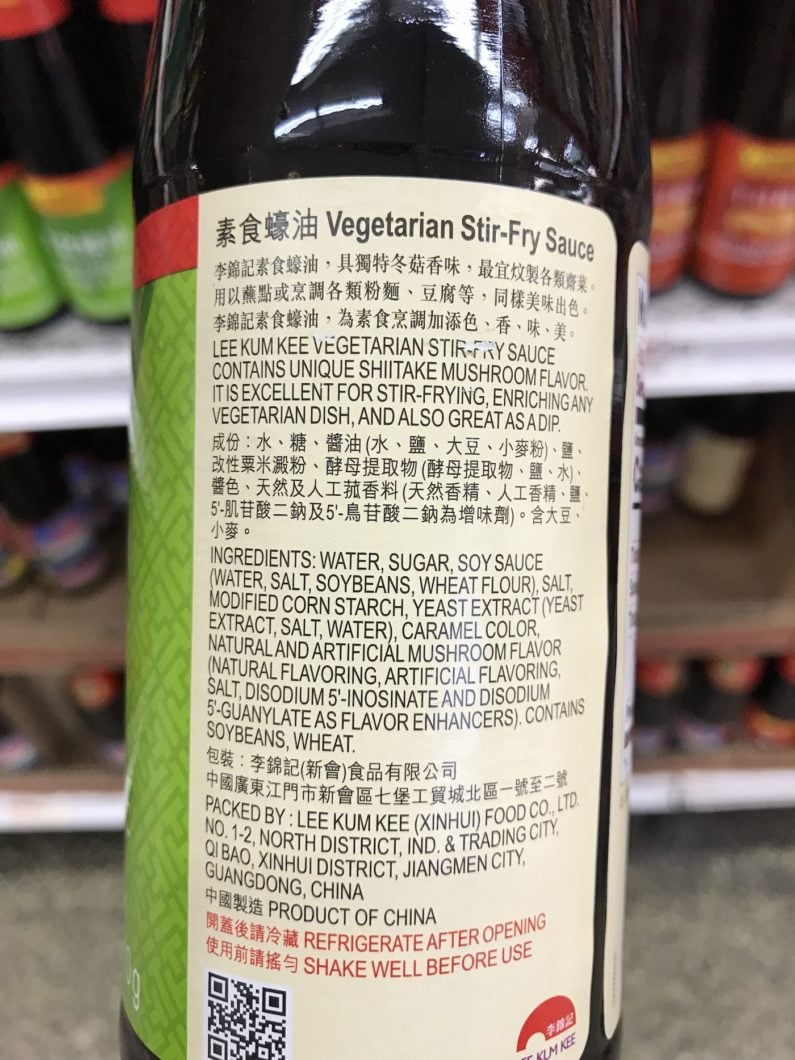 As you can see from the photos that the first ingredient is water and followed by sugar and other colorings, starch, and artificial flavorings. In my opinion, occasional consumption is okay because we all have to eat out (unless you have specific medical reasons or are allergic to the ingredients) but if I'm making the meals at home, which is most of the time, I recommend making the sauce by ourselves.
You'll be amazed how fresh and flavorful the sauce tastes and you know exactly what goes into it. The flavor is so vivid and umami-rich and it'll become one of your top go-to Paleo stir-fry sauces!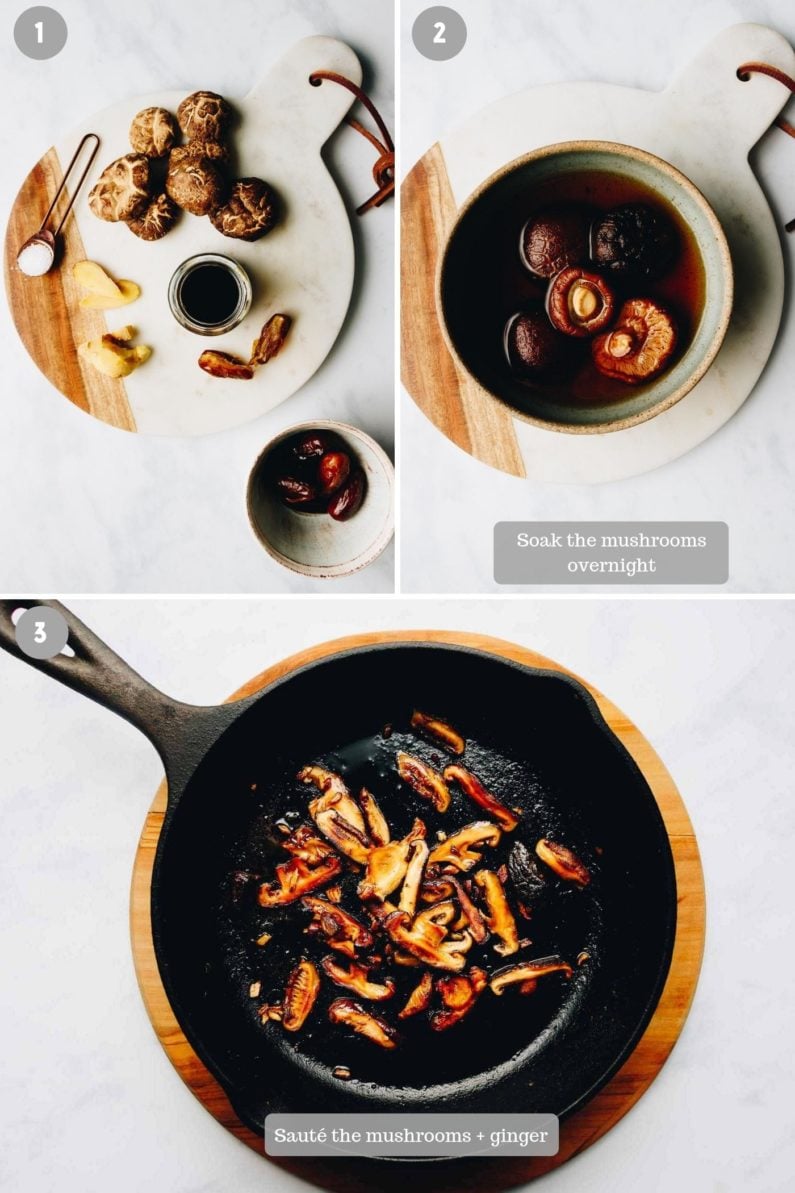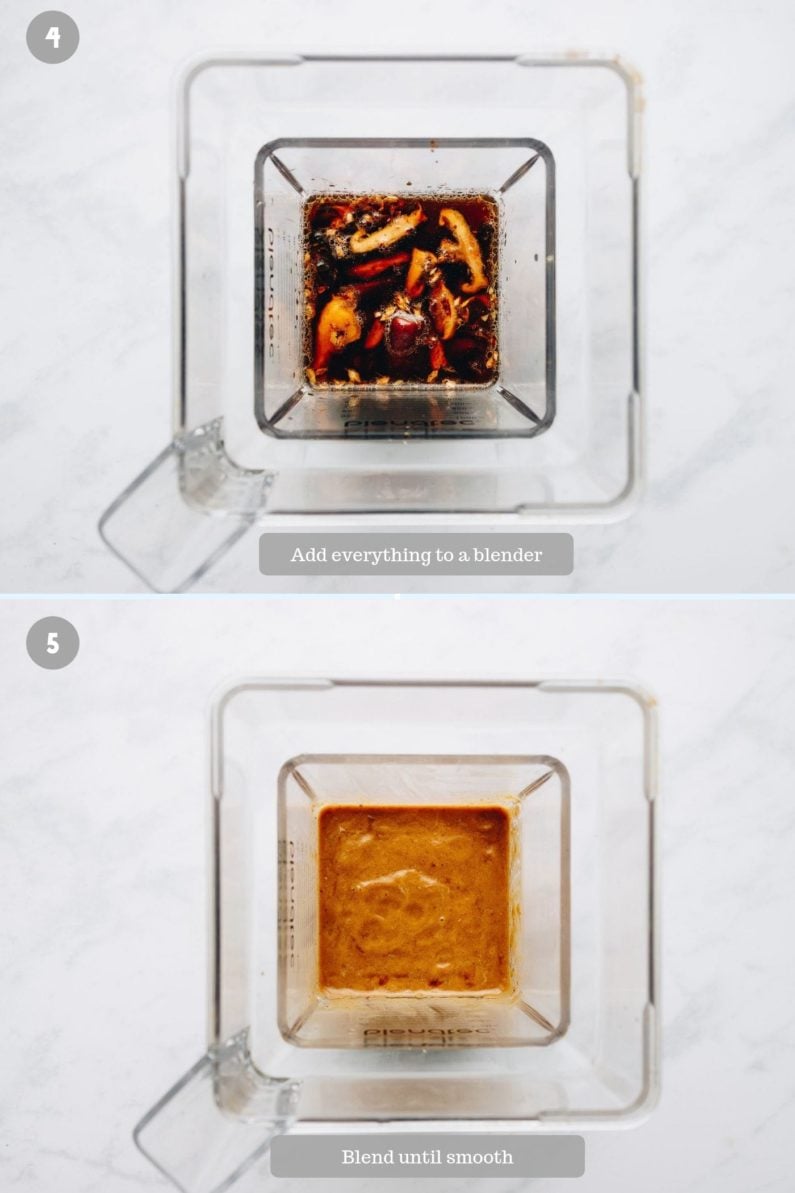 How to make vegetarian oyster sauce at home in 15-minutes!
I use dried shiitake mushrooms as the base of my vegetarian oyster sauce because dry shiitake contains a more concentrated umami flavor than fresh ones. I also use the mushroom water that's from soaking the mushrooms overnight as my liquid base.
Lightly sauteing the mushrooms with fresh ginger will remove the "raw" flavor and bring out a more umami aroma.
Simply blend everything in a high-speed blender and you'll have a perfectly healthy and delicious Mushroom Oyster Sauce!
How to convert store-bought oyster sauce to the homemade version
Add your homemade mushroom oyster sauce to any Paleo stir-fry dishes you love. Since the homemade version is less salty than the store-bought bottles, when you try to convert a recipe you find on the internet, use a bit more.
For example, if a regular recipe calls for 1 teaspoon or 2 teaspoons of (store-bought) oyster sauce, substitute it with 1 tablespoon of our homemade vegetarian oyster sauce.
Add the sauce to Chinese Broccoli Stir-Fry, Chinese Mustard Green Stir-Fry, Shiitake mushroom with baby bok choy stir-fry, or beef stir-fry in oyster sauce!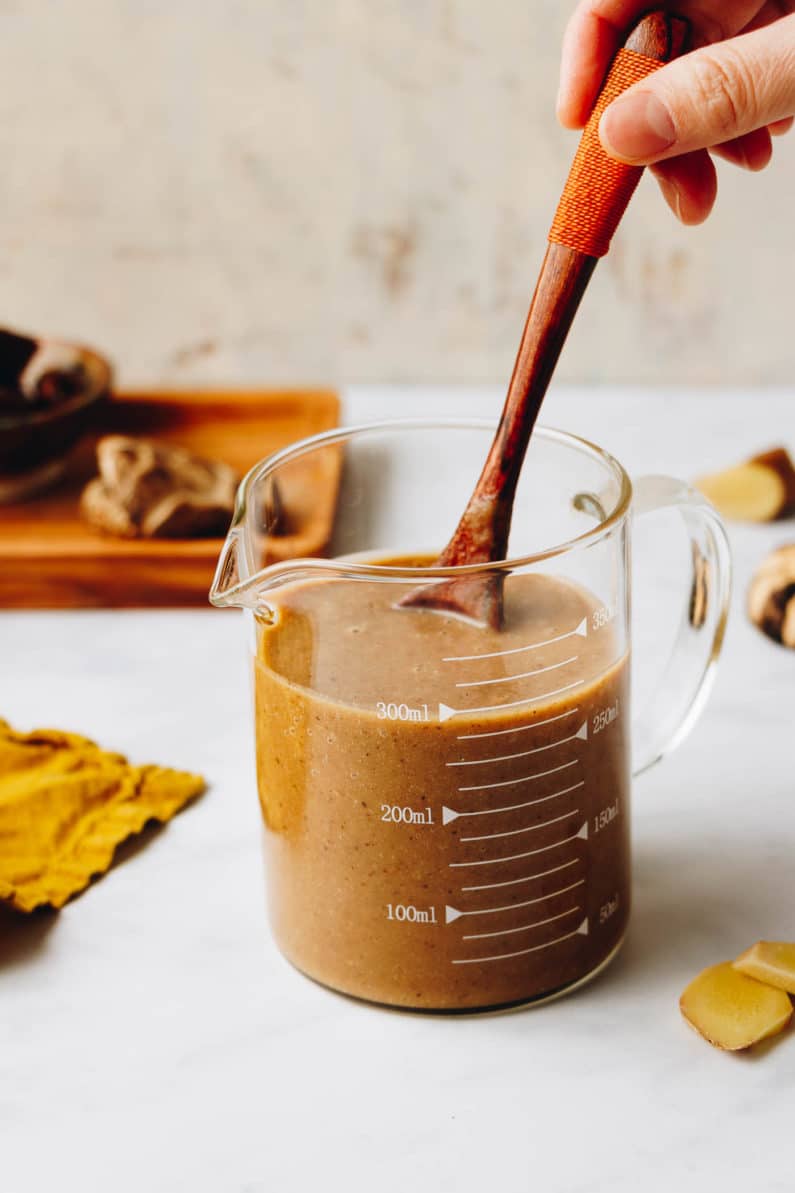 Is there a vegetarian substitute for oyster sauce?
Yes. My vegetarian oyster sauce is also vegan, gluten-free, Paleo, Keto, and Whole30. The vegetarian substitute oyster sauce is made with shiitake mushrooms, fresh ginger root, salt, coconut aminos, mushroom water, and dates. The ingredients are completely vegan and easy to make.
Recipes you can make with the sauce
Try the sauce with Stir-fried beef in oyster sauce, Chinese broccoli with vegetarian oyster sauce, Vietnamese garlic shrimp, and Thai crispy fried cauliflower rice! Or drizzle it over steamed bok choy. The possibilities are endless.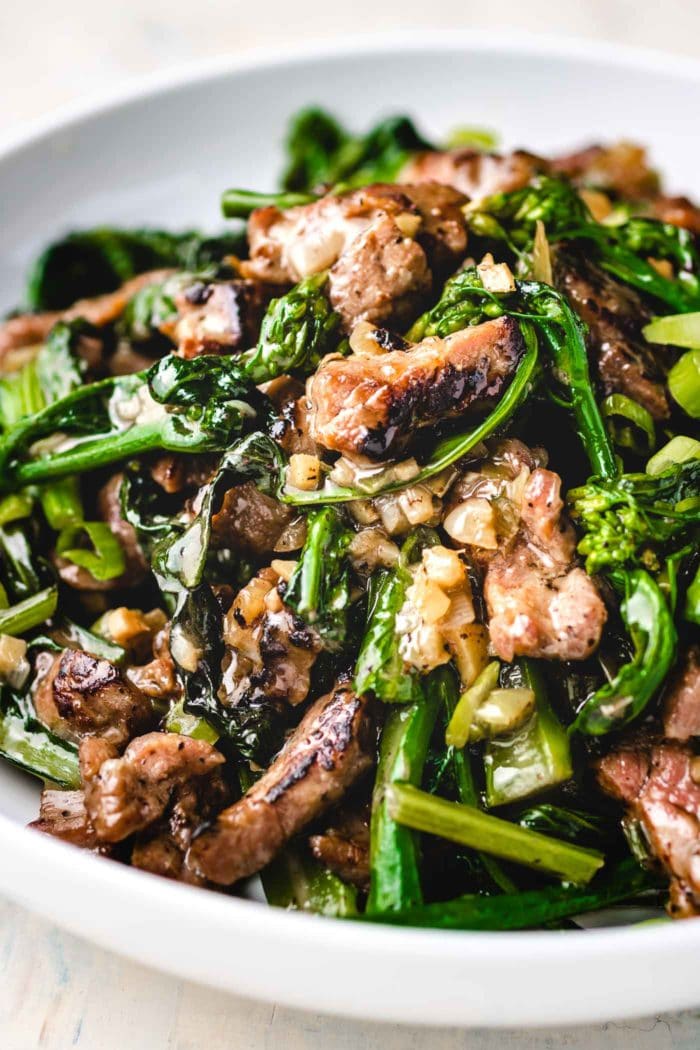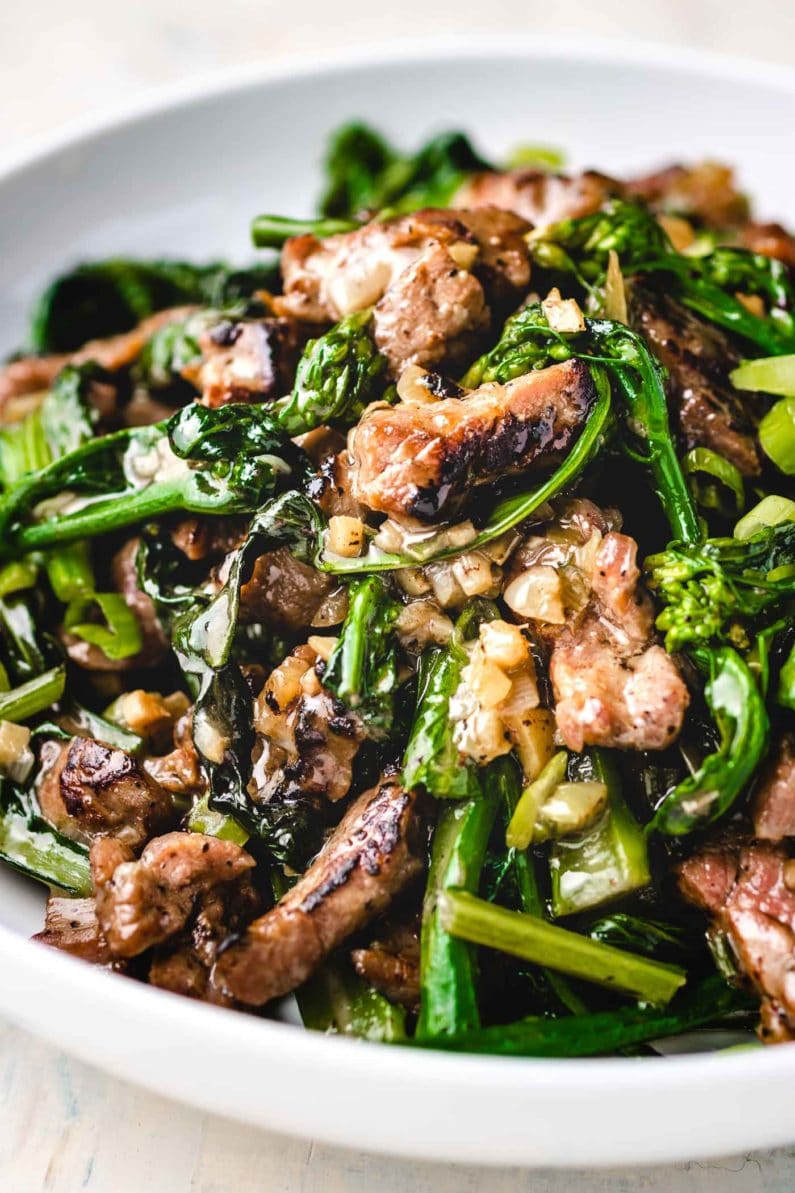 More Vegetarian dishes
More homemade Chinese sauces
Nothing beats a great bottle (or jar) of homemade sauces, if you like my healthier take on your favorite Asian condiments, you'll also love my Gluten free hoisin sauce, Garlic chili sauce, and Shacha sauce!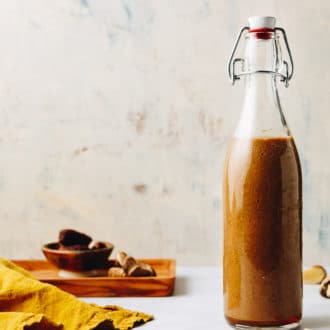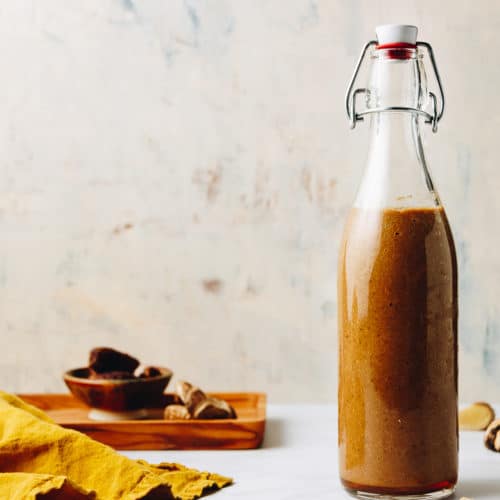 Vegetarian Oyster Sauce (Vegan, Gluten-Free, Paleo, Whole30)
Homemade Vegetarian Oyster Sauce that's vegan, gluten-free, and with no additives. 5-ingredients only and 15 minutes to make! Makes about 3.5 cups.
Print
Pin
Rate
Ingredients
Vegetarian Oyster Sauce Ingredients
Instructions
Soak the dried shiitake mushrooms with 4 cups room temperature water overnight. The mushrooms will rehydrate and become soft and juicy.

Gently squeeze the mushrooms to remove the water. Thinly slice and set them aside.

In a bowl, filter the mushroom water through a sieve. Also finely chop ginger. Set them aside.

In a well-heated skillet, add avocado oil. Saute mushrooms with ginger and ¼ tsp salt over medium-high heat for about 4 minutes.

Add ½ tbsp coconut aminos and keep sauteing for another 1 minute. Off heat and set it aside to cool.

In a high speed blender, add 2 ¼ cups mushroom water, pitted dates, sautéed mushrooms and ginger, and the remaining salt and coconut aminos. Seal the lid tightly and blend on high for 60 seconds or until the mixture is very smooth. There should be no food chunks.

Store the mushroom oyster sauce in a sealed glass container in the fridge for up to 2 weeks.
Notes
To freeze: Store the sauce in ice cube trays in the freezer for up to 2 months. Defrost overnight in the fridge. There might be separation between the mushroom mixture and the liquid. Shake the bottle or stir and they will be back to life!
Nutrition
Serving: 0.25cup, Calories: 31kcal, Carbohydrates: 6g, Protein: 1g, Fat: 1g, Saturated Fat: 1g, Sodium: 56mg, Potassium: 79mg, Fiber: 1g, Sugar: 3g, Vitamin C: 0.1mg, Calcium: 3mg, Iron: 0.1mg
Your Favorite Chinese Dishes made Paleo, gluten-free, and low carb