Shacha Sauce
Shacha sauce, also known as Bullhead bbq sauce, is a super aromatic sauce and is commonly used in Taiwanese cuisine. Sha cha sauce is the Taiwanese take on Malaysian satay sauce with loads of garlic, ginger, shallot, and a seafood flavor.
My homemade version uses the best oil and is easy, healthy, and has no hard-to-find ingredients. The best part? It only takes 20 minutes and you'll get a good batch that will last you several weeks, plus recipes – Sha cha chicken and Sha cha beef – you can use right away!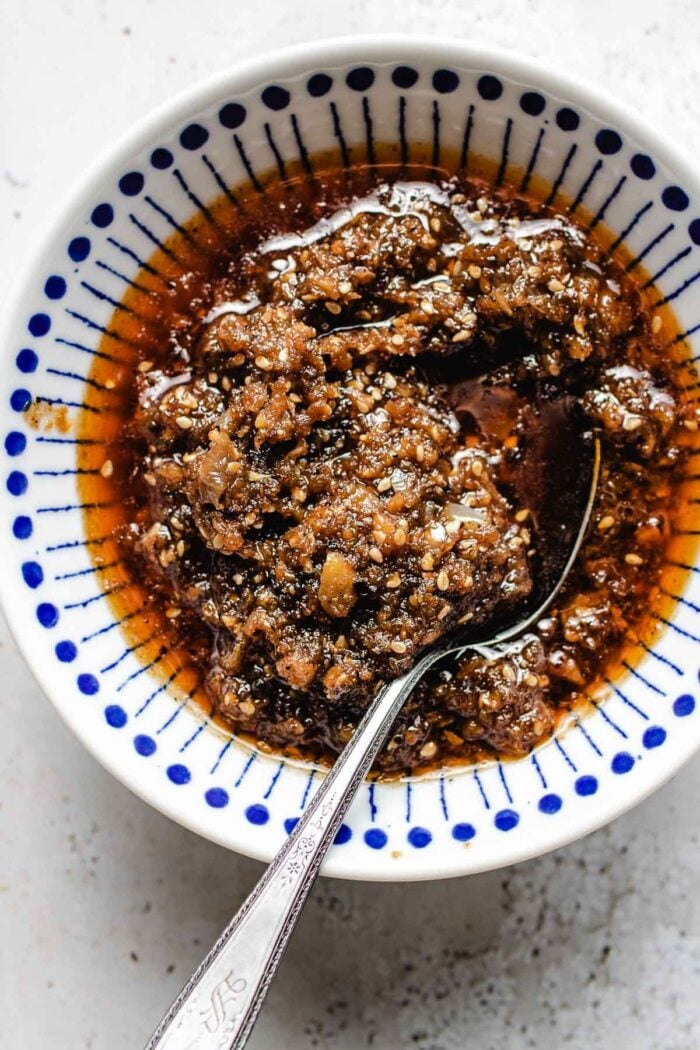 What is Shacha sauce
Also known as sha cha, sacha, it's a regional Chinese sauce made from dried shrimp, flatfish and various spices. The marriage of aromatic and seafood flavor of the sauce makes it the perfect hotpot dipping sauce and a go-to add-on to your stir fry.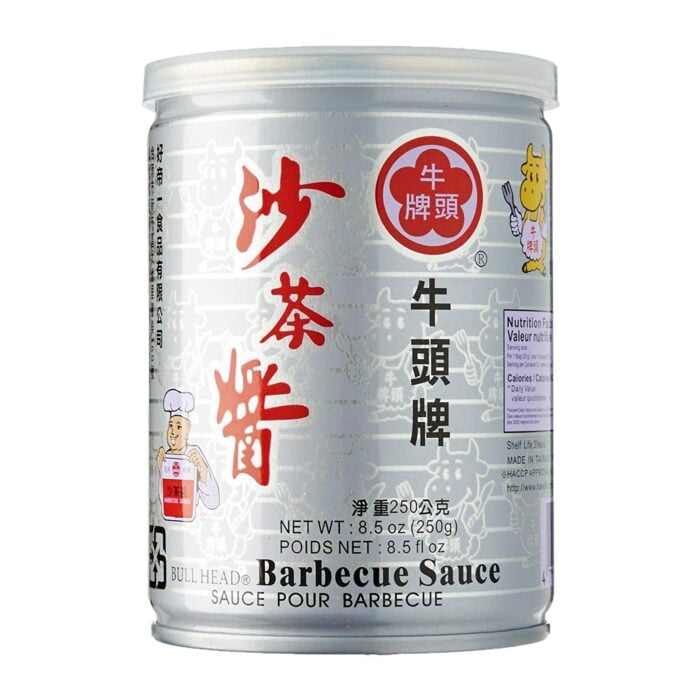 Originally inspired by the Malaysian and Indonesian peanut-based sa te sauce, this Taiwan bbq sauce is a Chaozhou adaptation, which later evolved to become an essential condiment in Fujianese and Taiwanese cuisine.
Although it is often sold as "Chinese BBQ Sauce", it doesn't look or taste anything like the typical American-style barbecue sauce.
My recipe is based on the Taiwanese Bullhead barbecue sauce version (source), which is different from the southeast Asia sate sauce that contains peanut butter.
Why homemade?
This homemade sauce recipe is better than other bullhead barbeque sauce recipes as it's super delicious, umami-forward and a perfect addition to a healthy diet.
Rich and aromatic: Perfect for stir-fry, soup, Chinese bbq sauce for hotpot, and stew
Easy to make: Minimal prep and cooking by using ready-made ingredients
Better oil: My homemade recipe uses avocado oil which is rich in healthy fats, a much better healthy alternative than vegetable or soybean oil. Plus, there is no added sugar.
Ingredients
This rich and tasty sauce is really easy to make and comes in handy for quick stir-fries when you need to whip up a quick dinner after work. The good news is that you can easily find the ingredients for sha cha jiang in your local Asian grocery store.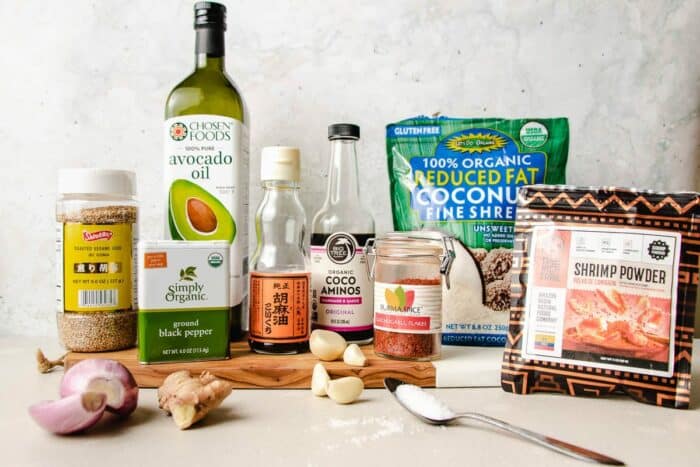 Aromatics: Garlic, shallot, ginger
Dried spices: Coarse salt, toasted white sesame seeds, dried shrimp powder, finely shredded coconut, black pepper, and Korean red pepper flakes (optional)
Other: Avocado oil, toasted sesame oil, and coconut aminos
Ingredients substitutions
Use light olive oil: Instead of avocado oil
Add a pinch of cayenne pepper for a hint of spice: If you can't find gochugaru (Korean red pepper flakes)
An extra tablespoon of avocado oil: For those who are intolerant to toasted sesame oil
How to make the sauce
Making this sha cha sauce recipe is quick and easy. Here's what you need to do to cook this versatile sauce in just 30 minutes: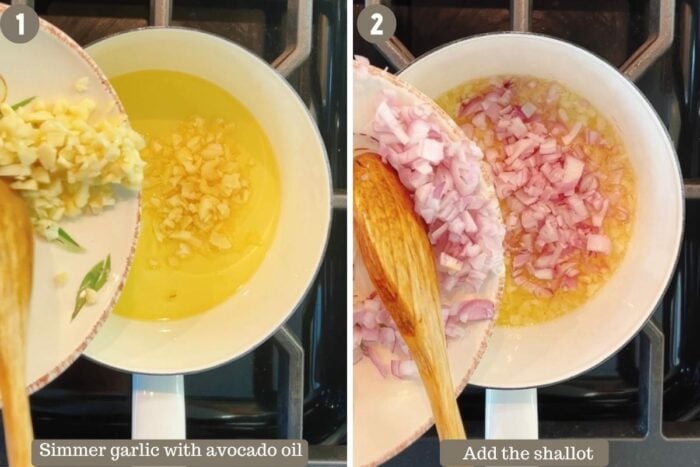 On low heat, simmer the garlic in the avocado oil.
Add shallot and continue to stir occasionally for 5 minutes on low heat.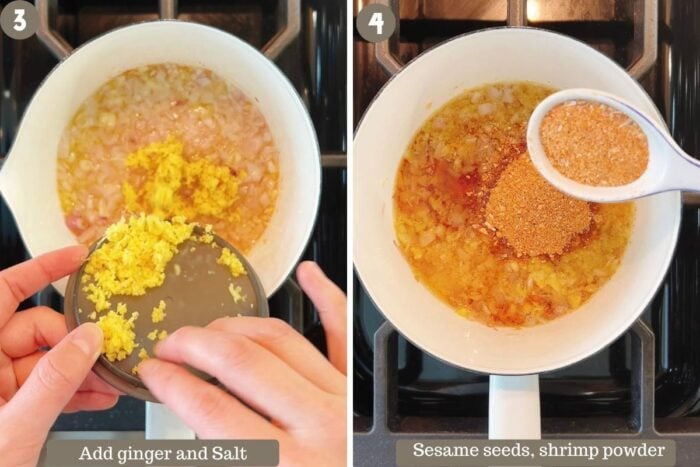 Add the ginger, salt, and remaining avocado oil and let them bloom for another 2-3 minutes.
Add sesame seeds, shrimp powder, and toasted sesame oil. Stir and simmer for 3 minutes.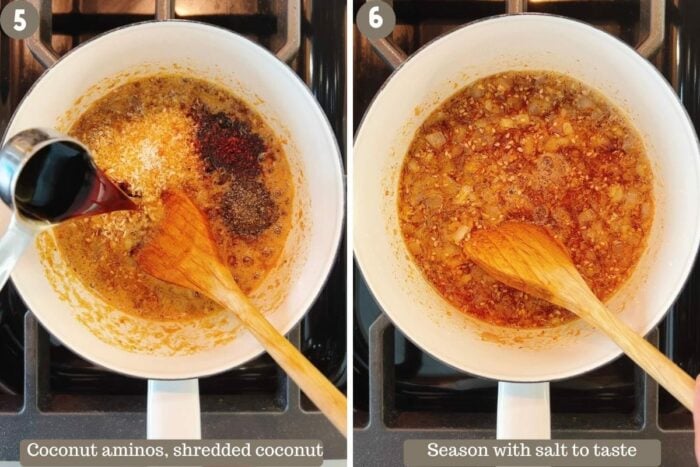 Add shredded coconut, black pepper, coconut aminos, and gochugaru. Stir and simmer gently.
Season with remaining salt and take it off the heat.
Store-bought vs. homemade
Store-bought bull head bbq sauce has no added sugar it is, however, made from soybean oil and is less aromatic. My homemade recipe uses avocado oil, tastes fresh, and is much more fragrant than store-bought.

There's one specialty ingredient – dried shrimp powder – that's a must-have in order to make the sauce taste authentic. I purchased mine on Amazon (link in the recipe card below).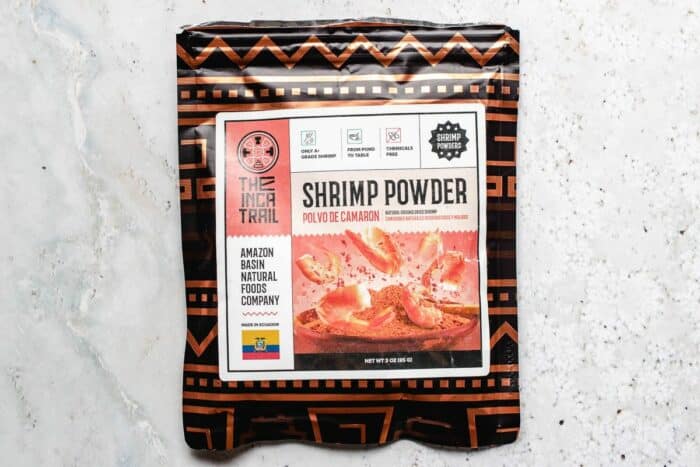 Variations
Even though I love the shacha sauce as it is, here are a few tips to level up your sauce game and suit your taste buds.
Prefer it with an extra spicy flavor? Add chilli powder for an extra kick, especially if you are making the savory sa cha beef.
Want more nutty? Add a tablespoon of almond or peanut butter, or sesame paste for a closer texture to the Indonesian satay sauce
For extra umami flavor, add a few teaspoons of shiitake mushroom powder which adds a slightly briny flavor
Use coconut powder if you can't find any shredded coconut.
How to store the sauce
Whichever version you decide to go for, the tasty sacha sauce is best stored in an airtight glass container and kept in the fridge.
How long can you keep it? You'd be glad to know that by making the sauce from scratch, it should ideally be used within 2 to 3 weeks of making it. On the other hand, if you decide to grab the store-bought version from your local Chinese grocery store, it can last you a good few months.
How is it used?
There are many great ways to use cha cha sauce in your everyday cooking. Here's how you can make your dinner even more appetizing:
A great addition to stir fry dishes like sha cha beef, sha cha shrimp, sha cha pork for a good mix of spicy and sweet flavor
Add to sha cha soup to give it a rich and unique flavor!
It is the perfect dip as your hot pot bbq sauce, but you can also pair it with Vietnamese pizza for a one-of-a-kind gastronomic experience
For a mouth-watering barbecue affair, I highly recommend either dipping or using it as one of many meat marinades, such as the crispy grilled chicken drumsticks or lightly layer the sauce on the succulent, savory beef kabobs with broccoli for a delightful combination of flavors.
Common FAQ
What is sa cha sauce made of?
The store-bought version contains Soybean oil, garlic, shallots, chilies, Chinese brill fish, and dried shrimp.
What does sha cha sauce taste like?
A super aromatic, flavorful, and slightly spicy Chinese condiment that can be used for any savory dish.
Does the sauce have peanuts?
No. This sauce contains no peanuts.
Substitutions for sha cha sauce
While there isn't one perfect substitute for sa cha sauce, the closest thing you can get is XO sauce.
If you like your sauce extra spicy, a great alternative is my chili garlic sauce, which is super flavorful, extra garlicky, and has a spicy taste.
Another quick and soy-free option is my homemade hoisin sauce (it's also paleo-friendly!)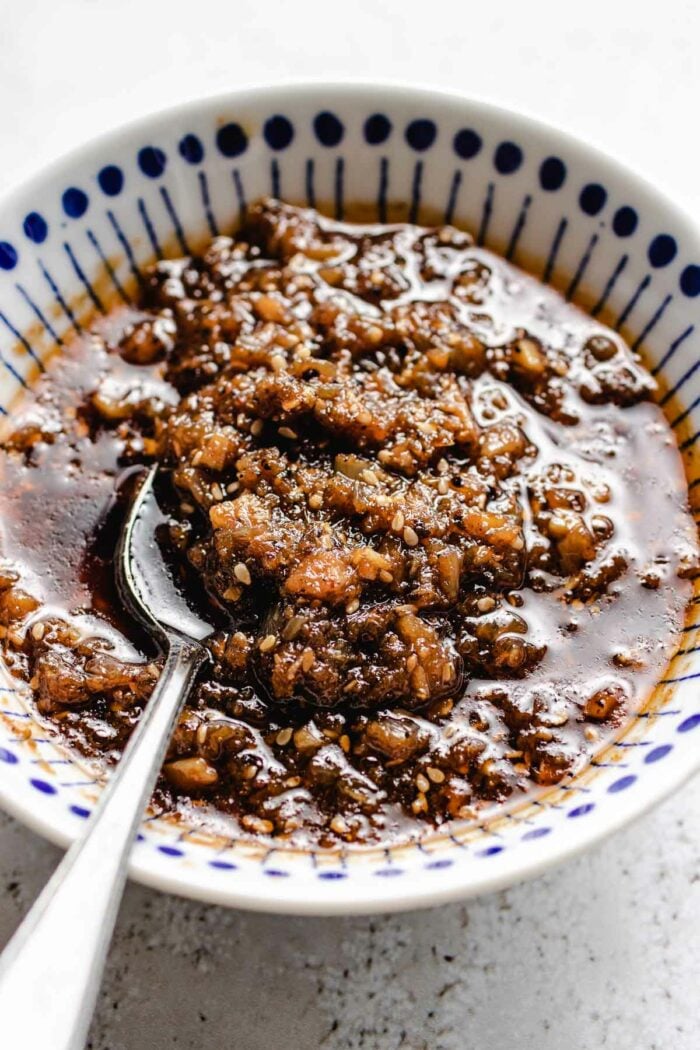 Umami Tips
The homemade version tastes fresher, fragrant, and with better oil.
Don't skip the dried shrimp powder for a better-tasting sauce
The sauce is much easier to make than you think.
Use low heat when cooking the sauce to ensure the flavor blooms smoothly.
All the ingredients you can order online via Amazon.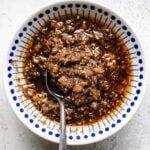 Shacha Sauce Recipe
Homemade Taiwanese Shacha Sauce is a must-have for hot pot and stir-fry! Ready in 20 mins., taste better than store-bought, and with better oil and ingredients! Perfect for sha cha beef or hot pot! Makes 3/4 cup.
Print
Pin
Rate
Ingredients
1 oz garlic cloves, finely minced
1.8 oz shallot, finely chopped, 1 chubby one
0.8 oz ginger, grated
6 tbsp avocado oil, divided
2 tsp coarse sea salt, divided
2 tsp toasted white sesame seeds
1.5 tbsp dried shrimp powder
1 tbsp toasted sesame oil
3 tsp finely shredded coconut, unsweetened
¼ tsp ground black pepper
2 tbsp coconut aminos
½ tsp gochugaru, Korean red pepper flakes, optional
Instructions
Finely mince the garlic and shallot and grate the ginger. Separate them into 3 separate piles.

In a heavy-bottom saucepan, start the pan cold with 4 tbsp avocado oil. Add the garlic and simmer over low heat to infuse the oil with garlic flavor. Stir with a wooden spoon until the garlic turns in light golden brown, about 5 minutes.

Add the shallot. Stir the sauce periodically for another 5 minutes. Make sure the aromatics aren't burnt. Keep the heat low.

Add the ginger, 1 tsp salt, and the remaining 2 tbsp avocado oil and continue to gently bloom and infuse the oil over low heat for another 2-3 minutes.

Add the sesame seeds, shrimp powder, and toasted sesame oil. Continue to stir the sauce and simmer for another 3 minutes.

Add the shredded coconut, black pepper, coconut aminos, and gochugaru, if using. Stir and bring it to a gentle simmer, about 3 minutes.

Season with the remaining 1 tsp salt and turn off the heat.

Once the shacha sauce is cool to room temperature, transfer it into a glass jar to pack and seal. Store the sauce in the fridge. Good for 2-3 weeks.
Notes
Ingredients substitutions

Use light olive oil: Instead of avocado oil
Add a pinch of cayenne pepper for a hint of spice: If you can't find gochugaru (Korean red pepper flakes)
An extra tablespoon of avocado oil: For those who are intolerant to toasted sesame oil
How to use the sauce – Use it as a stir-fry sauce, Add it to soup for extra flavor, Use as a dipping sauce – great for grilled meats and steak, or as a barbeque sauce – great for vegetables, chicken, seafood, beef, pork, and lamb BBQ. 
Try the sauce with my Sha Cha Chicken recipe!
Add the sauce to hotpot sauces!
Nutrition
Serving: 1tbsp, Calories: 100kcal, Carbohydrates: 3g, Protein: 2g, Fat: 9g, Saturated Fat: 2g, Polyunsaturated Fat: 2g, Monounsaturated Fat: 6g, Trans Fat: 1g, Cholesterol: 21mg, Sodium: 501mg, Potassium: 42mg, Fiber: 1g, Sugar: 1g, Vitamin A: 25IU, Vitamin C: 1mg, Calcium: 18mg, Iron: 1mg
Made a dish and love it? Please remember to rate the recipe and leave a comment in the comment section below! It helps my blog grow organically so I can continue sharing free and awesome content with you. Thank you!