Paleo Chinese Spicy Pepper Pork Lettuce Wraps
Paleo Chinese Spicy Pepper Pork Lettuce Wraps ! I promise you it won't be too spicy and it's super delicious. And if you do love the word SPICY (have I mentioned it enough times ?) you certainly can't miss this dish !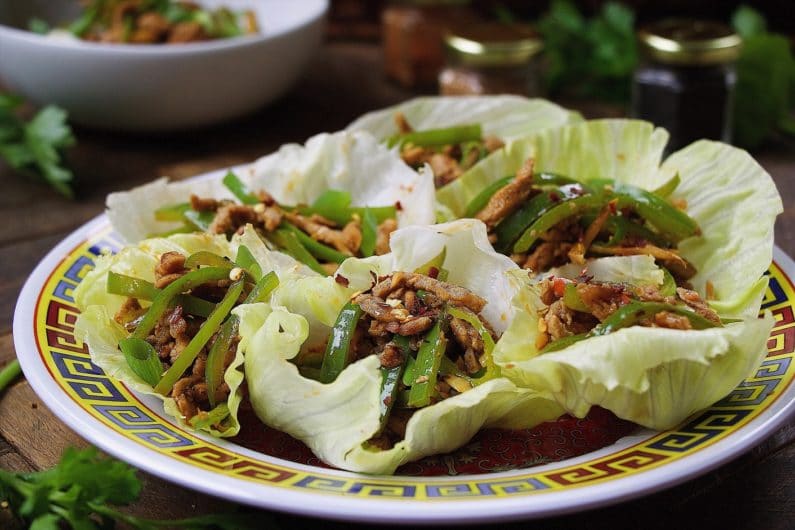 Hit the Play Button to come hang out with me in my YouTube kitchen. I'd love to hear what you think in my new video style !
Paleo Chinese Spicy Pepper Pork Lettuce Wraps
I adore stir-fried dishes.
It's quick, it's simple, and it always reminds me of my mom's and grandma's' cooking.
If you've ever tried my Easy Paleo Beef With Broccoli you'd know that I'm not joking when it comes to my beloved Chinese stir-fry dishes.
It's got to be packed with tons of flavor, be full of character, and leave you wanting for more.
And I often joke around that having grandmas from both sides of my family – one from Sichuan province (hint: spicy food) and the other one from Northern China (hint: folks from the north are tough) – I got the perfect setup to make a bowl of authentic Spicy Pepper pork !
Characteristic 1 – very thin sliced pork
Find a sharp knife and be sure to curve all your fingers/knuckles back. Thin slice the pork to as thin as you can. If it's not thin enough, the pork will not be able to grab the sauce that well, which will result in a less tasty dish.
If the weather's really hot, place the pork in the freezer for 10 mins. It'll be easier to slice.
Characteristic 2 – matchstick thin peppers
The Chinese Spicy Pepper Pork Lettuce Wraps is such a common dish in Asia. You can find various variation from China, Taiwan to Korea and Japan.
Depending on the region and season, locals adapt the type of chili peppers available to them.
Here I used jalapeno peppers which give a slightly spicy taste. After the seeds are removed and thin sliced to matchstick thin, they add a wonderful flavor and crunch to this simple everyday stir-fry.
Anaheim chili pepper will give a mild spicy taste. If you really like spicy food, I'd use serrano chili peppers.
For a non-spicy version, if you really can't take any spicy food at all, use green bell peppers instead and be sure to slice them into thin strips so both the peppers and the pork will grab the sauce evenly in the wok.
Characteristic 3 – speaking of the Chinese stir-fry chili bean paste
I couldn't be happier when I first discovered the Harissa chili paste from Entube a long while ago.
The traditional Chinese chili bean paste will give this dish the most authentic flavor, but it contains sugar, vegetable oil, and other additives. Until someone develops a Paleo version of Chinese chili oil paste without sugar I'm very happy with using Entube for my Paleo Chinese Spicy Pepper Pork Lettuce Wraps. :))
And if you are a subscriber to my blog, in one of my welcome video series, I walk through both fresh and dry pantry items in my Asian-inspired Paleo kitchen.
If this is the first time you've landed on my blog, subscribe to any of the opt-in boxes to get the 3-part video series on how to make 10 scrumptious Paleo meals in under 10 minutes each with no added sugar, no prep, and no last minute trip to the grocery store.
Delicious wonder morsel
I wrap my Spicy Pepper pork in iceberg lettuce. I trim the edge of each layer until they are about palm size.
These mini Lettuce cups act like spoons. Each bite is a perfect balance of savory, slightly spicy, and iced cold crunchy. Hmm…out of this world !
You can serve it as an appetizer or a main dish. Either way, it's perfect for every day as well as party finger food!
Also check out my Asian Chicken Lettuce Wraps
Paleo Chinese Spicy Pepper Pork Lettuce Wraps
Thin sliced pepper pork wrapped in crunchy lettuce wraps in Chinese spicy chili sauce. Use green bell peppers for a non-spicy version.
Print
Pin
Rate
Ingredients
1 lb . Pork tenderloin, (alt. boneless pork loin roast)
Iceberg lettuce, , butter lettuce, savoy cabbage, or Romaine lettuce
Aromatics:
2 large garlic cloves, , minced
3-4 thin slices ginger, , cut into thin strips
Chili peppers or Green bell pepper*, , remove seeds & slice to matchstick thin
Instructions
Slice pork to very thin strips* and marinate the pork with ingredients listed under "pork seasoning".

Finely chop garlic cloves, thin slice ginger and chili peppers to matchstick thin. Prepare stir-fry sauce and set aside.

Heat 1 tbsp cooking fat of your choice over medium-high heat, when hot, lower the heat to medium, stir-fry until the pork is no longer pink and in golden brown color. Set aside.

Use the same skillet/wok, add a bit more cooking oil, saute garlic and ginger, season with a little bit coarse sea salt. You should smell a nice aroma within 10 seconds. Add chili peppers, season with a little bit more coarse sea salt. Keep stir-frying for another 5-10 seconds. Add stir-fry sauce and pork back to the skillet. Toss everything to combine.

Serve immediately with lettuce wraps.
Notes
*If you like spicy food, use more chili peppers. If you prefer milder spicy food, use less chili pepper. In general, use 2 large size Anaheim peppers, 4-5 Jalapeno, OR 3-4 Serrano chili peppers for 1 lb. pork. For none-spicy version, use 1 large green bell pepper instead.
* If the weather's hot, chill the pork in the freezer for 10 mins before thin slice.
Link: Entube's harissa chili paste 
Nutrition
Serving: 220g, Calories: 180kcal, Carbohydrates: 5g, Protein: 26g, Fat: 6.2g, Saturated Fat: 1.3g, Cholesterol: 74mg, Sodium: 567mg, Fiber: 2g, Sugar: 2g, Vitamin A: 900IU, Vitamin C: 21.5mg, Calcium: 30mg, Iron: 2mg