Paleo Hunan Beef Stir-Fry
Paleo Hunan Beef Stir-Fry is a Chinese beef recipe with a bold-flavored stir-fry sauce. It's low carb and gluten-free, and takes less than 30 minutes from start to finish.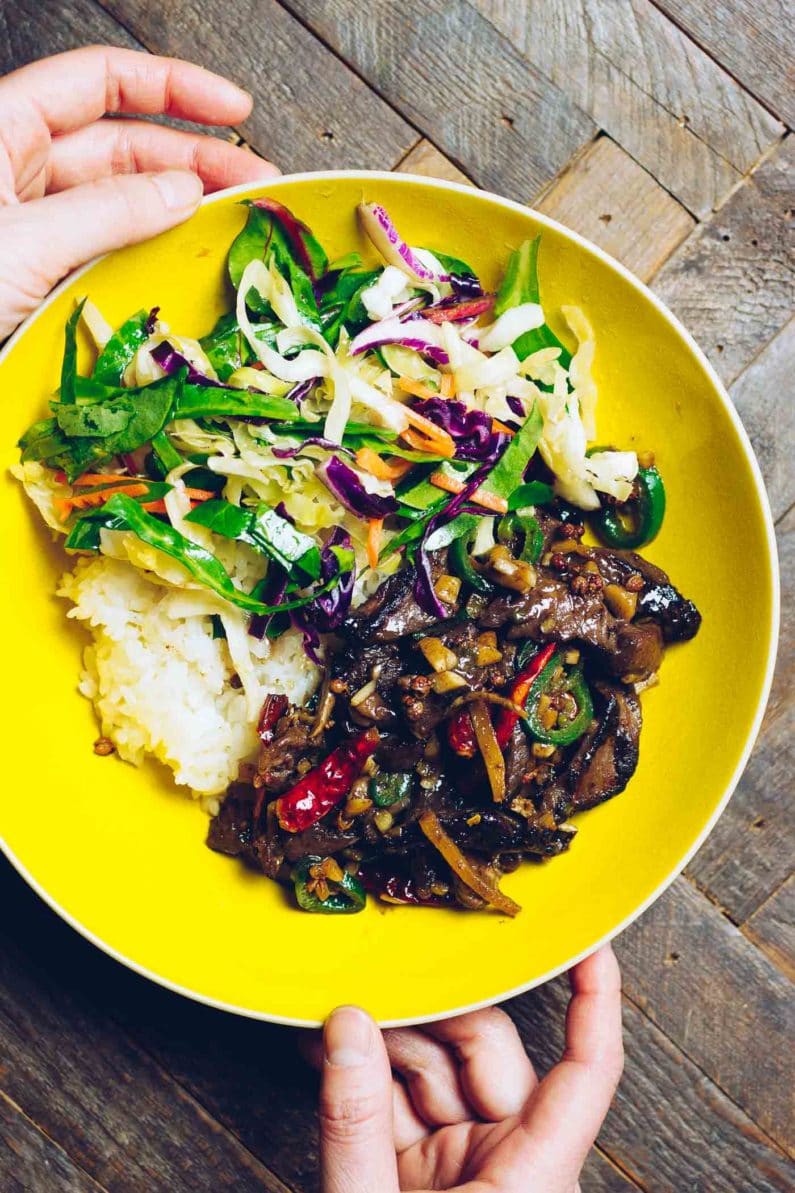 Hey friends! Today's Paleo beef recipe – Hunan beef – is from my grandfather (my father side) who came from Hunan province and married my grandmother who was born in Szechuan. Not quite sure what the differences are between Hunan and Szechuan cuisines? I hear you. There are subtle differences between the two but both are bold-flavored and super delicious. If you love a quick beef stir-fry recipe, keep on reading!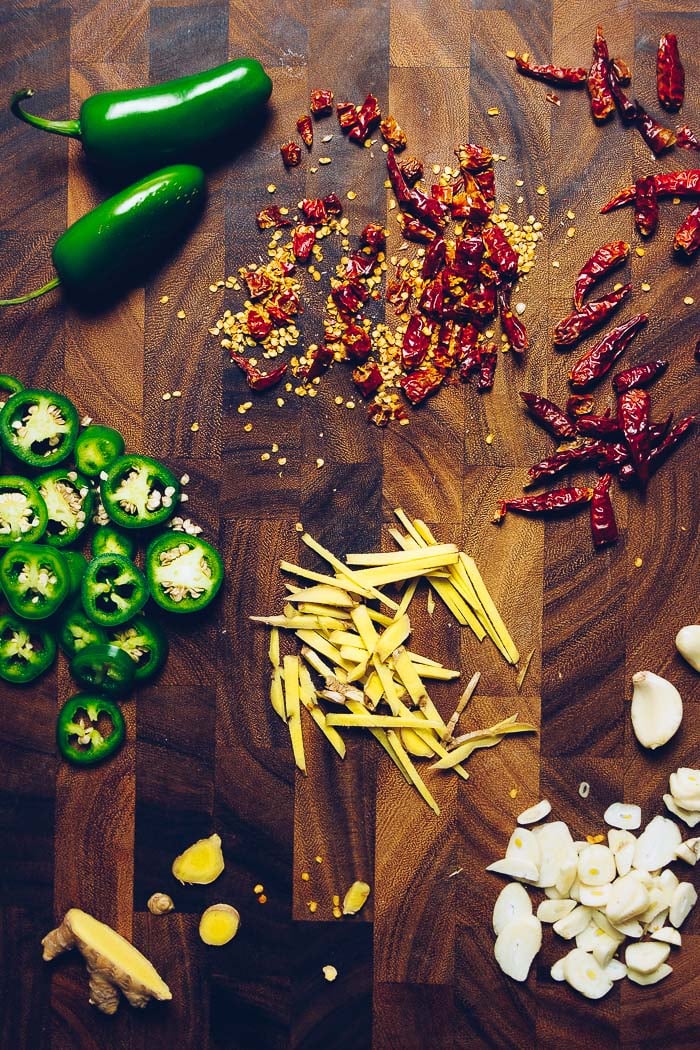 What is Hunan beef?
Hunan beef is one of the most prominent cuisines in China. Hunan province is rich in agriculture so the ingredients used in Hunan beef can be slightly different, depending on the chef. In general, Hunan beef is famous for spicy, hot, and bold flavor. Garlic and chili peppers are common ingredients in Hunan beef. It's a quick stir-fry dish and goes well with steamed rice or cauliflower fried rice.
What does Hunan beef taste like?
Hunan beef recipe features thinly sliced tender beef, stir-fried with garlic, ginger, fresh and dry chilis, and sometimes shallots. Hunan beef emphasizes on using fresh ingredients and aromatics to bring out its natural flavor. The texture of the dish is less saucy, compared to my Paleo pepper steak.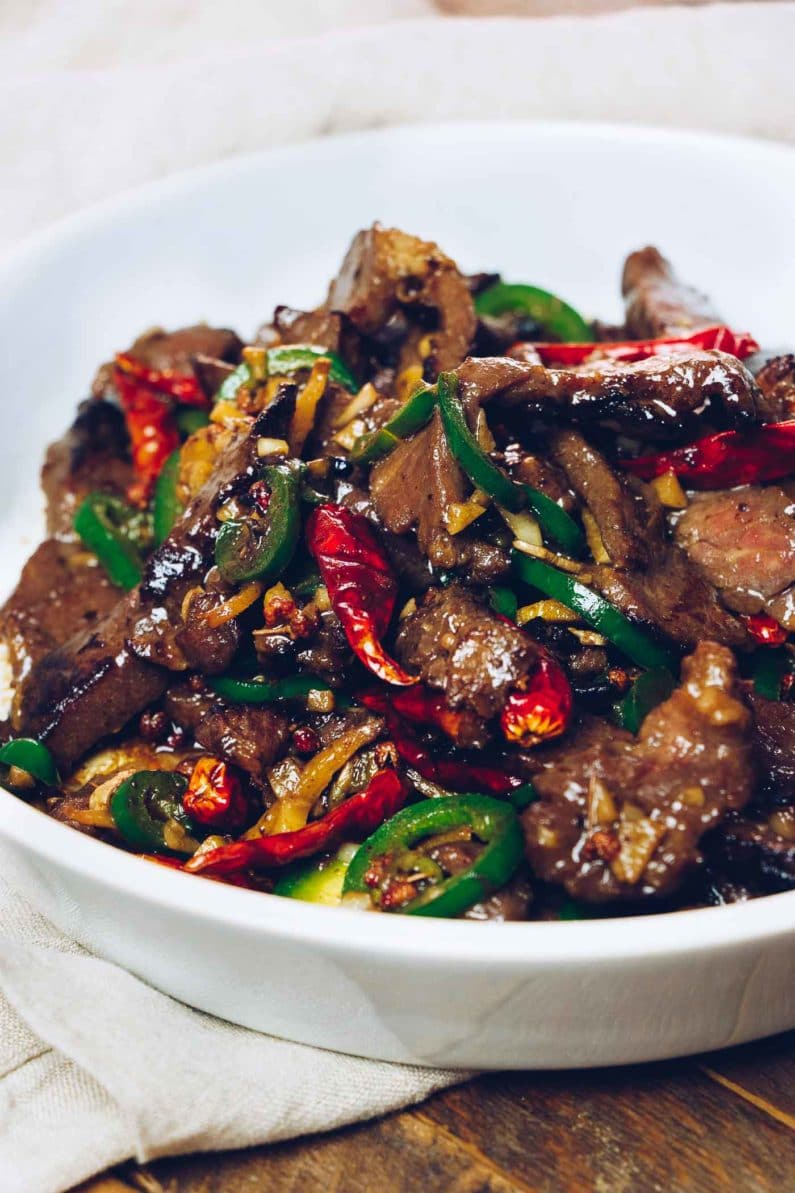 What is the difference between Hunan beef and Mongolian beef
Paleo Mongolian beef is not a fiery spicy dish, compared to Paleo Hunan beef stir-fry. Mongolian beef uses a lot of scallions, ginger, and chili peppers however the proportion of these aromatics are more in equal parts. Hunan beef stir-fry uses mainly garlic and chilis so it's a spicier dish. Some recipes also include cumin powder and sour pickles, too.
If you are looking for a non-spicy Paleo beef stir-fry, check out my readers' favorite Paleo beef and broccoli.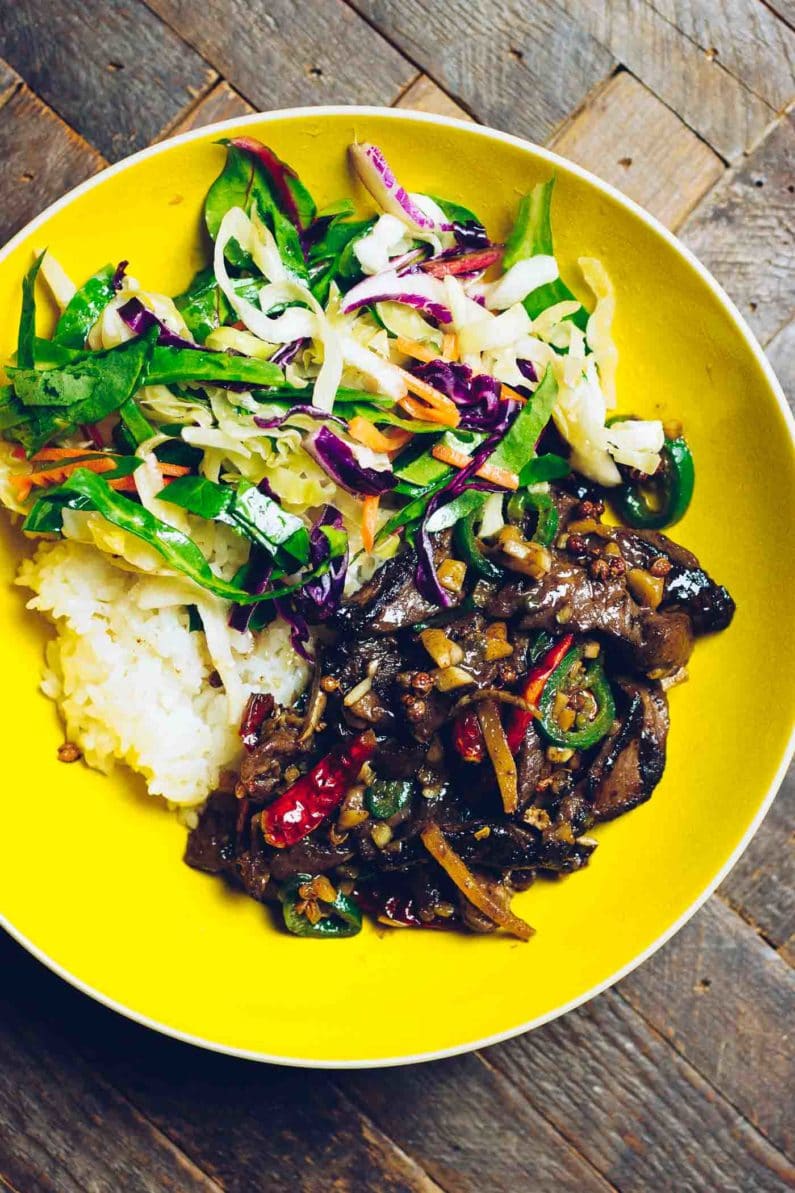 What is the difference between Hunan beef and Szechuan beef
Szechuan beef has a slightly more complex flavor than Hunan beef, mainly because of Szechuan peppercorns. The peppercorns give a flowery and numbing (tingly) sensation in the mouthfeel. Both Hunan and Szechuan beef stir-fries are spicy dishes but Szechuan beef has slightly sweeter flavor than Hunan. In the recipe below, I add Sichuan peppercorns because I feel they add an extra layer of flavor to the dish however, they're completely optional. 🙂
What are the ingredients for Paleo Hunan Beef Stir-Fry
Skirt steak
Garlic
Ginger
Fresh green chilis
Coconut aminos (soy-sauce substitute & gluten-free)
Baking soda
Arrowroot starch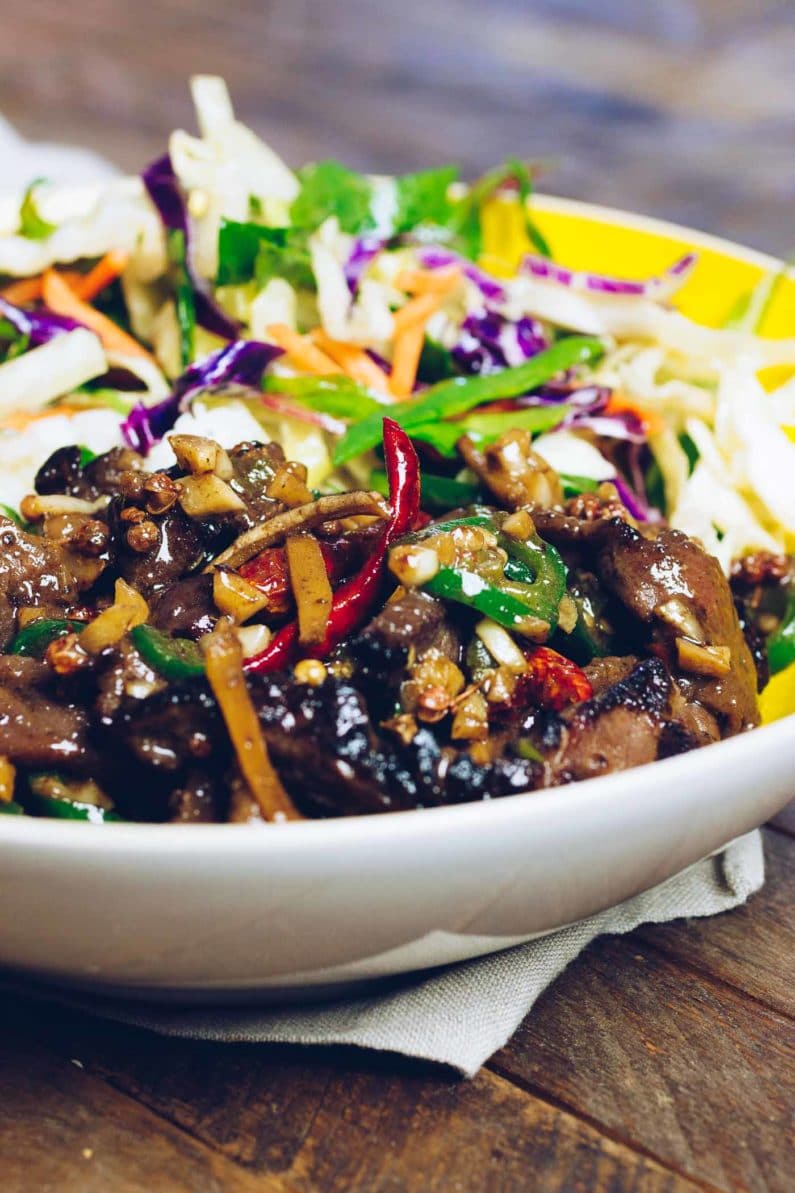 More of my Paleo Beef Recipes:
Pairing suggestions
To keep my Paleo Hunan beef stir-fry low carb, pair it with my broccoli fried rice or baby greens. Want to add a little carb but keep it gluten-free? Try steamed rice, mashed sweet potatoes, or cauliflower gratin. 🙂
So my friends, this Paleo Hunan beef stir-fry is a family recipe from my grandfather (my father side) who immigrated to Taiwan after the Chinese civil war (after WWII, 1945-49). In the recipe I include ways to make Hunan beef less spicy so if you prefer just a hint of spicy flavor but not too much, I highly recommend that you give my Paleo Hunan beef a try.
Leave a comment below and rate the recipe. And subscribe to my blog I Heart Umami for more bold-flavored Asian-inspired Paleo recipes!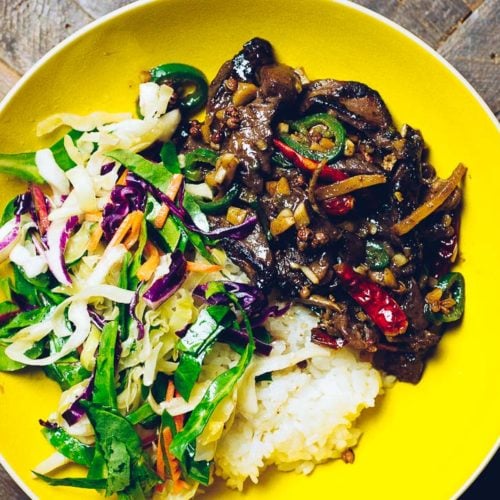 Paleo Hunan Beef Stir-Fry (Whole30, Keto)
Paleo Hunan Beef Stir-Fry is a Chinese beef recipe with a bold-flavored stir-fry sauce. It's low carb and gluten-free, and takes less than 30 minutes from start to finish.
Print
Pin
Rate
Ingredients
Paleo Hunan Beef marinade:
Aromatics:
3- inch long thin sliced ginger, , from index through ring finger quantity
5 large garlic cloves, , thinly sliced
Fresh green chili peppers, : 3 longhorn peppers or 3 green serrano/fresno or 3 green jalapeno (see notes)
2 tbsp chopped Chinese dry red chili peppers, Alt. 3 red serrano/fresno or 3 red jalapeno (see notes)
½ tbsp Sichuan peppercorns, , if using
Instructions
Thin slice beef against the grain to about ⅛-inch thin. Mix well with ingredients from coconut aminos to baking soda. Set aside in the fridge while preparing other ingredients.

Prepare ginger, garlic, fresh and dry chili peppers, and Sichuan peppercorns, if using. Combine coconut aminos with stock in a bowl. Set ginger and garlic aside in one group and Fresh and dry chili peppers and peppercorns in another group.

In a well-heated large cast iron or stainless steel skillet, add 2 tbsp cooking fat. Sear the beef over medium-high heat in one layer without disturbing until crisp brown, about 2 minutes. Use a firm tip spatula to flip and cook for 30 seconds additional. Set the beef and pan juice aside in one bowl.

Use the same skillet and start it dry, add 1.5 tbsp cooking fat. Saute garlic and ginger with a pinch of salt until fragrant, about 30 seconds. Add chili peppers and peppercorns, saute until fragrant about 1-1.5 minutes.

Add beef and the pan juice back to the skillet. Deglaze with coconut aminos and chicken stock. Quickly toss to coat the flavor for about 30 seconds. Serve hot and immediately.
Notes
Chili peppers
For a less spicy version – Remove the green chili pepper seeds and dice to small rounds. Use the whole Chinese dry red chili peppers without chopping, this will be less spicy.
For a fiery hot version (more close to the original flavor), dice the chilies to small rounds with the seeds.
Pairing suggestions
Riced cauliflower or broccoli rice
Baby greens
Steamed rice (gluten-free)
Nutrition
Serving: 1serving, Calories: 327kcal, Carbohydrates: 6g, Protein: 25g, Fat: 22g, Saturated Fat: 4g, Cholesterol: 71mg, Sodium: 757mg, Potassium: 415mg, Vitamin A: 80IU, Vitamin C: 10.6mg, Calcium: 19mg, Iron: 2.2mg