Thai Basil Chicken Recipe
Thai Basil Chicken Recipe (Pad Krapow Gai) is truly a keeper for Thai food lovers. You'll be surprised how easy it is to make this Paleo and Whole30 version of the basil chicken in the comfort of your home. Serve the basil chicken with crispy fried eggs for an ultimate comfort food made in a hurry!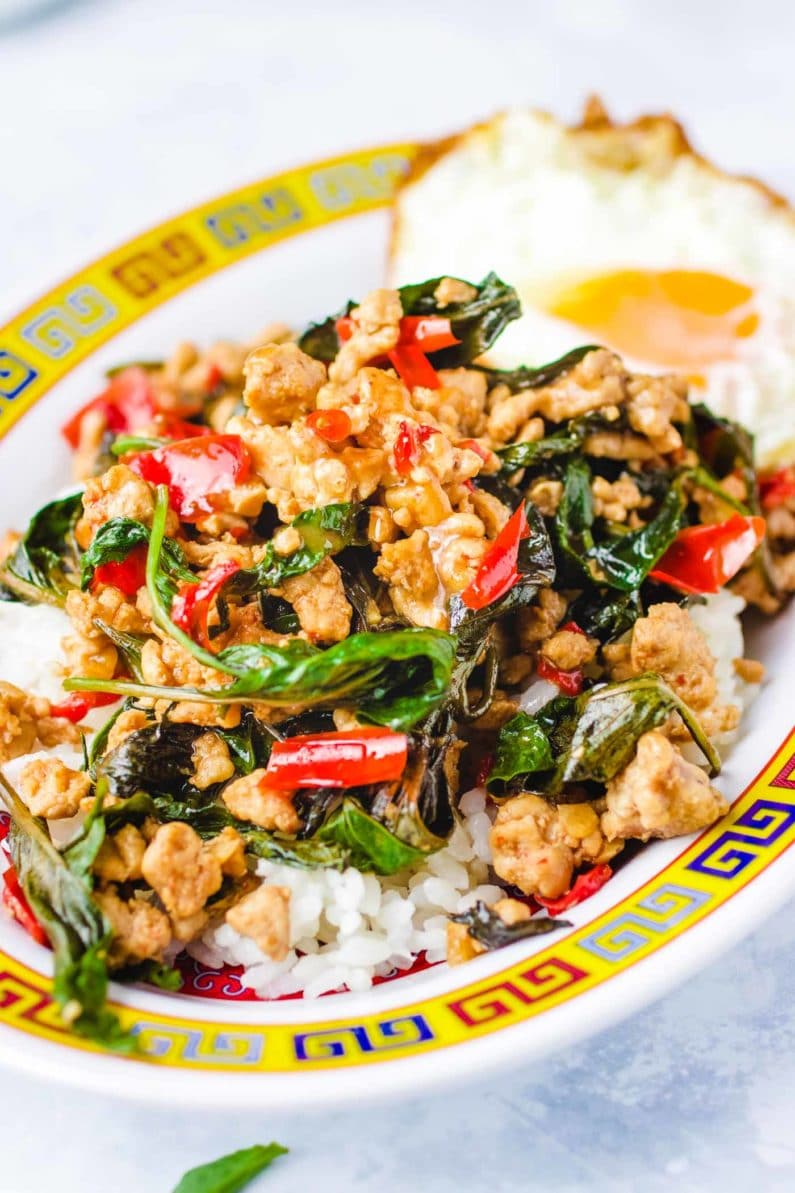 Thai Basil Chicken Recipe (Paleo, Whole30)
Thai Basil Chicken is probably one of my favorite Thai takeout dishes. It's so easy to make and let me tell you that golden crispy Thai-style fried egg is a must! If you are planning on making this Thai basil chicken stir fry, don't skip the crispy fried eggs!
A few months ago I shared a Thai Basil Beef Stir-Fry (Pad Krapow Nua) on the blog and everyone loves the recipe so it makes sense to share a sister version – Pad Krapow Gai – with ground chicken, chili, garlic, and basil, stir-fried in a savory and sweet sauce. Thai basil chicken is probably one of the tastiest meals you can make in a hurry because the ingredients are easy to find (more on the type of basil later in the post) and with minimal chopping. Let me show you how to make this Thai basil chicken recipe Paleo, Whole30, and gluten-free yet just as yummy!

Ground chicken v.s. Homemade minced chicken for Pad Krapow Gai
Traditionally Thai basil chicken is made with homemade minced chicken because it gives better texture than ground chicken. The texture of the homemade minced chicken is more coarse and less fine. It gives better texture in the mouthfeel than ground chicken however, it takes time to mince the chicken so in the recipe I use ground chicken instead.
Ground chicken is easy and quick but you sacrifice the texture a bit whereas self-minced chicken takes time and effort but the texture is more bouncy in the mouthfeel so weigh your pros and cons!
If you use ground chicken, I recommend using 50% breast and 50% thigh meat for the best pad krapow gai!
Do you Like Spicy or Little Spicy Thai Basil Chicken?
In Thailand, Pad Krapow Gai (Thai Basil Chicken) is a spicy dish, especially Thai chili peppers really pack with a spicy kick. Here in the states, Thai chili peppers are difficult to find so I use red fresno or serrano chili peppers. They are much milder than Thai chilies.
The spiciness actually mainly comes from the inner white pith or rib of the chile pepper. So keep it if you like spicy food or vice versa. Watch the video below where I show you how to adjust the spiciness for the best Thai basil chicken stir-fry!

Holy Basil, Thai Basil, Sweet Basil
Holy basil and Thai basil not only come from two different plants but also different in flavor. Holy basil (also known as hot basil) is much more spicy than Thai basil. It has a slight numbing effect that reminds me of Sichuan flower peppercorns. It is also more peppery than Thai basil. The flavor intensifies as it is cooked.
Thai basil (which is the basil I use in today's recipe) has much sweeter note than holy basil. It has a strong anise and licorice flavor that are great for soups and curries. You can read more information here.
If Italian basil is all you have, don't be shy away from making this dish! I've made my Thai basil chicken recipe numerous times using Italian sweet basil because the nearest Chinatown still takes me a few hours to travel back-and-forth to get the ingredients. Just use more (increase the basil quantity) you'll still get a similar flavor profile that's so delicious and fragrant. Hmm…so yummy!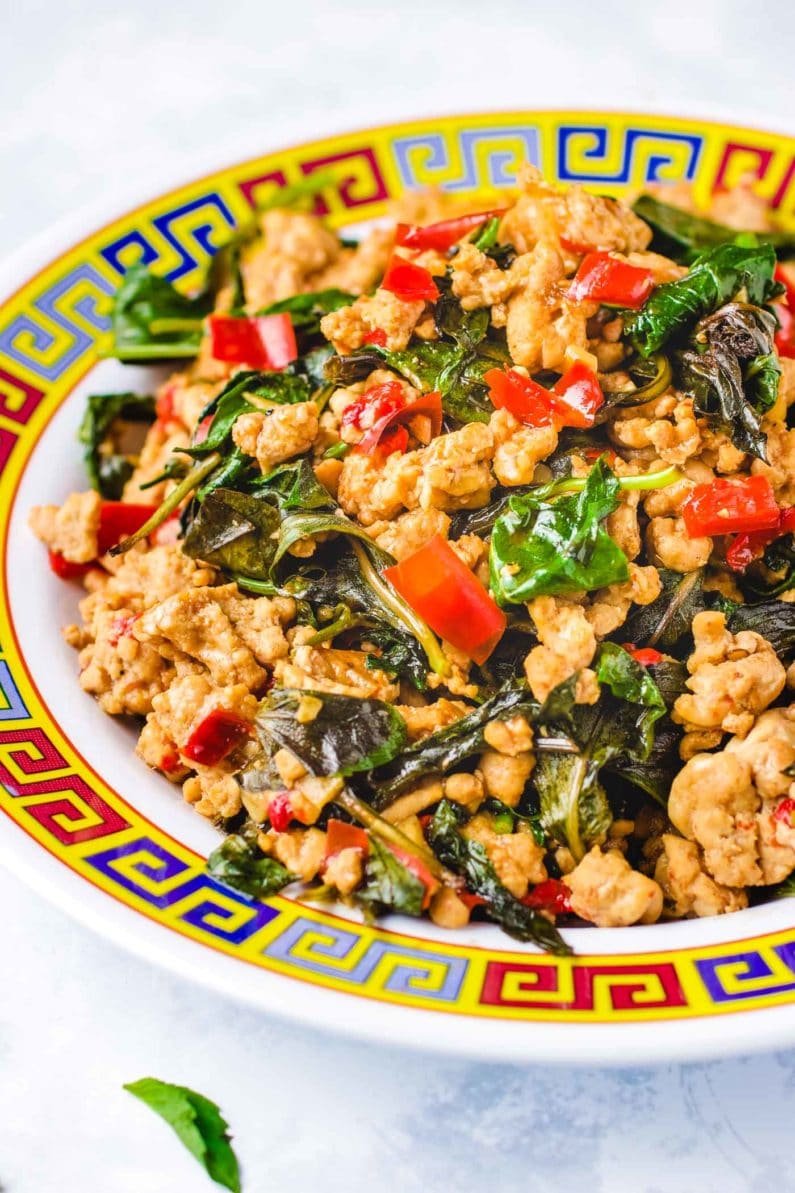 It's All About The Sauce
Before I invented my Vegetarian Oyster Sauce (made with shiitake and is Paleo, Whole30, Gluten-Free), I used to tell people just use more coconut aminos and a bit more fish sauce to compensate for not being able to use oyster sauce. My homemade vegetarian oyster sauce is a keeper for Asian food lovers. It's a must-have sauce for stir-fries and is a great dipping sauce for Asian dumplings like dim sum and har gow dumplings.
If you are making the basil chicken stir-fry in a hurry and don't have the vegetarian oyster sauce handy, I include alternative suggestions in the recipe note section. But seriously, my vegetarian oyster sauce is really simple to make and you'll see me using more and more in my recipes so give it a try. You won't regret it!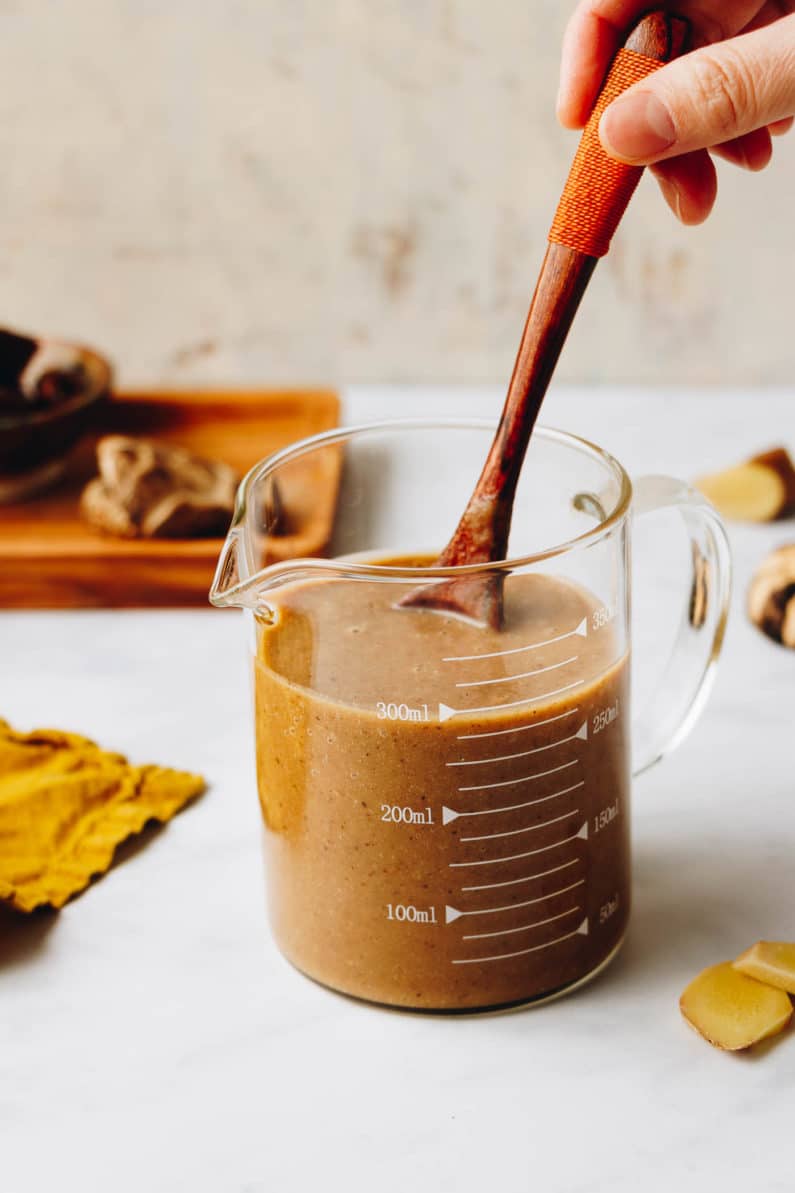 What is Thai brown sauce made of?
The Thai brown sauce in my Thai basil chicken recipe is made of coconut aminos, fish sauce, homemade vegetarian oyster sauce, and little apple juice to balance the savory and sweet flavor. It's an easy stir-fry sauce that instantly adds extra umami flavor to your favorite Asian stir-fries!
MORE THAI TAKEOUT FAVORITES
If you give this Paleo and Whole30 Thai Basil Chicken a try, please rate the recipe and leave a comment below. It'll help more people see my content so that I can keep writing more free recipes for you! Thanks in advance!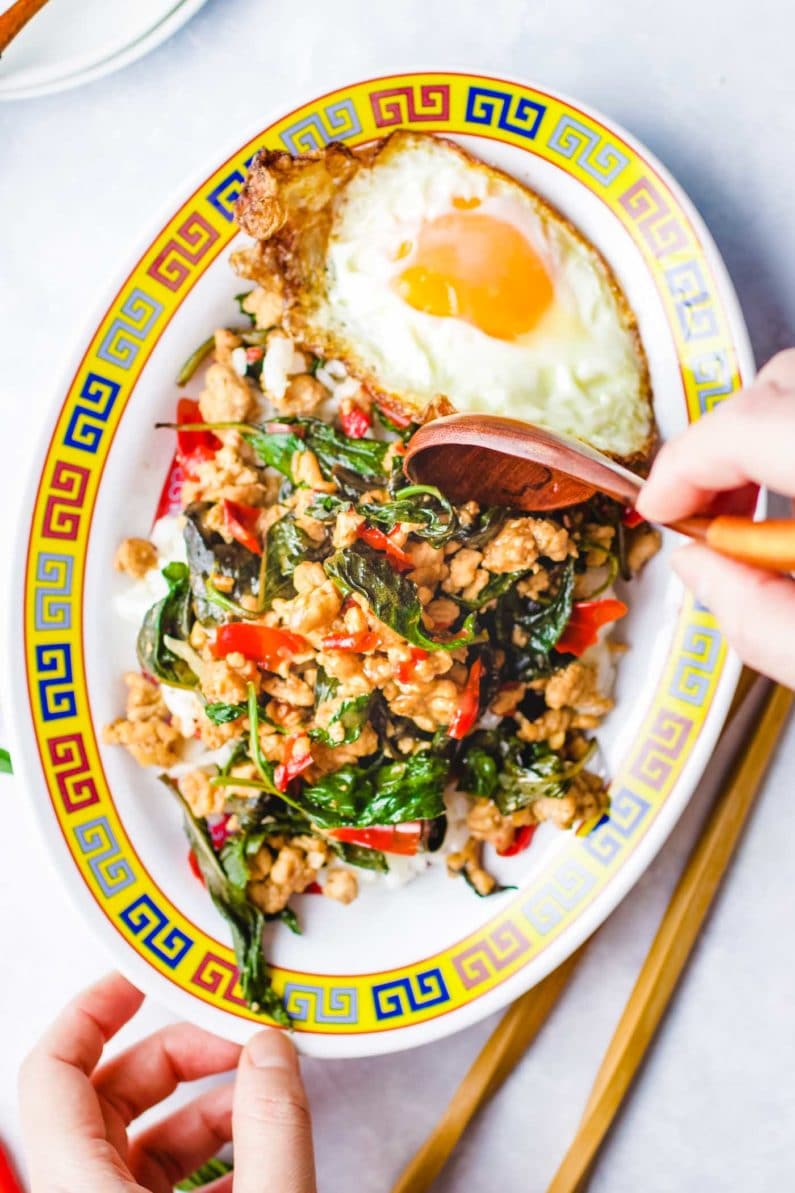 Subscribe to my blog I Heart Umami and learn how to make 10 delicious Paleo and Whole30 meals ready in 10 minutes each!
Watch How To Make Thai Basil Chicken (Paleo, Whole30, Gluten-Free)
Subscribe to my youtube channel!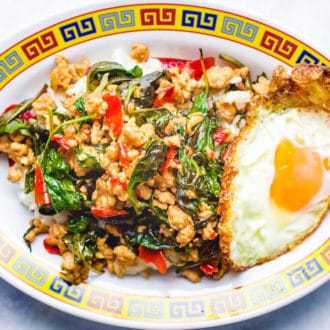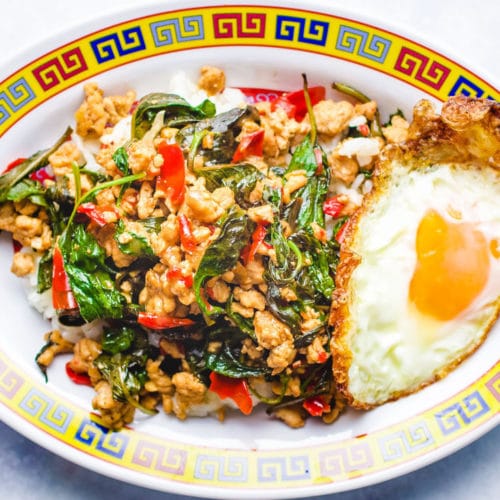 Thai Basil Chicken Recipe (Easy Pad Krapow Gai)
Paleo Whole30 Thai Basil Chicken Recipe with ground chicken and sweet/savory Thai basil chicken stir-fry sauce. The ultimate easy comfort food ready in a hurry! 
Print
Pin
Rate
Ingredients
0.5 oz. garlic, peeled
2 oz. red serrano or fresno chili peppers
1.5 cups Thai basil, see notes
5-6 tbsp avocado oil, divided
4 large eggs, 1 egg per serving
2 pinches coarse sea salt
1 lb. ground chicken, 50% breast + 50% thigh
Thai basil chicken sauce (Paleo, Whole30):
Instructions
Prep: Finely mince garlic. Remove the chili pepper seeds and finely diced. Set aside 1.5 cups Thai basil leaves. Combine the Thai basil chicken sauce in a bowl. Set it aside ready to use.

Thai-Style Sunny Side Fried Egg: Preheat a wok over medium-high heat until it's too hot to place your palm near the surface, about 2-3 inches away. Add 3 tbsp oil. Swirl it around to distribute it evenly. The egg should bubble violently the moment it hits the hot pan. Be careful the splatter. Carefully spoon the oil over the egg to make a sunny side fried egg that's golden crispy at the bottom yet the yolk is still runny. Repeat the process. Add more oil if needed and set them aside.

Basil Chicken: While the wok is still hot, add 2-3 tbsp oil. Fry garlic and chili with 2 pinches of salt over medium-high heat until fragrant, about 8-10 seconds.

Add ground chicken. Turn the heat high. Try to break the meat apart and spread it out evenly. Cook uncovered until the bottom gets slightly browned then cook the flip side. The total cooking time will be about 5-7 minutes. Break the meat further to finer pieces as you cook.

Your skillet should have some moisture coming from the protein but not over watery at this point. If it has a lot of liquid, continue cooking to reduce the liquid quantity.

Add Thai basil chicken sauce 2 tbsp a time to the wok until you finish the entire sauce. Keep stir-frying and scoping to mix the sauce and the meat.

Off heat. Stir-in the basil. Use residual heat to wilt the basil leaves a bit. Serve hot or at room temperature with cauliflower rice or steamed rice. And don't forget to top with a fried egg!
Notes
If you can't find Thai holy basil or Thai basil, use Italian sweet basil. It's much minder and less spicy/pungent than Thai basil so increase the quantity. The basil is the star of this dish so don't be shy away from using it!
If you are making this dish in a hurry without my homemade vegetarian oyster sauce, use 3 tbsp coconut aminos + 2 tsp fish sauce. Taste and adjust the flavor. It should be salty and a little sweet and with a hint of spicy flavor.
In Thailand, most of the time people mince the chicken from scratch so it's a coarse ground chicken thigh. The hand minced version has better texture than machine ground but it takes time and effort. I use ground meat in this recipe to keep it simple and quick. Watch the video to see I demonstrate two different types of ground chicken.
The nutritional label is calculated with 1 fried egg per serving. 
Nutrition
Serving: 1serving, Calories: 407kcal, Carbohydrates: 6g, Protein: 26g, Fat: 31g, Saturated Fat: 6g, Cholesterol: 261mg, Sodium: 584mg, Potassium: 742mg, Fiber: 1g, Sugar: 2g, Vitamin A: 845IU, Vitamin C: 9.1mg, Calcium: 54mg, Iron: 2.2mg
Complete the meal with: