Thai Cashew Nut Chicken
This Thai Cashew Chicken recipe is off the chart DELICIOUS! With perfectly crisp sweet onions, nutty cashews, and crisp chicken bites, glazed in a salty and sweet cashew nut chicken sauce…you'll love the aroma the moment you step into the kitchen. Seriously addictive and incredibly easy to make!
Pair the dish with Chinese egg drop soup, hot and sour soup, or Chinese garlic green beans, with steamed rice, cauliflower rice, or shirataki rice for a fantastic healthy dinner!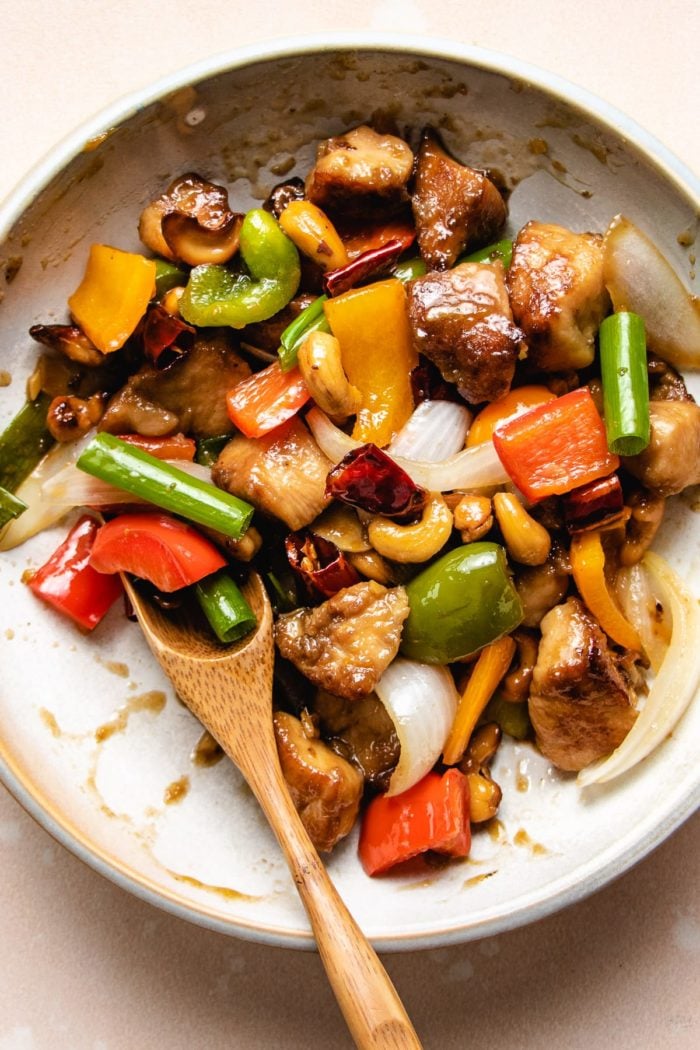 Thai Cashew Chicken – from Portland, Oregon!
We had a wonderful Thai food experience in Portland, Oregon! The standards for Thai food are so high that I'm confident to say that the Thai food you get in Portland is as good as what you can get in Thailand. While some restaurants in Portland are overhyped, in my opinion, I would be happy to eat at PaaDee – especially their Thai Cashew Chicken and Thai Larb – every single day for the rest of my life. 🙂
The Paadee version of Thai style cashew nut chicken has crispy chicken, toasted cashew nuts, dried red chilies, chunky scallions, covered in a sticky salty and sweet sauce. We ordered ours with green beans (see photo below) …let me tell you…this is the best thing in the world. I am mouth watering just thinking about it.
This homemade version gives you that same delicious aroma and with chicken cubes that are a little crisp outside and tender flavorful inside. You get that intensely flavored cashew chicken sauce (but gluten and soy-free) and with crisp sweet onion and crunchy nutty cashews…getting really hungry here…shall we begin?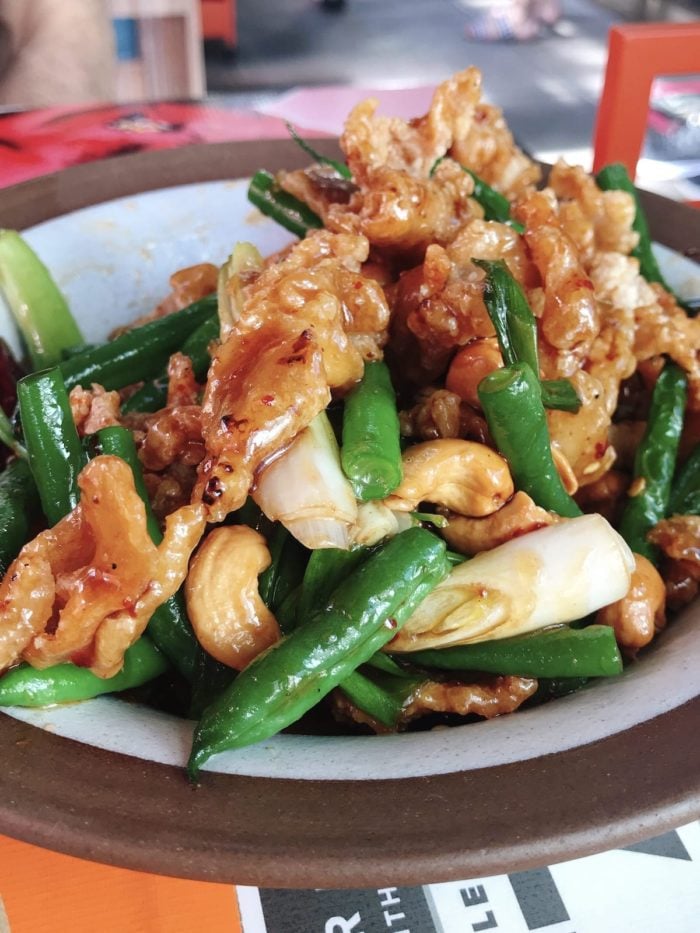 Ingredients for Thai Cashew Chicken Stir-Fry Recipe:
A great thing about this Thai chicken cashew nut recipe is that the ingredients are simple and you can get them at local grocery stores or online.
Chicken breasts
Coarse sea salt
Garlic and onion powder
Bell Peppers
Yellow onion
Raw cashew nuts
Garlic, ginger, scallion, dry red chilis
Cashew Chicken Sauce:

Coconut aminos
Fish sauce
Apple cider vinegar
Peach jam or apricot jam
Tapioca or arrowroot starch, or xanthan gum
How to make Thai Chicken with Cashew Nuts:
Lightly toast the nuts and set them aside.
Dice and season the chicken breasts.
Pan sear the chicken to golden crisp and set aside.
Saute the onion and set aside. Add the garlic, ginger, chili, scallions, and bell peppers.
Add the sauce to thicken then return the chicken, cashew, and onion to the pan. Toss to combine.
🙋🏻‍♀️ Umami Tip: Saute the onion slices for 10 seconds and scoop them out so they remain crisp and crunchy.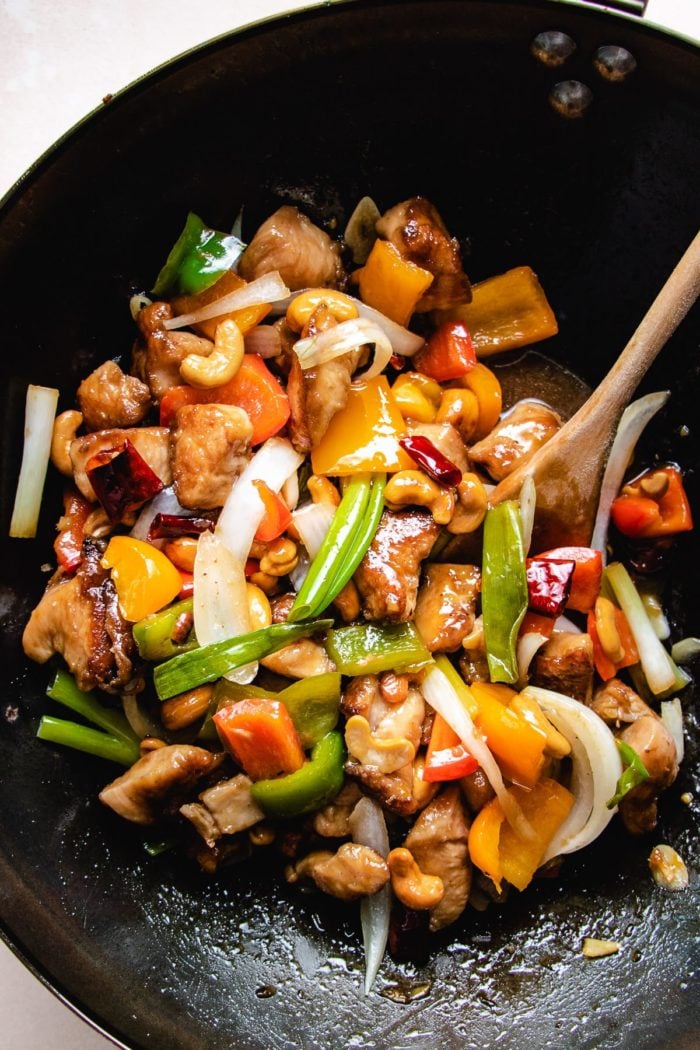 What to serve with Thai Cashew Chicken Stir Fry
Rice!
Rice is the answer to most Asian stir-fry dishes! If you ask me, that's almost always my answer 🙂 Why? Because the main dish is loaded with flavor so a light flavored or plain rice keep the meal balanced! Try steamed rice, cauliflower rice, riced broccoli, or shirataki fried rice!
Side Dishes
Want to add more veggies? Besides sauteed garlic green beans, try my Sichuan style green beans, bok choy dim sum, Asian cucumber salad, Tatsoi Asian greens salad, Asian chopped salad, and Chinese broccoli recipe.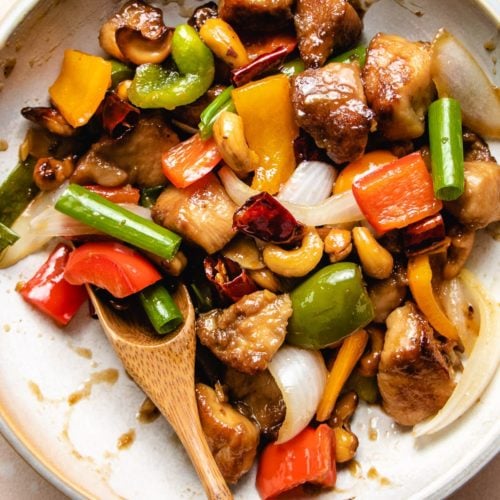 Thai Cashew Chicken Stir-Fry (paleo, gf, keto, if modified)
Thai Cashew Chicken stir fry with crispy onions, glazed in a salty sweet cashew nut sauce is off the chart delicious and easy! This is a must for chicken and Thai food lovers!
Print
Pin
Rate
Ingredients
Instructions
Dice the chicken and combine with the seasonings from salt to starch. Set aside in the fridge.

Slice the onion, break up the slices in one plate. Prepare the garlic, ginger, chilis, and white scallion parts on another plate. Dice the bell pepper. Make the sauce in a bowl.

Preheat a wok, large stainless steel saute pan, or cast iron, over medium heat until it feels warm when placing your palm near the surface, about 2-3 inches away. Add 1.5 tbsp oil. Add the chicken and spread them out to a single layer. Pan fry over medium-high heat for 4 minutes the first side and 3 minutes the flip side. The chicken should be cooked. Scoop out the chicken and leave the oil in the pan.

Add 1 tbsp oil. Lower the heat to medium. Saute the onion for 10 seconds and scoop out.

Add garlic, ginger, chili, and white scallion parts with a pinch of salt. Saute for 8-10 seconds. Add bell peppers, saute for 10 seconds.

Stir the sauce again then add it to the pan. The sauce will thicken in 10 seconds.

Return the chicken, cashew, and onion to the pan. Add the green scallion parts and toss for 10 seconds before turning off the heat.
Notes
Saute the onion slices for 10 seconds and scoop them out so they remain crisp and crunchy.
How to make it Keto friendly? Here are some adjustments to help you make the carb count even lower –
Skip the starch coating in the chicken seasoning
Use ¼ cup cashew (as opposed to ½ cup)
Use green bell peppers (as opposed to red, orange, yellow)
Use xanthan gum to thicken the stir-fry sauce
Use keto friendly brown sugar for the sauce
Nutrition
Serving: 1serving, Calories: 256kcal, Carbohydrates: 12g, Protein: 18g, Fat: 15g, Saturated Fat: 2g, Polyunsaturated Fat: 2g, Monounsaturated Fat: 9g, Trans Fat: 1g, Cholesterol: 48mg, Sodium: 607mg, Potassium: 404mg, Fiber: 1g, Sugar: 3g, Vitamin A: 34IU, Vitamin C: 4mg, Calcium: 21mg, Iron: 1mg
Also check out my Chinese cashew chicken, Black pepper chicken, moo shu chicken, moo goo gai pan, sesame chicken, mongolian chicken, kung pao chicken, chicken and broccoli, Asian chicken lettuce wraps, Pad Woon Sen , and sweet and sour chicken!