Paleo Pad See Ew
Low carb, healthy, and gluten free Paleo Pad See Ew aka Paleo Phat Si Ew noodles with golden crispy fried eggs and savory juicy chicken in sweet savory sauce. Hmm…delicious ! Read on to make this noodle bowl yours !
Super addictive – Paleo Pad See Ew
Addicted to a good bowl of stir-fried noodles ? We are on the same boat here. I particularly love that sweet and savory sauce mixed with slippery noodles, crispy fried eggs, and juicy chicken 🙂
Press Play and let's make a killing bowl of Paleo Pad See Ew !
Crispy Broken Eggs & Crunchy Chinese Broccoli
What are broken eggs ? In the video you see that I preheat a skillet to really hot to make a super bubbly golden crispy sunny side egg then roughly break it up in a wok to keep the crispy exterior. This particular style makes the eggs golden gorgeous, and …well, you know, super delicious !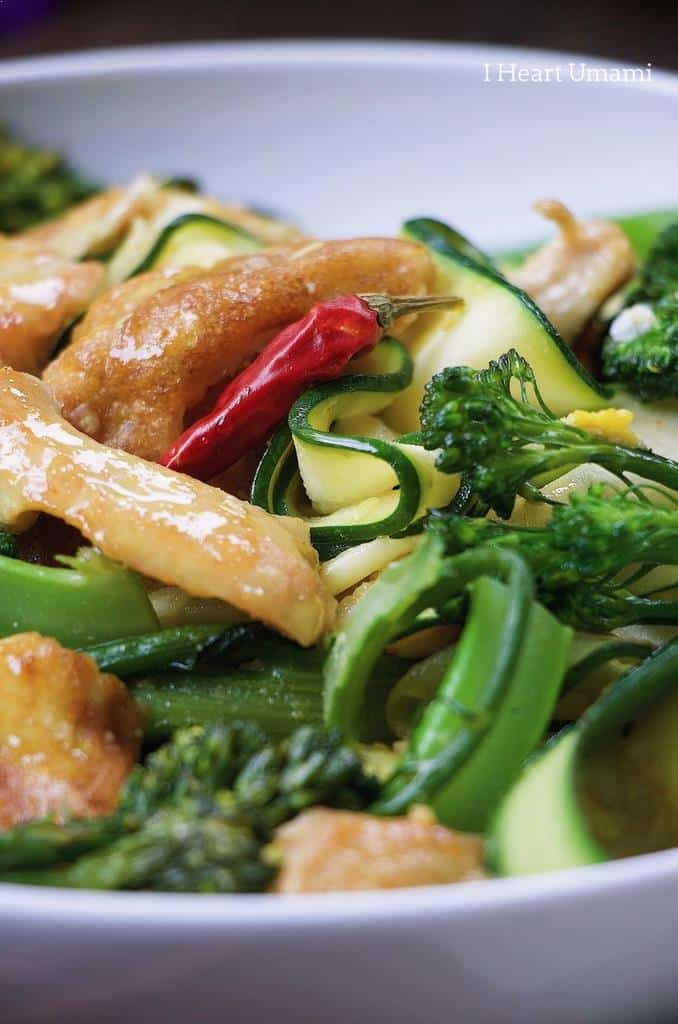 You can absolutely substitute Chinese broccoli for broccolini. Just be sure to halve thick stems in half so the veggies will cook evenly and quicker in the wok.
Less sweet
Over the years I have taught myself to create dishes without using added sugar. Most of the time you'll not even notice that sweetness is missing in my recipes because I compensate for the missing sugar with other components that drive up the flavor sensation in your taste buds so you wouldn't even feel the need to pour on …sugar.
Be that as it may, for Thai food, if you like, feel free to add half teaspoon of coconut sugar to the stir-fry sauce to kick up that sweet level.
So when you crave Thai food next time be sure to make this simple and super addictive Paleo Pad See Ew. It'll leave you wanting for more. ❤️
[clickToTweet tweet="@IHeartUmami Thai-inspired stir-fry #noodle Paleo Pad See Ew. Delicious ! " quote="I'm making Paleo Pad See Ew tonight @Iheartumami :D" theme="style3″]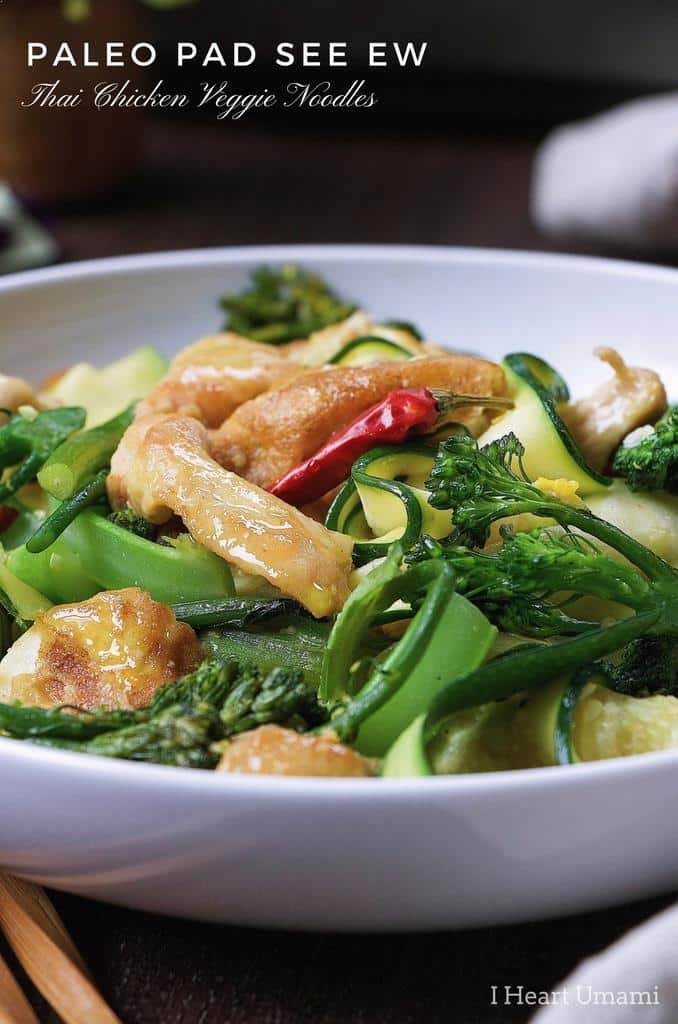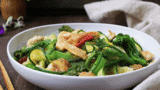 Paleo Pad See Ew
Low carb, healthy, and gluten free Paleo Pad See Ew aka Paleo Phat Si Ew noodles with golden crispy fried eggs and savory juicy chicken in sweet savory sauce. Follow the steps to make this delicious noodle bowl yours !

Print
Pin
Rate
Ingredients
1.25 lbs chicken breasts, sliced to thin pieces like sashimi thin, 45 degree angle
1 large fat shape zucchini, or 2 medium size ones
½ to ¾ lb broccolini, or Chinese broccoli, sliced diagonal angle, halve thick stems in half
2-3 large eggs
2 large garlic cloves, minced
3-4 Chinese whole dried red chilies, optional
Cooking fat of your choice, avocado oil, coconut oil
Chicken marinade:
2 tbsp olive oil
2 large garlic cloves, grated or crushed
1 tsp grated ginger
3 tsp fish sauce
¾ to 1 tbsp arrowroot/sweet potato powder
⅛-¼ tsp red chili pepper flakes, optional
Instructions
Chicken: Slice chicken breasts (in 45 degree angle) to thin pieces – think sashimi thin slices. Marinate chicken with ingredients under "chicken marinade". Set aside for 15-20 mins. Best overnight.

In the meantime, slice zucchini with mandolin or julienne slicer to make wide zucchini noodles. Prepare 2 large minced garlic cloves and "stir-fry sauce".

Fried eggs: Preheat a large skillet over medium-high heat, when hot, add 2 tbsp avocado oil. Make sunnyside up fried eggs. Try to keep the yolk soft and runny while the bottom side that touches the skillet is in golden crispy brown color. The eggs will be more tasty this way. Set aside.

Pan-fry chicken: Use the same skillet and preheat over medium-high heat. When hot, add 2 tbsp coconut oil. Add marinaded chicken and pan fry the chicken pieces in one single layer.* Do this in batches if need be. Pan-fry until the chicken is in golden brown color and set aside.

Assemble: Preheat a large skillet or wok over over medium-high heat. When hot, lower the heat to medium. Add 2 tbsp avocado or coconut oi. Add minced garlic and whole dried red chili. Season with a small pinch of salt and saute until fragrant (about 5-6 seconds). Add sliced broccolini. Keep sauteing for about 1 minute and season with a small pinch of salt. Add cooked chicken and eggs back to the wok. Keep sauteing and use a spatula to break up the eggs to smaller pieces (i.e. broken eggs). Add zucchini noodles. Keep stir-frying and scooping until the zucchini noodles turn slightly softer (more bendable. About 1 min). Add stir-fry sauce. Give a quick toss and serve hot and immediately.
Notes
Slice the broccolini (or chinese broccoli) in diagonal angle. For thicker stems, slice them in half or even quarter.
I personally think the golden crispy sunnyside up fried eggs are absolutely crucial to make this dish tasty. Keep the egg yolk soft and runny. It will be much more delicious this way.
Pan fry the chicken in one single layer so that each piece has a chance to touch the skillet and get golden brown color. The arrowroot powder will help keep the chicken moist and less dry tasting.
The timing of sauteing and adding ingredients to the dish is important. If saute too long the broccolini and zucchini noodles will turn mushy (watery) so it's best to have all the ingredients and sauce ready before putting the dish together in Step 5.
Nutrition
Serving: 238g, Calories: 278kcal, Carbohydrates: 5g, Protein: 36g, Fat: 12.2g, Saturated Fat: 2.5g, Cholesterol: 196mg, Sodium: 786mg, Fiber: 2g, Sugar: 1g, Vitamin A: 1700IU, Vitamin C: 22.3mg, Calcium: 100mg, Iron: 3.1mg
Want more noodle dishes ?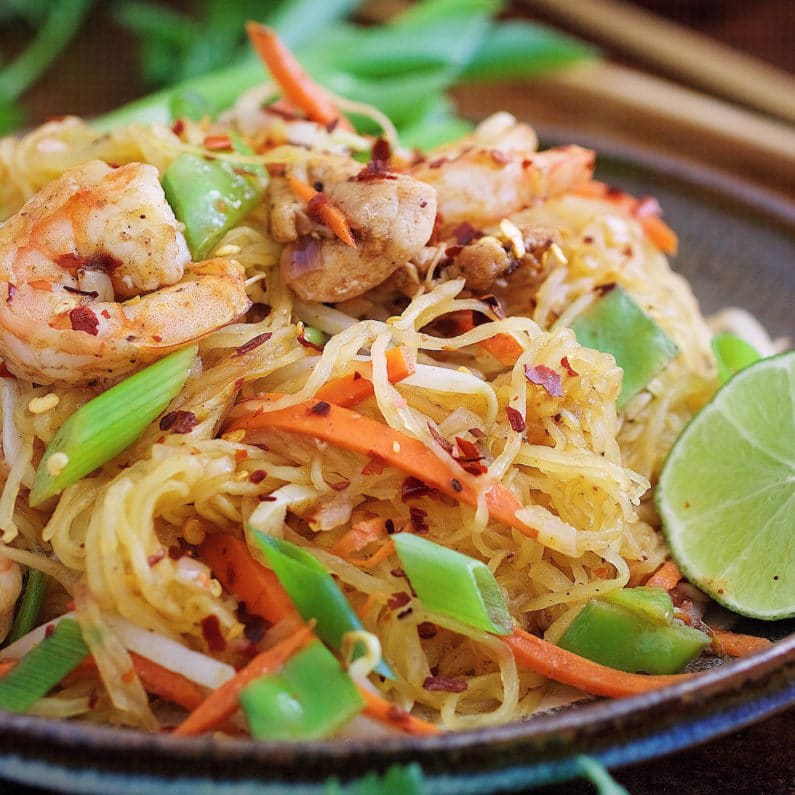 Paleo Spaghetti Squash Cashew Cream Sauce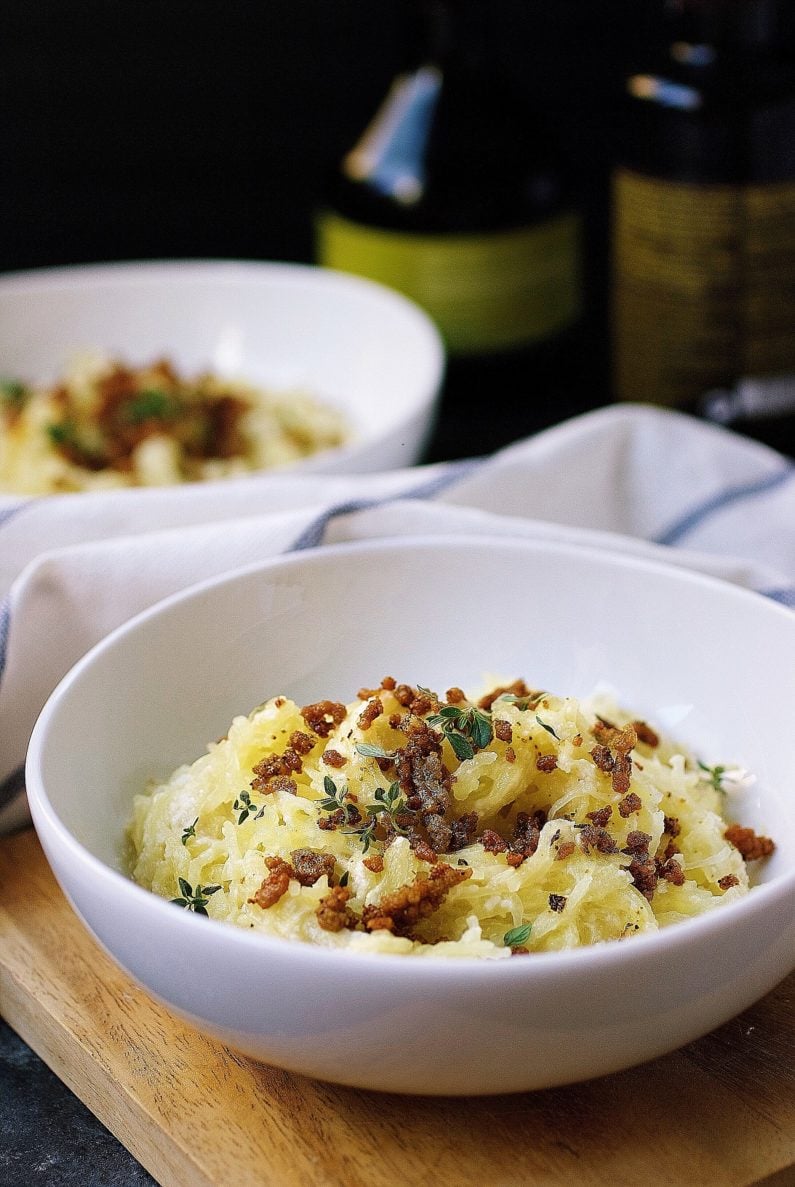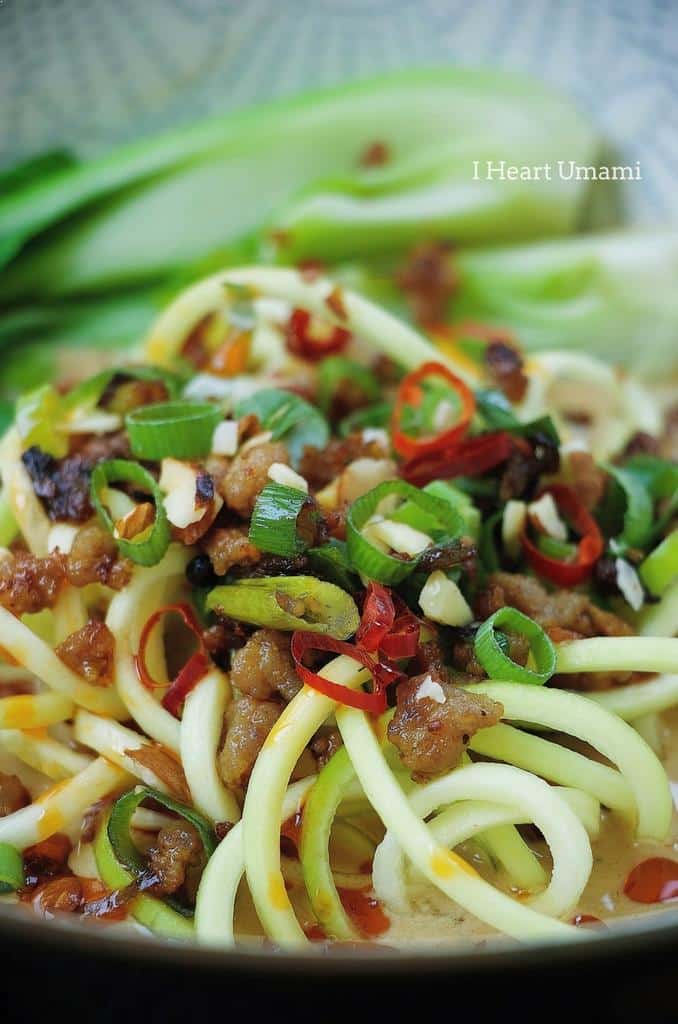 And here's the original photo – taken from my iphone in 2015 when I just started my blog ! :))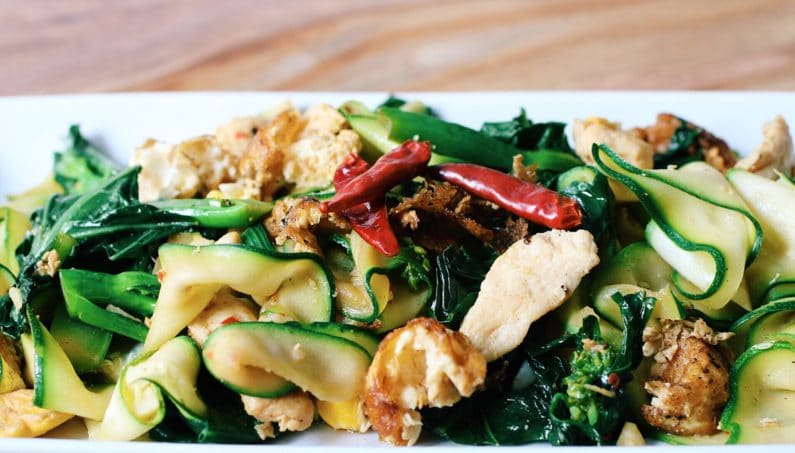 Also check out, Pad Woon Sen (Thai stir-fried glass noodles)!