Paleo Pad Thai Noodle Omelette
Paleo Pad Thai Noodle recipe with juicy chicken and Paleo and Whole30 tamarind Pad Thai sauce, stir-fried with spaghetti squash noodles. This Whole30 and Paleo Pad Thai Noodle recipe is the most authentic Paleo Thai noodle stir-fry and low carb delicious!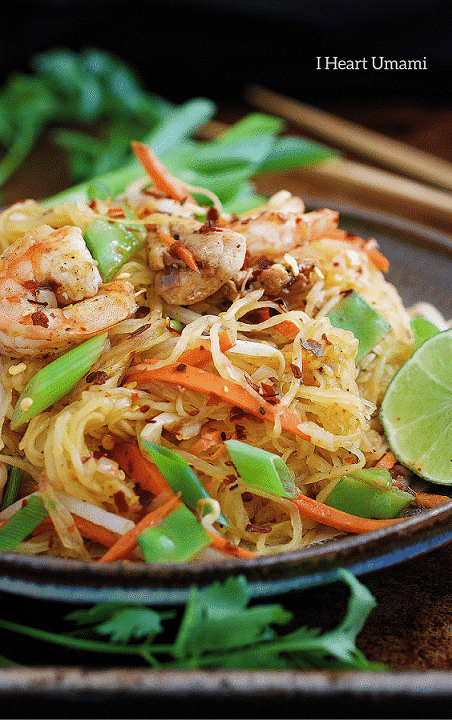 Paleo Pad Thai Noodle Omelette
The omelette has been one of the most favorite dishes among Thai people. But stuffed omelettes are valued much more than plain omelettes. The stuffed omelette has been one of many popular dishes among Thai for at least the last 40 years.
Here I share my spin on Paleo Pad Thai Noodle Omelette with no added sugar – a lower carb, lighter, and super yum version !
Protein choice for your Pad Thai Noodles
I used a mixed combination of boneless and skinless chicken thighs and shrimp.
Chicken thigh meat has more moisture and flavor so it's less likely to get tough and dry. If you are debating between the breast and thigh meat, I'd opt for using chicken thigh.
Shrimps cook much quicker and require no seasoning for this recipe so follow the video and recipe instructions below to find out when you should add the shrimps to your sauté pan so they won't get overcooked !
Speaking of Tamarind Concentrate AKA Tamarind Paste…
Tamarind is the pod of a tree native to Africa, but now mostly cultivated in India. It is a souring agent commonly used in Indian curries and chutneys, and is also popular in Thai, Mexican and Mediterranean cooking. Tamarind makes a great secret barbecue sauce and marinade ingredient.
Tamarind comes in 2 forms in the states. The concentrated tamarind sauce is easier to use. Most tamarind pastes in the stores are more like jam in that they add lots of sugar to balance the wicked sourness of pure tamarind and that's why you'll hear people say tamarind is quite sweet. In fact, tamarind is a tart and souring agent in cooking. Try shopping around for one without the sugar. I found Swad tamarind concentrate at local Whole Foods. Ingredients: tamarind fruit, water, and citric acid.
There's really no perfect substitute for tamarind. The closest taste (and more accessible for folks to find probably) would be a combination of rice vinegar with lime juice. I provided an alternative work around in the recipe notes section down below if you can't find tamarind concentrate.
The second type of tamarind you probably will see is tamarind pulp, dry and in a small brick block shape. This requires a bit effort to make the tamarind water. You can follow the instructions in the recipe notes section.
And do this …very important for not watery spaghetti squash noodles
Cut the spaghetti squash horizontally as opposed to from tip to end into 4 rings. Season with salt to remove water content. If you worry that the squash will become too salty, please don't be. The salt will draw the moisture out and we will wipe away excess moisture and salt before baking.
Be sure to watch the video tutorial where I demo how to have a more firm and not mushy/soggy squash noodles. You are going to love it !
Combine the stir-fry sauce with squash noodles and other good stuff like carrots, snow peas, and bean sprouts.
Whisk 2 eggs and swirl around them in a heated sauté pan or wok to make a thin Omelette. Cook until the eggs are firm then add about little less than 1/3 cup of the noodles in one button corner and fold it into an omelette. :))
If you are allergic to eggs, please feel free to skip the omelet part.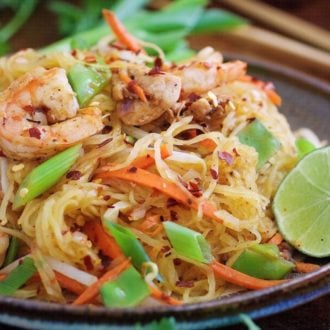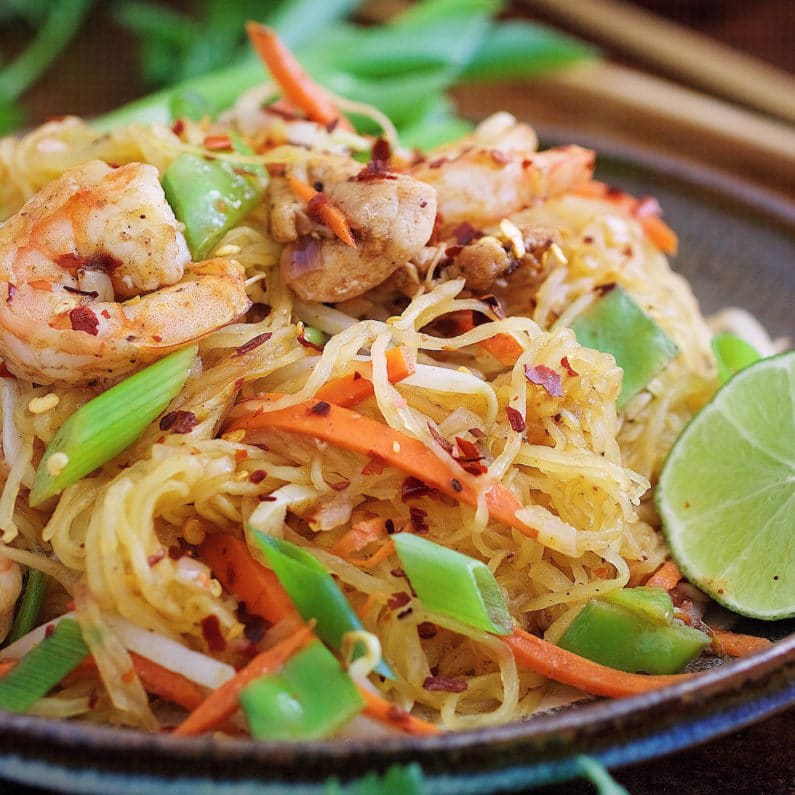 Paleo Pad Thai Noodle Omelette
Paleo Pad Thai Noodle Omelette! Stuffed Pad Thai omelette with squash noodles and homemade Pad Thai Sauce ! Paleo Thai recipe. Paleo Asian food.
Print
Pin
Rate
Ingredients
1 small spaghetti squash, (about 2 ½ lbs)
4 chicken thighs, (boneless/skinless), roughly sliced, alt. Chicken breasts
7-8 medium size shrimps, peel and deveined (optional)
1 cup carrots julienned, (or more if you like)
1 cup bean sprouts, (or more if you like)
1 cup snow peas, roughly chopped
6-8 eggs, (2 eggs per omelette), whisk well
1 lime
Small handful of cashew nuts, roughly chopped (optional)
Ghee or cooking fat of your choice
Chicken seasoning:
Lightly sprinkle salt, white pepper, garlic, onion, and red chili powder
Aromatics:
2 large garlic cloves
2 large shallots
3-4 bulbs scallions, (separate white and green parts)
½ tsp red pepper flakes, (optional)
Paleo Pad Thai Sauce: (*see notes section for alternative work around)
Instructions
Noodles: Preheat oven to 400F/205C. Slice ends off the squash, then cut widthwise into halves or rings. Run a knife around the interior of each piece to remove the seeds. Place squash on an oven-safe cooling rack over a rimmed baking sheet and sprinkle both sides with salt. Let sit for 15-20 minutes to allow the salt to draw moisture out. Wipe away excess salt and moisture, then bake for 30 minutes. Rotate the squash rings at half time baking point for even baking. Allow to cool to room temperature, then peel the skin away and separate the strands into long "noodles".

Chicken/Shrimps: Roughly chop/slice chicken and lightly sprinkle salt, white pepper, garlic, onion, and red chili powder (optional). Mix well. Heat a large saute pan or cast iron over medium-high heat with 1 ½ tbsp ghee. When hot, lower the heat to medium, cook chicken until it's completely cook through and golden brown color. Add the shrimps after the chicken is cooked through. As soon as the shrimps turn light pink color. Turn of the heat and set aside.

Sauce: Prepare pad thai sauce and set aside.

Stir-fry: Heat a large saute pan/wok with 1 1/2 tbsp ghee over medium-high heat, when hot, lower the heat to medium. Add "aromatics" – garlic, shallots, red pepper flakes, and white part of scallions. Season with a small pinch of salt and saute until fragrant (about 10 seconds). Add julienned carrots, bean sprouts, and snow peas. Keep stir-frying for another 5 seconds. Add cooked chicken and shrimp and Pad Thai Sauce. Stir-fry for about 10 seconds. Add squash noodles. Toss the noodles a few times to let the sauce coat over the noodles evenly. Set aside over a large plate.

Omelette: Add a bit more cooking oil to the saute pan/wok over medium heat. Whisk 2 eggs in a bowl and pour in and swirl to form a thin omelette. When it's set, turning golden and cooked through, ladle about ¼ to ⅓ cup of the noodle mixture in one corner of the omelette and roll it up. Repeat the same process with the remaining noodle mixture and eggs. Serve immediately with lime wedges green part of scallions, and chopped cashews if you like
Notes
If you can't find tamarind concentrate/paste, here's an alternative work around. Note that there's no perfect substitute for tamarind flavor but the combo below will give you similar flavor with a slightly more tart/citric note.
1 ½ tbsp red boat fish sauce
2 tbsp rice vinegar
Half lime juice
¼ tsp white pepper
¼ + ⅛ tsp arrowroot powder
Mix everything well
If you purchase tamarind in small brick block shape:
How to make Tamarind water: (Makes about 3 cups of tamarind water)
½ cup dried tamarind pulp
3 ½ cups water
Bring the water to boil in a medium sauce pot. Add tamarind pulp. Stir and break up the pulp with a wooden spoon. Once it softens, turn off the heat. Cover the pot and let it sit in the water for about 30 minutes (or store in the fridge overnight once it's chilled.)
Strain the mixture into a bowl through a mesh strainer. Try to press and smash the solids to extract as much liquid as possible. store the extra water in ice cubes and freeze it for next time use !
Nutrition
Serving: 297g, Calories: 321kcal, Carbohydrates: 7g, Protein: 40g, Fat: 14.6g, Saturated Fat: 5.9g, Trans Fat: 0.2g, Cholesterol: 358mg, Sodium: 635mg, Fiber: 2g, Sugar: 3g, Vitamin A: 3600IU, Vitamin C: 16.5mg, Calcium: 80mg, Iron: 2.5mg
Also check out Pad Woon Sen (Keto Thai Stir-Fried Glass Noodles)