Cucumber Noodles with Thai Peanut Sauce
My take on cucumber noodles is a must-make dish as the weather gets warmer. Simple and refreshing, it's a no-cook but tastes oh-so-yummy! My Thai peanut sauce enhances the flavor of this dish. It's nutty, creamy, and has a hint of sweetness and sourness.
If you are looking for a spicy noodle dish, my garlic chili noodles, and spicy peanut noodles are also excellent choices!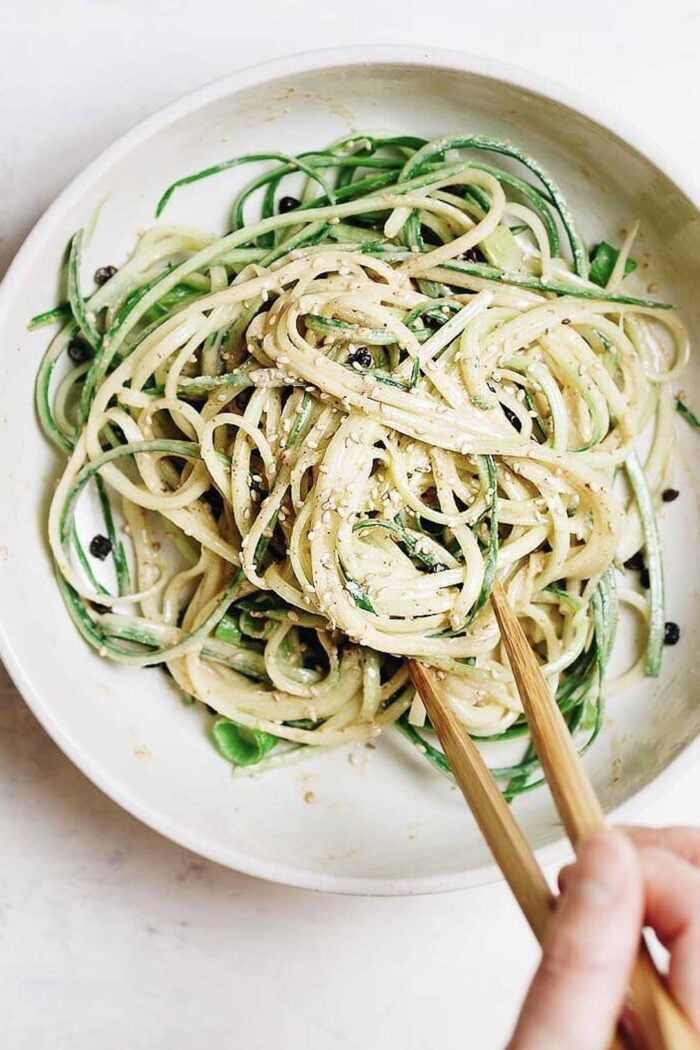 Why this will be your go-to recipe
With the sauce at hand, whipping up this low-carb cucumber spaghetti takes less than 15 minutes!
Easy and no-cook: It's a no-frills, wholesome meal that requires minimal prep time.
Yummy and satisfying: A perfect combo of cold cucumber noodle salad and delicious creamy sauce.
Healthy and low carb: This dish is equally nutritious and yummy!
Ingredients
Make your own spiralized cucumber salad (and sauce) with ingredients you can get from your local Asian grocery store:
Noodles: English cucumber, toasted sesame seeds (for garnish)
Sauce: Peanut butter (or almond butter if allergic to peanuts), red curry paste, full-fat canned coconut milk, apple cider vinegar or tamarind paste, coarse sea salt, coconut water
Tools:
I use a julienne peeler to make long and thin, straight-cut veggie noodles. You can also use a vegetable peeler for shaved ribbons or a vegetable spiralizer to make noodles. I don't recommend using shredded cucumbers for this dish as they will be too watery.
Ingredient substitutions
If you can't find English cucumbers, use either Persian cucumbers or Japanese cucumbers.
You can also use zucchini noodles or soba noodles and mix them up with the sauce.
Garnish with chopped spring onions, red pepper flakes (garnish)
Add a touch of maple syrup to make the sauce a little sweeter.
Squeeze a teaspoon of lemon or lime juice for a zesty finish.
How to make cucumber noodles
Your fresh and crispy cucumber noodle salad will be ready by following these easy step-by-step instructions: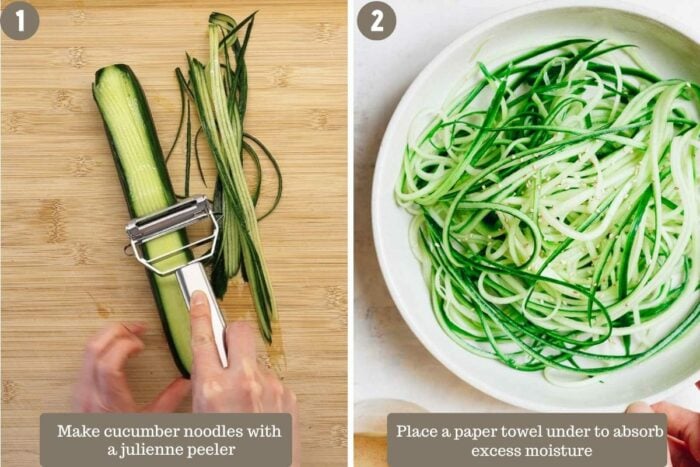 Julienne the cucumber up until reaching the center of the cucumber.
Place the veggie noodles over a paper towel to soak up excess moisture. Keep them in the fridge whilst making the sauce.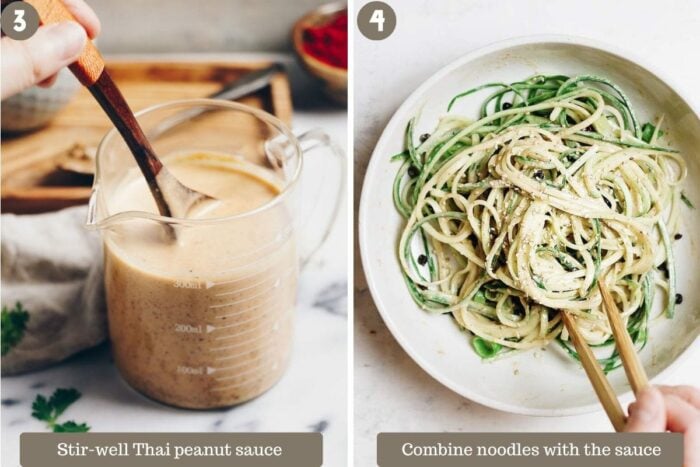 Mix the sauce ingredients in a glass measuring cup.
Toss the noodles with the creamy sauce and serve them cold in a large bowl.
Best cucumbers to make noodles
For best results, cucumber with fewer seeds and tender outer skin is best for this noodle salad with cucumber. For instance, English cucumbers are lean and long, producing the longest noodles.
You can also opt for Japanese or Persian cucumbers, which yield the same result but shorter noodles.
Variations
Cucumber zoodles are versatile, and can be served with different sauces:
Mix them with roasted sesame dressing for a Japanese kewpie brand-inspired dressing with a touch of soy sauce or tamari.
You can also drizzle this creamy, garlicky Whole30 peanut sauce for a touch of toasted sesame oil and ginger flavor.
For a spicier version, toss them in a heap of aromatic garlic chili sauce for a finger-licking meal.
Make the noodles a bit spicy with Nam Jim Jaew (Thai dipping sauce) if you are a massive fan of Thai flavors.
Serving suggestions
Enjoy these sesame cucumber noodles with other fresh or flavorsome dishes. Pair them with Japanese potato salad, a perfect summer potluck side dish combo. For seafood lovers, you can have them alongside a bowl of keto shrimp avocado salad for a protein-filled, refreshing meal.
Grilled kofta kebabs make a great accompaniment. They are high in protein and help keep the meal low carb.
Common FAQ
Can you noodle cucumber?
Yes, and there are 3 ways of doing this — you can use a Julienne peeler, a cucumber spiralizer, or shave them into ribbons.
Can you freeze cucumber spiralized noodles?
No. They'd turn mushy and watery. It's best to spiralize them when you are ready to eat.
Are cucumbers good cooked?
No, as this would change their texture. Cucumbers are best enjoyed fresh and uncooked. On rare occasions, they are great in Chinese stir-fries, like my Moo shu chicken.
What is the best way to eat cucumber?
They are best eaten when raw and taste best when fresh and cold. They make amazing salads with your favorite dressing or a dipping sauce.
Storage and make-ahead
To make it in advance, pack the noodles and the sauce separately to keep the noodles crisp. Combine them right before serving. The cucumber noodles will stay fresh in the fridge for 2 days.
Store with a piece of paper towel to absorb excess moisture. Drain away excess moisture before plating up. Meanwhile, the sauce is good for up to 2 weeks in the fridge.
And if you have an extra cucumber and are not sure what to do, make my cucumber gazpacho. This summer soup is extra creamy delicious and hydrating!
Related recipes
If you find yourself making this cucumber noodles recipe on repeat, you can make similar dishes with this crispy raw vegetable. This Din Tai Fung-inspired Asian cucumber salad is an easy and fresh summer salad, with a delectable honey chili vinaigrette.
The spiralized veggie can also be made into an extremely appetizing Japanese cucumber salad in a bed of roasted sesame dressing or Korean cucumber salad with a little spicy and tangy sauce. For a year-round dish, this garlicky, vinegary Chinese smashed cucumber salad is a Taiwanese household favorite!
Umami Tips
You don't need a special tool to turn cucumbers into noodles.
If you don't have a spiralizer or julienne peeler, you can still make shaved ribbons. All you need is a vegetable peeler.
The best cucumber to make noodles is the English cucumber.
You can make this dish ahead of time. Take a look at the storage section above.
Cucumber noodles with Thai peanut sauce recipe
Cucumber noodles with Thai peanut sauce are perfect for summer days. Use spiralized, shaved, or julienned cucumbers for the longest noodles.
Print
Pin
Rate
Ingredients
¼ cup unsalted peanut butter, almond butter, or sun butter for nut-free
1-1.5 tsp red curry paste
1.5 tbsp tamarind paste, or apple cider vinegar
⅛ tsp coarse sea salt
1 tbsp coconut water
Instructions
Julienne the cucumber with a julienne peeler until you almost reach the core (where the seeds are).

Place the cucumber noodles over a large flat plate lined with a paper towel to remove excess moisture. Store the noodles in the fridge while preparing the sauce.

In a measuring cup, combine the ingredients from peanut butter to coconut water. Stir and combine well.

To serve, transfer the noodles to a serving plate and drizzle the sauce on top. Toss well. Serve cold immediately.
Notes
The Thai peanut sauce yields about ¾ cup and you'll need about ½ cup of the sauce for this dish.
To make-ahead:

Store the cucumber noodles and the sauce separately.
The sauce is best finished in 2 weeks in the fridge. Thin with more coconut water 1 tbsp at a time until your desired consistency.
The noodles are best used in 2 days. Store them in an airtight container with a piece of paper towel to help absorb extra moisture.

Garnish choices: You can also add chopped scallions. I added a sprinkle of wild-dried blueberries to the dish for a touch of sweetness!
You can use a julienne peeler, vegetable spiralizer, or vegetable peeler to make noodles. 
Nutrition
Serving: 1serving, Calories: 152kcal, Carbohydrates: 10g, Protein: 4g, Fat: 12g, Saturated Fat: 5g, Polyunsaturated Fat: 2g, Monounsaturated Fat: 4g, Sodium: 157mg, Potassium: 189mg, Fiber: 2g, Sugar: 5g, Vitamin A: 200IU, Vitamin C: 1mg, Calcium: 19mg, Iron: 1mg
Made a dish and love it? Please remember to rate the recipe and leave a comment in the comment section below! It helps my blog grow organically so I can continue sharing free and awesome content with you. Thank you!