Thai Dipping Sauce (Nam Jim Jaew แจ่ว)
Isaan style Thai Chili Sauce – Nam Jim Jaew – is smokey, spicy, sweet, and sour. It's basically everything you love about Thai food in one bowl. This Thai dipping sauce is found on every street corner in Thailand because it's quick to make and with simple ingredients. Drizzle this Thai Chili Dipping Sauce over grilled chicken, steak, pork, sticky rice, or anything you like!
If you love a Chinese version, my Garlic chili sauce is another fantastic choice!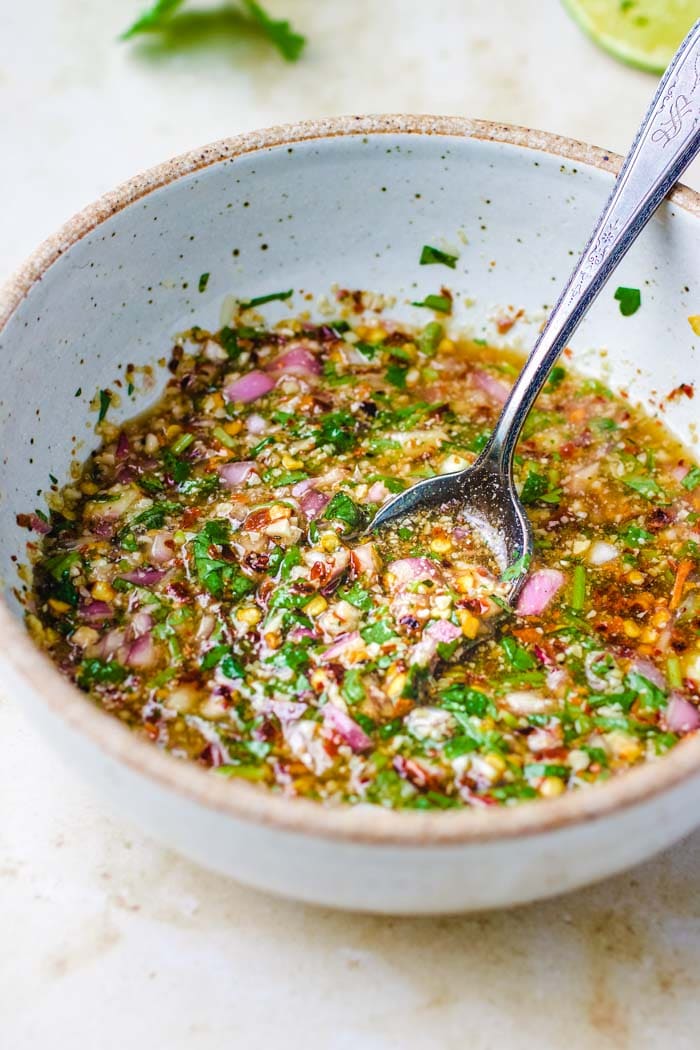 What Is Nam Jim Jaew – Thai Chili Sauce
Nam Jim Jaew แจ่ว also known as Jaew sauce is from the Isan province in northeast Thailand. This Thai chili sauce is very popular among locals. In fact, it's even more famous than the sweet chili sauce we often associate it with in the west.
This Thai Chili Dipping Sauce is best served with grilled meats, from chicken to pork and sometimes it's also used as a dipping sauce for sticky rice. Think of the Jaew sauce as a popular condiment that you can find in almost every restaurant.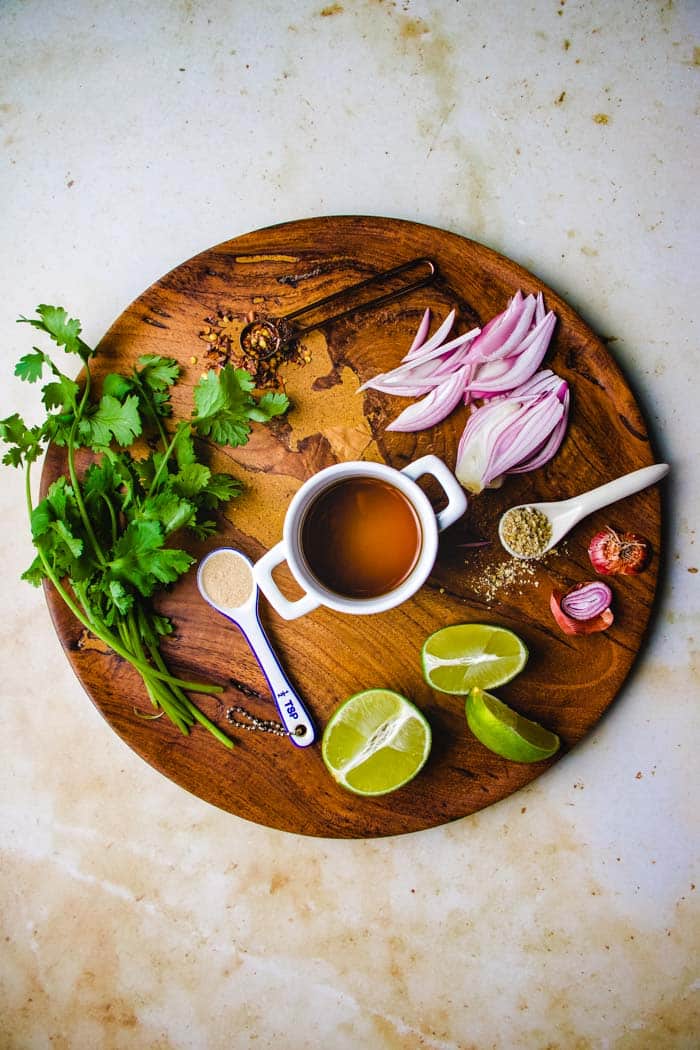 My husband and I love Thai cuisine so much that every time we go back to Asia, Thailand is always on top of our must-visit list. I have a whole entire collection of easy Thai recipes that are paleo, gluten-free, and low carb. For example: Thai basil chicken, Thai basil beef, Pad Thai, and Thai Shrimp fried rice. Fans love my paleo take on Thai dishes made low carb and with little to no added sugar.
Since most of my audience are based in the west, I simplify the recipes and use all local ingredients so you can make Thai food – like this Thai chili sauce – at home easily!
Grain-Free Toasted "Rice" Powder – Secret Ingredient
The Thai Chili Sauce Jaew is a spicy chili dipping sauce but the flavor is complex. It's sweet and sour, and has a toasted nutty/smoky flavor from the sticky rice powder.
The toasted rice powder – Khao Khua ข้าวคั่ว – is another common ingredient from the Isan region. It only has one ingredient – sticky rice – and is dry roasted until golden brown and coarsely grind into rice powder.
In Thailand, toasted rice powder is used in a variety of meat salads for example Thai Larb. Think of it as a topping that acts as a thickener to the sauce and adds a crunchy texture and nutty/smoky flavor to a dish.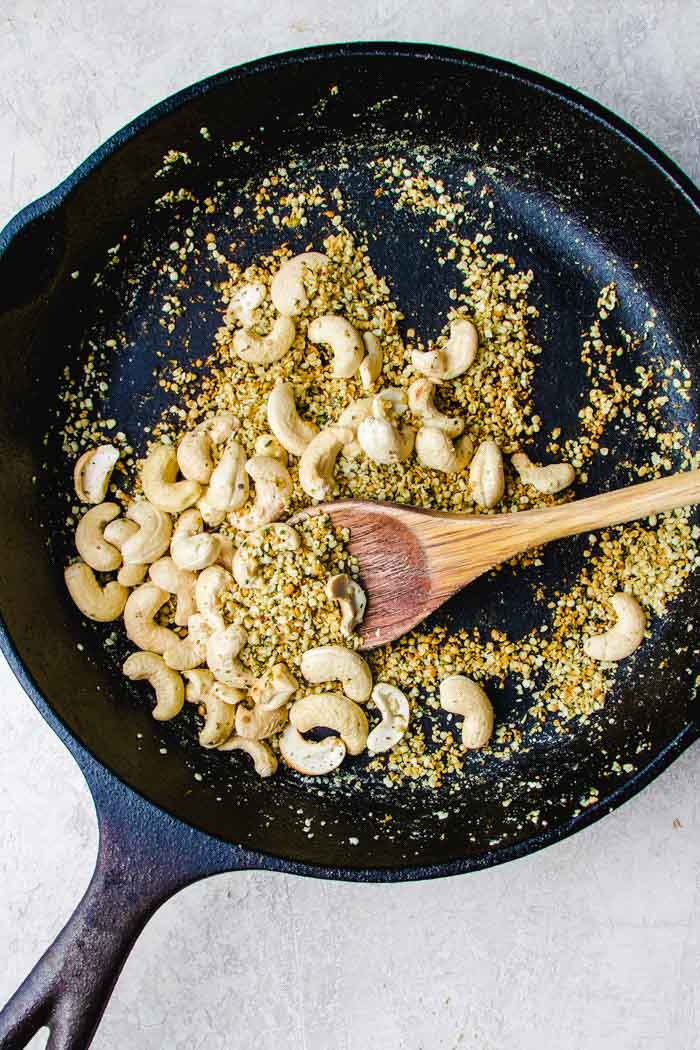 Because I Heart Umami is a gluten-free and paleo blog and that means my recipes are gluten-free and grain-free, I modified the original sticky rice recipe and substitute the ingredient with raw cashew nuts and hemp seed hearts to mimic the original toasted rice powder flavor.
I have to say that my paleo take on Khao Khua is not only delicious but also has a smoky and toasty flavor from the nuts and hemp seeds. In fact, this Paleo version of toasted "rice" powder has more nutrition than the original rice powder!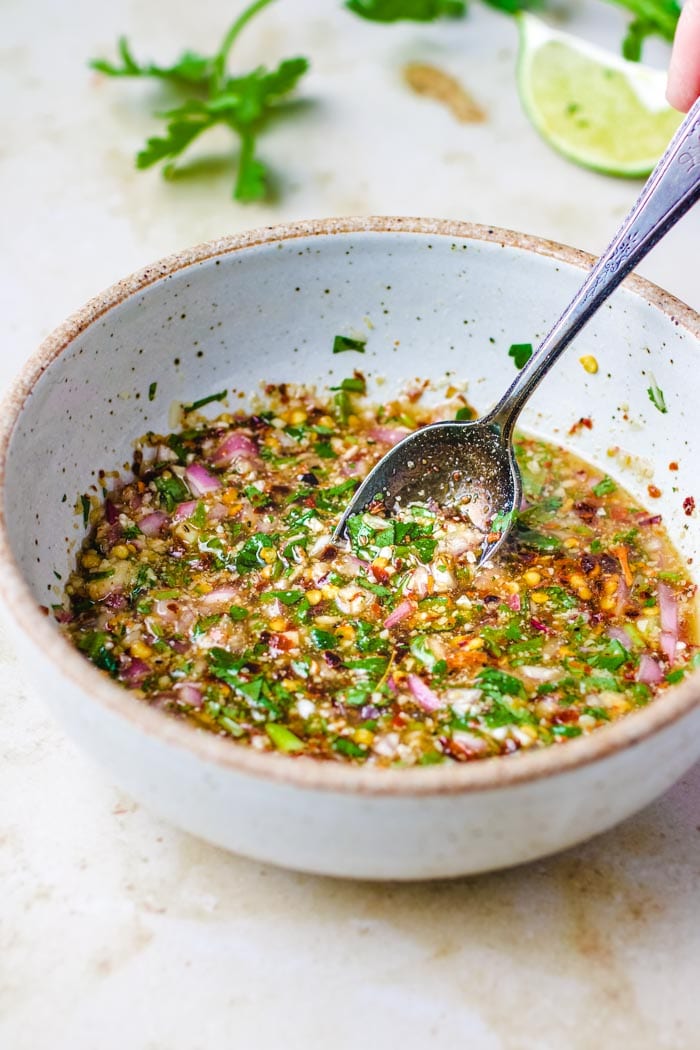 What does Thai chili sauce made of
Nam Jim Jaew แจ่ว is made of shallots, cilantro, lime juice, fish sauce, sugar, chili pepper flakes, and toasted rice powder.
What does nam jim jaew taste like
It tastes smokey, spicy, salty, sweet, and sour. It's a great condiment for grilled meat and seafood dishes.
What is Thai chili sauce used for
Think of Thai chili sauce as a dipping sauce and a condiment. Drizzle the sauce on top of grilled meats and seafood, or as a dipping sauce for sticky rice. It adds extra flavor and depth any savory dishes.
Is Thai chili sauce the same as sweet chili sauce
The Thai Jaew Chili Sauce is different from the sweet chili sauce. The Chili Sauce Jaew is smoky, spicy, salty, sweet and sour and with a thin liquid base. The Thai sweet chili sauce is much sweeter and the texture is much thicker.
What is rice powder used for
In Thai dishes, toasted rice powder (also known as Toasted Sticky Rice Powder) is used in a variety of meat salads for example Thai Larb. Think of it as a topping that acts as a thickener to the sauce and adds a crunchy texture and nutty/smoky flavor to a dish.
How long does rice powder last
The toasted sticky rice powder lasts for a long time as long as it's kept in a cool and dry place. My grain-free version is made with cashew and hemp seeds. It has a shorter storage time. I recommend finishing it in 2 weeks.
The Best Pairing for Thai Chili Sauce! Watch How I Make The Sauce!
Dishes you can use with Thai Chili Sauce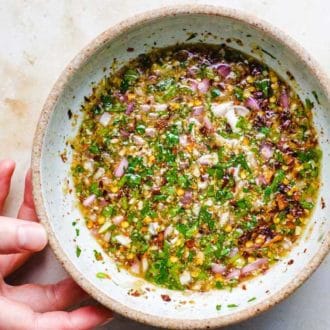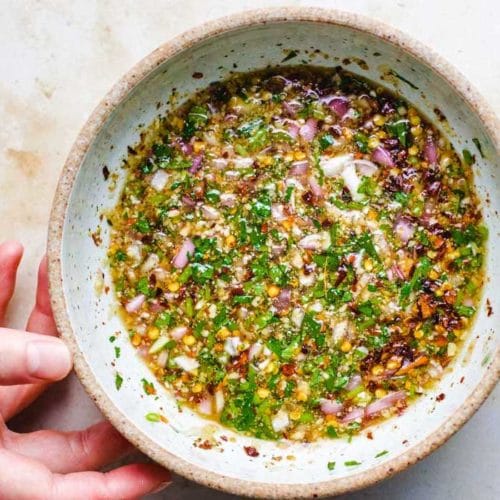 Thai Chili Sauce (Nam Jim Jaew)
This Thai Chili Sauce – Nam Jim Jaew – is full of flavor and smoky delicious. It makes the best Thai chili sauce for grilled meat and salad. Makes about 3/4 cup.
Print
Pin
Rate
Ingredients
Jaew Sauce (Thai chili dipping sauce)
0.5 oz. shallots, finely chopped
¼ cup cilantro, finely chopped
1 to 1 ½ whole lime juice
1 to 1 ½ tbsp fish sauce
½ to 1 tsp monk fruit brown sugar sweetener, alt. 2-3 tbsp apple juice for Whole30
1 to 1 ½ tsp dried red pepper flakes
1 tbsp toasted "sticky rice" powder, see below
Thai toasted "sticky rice" powder (grain-free, gluten-free version):
⅓ cup raw cashew
¼ cup hemp seed hearts
Instructions
Finely chop the shallot and cilantro. In a medium size mixing bowl, combine ingredients from shallot to red pepper flakes. Give them a quick stir and mix. Allow the sauce flavor to develop at room temperature for about 10-15 minutes.

In the meantime, dry roast the cashew and hemp hearts in a skillet over medium-low heat for about 3-4 minutes. Stir and toss often to prevent them from burning.

You will know when they are done. You should smell nutty toasted flavor and the nuts and seeds are in light golden brown.

Grind the nuts and seeds in a small food processor or pound them in a pestle and mortar until they are coarsely grind.

Sprinkle 1 tbsp toasted "rice powder" over the sauce right before serving. Use and serve immediately for grilled meats (chicken, beef, or pork).
Notes
About the sauce and the recipe quantity:
Jaew dipping sauce is a very popular dipping sauce in Thailand, especially for grilled steak, chicken, or pork. It's a thin, liquid based dipping sauce.
The predominant flavor of this sauce should be sour and salty.
Please note that the measurements are meant to be a guide as quite often, there are no exact measurements in Thai seasonings/ dipping sauce. This is because they are tailored to individual tastes and preferences. Use the recipe as a guide. Add more lime juice to bring out more acidity or more fish sauce to make it saltier.
If you are on keto (i.e. if you use monk fruit sweetener), you'll need more liquid for this sauce. Use 1.5 whole lime juice and 1.5 tbsp fish sauce. If still feels not enough liquid, add 1 tbsp water then taste and adjust the seasonings again.
Store the sauce and the rice powder separately in the fridge. Finish the sauce in 4-5 days. The "rice powder" remains longer in the fridge as long as they aren't exposed to moisture. You can sprinkle "rice powder" over salads or use them as any crunchy toppings.
Nutrition
Serving: 1tbsp, Calories: 7kcal, Carbohydrates: 1g, Protein: 1g, Fat: 1g, Saturated Fat: 1g, Polyunsaturated Fat: 1g, Monounsaturated Fat: 1g, Sodium: 181mg, Potassium: 23mg, Fiber: 1g, Sugar: 1g, Vitamin A: 97IU, Vitamin C: 1mg, Calcium: 3mg, Iron: 1mg
More Gluten-Free & Healthy Dipping Sauce/Salad Dressings:
Serve This Thai Chili Sauce – Nam Jim Jaew – With: