Air Fryer Whole Chicken
Air Fryer Whole Chicken slathered with a garlic-herb dry spice rub then air fried to golden crispy. The chicken is super juicy inside and the skin is shattering crisp outside. Just like your favorite rotisserie chicken perfectly air fried. For just 10 minutes of active effort? Yes please!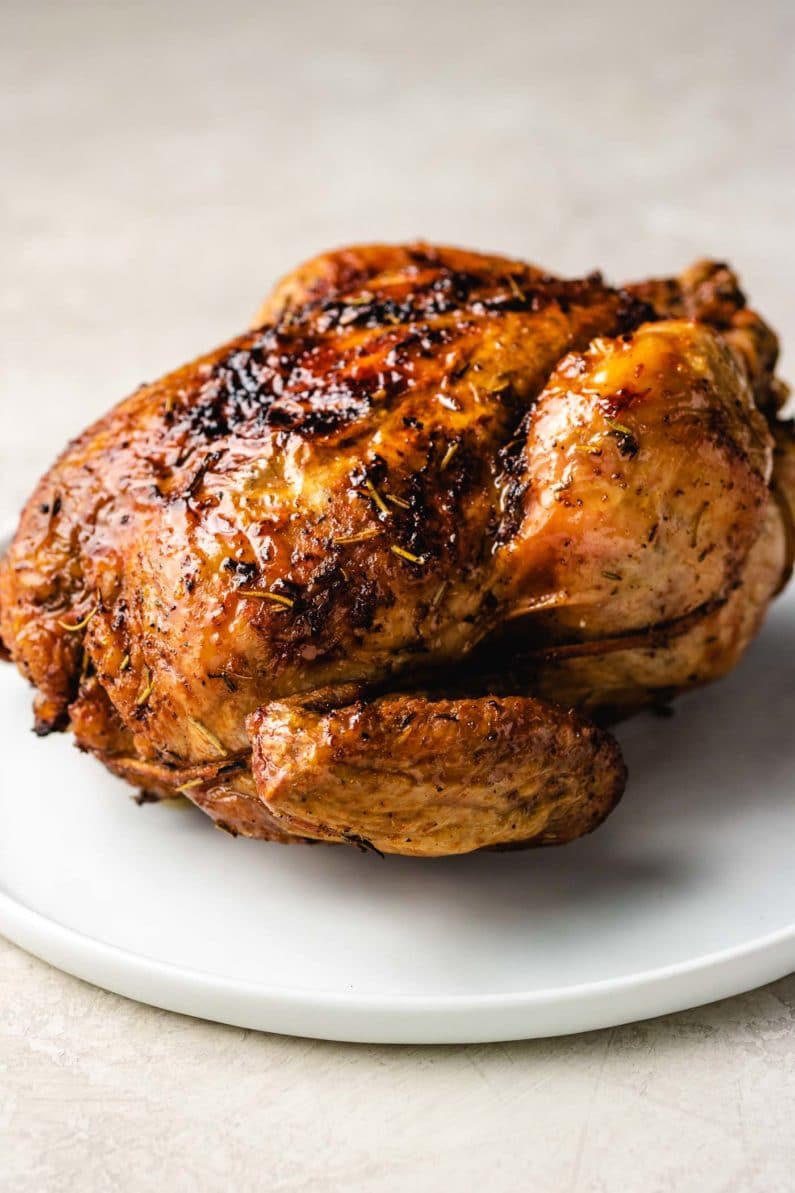 The best rotisserie chicken is …
Juicy moist inside and with golden crispy outer skins! This air fryer rotisserie chicken is THE Air Fryer Whole Chicken recipe you'll make over and over again!
I was intimidated to use Air Fryer although I got the model for free in exchange for a cookbook review. I let it sit in the basement for an entire winter until this summer, I finally decided to give it a try.
I have to say that I felt in love after the first time use because it didn't heat up my kitchen and there was no frying mess over the kitchen counter. However, it still takes some trial-and-error to nail down the exact cooking time whenever I try a new ingredient or cook with different quantity.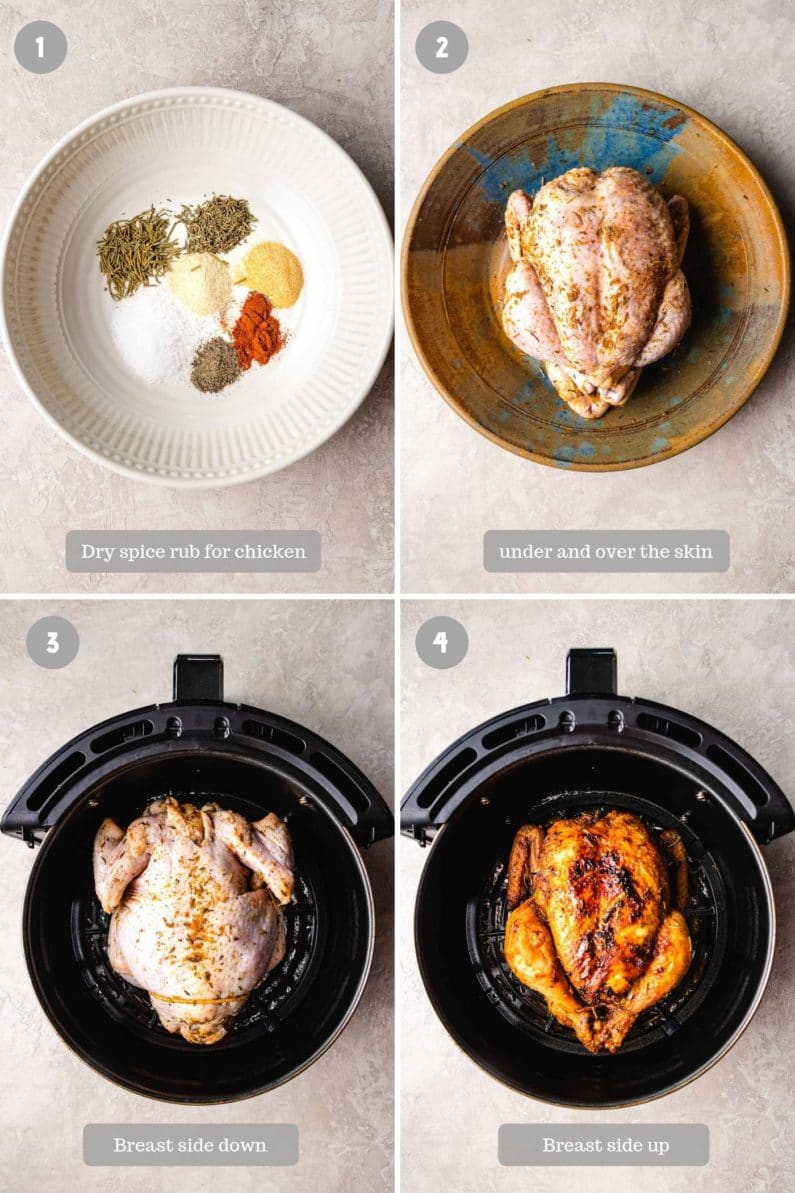 How to make the best air fryer whole chicken?
The size of your air fryer matters. For a 5 quart air fryer, I recommend a 3 lbs whole chicken to make the best air fried rotisserie chicken. For a 6 quart fryer, 4 to 4.5 lbs bird should give the fryer enough room for air circulation.
Use dry spice rub. Fresh herbs get burnt easily in an air fryer so use your favorite dry spice rub combo. My basic spice rub combo is – salt, pepper, garlic, and onion powder.
Breast side down first. Roast the whole chicken breast side down first then flip it to breast side up. This way the chicken will be roasted evenly and all-around golden delicious.
Use a meat thermometer. Different brands of air fryers come with various default cook time settings. Use a thermometer to test the roasted chicken temperature and it should read at least 165F at the thickest part of the bird without touching the bones.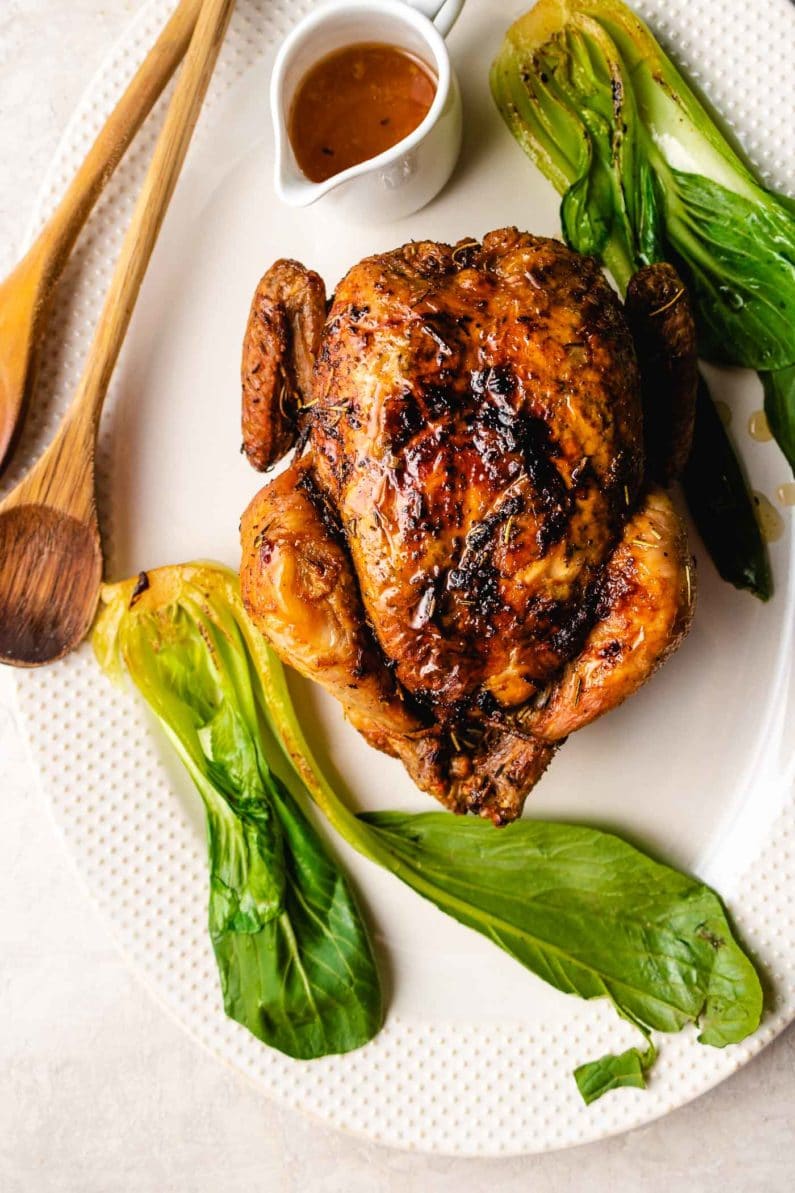 To truss or not to truss a chicken?
In my opinion, this is up-to-you, especially if there's no stuffing in the cavity. I've made this Air Fryer Whole Chicken recipe numerous times for our weeknight meals without trussing the chicken. For the photo purpose, I learned the technique from Jacques Pépin so that my whole roasted chicken will be extra gorgeous in front of the camera.
Can you stack chicken in an air fryer?
Ideally no. There should be room for air circulation inside of an air fryer so that each chicken piece can get cooked through and browned evenly.
Is air fried chicken healthy?
It is healthier because you use much less oil in air fried chicken recipes. The first thing I realize is that there's no need to add any oil if you cook proteins that come with fat – chicken thighs, steak, pork chops…etc. Vegetables such as squash, potatoes, asparagus, green beans contain less fat so they need to be lightly oiled first before air fried.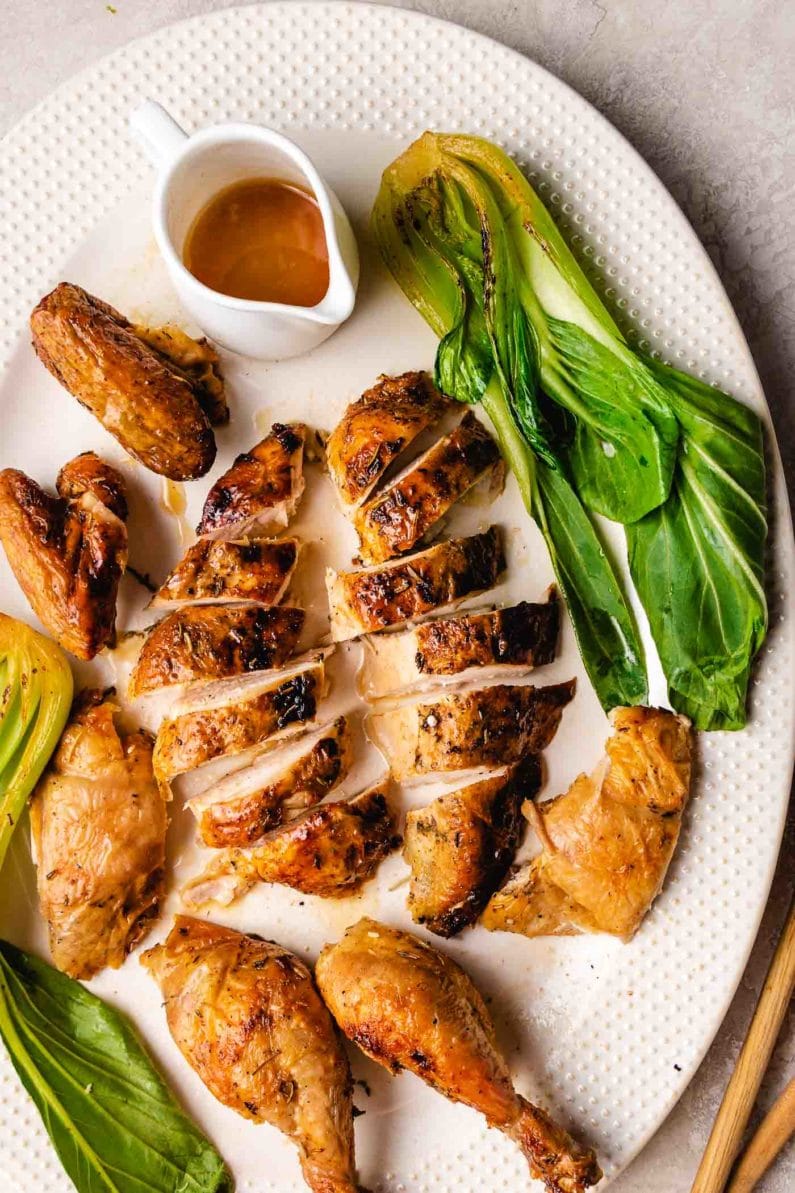 Complete the Roasted Air Fryer Whole Chicken with –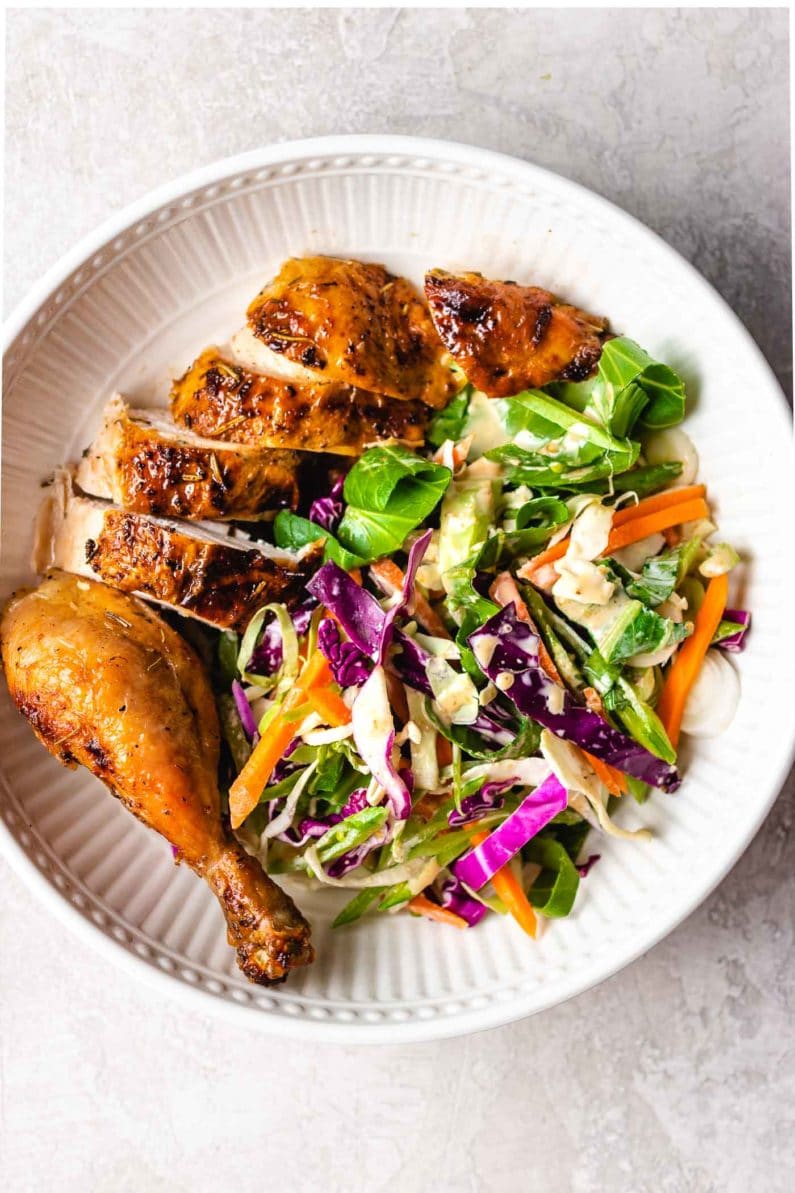 More Whole Chicken Recipes
More Flavorful Healthy Air Fryer Recipes
See how I put a healthy and balanced family meal together with an Air Fryer
Subscribe to my youtube channel!
Air Fryer Whole Chicken (Paleo, Whole30, Keto)
Air Fryer Whole Chicken with garlic-herb spice rub and air fried to golden juicy. You're gonna love this rotisserie style whole chicken!
Print
Pin
Rate
Ingredients
For a 5 qt. Air fryer:
3 lbs whole chicken
1.5 tsp coarse salt
¼ tsp each black pepper, sweet paprika
½ tsp each garlic, onion powder,
½ tsp each dry rosemary, dry thyme (or 1 tsp Italian seasoning)
For a 6 qt. Air fryer:
4 lbs whole chicken
2 tsp coarse salt
1/4 tsp each black pepper, sweet paprika
½ tsp each garlic, onion powder,
½ tsp each dry rosemary, dry thyme (or 1 tsp Italian seasoning)
Instructions
Remove the giblets inside the whole chicken cavity. Pat dry with a clean paper towel.

Combine dry spice seasonings from salt to thyme in a bowl.

Use your fingers to gently separate the skin from the meat to create small pockets. Be careful not to tear the skin. Stuff the dry spice mixture under the skin and use your hands to gently spread the spices as even as you can. Make sure to season the outer interior and the back of the bird.

Place the whole chicken breast side down in the air fryer. Roast at 360F for 30 minutes.

Flip the chicken (now breast side up and roast at the same temperature for 20 minutes (3 lbs. chicken) or 25 minutes (4 lbs. chicken).

Test the internal temperature with a meat thermometer. It should reach at least 165F at the thickest part without touching the bones. If not, send it back and roast for 5 additional minutes then test the temperature again.

Allow the chicken to rest for 10 minutes before carving. The bottom of the air fryer basket will catch all the chicken juice. Serve the juice on the side if you like.
Notes
Some people prefer to truss the chicken. If you want to learn how to truss a whole chicken, here is a great video to watch.
The nutrition label is calculated with a 3 lbs. whole chicken.
The air fryer I used in the photo is this model. It's cheaper, compared to others but the size is bulky. If you are looking for an air fryer, Cosori and Breville seem to have great reviews on amazon.
Nutrition
Serving: 1serving, Calories: 356kcal, Carbohydrates: 1g, Protein: 31g, Fat: 25g, Saturated Fat: 7g, Cholesterol: 122mg, Sodium: 115mg, Potassium: 326mg, Fiber: 1g, Sugar: 1g, Vitamin A: 720IU, Vitamin C: 2.6mg, Calcium: 18mg, Iron: 1.6mg
What to do with leftovers?