Caramelized Grilled Pork Skewers (Paleo, Whole30, Keto)
Paleo Caramelized Grilled Pork Skewers.
It's been awhile since I've felt as excited about a dish as I do about this one: The Pork dish you really can't and shouldn't miss.
I love it so much because it's simple and packed with tons of umami flavor. It also requires very few ingredients and little preparation time.
How awesome is that?
Two things that are special about this dish:
-I figured out a way to "grill" the pork skewers on a stovetop without an outdoor grill machine.
-I added absolutely no sugar to this famous Thai dish.
P.s. As you maybe aware, cooking with sugar is part of norm in Thai and Vietnamese cuisine, so to learn how I coax the flavor out of this dish without using sugar, check out my video below.
Be sure to subscribe to my YouTube channel and share this lovely recipe with your friends !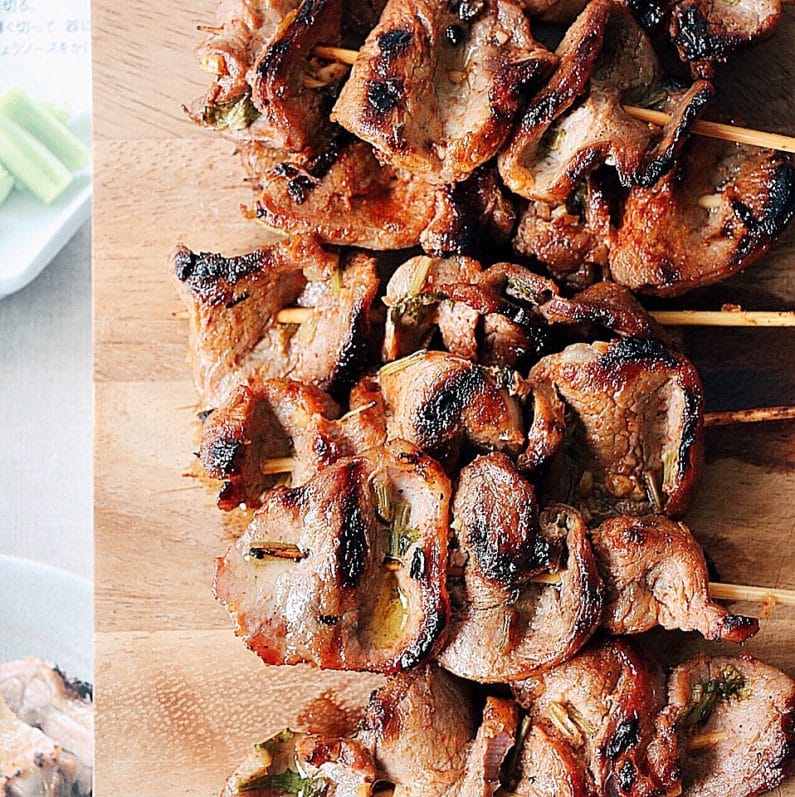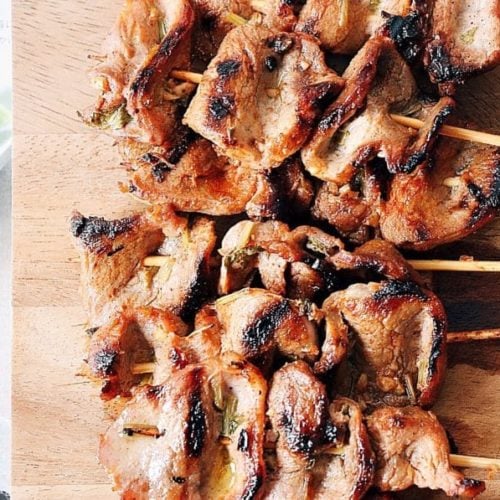 Caramelized Grilled Pork Skewers (Paleo, Whole30, Keto)
Paleo caramelized grilled pork skewers. Delicious pork skewers marinade in fresh herbs, citrus fruit and charcoal grilled to perfection. Slightly crispy outside and juicy sweet inside.
Print
Pin
Rate
Ingredients
1 lb pork tenderloin, slice into thin pieces (about ¼ inch thick bite-sized pieces)
1 ½ tbsp Extra virgin olive oil, to grill the pork
15 bamboo skewers, 4 inch length
Pork marinade: (Marinade for at least 2 hrs. Best overnight)
1 ¼ cup cilantro, chopped (including stems and leaves)
4 cloves garlic, minced
1 ½ tsp white pepper powder
6 tbsp coconut aminos
2 tbsp fish sauce, Red Boat brand
2 tbsp extra virgin olive oil
Half one whole lime juice
1 tsp red chili pepper powder
Instructions
Slice the pork into thin pieces, about ¼ inch thick bite-sized pieces

Soak the bamboo skewers in room temperature water 2-3 hours before grilling.

Make pork marinade:
Chop cilantro into fine pieces and mince garlic cloves. You can also use a food processor if preferred.

Combine white pepper powder, coconut aminos, fish sauce, olive oil, lime juice, and chili pepper powder with chopped cilantro and minced garlic cloves. Mix well.

Pour the marinate over sliced pork tenderloin and make sure the marinate is coated evenly over the meat. Store in an airtight container in the fridge for at least 2 hours. Best overnight for maximum flavor.

To caramelize and grill the pork:
Slightly drip off the marinate before threading the pork onto the skewers.

–Thread the pork onto the skewers kabob-style.

–Try to pack the meat tight and scrunch up together, about 4 pieces per skewers.

–This will help the meat stay tender as opposed to flat pieces that are dry and tough after grilling.

Heat a saute pan (or a griddle pan) with 2 tbsp olive oil. When hot, grill the pork skewers about 2-3 minutes per side until they are slightly charred on the outside and cooked through on the inside.

Brush the marinade over the pork occasionally when it's on the grill. This will help the meat stay moist.

Enjoy when it's hot and watch them gone quicker than you think !!
Nutrition
Calories: 255kcal