Thai Peanut Sauce
This Thai Peanut Sauce is Paleo Whole30 and creamy delicious, plus with a nut-free option! It's full of flavor and tastes just like the real deal in Bangkok. Drizzle it over salads, grilled meat, or cucumber noodles for a healthy delicious meal in no time!
Paleo Thai Peanut Sauce – Whole30, healthy, and with nut-free option !
Have you had the real Thai peanut sauce ? Most of the Thai-inspired version in my opinion is either too sweet or sour. There's not enough flavor complexity and depth to the sauce.
The real Thai version should be a well balanced of savory, sweet, nutty, and tart flavors. It's creamy yet burst of flavor in the mouthfeel. Luckily it's really easy to make a legit version and you can use the sauce for practically anything you like!
The real version uses tamarind fruit to give a lovely tart flavor. Tamarind is a souring agent in Thai cuisine. Most often you'll find either tamarind in concentrate/paste or in dry block form. You can find tamarind paste at local WholeFoods or online here. You can see how I use them in my Paleo Pad Thai Squash Noodles recipe.
What's a good substitute for tamarind fruit ?
Use apple cider vinegar to replace tamarind. It will give you an approximate taste and still super yummy!
Healthy Thai Peanut Sauce
Check out the recipe below and you'll see how ridiculously easy it is to make the sauce. Use the dressing/sauce for my Paleo Soy-Free Cold Tofu recipe or any salads or spiralized veggie noodle recipes, either way it's creamy, nutty buttery, naturally sweet, and absolutely delicious!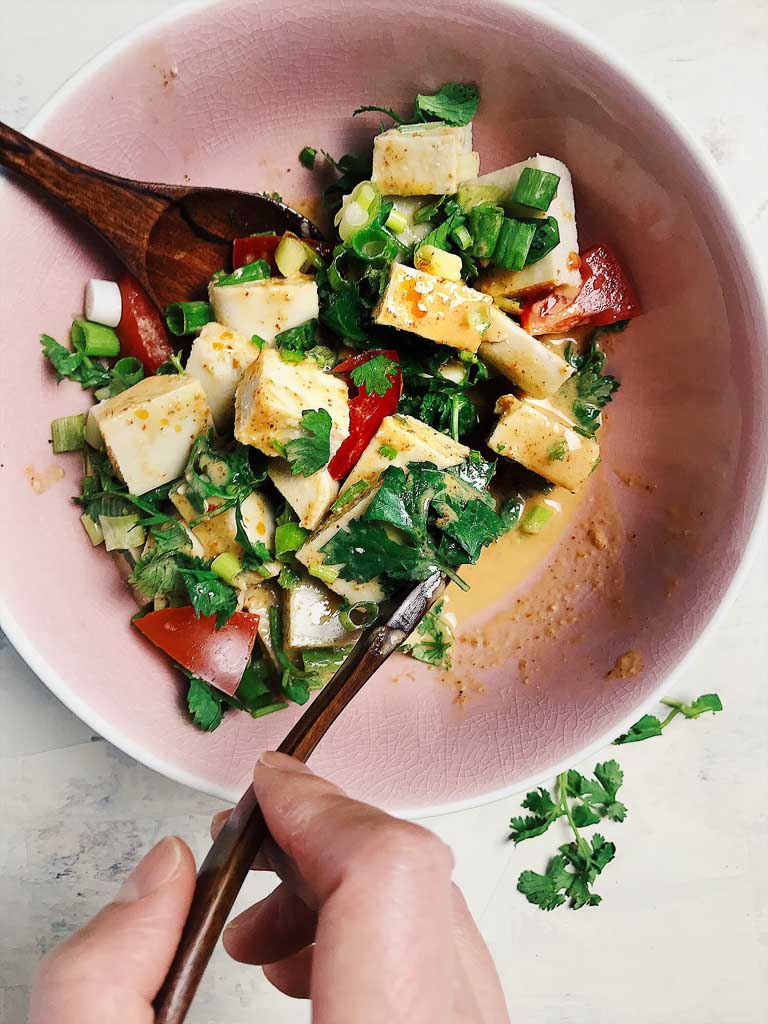 So my friends, I highly recommend that you give this recipe a try. Leave a comment and rate the recipe. Let me know how it goes. And if sharing on Instagram, be sure to tag @iheartumami.ny I'd love to see your creations !
Also check out my Whole30 Asian peanut sauce, Thai cucumber noodles with peanut sauce, Shirataki noodles with Asian peanut sauce, and Whole30 vegan curry, all made without peanuts!