Kimchi Cauliflower Fried Rice
Easy Paleo Kimchi Cauliflower Fried Rice with chicken, kimchi, and gluten-free gochujang sauce. This easy and quick Cauliflower Fried Rice with kimchi recipe is Whole30 and with a vegan option. This is the BEST low-carb kimchi fried rice! Don't miss it!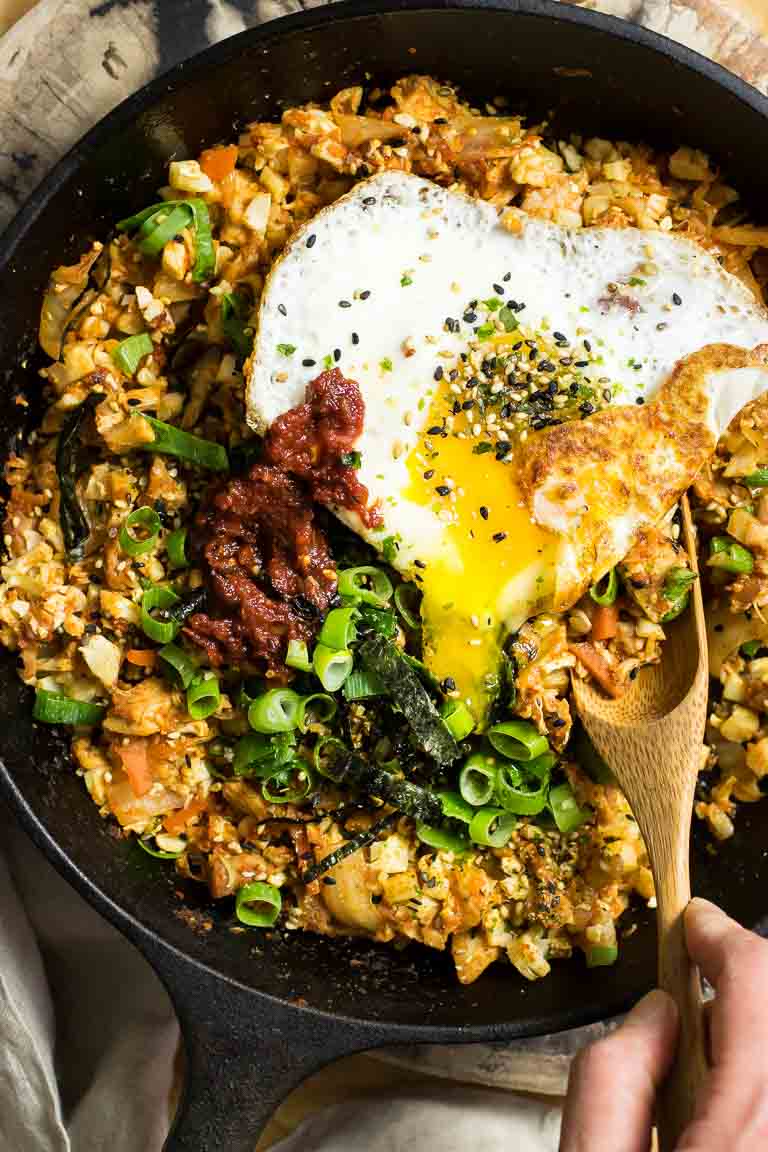 The best Paleo Kimchi Cauliflower Fried Rice (Whole30 and Vegan) friendly
I am on a roll sharing Korean-inspired Paleo cuisine on the blog lately! The love affair started with my Paleo Easy Kimchi, Paleo Gochujang (Korean red pepper paste substitute), and continues with today's Paleo Kimchi Cauliflower Fried Rice!
If you are a long-term reader of my blog, you know that I'm big on flavor and simple food so if you are going to pick one Korean dish to make from my blog, I highly urge you not to miss my Kimchi Cauliflower Fried Rice!
How to make paleo kimchi cauliflower fried rice
2 cups Cauliflower rice
1 to 1.5 cups chopped kimchi
2-3 tbsp Paleo gochujang
Any toppings of your choice (optional)
It can be as simple as 3 ingredients only. This Paleo Kimchi Cauliflower Fried Rice is super flavorful and ridiculously easy to make. It's the perfect way to use up leftover or cooked chicken, pork, or beef. To make it vegan, swap protein of your choice. Simple and easy !
Paleo Gochujang (Whole30, Gluten-free, Vegan)
If you haven't checked out my Paleo Gochujang, I highly recommend you don't miss it! It's no-cook and as long as you have a food processor (or mini blender) you're set for a jar of delicious Korean-inspired chili paste (gochujang).
My homemade gochujang adds natural sweetness and a hint of spicy flavor to the kimchi cauliflower fried rice. When you sauté the two (kimchi + gochujang) in a skillet, it immediately adds extra Umami flavor. No wonder plain cauliflower rice tastes so much better with this winning combo! You can use it to make Whole30 Gochujang baked salmon or Gochujang pasta.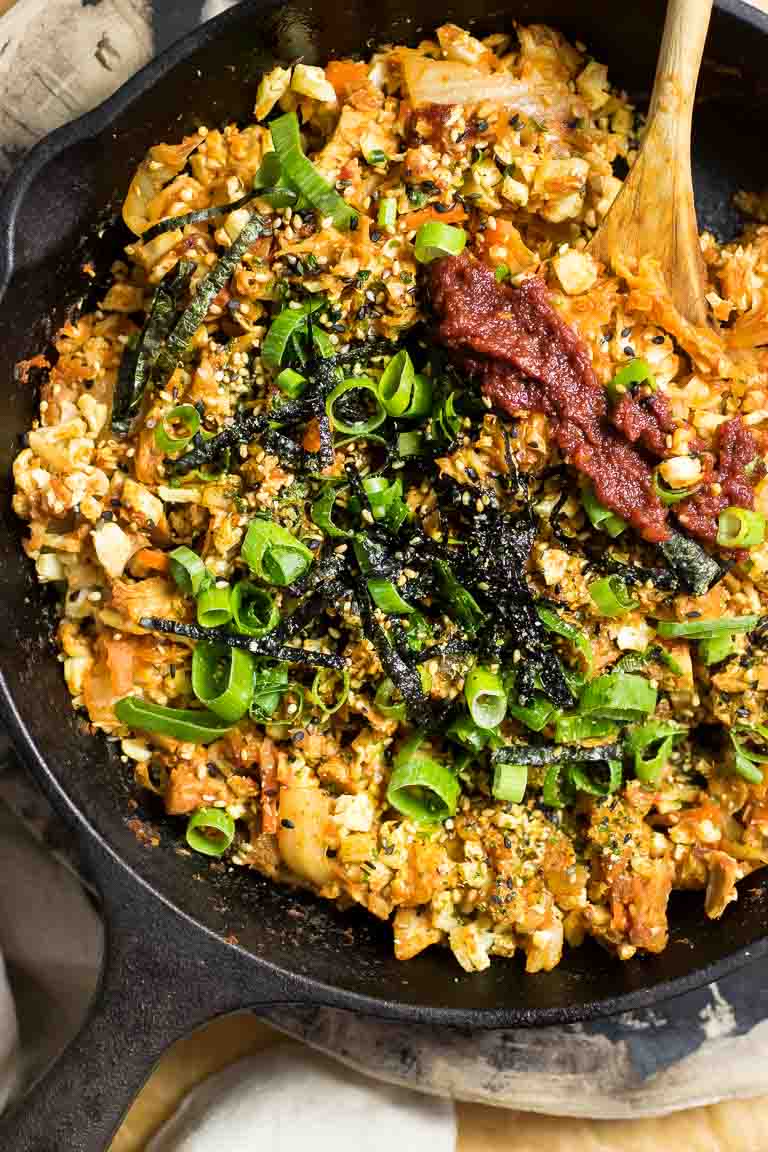 Can't have spicy food or pepper sauce?
You don't think I'd leave you hanging without providing a simple solution, do you?
Substitute my Paleo Gochujang for Tessemae's ketchup or tomato paste for a non-spicy version. You can also swap my red kimchi for white kimchi here. But my Paleo gochujang is really not that spicy so test it with a small quantity first and see what you think!
If you can't have either Paleo Gochujang or any tomato-based items, skip the ingredient for a simple riced cauliflower with probiotic kimchi. Add an egg on top or avocado slices. This sounds pretty amazing to me, too!
If you give my kimchi and gochujang fried cauliflower rice a try, let me know! Leave a comment and rate the recipe. And don't forget to take a picture and tag it #IHeartUmami on Instagram. I'd love to see what you come up with. XOXO!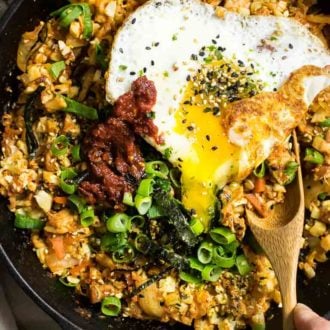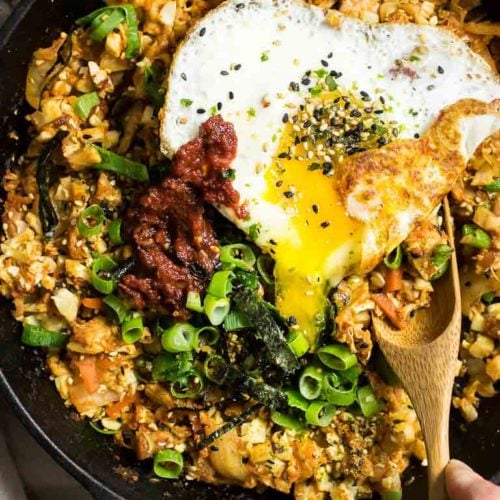 Kimchi Cauliflower Fried Rice
Easy Paleo Kimchi Cauliflower Fried Rice with chicken, Paleo kimchi and gochujang. This easy and quick Kimchi Cauliflower Fried Rice recipe is Whole30 and with vegan option. Want to make the best Kimchi Cauliflower Fried Rice ? Don't miss this simple Paleo Cauliflower Fried Rice recipe !
Print
Pin
Rate
Ingredients
2 cups cauliflower rice
1 to 1.25 cups chopped kimchi
1 cup cooked and diced protein, chicken, steak, beef, pork or any protein of your choice (optional ingredient)
3 tbsp Paleo gochujang, Alt. tomato paste or paleo ketchup for non spicy version
1-2 tbsp kimchi juice
Coarse salt to taste
1 tbsp water
Topping of choice (optional or pick-and-choose!):
Chopped scallions
Furikake, or Toasted sesame seeds
Fried eggs, or soft poached eggs
Sushi nori sheet, sliced to thin strips
Instructions
Preheat a skillet over low heat until it's well heated. Add 1 tbsp cooking fat of choice, add chopped kimchi. Saute until it's no longer watery (about 2-3 minutes). Combine Paleo gochujang sauce with kimchi juice. Stir-well and set aside.

Add cooked and diced protein (optional) and Paleo gochujang with kimchi juice to the skillet. Keep stir-frying until the sauce is coated evenly over chopped kimchi and protein. Add cauliflower rice, season with a small pinch of salt, stir-fry and coat the kimchi and gochujang paste over cauli rice evenly. Add 1 tbsp water to the skillet. Give another gentle stir then cover the skillet with a lid. Cook over medium-low heat for an additional 1-minute or until the cauliflower rice turns softer but not mushy.

Serve: Drizzle with toasted sesame oil, sprinkle with furikake and chopped scallions, top with fried eggs , nori strips, and extra tablespoon of Paleo gochujang. Serve in room temperature.
Notes
[embedyt] https://www.youtube.com/watch?v=JbcaZsJV0dY[/embedyt]
Feeling lazy ? Try the combination below for faux-chujang. This version has a stronger tomato (ketchup) flavor than my Paleo Gochujang recipe but will give you a similar consistency – 3 tbsp Tessemae's ketchup + 2 tbsp coconut aminos + 2 to 3 tsp Korean Gochugaru (Korean red chili powder) or 1 tsp cayenne pepper.
Tessemae's ketchup is sweetened with dates so that's the reason I feel it tastes closer to my Paleo Gochujang recipe than plain tomato paste.
Want to use store bought Kimchi or Gochujang ? Well if you are okay with the gluten-free version (i.e. not Paleo) try this store-bought kimchi and this gochujang for a quick yummy fix!
The nutritional label is calculated without toppings.
Nutrition
Calories: 91kcal, Carbohydrates: 7g, Protein: 12g, Fat: 1g, Cholesterol: 29mg, Sodium: 52mg, Potassium: 375mg, Fiber: 1g, Sugar: 2g, Vitamin A: 25IU, Vitamin C: 40.6mg, Calcium: 25mg, Iron: 0.8mg
For more Paleo Cauliflower Fried Rice recipes, check out my Filipino Skirt Steak Cauliflower Fried Rice , Broccoli Fried Rice , and Thai cauliflower shrimp fried rice! For gluten-free fried rice (using white rice), check out my coconut fried rice with pork tenderloin.
More Korean-Inspired Paleo Recipes: Kimchi beef, Kimchi chicken, Easy kimchi pancake, and Whole30 Baked Salmon with gochujang!