Cucumber Gazpacho
Cucumber gazpacho is the simple, no-cook star of any summer menu! This cool and refreshing chilled soup is tangy, creamy, light, and healthy. Mine is more flavorful than other cucumber gazpacho recipes, thanks to my special ingredient—miso!
Simply blend, chill, and serve. Perfect as an appetizer or side dish, or pair with protein for a delightful and effortless meal! For another hydrating summer dish, try my Chinese cucumber salad with garlicky honey chili vinaigrette.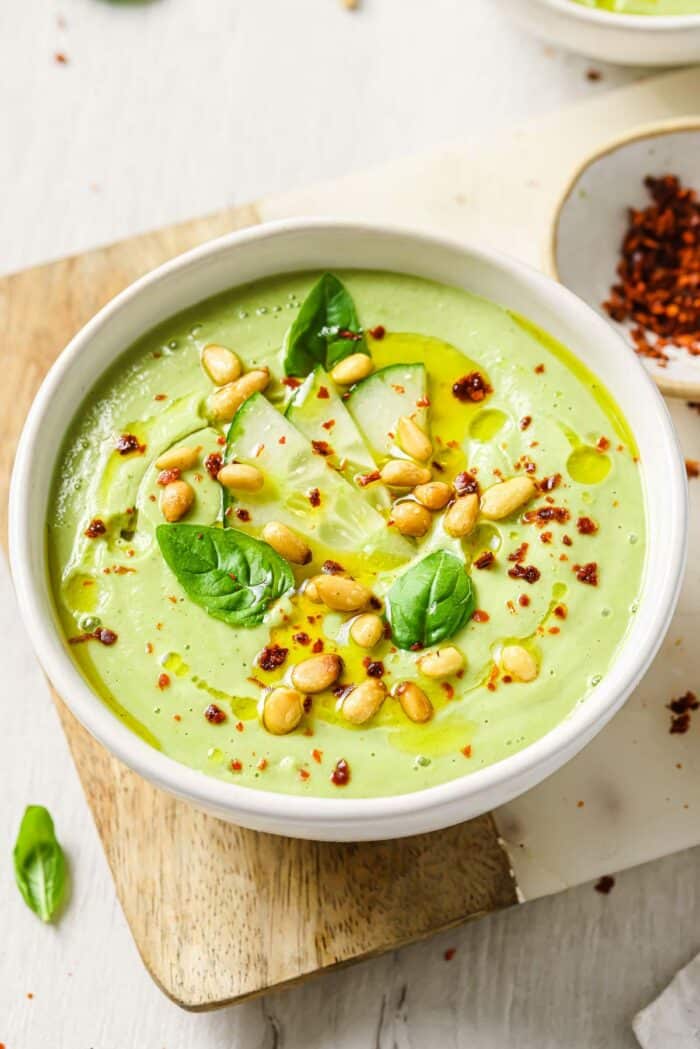 What is gazpacho?
Gazpacho is a chilled, no-cook soup made by blending fresh ingredients, such as vegetables, herbs, and/or fruit. Gazpacho is a cooling and hydrating summer dish with its origin in southern Spain.
Ingredients
While classic tomato or tomatillo gazpacho recipes, like the one from Love and Lemons, call for nightshades, my gazpacho without tomatoes is a light and refreshing alternative. Cucumbers are so healthy and hydrating! Plus, my special ingredient—Japanese miso—gives this recipe a depth of umami flavor that many other recipes are missing.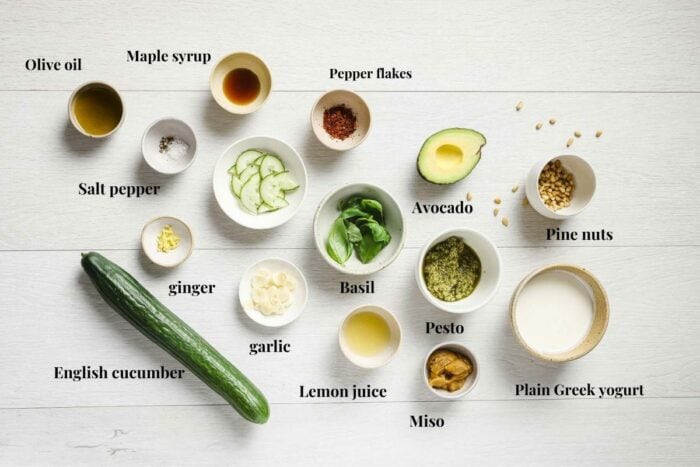 Cucumber: Large English cucumber, Persian cucumber, or Japanese cucumber (or a combination)
Creamy base: Plain Greek yogurt, avocado
Seasonings: Miso paste, basil pesto, lemon juice, garlic clove, coarse sea salt, black pepper, ginger, maple syrup (optional for a touch of sweetness)
For Serving: Drizzle of extra virgin olive oil, lightly toasted pine nuts, cucumber slices, fresh basil leaves, and red pepper flakes
Substitutions and variations
Make your cucumber gazpacho vegan: Replace Greek yogurt with cashew yogurt, soy yogurt, or vegan Greek yogurt. Silken tofu would also be delicious!
Without pesto: If you don't have basil pesto, use ¼ cup of fresh Italian basil leaves.
Without lemon juice: If you don't have lemon juice, add a splash of rice vinegar or lime juice.
Add protein: To turn into a main dish, garnish with some crispy tofu, chilled shrimp, salmon, grilled chicken, or crispy bacon.
Add veggies: For extra flavor and nutrition, try adding some spinach, arugula, bell peppers, or red onion. The sky is the limit!
Garnish options: Fresh herbs like cilantro, parsley, dill, or mint will add brightness and flavor. Chopped red onion, green onion, sour cream, croutons, and jalapeño are also great!
How to make the dish
This cucumber gazpacho recipe is the BEST! Not only is it super healthy and refreshing, but it is just so simple. No need to heat up the stove and prep time is minimal. Simply blend, chill, and serve!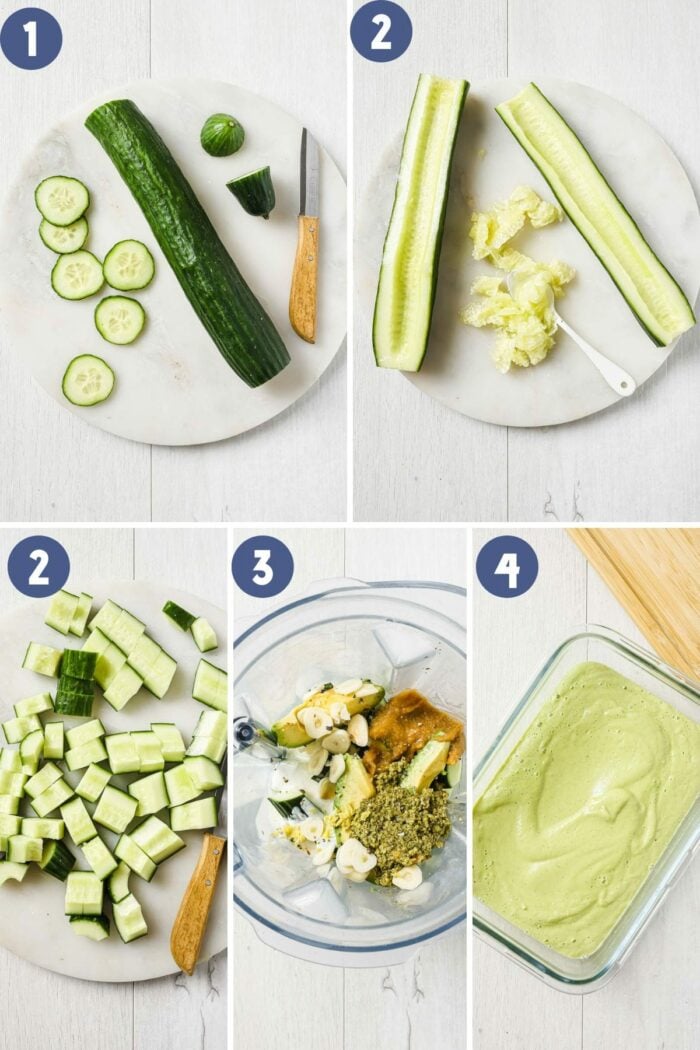 Dice the ends of the cucumber plus a few thin slices for garnish. Set aside.
Slice the remaining cucumber lengthwise. No need to peel the skin. Scoop out the seeds and roughly chop.
In a high-speed blender, add the ingredients from cucumber to maple syrup, if using.
Blend on high speed until creamy and smooth.
Pour puree into an airtight container and refrigerate for 1-2 hours to chill.
Transfer it into serving bowls and garnish before serving. Serve chilled.
Notes:
If you use Japanese or Persian cucumbers, you don't need to scoop out the seeds.
ChihYu's personal notes
This is my first gazpacho recipe on the blog, and I immediately fell in love! I added a touch of miso paste to give the soup extra depth and umami flavor. This no-cook "soup" is super versatile, loaded with good fat, and perfect to enjoy on hot days.
You can make it with or without the avocado. For a thinner consistency, omit the avocado or add a splash of soy milk, nut milk, or cold water before blending and taste and adjust.
Overall, it's an easy blender-made chilled soup that's perfect for hot summer to share with family and friends!
Storage and make-ahead
This is a great "make ahead" recipe, as it's best when it's had time to marinate and chill. I recommend finishing a batch in 2-3 days for the freshest flavor.
Store leftovers in an airtight container in the fridge. You can also freeze it. To serve from frozen, simply thaw and blend to remove any icy bits.
FAQs
Where did gazpacho originate?
Gazpacho originated in the Andalucia region of southern Spain. Traditional recipes include tomatoes, cucumbers, bell peppers, garlic, oil, vinegar, and bread, which acts as a thickener.
What's the difference between gazpacho and cold soup?
Unlike soup, the ingredients in gazpacho are blended fresh and are never cooked. Cold soup, on the other hand, is cooked and then cooled before serving.
How do the Spanish eat Gazpacho?
Gazpacho is a popular summer dish throughout Spain. Some eat gazpacho with a spoon, while others enjoy it as a beverage and drink from a glass. It is always served chilled.
Is it OK to freeze gazpacho?
Yes, gazpacho is a freezer-friendly recipe. Defrost frozen gazpacho in the fridge and blend before serving to break up any icy bits. Add fresh garnish for maximum flavor.
If you enjoy this recipe for cucumber gazpacho, be sure to give some of my other trending cucumber dishes a try! Like this crunchy and garlicky Chinese smashed cucumber salad.
Or go for some delicious Korean banchan, like my crunchy and aromatic Korean cucumber salad. "Oi muchim" is subtly spicy, tangy, sweet, and easy to make. Similarly, this cucumber kimchi is a great summer option that is ready overnight!
Umami Tips
Scooping out the seeds of English cucumber gives a smoother texture and more concentrated flavor.
Adding a touch of miso gives an Asian-influenced depth of umami flavor.
Easy no cook: just add everything into a blender!
This dish needs to be served chilled so make it ahead and refrigerate for at least 2 hours!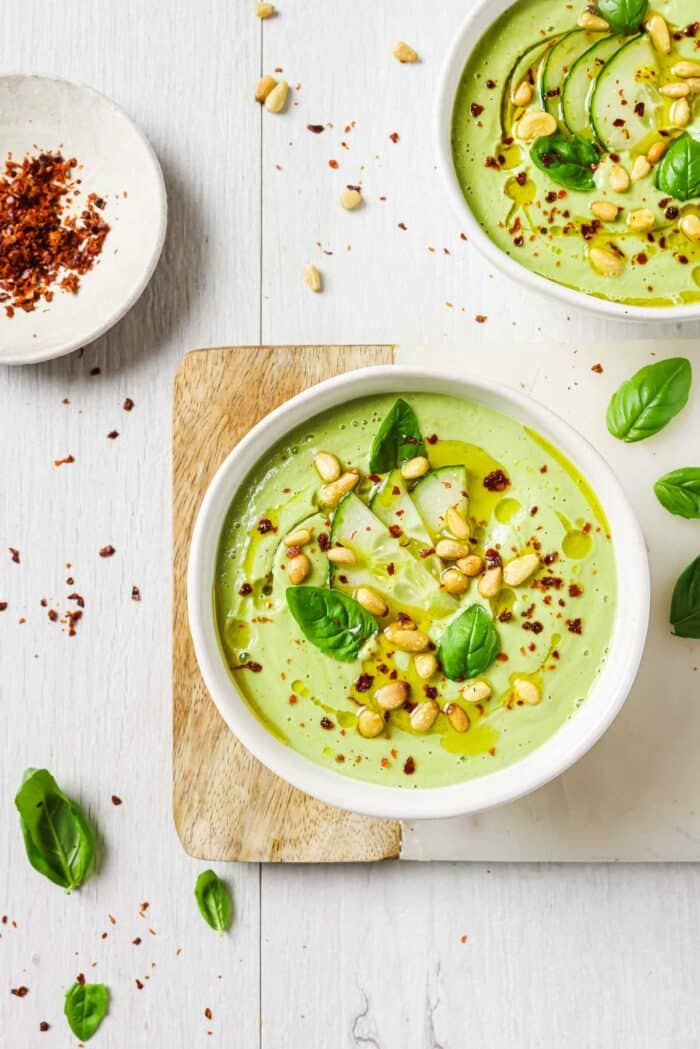 Cucumber gazpacho recipe (Japanese-inspired!)
Chilled and creamy Cucumber Gazpacho with a miso twist! A refreshing, hydrating treat that's healthy, easy, and vegan-friendly. Makes 2.5 cups.
Print
Pin
Rate
Ingredients
1 whole English cucumber, 10 oz, or Japanese/Persian cucumbers
½ cup plain Greek yogurt, or cashew or soy milk made vegan Greek yogurt
Half one whole avocado
2 tbsp miso paste
2 tbsp basil pesto
1.5 tbsp lemon juice
2 small garlic cloves, sliced, 0.15 oz
¼ tsp coarse sea salt
⅛ tsp ground black pepper
¼ tsp grated ginger
½ tbsp maple syrup, optional
For serving (optional):
Extra virgin olive oil, ightly toasted pine nuts. cucumber slices, fresh basil leaves, and red pepper flakes.
Instructions
Dice the tip ends of the cucumber. Reserve a few thin slices for garnish.

For the rest of the cucumber, slice it lengthwise, scoop out the seeds, and roughly chop it up.

In a blender, add the ingredients from cucumber to maple syrup, if using.

Blend on high speed until creamy and smooth.

Pour it into a storage container and refrigerate for 1-2 hours until it's chilled.

To serve, transfer it into serving bowls and garnish with olive oil, pine nuts, cucumber slices, fresh basil leaves, and red pepper flakes. Serve chilled.
Notes
If you don't have basil pesto, use ¼ cup of fresh Italian basil leaves.
If you use Persian or Japanese cucumbers, you don't need to scoop out the seeds.
You can make the gazpacho without avocado, the consistency will be thinner,
You can add ¼ cup soy or nut milk for a thinner consistency.
A small amount of ginger adds a pop of zesty and refreshing flavor but don't go over more than ¼ tsp or it will taste a bit spicy.
If you can't have dairy, use Forager unsweetened cashew milk yogurt or Silk dairy-free plain yogurt. I don't recommend using an almond-based or coconut yogurt substitute as it will significantly change the flavor.
Store in an airtight container in the fridge. Best finish in 2-3 days.
Nutrition
Serving: 1serving, Calories: 96kcal, Carbohydrates: 8g, Protein: 6g, Fat: 5g, Saturated Fat: 1g, Polyunsaturated Fat: 0.3g, Monounsaturated Fat: 0.2g, Trans Fat: 0.003g, Cholesterol: 2mg, Sodium: 723mg, Potassium: 97mg, Fiber: 1g, Sugar: 4g, Vitamin A: 214IU, Vitamin C: 4mg, Calcium: 68mg, Iron: 0.4mg
Made a dish and love it? Please remember to rate the recipe and leave a comment in the comment section below! It helps my blog grow organically so I can continue sharing free and awesome content with you. Thank you!