Korean Cucumber Salad (Oi Muchim)
This Korean Cucumber Salad – Oi Muchim – is a simple yet delicious side, perfect for the summer months! It's crunchy, aromatic, and fresh, with subtly spicy, tangy, and sweet flavors melding to perfection. No cooking is required, and it uses just a few simple ingredients.
This refreshing salad is perfect with any of your favorite Korean dishes, especially Korean BBQ! For a similar cucumber dish, check out my Chinese-inspired Asian cucumber salad, and my quick cucumber kimchi recipe!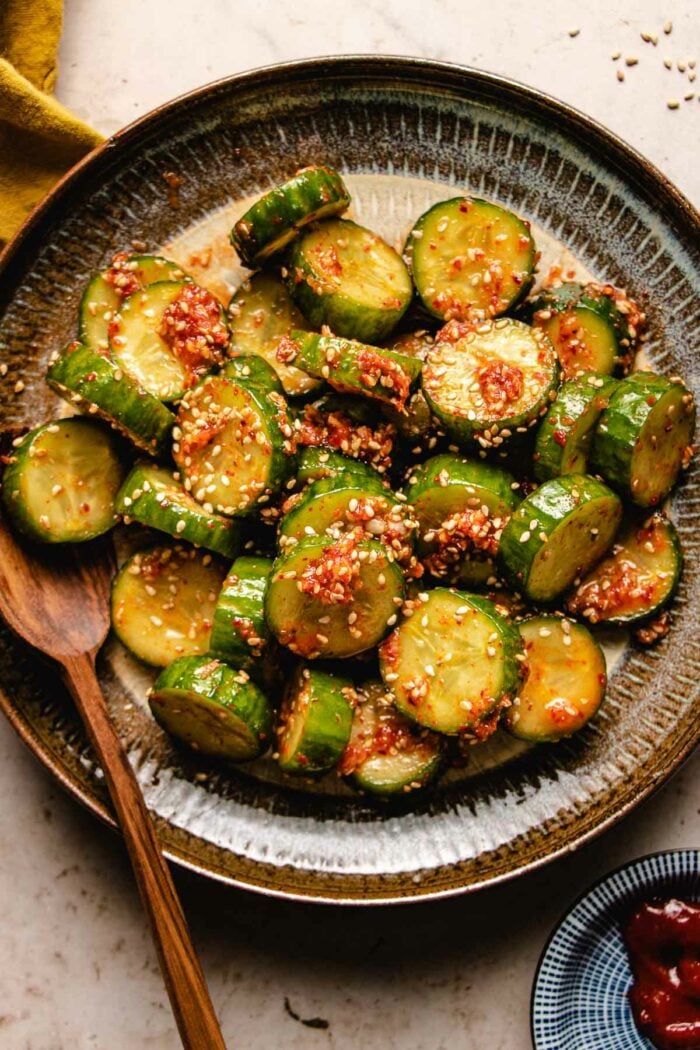 Why you will love this recipe
Perhaps the most popular Korean banchan (side dish) worldwide, this spicy cucumber salad is heaven on a plate (and in your mouth)! Here's why this Korean cucumber salad recipe is the best:
FlavorFUL: Spicy, slightly sweet, and tangy with garlicky undertones and accents of nutty sesame, this delightful salad is akin to a Korean pickled cucumber. Crunchy and delicious!
So simple: There is ZERO cooking required in this one-bowl recipe. The bulk of the total time is waiting for the cucumbers to de-water.
Cool and refreshing: The spice of the gochugaru is balanced by the refreshing cucumber. Perfect for warmer months.
What is oi muchim?
"Oi" means cucumber in Korea, while "muchim" means seasoned or to coat. Oi muchim is a spicy Korean cucumber side dish. It is also sometimes called "oi saengchae." The word "saengchae" is from an older, Chinese-derived language system and means "live or raw vegetables."
This cucumber banchan (side dish) is typically served with white rice as a main protein dish. It is particularly delicious with beef and BBQ dishes – kalbi short ribs – due to its cooling properties.
Ingredients
These Korean marinated cucumbers are so quick and easy, and they use minimal ingredients. Many Koreans have their versions of this dish, and mine was inspired by Korean chef Maangchi.
Cucumber: I use Korean-style cucumber, but Kirby, Japanese, English, or Persian cucumbers will work well.
Dressing: Rice vinegar, garlic clove, toasted sesame oil, gochugaru (Korean red pepper flakes), honey, toasted white sesame seeds
Ingredient substitutions
Cucumber: You can use any type of cucumber as long as they are fairly thin and have fewer seeds. You can try Continental, Kirby, English, Persian, or pickling cucumbers.
Rice vinegar: You can substitute white wine vinegar in a reduced amount.
Sweetener: White sugar or keto-friendly honey would also work.
Gochugaru: There is no perfect substitute for the uniquely sweet and smokey Korean chili flakes. Sweet paprika might be the closest in flavor, but I don't recommend subbing this ingredient.
How to make the dish
This easy Korean cucumber salad comes together in just 4 easy steps. You won't believe how complex the flavors are in such a simple dish! Here are the easy step-by-step instructions:
Dice the cucumbers and toss them in a bowl with salt. Let rest for 30 minutes.
Combine the sauce ingredients in a separate bowl.
Rinse the cucumbers to remove the salt and pat dry.
In a large bowl, mix the cucumber slices and dressing together.
Expert tips:
Use a cucumber with fewer seeds: Too many seeds will result in a mushy texture. Bigger cucumbers have more seeds, so Persian, Kirby, and English cucumbers are great options.
Adjust to taste: The dressing should taste garlicky, tangy, a little spicy, and subtly sweet.
Serve chilled: For the best flavor and crunch, and to balance the heat of the dish, chill this banchan in the fridge before serving.
Variations
Not spicy: To make a non-spicy version of oi muchim, simply eliminate the gochugaru. You can add a splash of soy sauce or coconut aminos to round out the flavor of the sauce.
Accordion-Cut: For a fun twist, you can accordion or spiral-cut the cucumbers with the aid of chopsticks like my Japanese cucumber salad.
Optional garnish: For a pop of freshness, flavor, and crunch, garnish with chopped scallions or green onions before serving.
Serving suggestions
This spicy Korean cucumber salad is a staple of Korean cuisine and will complement just about any meal. Traditionally, gochugaru cucumber salad is served with white rice and a protein dish. It's a very common banchan that pairs well with BBQ and beef dishes in particular.
Because this salad goes so well with beef, I like to serve it with my Paleo bulgogi bowl. For some added vegetables, I would serve alongside this crunchy and refreshing mung bean sprouts recipe or this veggie-packed vegetarian bibimbop.
For grain options, this gochujang pasta shares the same spicy-sweet flavor profile. O, for a lower-carb option, you can give this paleo japchae (Korean glass noodles) or my kimchi cauliflower fried rice a try!
Common FAQ
What is a Korean cucumber?
Korean cucumbers are long and slender with firm, dark green skin. They have a great crunch and are sweet (not bitter) so they're perfect for raw salads. (source)
What are the health benefits of Korean cucumber salad?
Due to the high water content of cucumber, they are hydrating and help replenish electrolytes. Cucumbers are low in calories and carbohydrates and high in vitamins C, B, and K.
What does a Korean side dish cucumber salad taste like?
The cucumber tastes crunchy and a little salty and the dressing tastes garlicky, tangy, a little spicy, and subtly sweet.
Do I have to use Korean cucumbers to make this dish?
No. You can also use Persian, Japanese, pickling, or Kirby cucumbers.
Storage and make-ahead
This Korean cucumber snack is best served chilled, and leftovers are fantastic the following day!
Keep oi muchim in an airtight container in the fridge for up to 5 days. Although the cucumbers will get watery over time, the marinade is delicious. You can drizzle it over rice and sprinkle some sesame seeds and scallions before serving.
To prepare in advance, slice the cucumbers and use salt to draw the water out before storing them in an airtight container with a paper towel in the refrigerator. When you're ready to serve, just add the dressing.
Related recipes
Can't get enough of these delicious Korean dishes? Me either! Try this Korean zucchini banchan for another simple, healthy, and delicious veggie option. For something crispy, salty, and flavor-packed, you won't want to miss this gluten-free kimchi pancake recipe!
Of course, no Korean meal is complete without kimchi! Give my paleo kimchi recipe a try.
Umami Tips
Make in advance: This is a perfect easy side to prep in advance. Slice and salt the cucumbers, mix the sauce, and store them in separate containers until you're ready to serve.
Salt the cucumbers: Use salt to draw excess moisture from the cucumbers to ensure a crunchy texture.
Do not use Italian red pepper flakes to make the dish. For a non-spicy version, simply omit the gochugaru ingredient.
Korean cucumber salad recipe
Korean cucumber salad, Oi Muchim, is an easy & refreshing side dish. Quick pickled cucumbers tossed with a keto-friendly spicy cucumber dressing. Easy to make and delicious!
Print
Pin
Rate
Ingredients
12 oz. Persian cucumbers, Korean, Japanese, Kirby, English, or pickling cucumbers
1 tsp coarse sea salt
For the spicy cucumber salad dressing:
Instructions
Dice the cucumbers into ½-inch round cylinder-shaped pieces. In a large mixing bowl, toss them with salt and let rest for 30 minutes.

In the meantime, combine the salad dressing in a bowl. It should taste garlicky, tangy, and a little spicy. Store it in the fridge.

Rinse the cucumbers 2-3 times to remove the salt. The cucumbers should taste a little salty but not too salty. Pat them dry with a clean towel.

Add the cucumbers to a large bowl and pour in the dressing. Toss well and serve!
Notes
How to make ahead –
Dice, salt, and pat dry the cucumbers. Store them in a container, lined with clean paper towels in the fridge for up to 2 days. Before serving, toss them with the dressing.
Best types of cucumber to use for Korean cucumber salad:
Korean cucumber or Kirby cucumber. Japanese or Persian cucumber.
There's no perfect substitute for Gochugaru (Korean red pepper flakes). Please do not use Italian red pepper flakes as a substitute. The two are very different. Luckily, you can now get gochugaru in many major grocery stores or online. I use it for almost all my Asian dishes, including my garlic chili sauce.
To make this salad not spicy, skip the gochugaru.
Nutrition
Serving: 1serving, Calories: 57kcal, Carbohydrates: 8g, Protein: 1g, Fat: 3g, Saturated Fat: 0.4g, Polyunsaturated Fat: 1g, Monounsaturated Fat: 1g, Sodium: 600mg, Potassium: 161mg, Fiber: 1g, Sugar: 4g, Vitamin A: 386IU, Vitamin C: 3mg, Calcium: 32mg, Iron: 1mg
Made a dish and love it? Please remember to rate the recipe and leave a comment in the comment section below! It helps my blog grow organically so I can continue sharing free and awesome content with you. Thank you!