Chinese Egg Tofu (Keto, Instant Pot)
This soy-free Egg Tofu Recipe is a savory Chinese steamed egg custard dish, made in an Instant Pot. Egg tofu is not only low carb, Keto, and Paleo friendly but also tastes creamy delicious! You can pan fry or bake to make crispy sesame tofu. If you think tofu tastes bland and boring, give this recipe a try! One bite, it'll change your mind!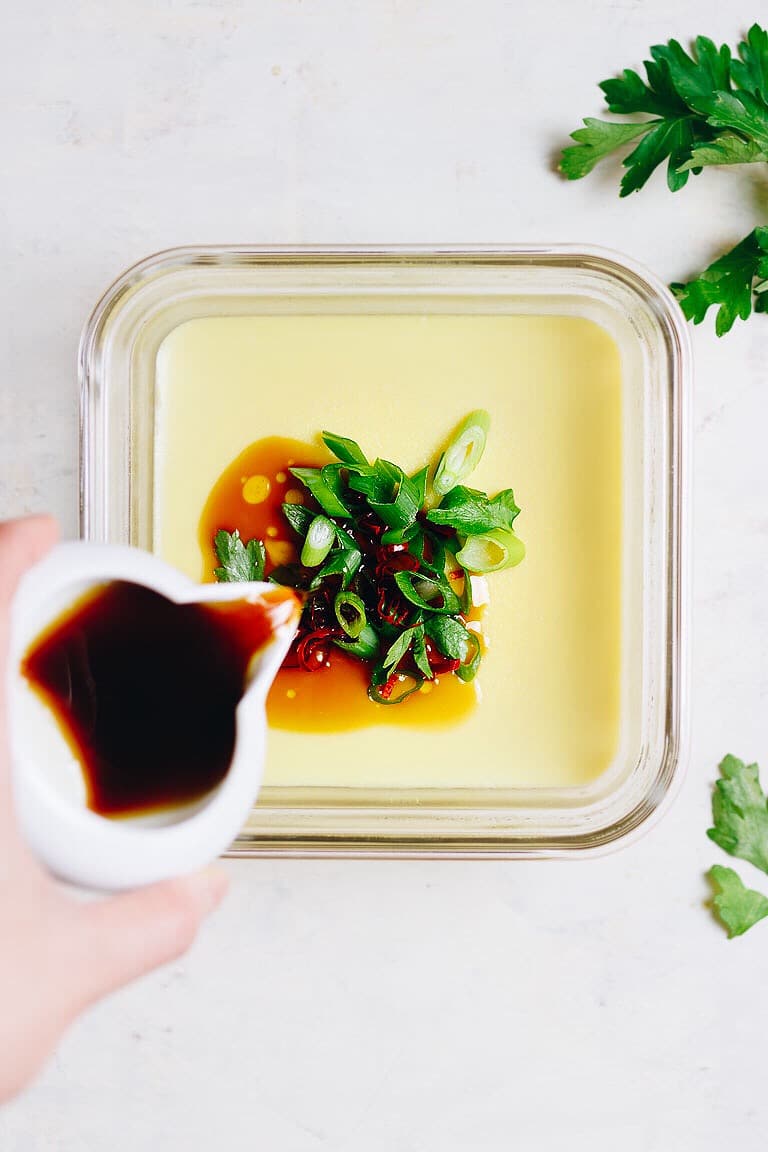 What is Egg Tofu ? 雞蛋豆腐
Egg Tofu is a savory steamed egg custard dish. In Japan it's called Tamago Tofu and in Hong Kong, China, and Taiwan it's called Zhēng dàn – Steamed Eggs.
It uses no soy at all despite the name "tofu". The term "tofu" is used to describe the silky texture of the custard. Most often it's made with chicken stock or dashi broth (Japanese bonito and kelp broth). In the recipe below, I use canned light coconut milk to give the egg custard a creamy taste. The texture is slightly more firm than the traditional Chinese Egg Tofu.
How to make Paleo Keto Egg Tofu – 2-ingredients
To make Paleo Keto Egg Custard Tofu you only need 2 ingredients – eggs and milk cream. The ingredients are actually quite similar to western egg custard. My version is low carb, Paleo, and Keto friendly.
Creamy milky tofu made with eggs
If you aren't a tofu fan, let me tell you these Keto egg tofu does not taste like any plain no flavor tofu you see in the grocery aisles. Best of all, you can pan fry or even bake them to make crispy sesame tofu or to put them in soup to make bok choy soup.
You can also enjoy these low carb soy-free egg tofu for breakfast or pair it with any dressing you like and they are perfect to be served as a side dish. The possibilities are endless!
Instant Pot & Low Carb delicious!
Similar to making any egg custard, there are a few simple techniques to pay attention to. Luckily, Instant Pot made it easy.
The size and type of the container will slightly affect the custard cook time.
The container needs to be either heat or oven safe.
The custard needs to be wrapped/covered to achieve the best texture.
The thickness of the material and the depth of the container will affect cook time. In general, dense and deep containers will take longer cook time than thin and shallow ones. To a 6-quart Instant Pot, the container should be smaller than 6.5-inch lengthwise so it can fit inside the pot perfectly.
You can use any shape of container (square, rectangular or round) as long as it's oven or heat proof and fits inside of the instant pot, if using. My square shape glass container does not come with a heat and oven safe lid so I wrap the custard with parchment paper and secure it with foil so that the steam won't drip onto the custard and ruin the texture. If use corning ware, simply cover the custard with a lid.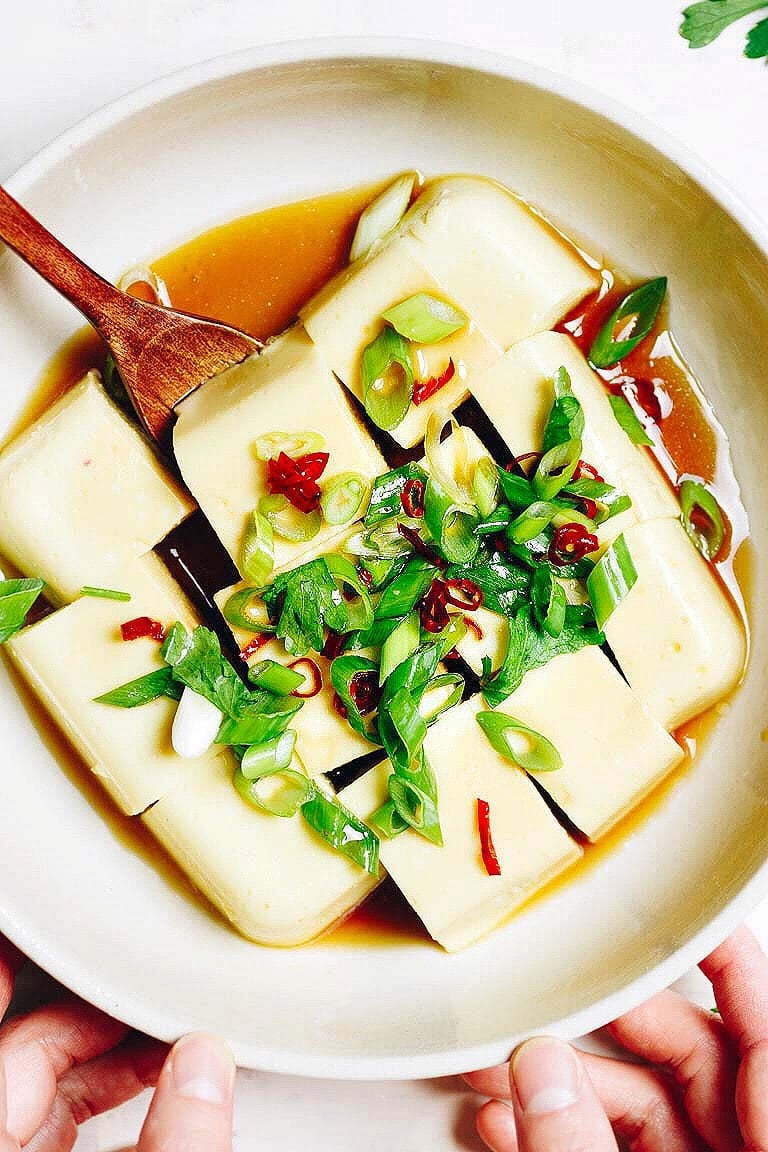 Traditionally Chinese steamed egg tofu is made over stovetop. Thanks to the Instant Pot (electric pressure cooker) invention, the process has become way easier. When using Instant Pot be sure to set the pressure to LOW so that your custard will be silky smooth. If use stovetop, allow the water to come to a gentle simmering state to maintain even temperature.

To some of my readers, steamed savory egg custard might be a new dish. You might be wondering what you can do with these custards? Besides enjoying it as a stand along side dish (add any sweet or savory dressings you like), Check out this Baked Sesame Tofu.
Egg Tofu Recipe (instant pot, keto, soy-free)
Egg tofu is a savory Chinese egg custard dish made without soy. Egg tofu tastes creamy and custardy delicious. Serve it as a side dish with any dressing you like!
Print
Pin
Rate
Ingredients
Egg Custard Tofu:
½ tsp avocado or extra virgin olive oil
4 large eggs
⅛ tsp coarse salt
Tools:
Whisk
Parchment paper + Foil, if the container does not come with a heat proof lid
Instructions
Lightly grease a heat and oven proof container with ½ tsp avocado oil.

In a separate large bowl gently whisk the eggs with ⅛ tsp coarse salt until the yolks and the white are well combined (about 2-3 mins). Please do not use an electric hand mixer. Gradually add 1 cup light coconut milk while whisking at the same time to combine the milk and the eggs. Whisk about 2 additional mins.

Strain the egg mixture through a sieve to the lightly greased container. Make sure there are no bubbles on the custard surface. Cover the container with parchment paper then wrap aluminum foil over the parchment to secure the wrap tightly. (If use corningware, cover the custard with the glass lid).

Place a trivet in the Instant Pot inner pot. Add 1 cup water. Carefully place the custard on top of the trivet. Press Manual (or Pressure Level) – LOW PRESSURE – 20 minutes. Allow it to natural release for 15 mins. before quick release. Remove the Instant Pot lid and wait for another 10 minutes or until the trivet handels are cool to touch before lifting the custard out of the Instant Pot.

Carefully remove the foil wrap custard cover. You can serve the custard tofu hot or chilled with any dressing you like (sweet or savory).
Notes
To pan fry or bake the egg custard tofu to golden crispy, allow the custard to cool completely then refrigerate for at least 2 hours or best overnight in the fridge. The custard 'tofu' will become more firm after refrigerated. Check out my Baked Paleo Crispy Sesame Tofu recipe, using this custard dish. 
For stovetop users, in a medium to large-sized pot (or wok), place a steamer insert (or a trivet) into the pot. Add just enough water to lightly cover the insert.  Close the lid and bring the water to boil then lower the heat to medium low/low. Carefully place the wrapped custard container on top of the trivet. Steam for 30 minutes. You want to keep the heat gentle and the hot water simmering (not boiling) so that the custard texture will remain smooth. Check after 30 minutes. If the custard is not set, cook an additional 10 minutes. 
Type of container to use – Any heat-proof and oven safe container either glass, ceramic, or stainless steel (round, square, or rectangular shape) that's no wider than 6.5-inch lengthwise to fit inside of a 6-quart Instant Pot
Cook time – Your cook time will depend on the size of the container that you use. Shallow bowl (with large/wide surface) needs less cook time than a deep and narrow open surface container.  If your container is thicker, the cook time will be longer, too.  If use wide mouth mason jar, divide the egg mixture evenly and loosely seal the jar with the metal lid.
The nutrition label is for 1 serving out of 2 and calculated without toppings or dressing. 
Nutrition
Serving: 1serving, Calories: 152kcal, Protein: 12g, Fat: 10g, Saturated Fat: 3g, Cholesterol: 372mg, Sodium: 287mg, Potassium: 138mg, Vitamin A: 540IU, Calcium: 56mg, Iron: 1.7mg
Love Healthy Asian-Inspired Paleo recipes? Also check out my Instant Pot Taiwanese Meat Sauce, Instant Pot Butter Chicken, Best Whole30 Instant Pot Recipes, Taiwanese Beef Stew, Sesame Chicken, Chicken and Broccoli, and Beef Broccoli Stir-Fry!
What else can you make with egg tofu?
Crispy oven baked sesame tofu! (paleo, soy-free tofu, so good!)
More delicious and healthy Chinese recipes