Silken Tofu Recipe
This silken tofu recipe just might be the easiest dish on my site! Delicate, melt-in-your-mouth tofu pairs beautifully with my creamy roasted sesame dressing and crunchy green onion in this popular Asian side dish that is ready in under 5 minutes—no cooking required!
Served cold, this dish is perfect in the summer months or to cool your palate during winter. It's a great compliment to hot soups and dishes, and the cleanup is effortless! For a paleo, soy-free alternative, try my egg tofu recipe.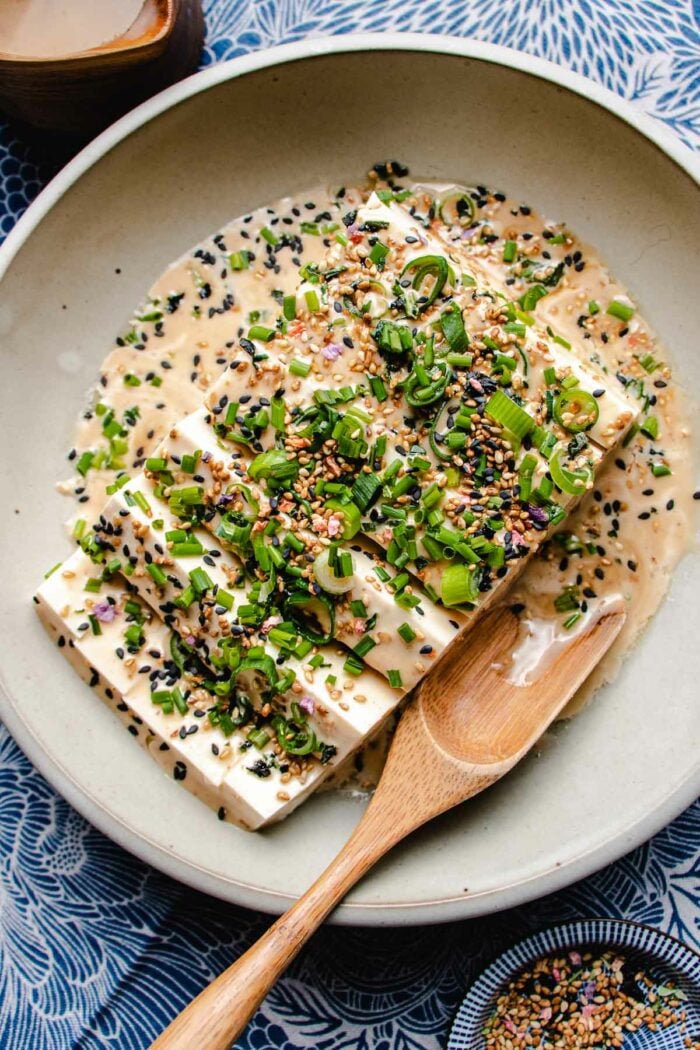 Why you'll love this side dish
This is one of the best silken tofu recipes because it's healthy, simple, and utterly delicious. A perfect appetizer, snack, or side dish for any occasion, I like this Chinese liangban tofu recipe better than the silken tofu with spicy soy dressing recipe from The New York Times!
Quick & Easy: From the refrigerator to your fork in 5 minutes or less, no cooking is required!
Healthy: Because tofu is a protein-rich ingredient, this vegan, dairy-free, and gluten-free side dish is the perfect addition to any healthy meal.
Creamy & Delicious: The smooth, silky texture of the tofu combined with the creamy dressing and crunchy garnish is a full-on sensory experience for your mouth!
What is silken tofu?
It is a type of tofu that has not been drained or pressed, so it has a high moisture content. It has a loose, soft texture and is smoother and creamier than the extra firm tofu you're probably used to.
Due to its very subtle flavor and creamy texture, it is a popular ingredient in both savory soft tofu dishes and desserts. It is also used as a substitute for eggs and dairy.
Read on to learn how to eat silken tofu!
Ingredients
This cold tofu recipe is not only super easy, but it uses very few ingredients. If you've been wondering what to do with silken tofu, this recipe is the perfect introduction! Here's what you'll need: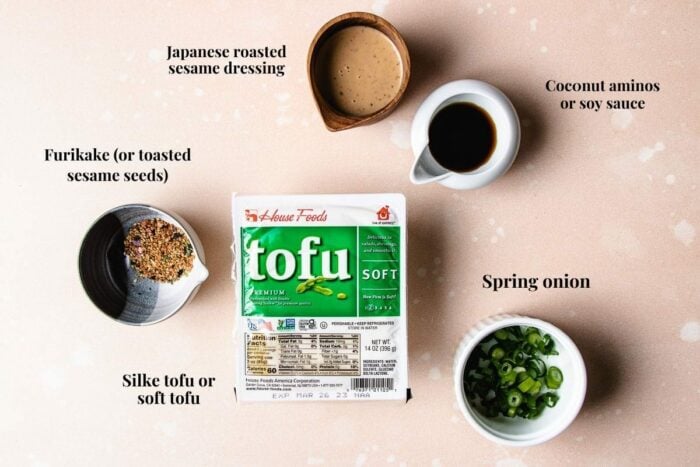 Tofu: 1 carton of silken tofu
Liquids: Coconut aminos, roasted sesame dressing
Garnish: Spring onions, plus furikake or toasted black and white sesame seeds
Ingredient substitutions
Tofu: If you cannot find silken tofu, you can use soft tofu as a substitute. Korean silken tofu at H-mart is another great choice.
Liquids: Tamari or low-sodium or regular soy sauce can be used in place of coconut aminos.
Salad Dressing: You can use this store-bought dressing if you don't have time to make my roasted sesame dressing recipe.
How to make the dish
This silk tofu truly is as easy as 1-2-3! It is one of the easiest and tastiest savory recipes with soft tofu and comes together in 5 minutes or less. Here's how to cook silken tofu: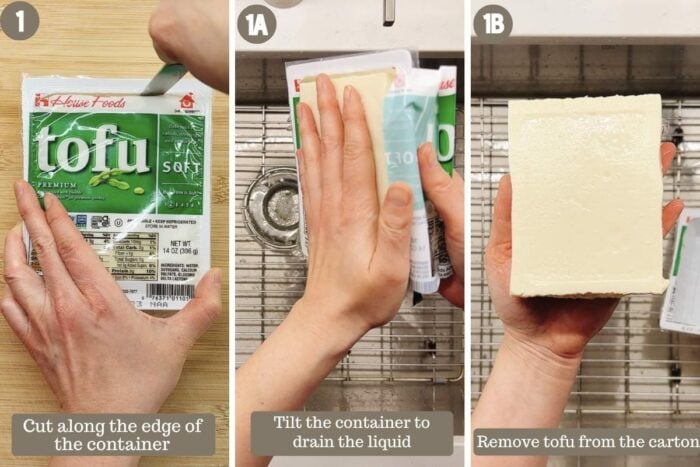 Open the package and drain the liquid.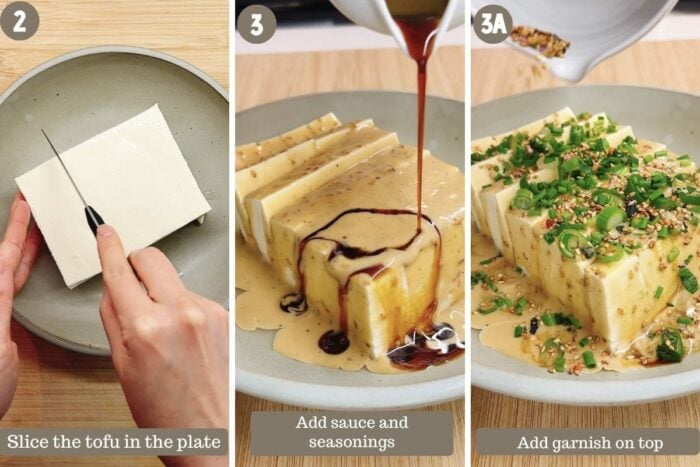 Carefully transfer to a serving plate – if slicing the tofu, do that now.
Drizzle with the seasoning sauce and add garnish on top.
How to remove silken tofu from the box
Open: Insert a small knife into the corner of the plastic seal and cut along the edges of the carton.
Drain: Remove the plastic covering and tilt to pour out the liquid, securing the tofu with your hand.
Transfer: Carefully flip over the carton holding your hand or the serving dish firmly to the container.
Note: I've seen some chefs recommend cutting a small corner on the tofu carton to drain water and allow oxygen in to help remove it from the container. I haven't tried this technique yet so will update you if it works.
Variations
While I love the creamy, sesame taste of this dish, there are so many flavor profiles you can use in raw tofu recipes. Here are some tasty variations to try with this fresh tofu dish:
Thai-style: Swap out the dressing for my Paleo Thai peanut sauce for an authentic Thai-style dish.
Peanut-free sauce: Similar to the above Thai sauce, this Asian peanut sauce uses almond butter and is a great alternative for anyone who can't eat peanuts.
Spice it up: For some extra spice with a touch of sweet, use my garlic chili sauce!
Serving suggestions
Now that you know how to prepare this dish, let's talk about what to make with silken tofu to turn this mouthwatering side into a nutritious dinner!
This classic side goes really well with simple white rice or noodles and vegetables of your choice.
I like to pair it with my chili garlic noodles or spicy peanut noodles because you can use the same sauce on the tofu for a nice variation.
For veggies, it's delicious with my bok choy stir fry or a bowl of this nourishing bok choy soup!
Common FAQ
Can you eat raw tofu?
Yes, you can eat tofu uncooked. Soybeans are cooked during processing, so tofu isn't technically a raw food. It is safe to consume without heating (source).
How to use silken tofu?
There are many silken tofu uses, from smoothies, ice cream, and sauces to vegetarian silken tofu recipes and as an additive to soups and stir-fries.
How to make silken tofu?
You can find silken.tofu recipes to make your own at home using fresh soy milk and a coagulant solution, such as Epsom salt or magnesium chloride.
Is tofu healthy?
Tofu is low in calories and carbohydrates but high in protein and fats. It also contains many important vitamins and minerals, including calcium and manganese (source 2).
What can I make with silken tofu?
Because silken tofu is so versatile, you can make it with rice, noodles, vegetables, soups, and other proteins. See my serving suggestions above!
Storage and make-ahead
You can make the dressing ahead, but once prepared, this dish is best eaten immediately. Believe me, you will want to finish it all!
If necessary, you can store leftovers in an airtight container in the fridge for 1-2 days.
Related recipes
Looking for more dishes to cook with silken tofu? Let me know what kind of silky tofu recipes you'd like to see in the comments! I'll be posting more recipes for soft tofu soon, so look out!
For some other tofu-based dishes, give my air fryer salt and pepper tofu, vegan hot pot, and almond tofu recipes a try!
Umami Tips
Heating: Though this is traditionally served chilled, you can steam or microwave the tofu before adding the seasonings. Be sure to drain excess liquid after heating.
Serving: You can leave the block whole or slice it into bite-sized pieces before adding the seasonings.
Timing: Once the tofu is opened and seasoned, serve it immediately.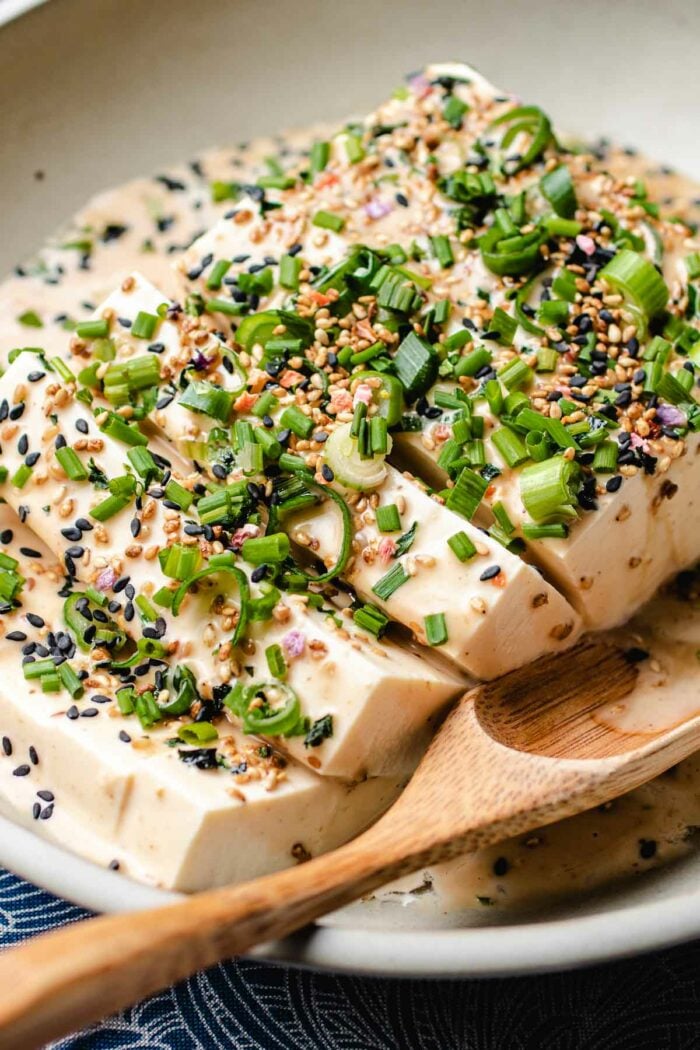 Silken tofu recipe
This silken tofu recipe with roasted sesame dressing is creamy, easy, and ready in 5 minutes! Serve this soft tofu cold for a quick side dish.
Print
Pin
Rate
Instructions
To open the tofu package, insert a small pairing knife into a corner of the plastic seal. Carefully cut along the edge of the carton. Tilt open the carton over the sink to drain the access liquid.

Carefully transfer the tofu to a serving plate. You can serve the tofu as a whole or slice it vertically and crosswise.

Drizzle with sesame dressing and coconut aminos. Garnish with spring onions and furikake or toasted sesame seeds. Serve cold immediately.
Notes
This side dish is served cold, making it super convenient as it doesn't require cooking.
To make ahead: You can make the roasted sesame dressing ahead. You can also use store-bought sesame dressing, made from kewpie.
I recommend only opening the tofu right before serving. Once the tofu is opened and seasoned, please serve it right away.
If you prefer to warm the tofu, place it (before adding seasonings), on a microwave-safe plate and microwave on high for 1.5 minutes. Drain the excess water then add the seasonings.
The nutritional label is estimated without the dressing. You can find the dressing info inside of the recipe card. 
Nutrition
Serving: 1serving, Calories: 47kcal, Carbohydrates: 3g, Protein: 4g, Fat: 2g, Saturated Fat: 0.3g, Polyunsaturated Fat: 1g, Monounsaturated Fat: 1g, Sodium: 26mg, Potassium: 140mg, Fiber: 0.2g, Sugar: 1g, Vitamin A: 2IU, Vitamin C: 0.03mg, Calcium: 31mg, Iron: 1mg
Made a dish and love it? Please remember to rate the recipe and leave a comment in the comment section below! It helps my blog grow organically so I can continue sharing free and awesome content with you. Thank you!