Baked Crispy Sesame Tofu
This Crispy Sesame Tofu, made with egg tofu is soy free and oven baked to golden crispy delicious! This sesame tofu recipe is keto, paleo, and Whole30. Easy to make and healthy crispy delicious!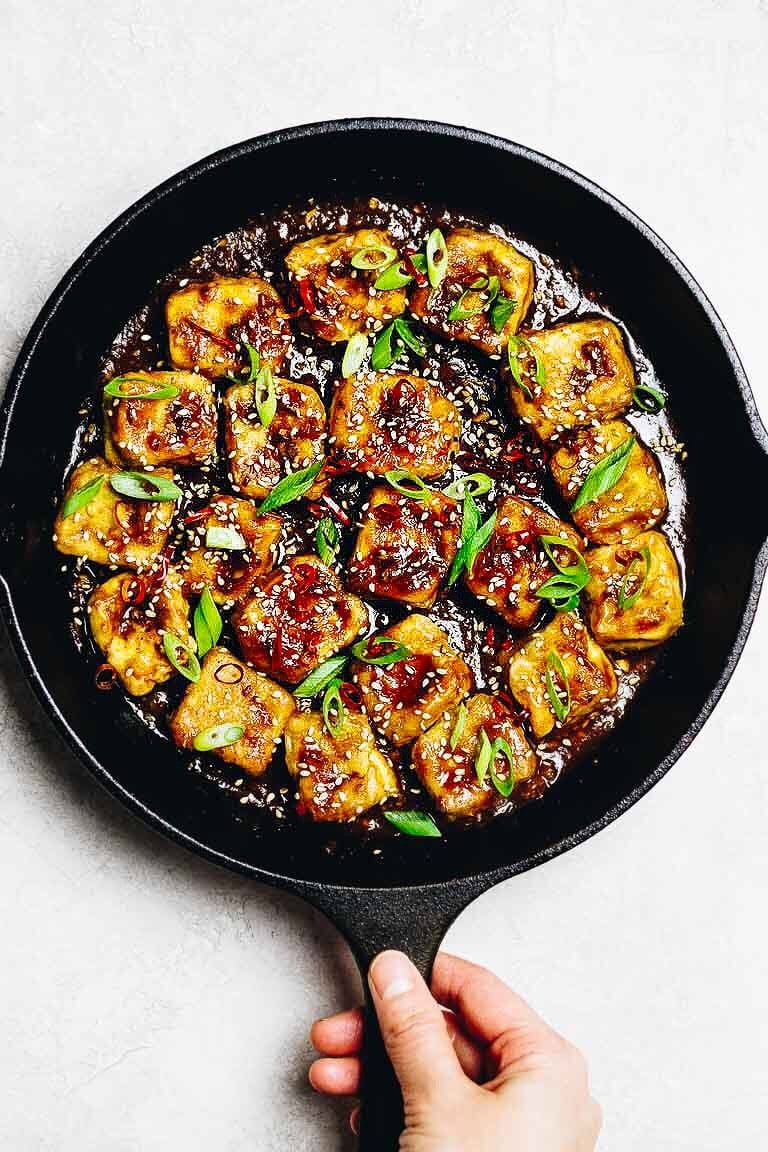 Paleo Crispy Sesame Tofu (Soy Free, Crispy Delicious, with Keto suggestions)!
I'm so excited to share this soy free Paleo Crispy Sesame Tofu recipe with you today! If you crave crispy sesame tofu that's soy free and low carb definitely read on! And if you aren't a tofu fan, let me tell you this is not your regular plain tofu recipe (hint: it's milky delicious and oven baked crispy)!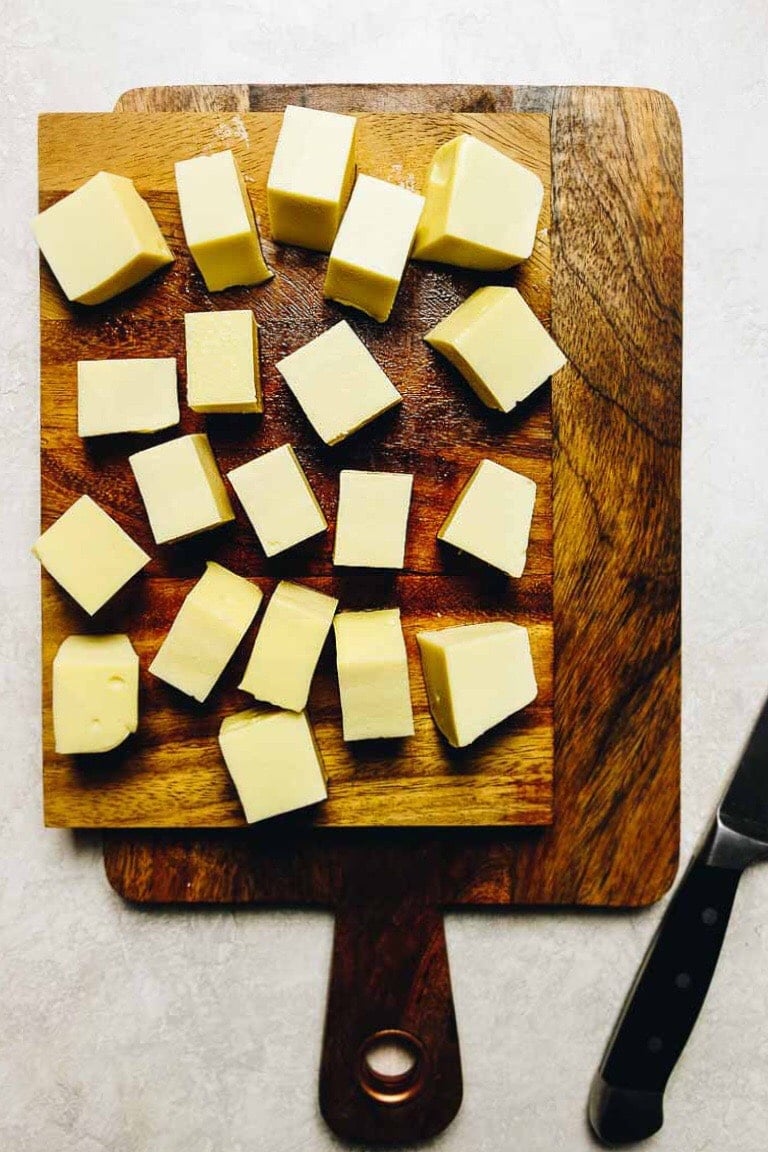 This soy free paleo 'tofu' is actually made from my keto egg custard with eggs and light coconut milk only. You can read more about it here.
Egg custard (AKA egg tofu) is very popular in China, Taiwan, and Japan and I modified it to use canned light coconut milk as opposed to chicken or dashi stock so that the custard is more firm and tastes more milky.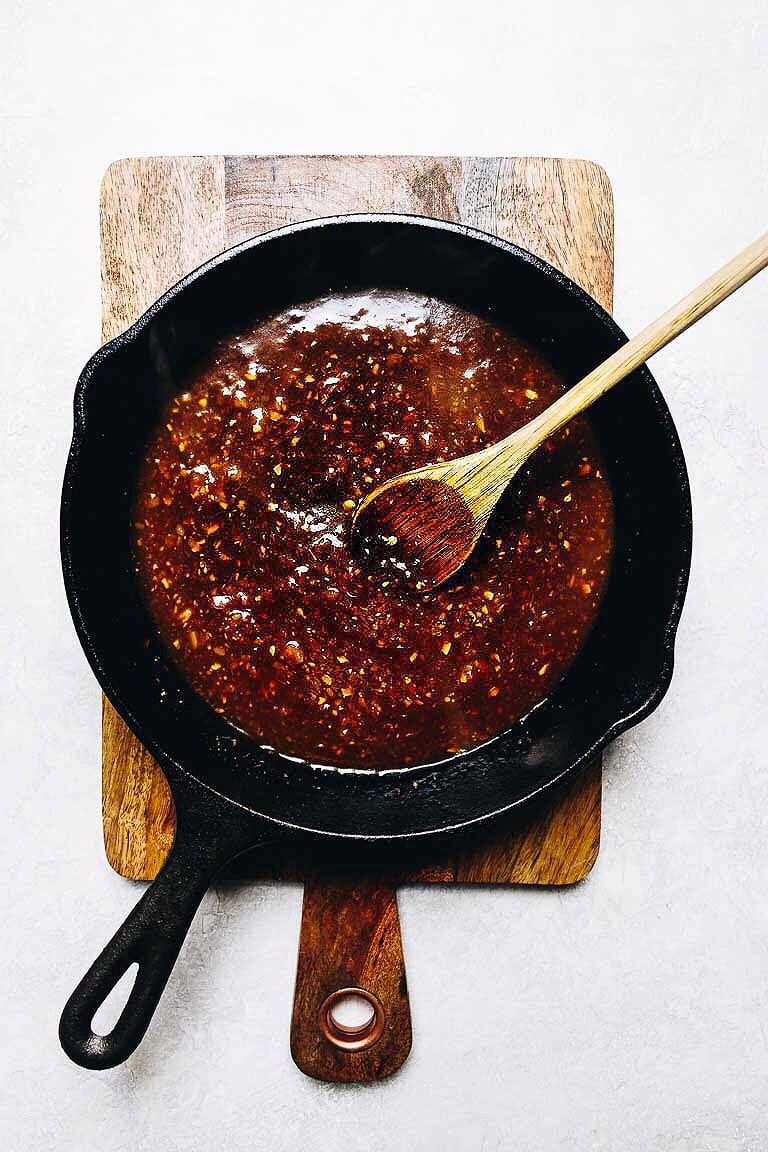 Since there are only 2 ingredients (eggs and milk) it's very easy to make steamed egg custard tofu. For today's Paleo Crispy Sesame Tofu, I chilled the custard tofu in the fridge overnight so that the texture will be more firm after refrigeration. You can also pan fry the custard, too.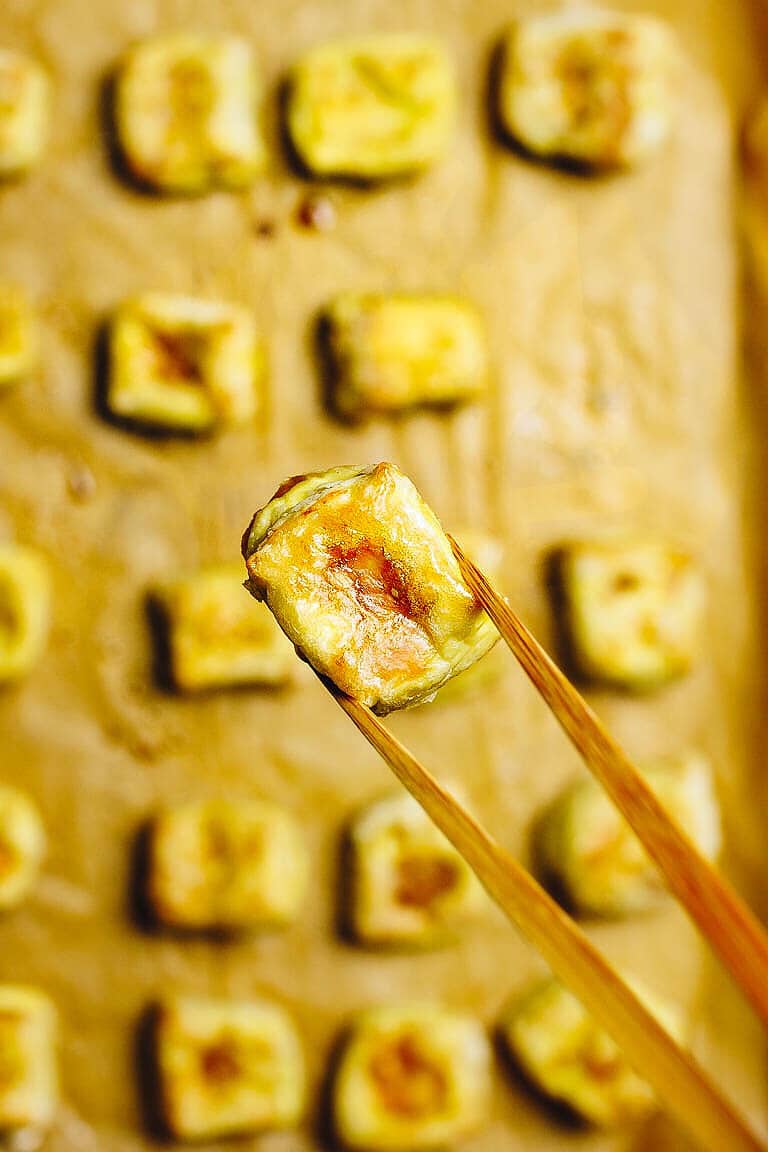 Simply dice the custard egg tofu to any shape you like. To mimic the tofu shape, I dice it to about 1-inch cube shape and lightly dust the cubes with arrowroot flour before baking them in the oven until crispy.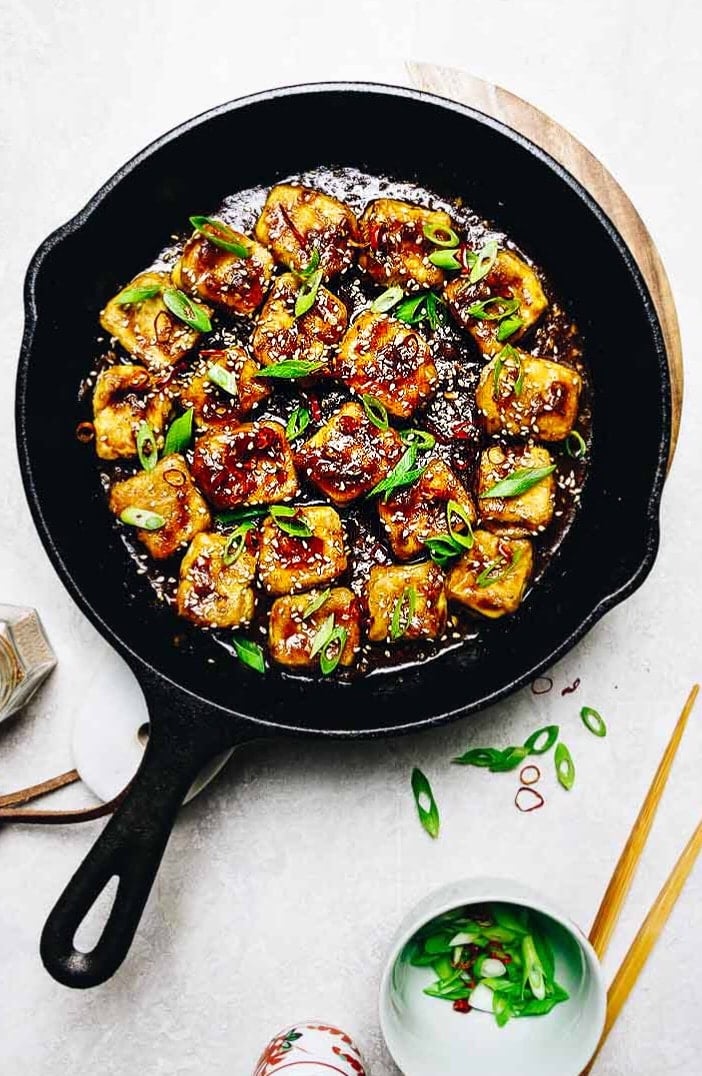 Whole30 Sesame Sauce
I took the sauce from my Whole30 Sesame Chicken recipe double the sauce quantity so there will be plenty to coat the baked soy free 'tofu' for the whole family to enjoy!
Keto Sesame Tofu Recommendations:
If you are on Keto (and depends on your daily net carb limits), you can still bake the egg custard tofu in the oven. Just skip the arrowroot.
You can swap the Paleo Whole30 Sesame Sauce for any dipping sauce you like or swap the dates in the sesame sauce for any Keto friendly sweetener (such as Sukrin Gold) and use xanthan gum to thicken the sauce to your desired consistency (more info in the recipe section).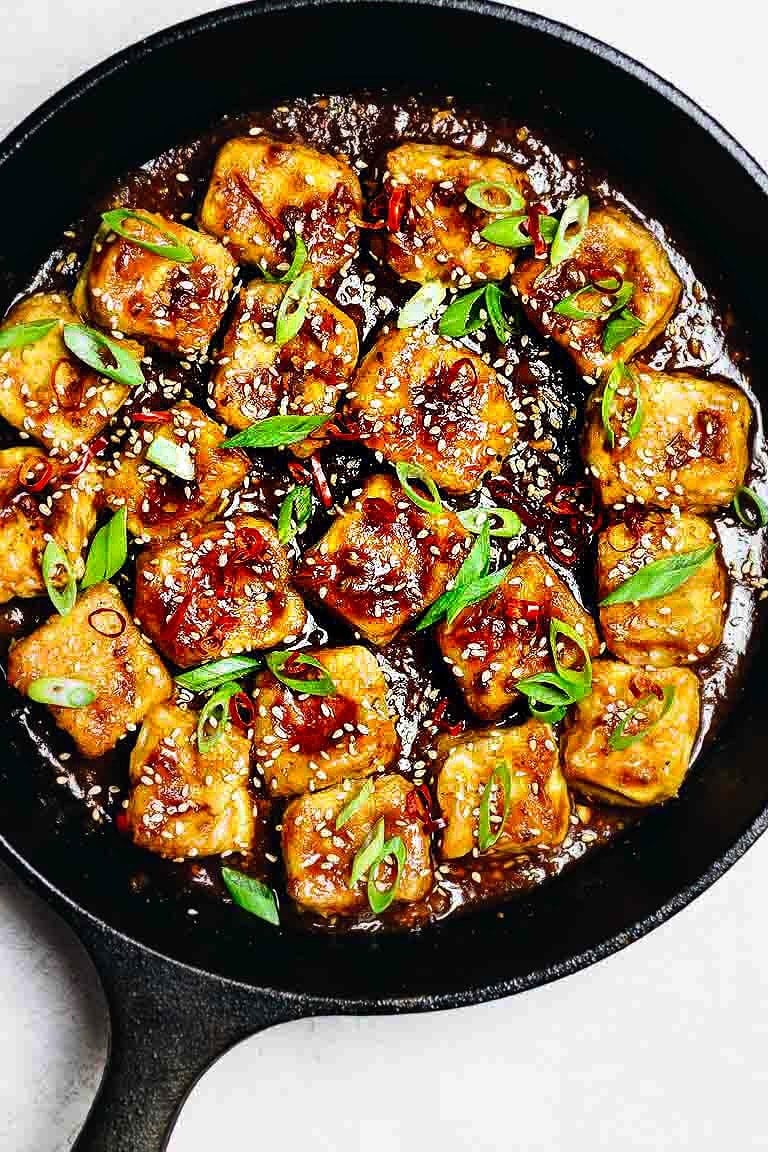 How to make soy free baked crispy sesame tofu
Make the steamed egg custard (Instant Pot or Stovetop) and chill overnight in the fridge
Dice the custard to your desired size and shape and lightly dust them with arrowroot flour
Bake until crispy and in the meantime make Paleo/Whole30 sesame sauce
Coat the sauce over baked sesame tofu. Garnish and serve!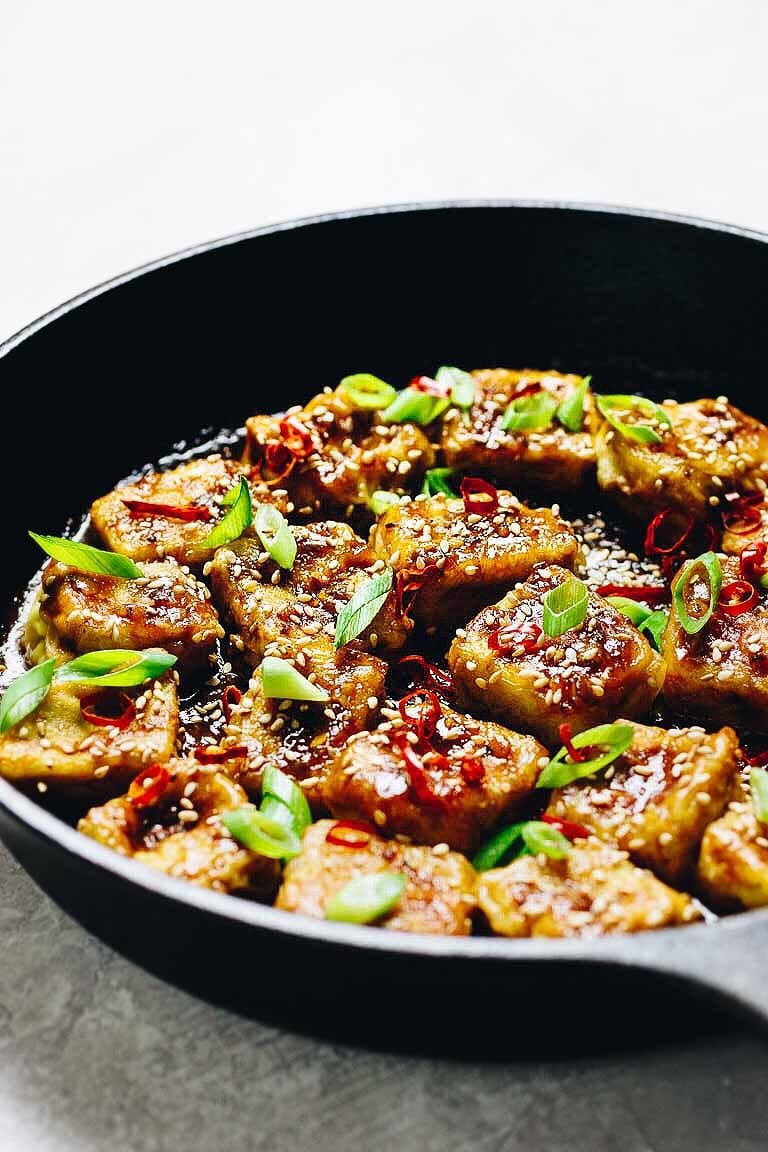 So my dear friends! This Paleo Crispy Sesame 'Tofu' is so good and out of this world! It is –
Soy free
Oven baked
Crispy
Versatile
& comes with Paleo/Whole30 sesame sauce
If you give this Paleo Crispy Sesame Tofu a try, be sure to leave a comment and rate the recipe. It'll help my blog and me tremendously. Thanks in advance !
Love my recipes? Be sure to subscribe to my blog to get my Free 3-part video training guide on How to Make 10 Delicious Paleo Meals in less than 10 Mins. Each!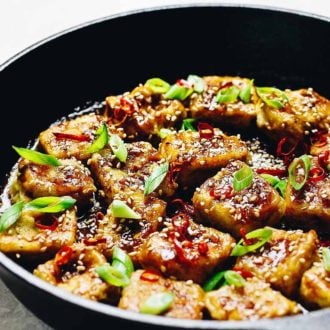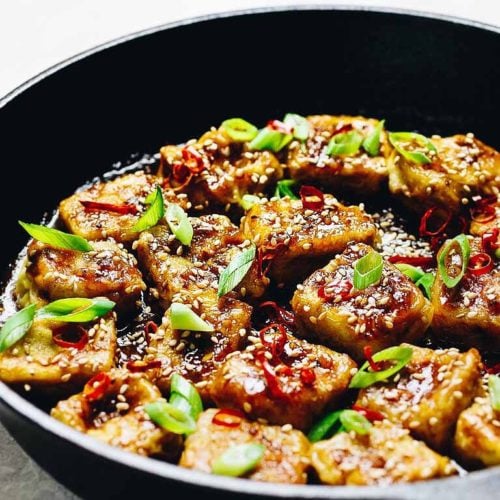 Paleo Crispy Sesame Tofu (Soy-Free, Low Carb, Keto Suggestions)
Paleo Crispy Sesame Tofu with oven baked soy free egg custard tofu. This baked sesame tofu is low carb with Whole30 sesame sauce and Keto suggestions. Makes about 20 pieces (1-inch cube shape) Paleo Crispy Sesame Tofu.
Print
Pin
Rate
Ingredients
Paleo Whole30 Sesame Sauce:
Other:
Slurry: 4 tbsp chicken stock, or water, vegetable stock + 1-2 tsp arrowroot flour
Toasted white sesame seeds
1 bulb scallion, ,chopped
Instructions
Prep: Preheat oven to 400F. Carefully dice the Paleo Soy Free Egg Custard 'Tofu' to 1-inch cubes (see notes). Prepare a large sheet pan, lined with parchment paper and lightly grease the paper with cooking oil spray.

Coat and Bake the tofu: In a large bowl add 3 tbsp arrowroot flour and light dust each tofu cube with the flour. Place the tofu cubes on the baking sheet pan with space and gap between each cube. Bake at 400F, middle rack, for 15 minutes. Then remove the sheet pan from the oven and flip each tofu cubes to bake the flip side. Return to the oven and bake additional 15 to 20 minutes or until they are golden crispy.

Sauce: In the meantime prepare the Sesame Sauce. In a small food processor (4-cup work bowl) finely chop/mince the dates, garlic cloves, and fresh ginger. In a bowl, combine the chopped ingredients with the rest of sauce ingredients. In a second small bowl, combine and stir-well stock with arrowroot (slurry) and set it aside.

Combine: In the last 5 minutes while the tofu is still in the oven, heat the sesame sauce mixture over a large skillet over medium low heat, stir often. As soon as the sauce is warmed up, stir the slurry one more time before adding it to the sauce. The sauce should start bubbling and thickening within 1 minute. Add the baked tofu and coat the sauce over each cubes.

Serve: Off heat. Garnish with toasted sesame seeds and chopped scallions. Best serve hot or warm. This dish can be served as a main dish or side dish.
Notes
To bake or pan-fry the Paleo Soy Free Egg Custard Tofu, it's best to chill the custard overnight in the fridge. The texture will be more firm after refrigerated. The texture is close to soft tofu. You can find the custard tofu recipe here.
To modify for Keto, replace dates in the sesame sauce for Sukrin Gold and thicken the sauce with Xanthan Gum. Taste and adjust the amount of keto friendly sweetener to your preference. Xanthan Gum is not Paleo friendly just a small FYI. You can also skip dusting the tofu cubes with arrowroot flour to reduce your carb intake. The texture of the baked tofu will be less golden crispy but still tastes good.
Pairing suggestions:
Nutrition
Serving: 1serving, Calories: 144kcal, Carbohydrates: 21g, Protein: 3g, Fat: 3g, Cholesterol: 93mg, Sodium: 461mg, Potassium: 108mg, Fiber: 1g, Sugar: 10g, Vitamin A: 225IU, Vitamin C: 1.3mg, Calcium: 14mg, Iron: 0.6mg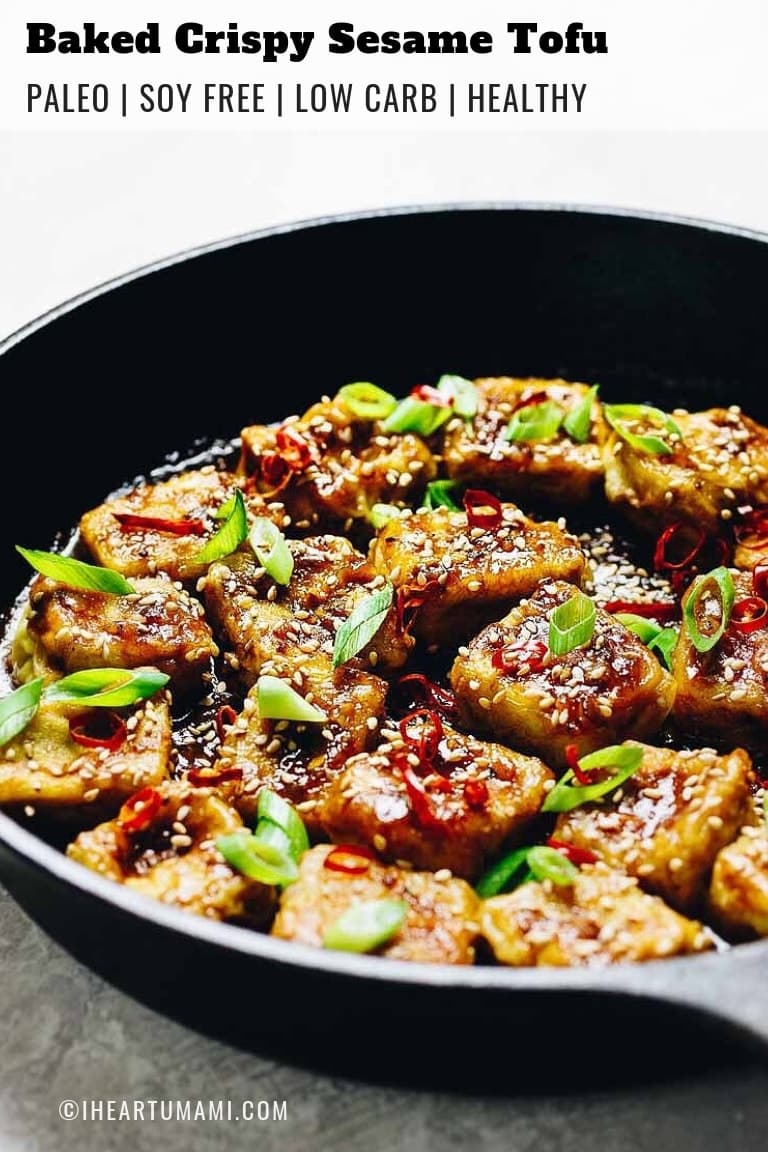 Love crispy and healthy recipes? Check out my Paleo Crispy Sesame Beef, Crispy Thai Chicken Apple Salad, Tender and Crispy Turmeric Roasted Chicken Thighs, and Malaysian Baked Chicken Wings. Also Paleo and Vegan friendly Chilled Cashew Tofu.