Instant Pot Taiwanese Beef Stew
Instant Pot Taiwanese Beef Stew originally is a famous Taiwanese Beef noodle soup recipe. The beef shanks are tender and super flavorful. If you love a good pot of beef soup/stew, definitely don't miss this Paleo, Whole30, and Keto beef stew recipe!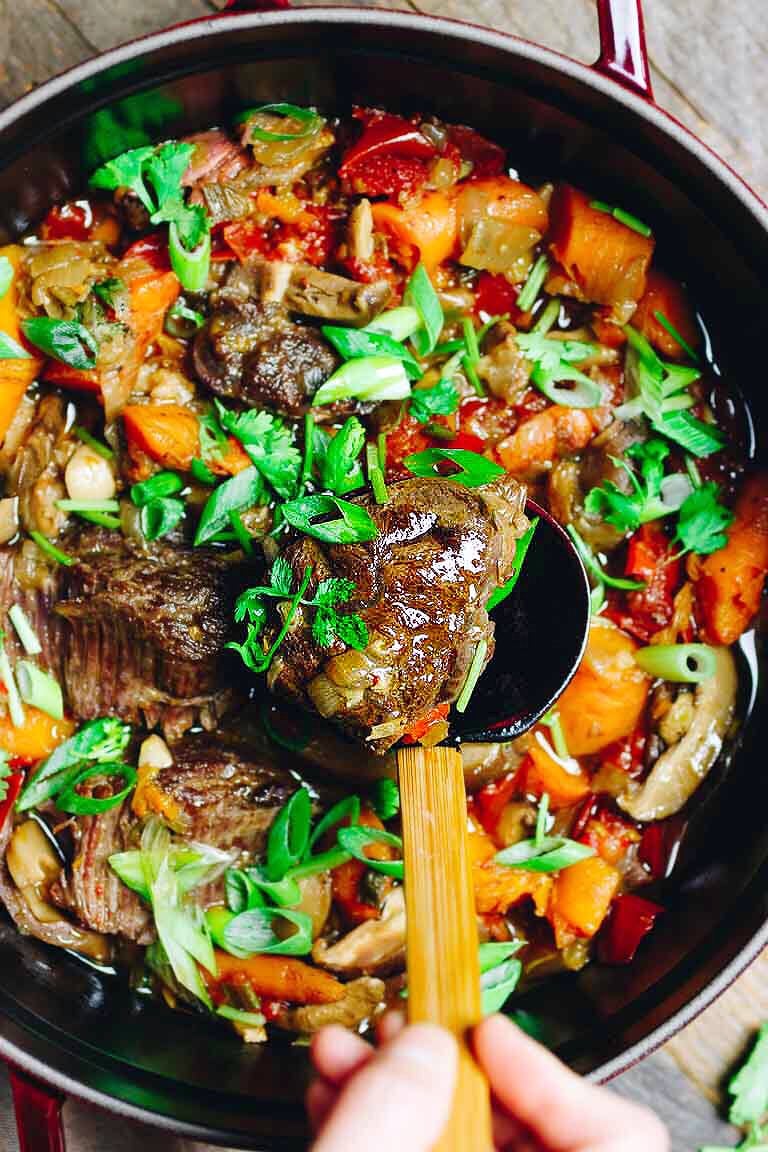 The most flavorful beef shank stew – Instant Pot Taiwanese Beef Stew
Beef noodle soup is Taiwan's most iconic dish. Everyone knows this dish and every household in Taiwan has its own method and ingredients when it comes to this national pride dish – beef noodle soup.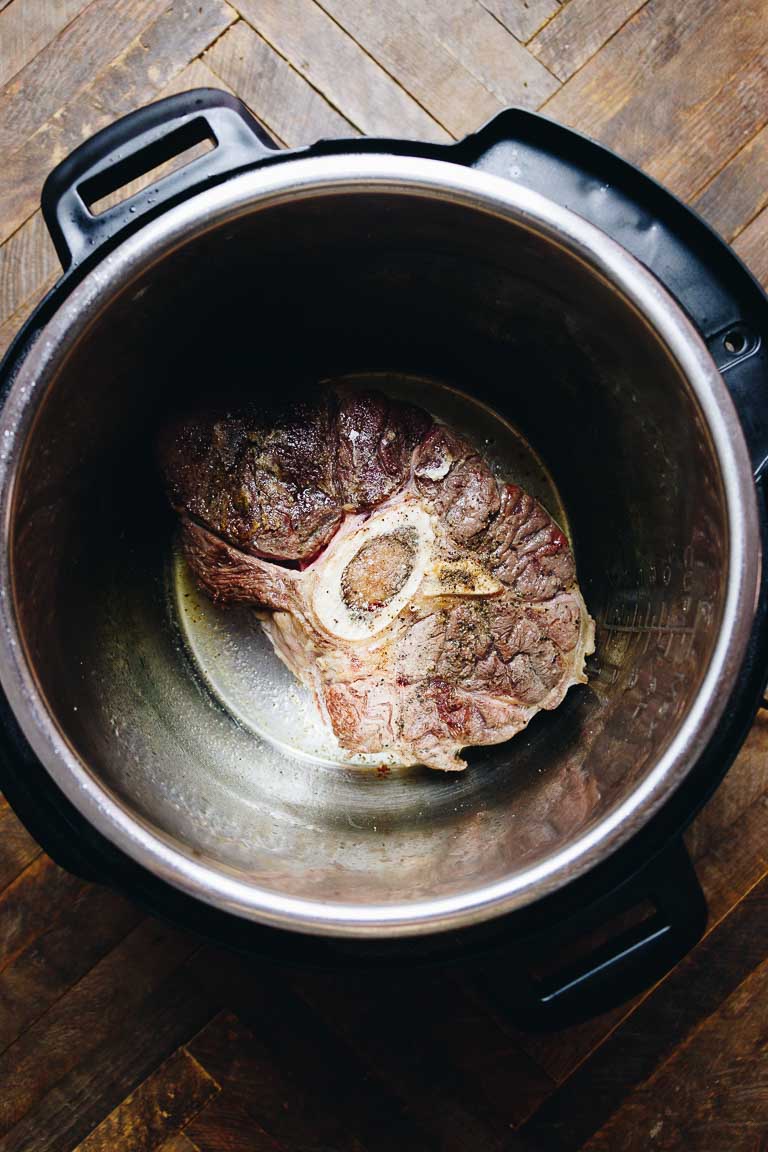 A few years ago when I started this blog I shared a stovetop version. This was back then when there was no Instant Pot available. The stovetop method delivers beautiful results however, it takes a lot more care to make the beef fall-of-the bone tender. So today I'm super excited to reveal my take on the iconic dish – Instant Pot Taiwanese Beef Stew.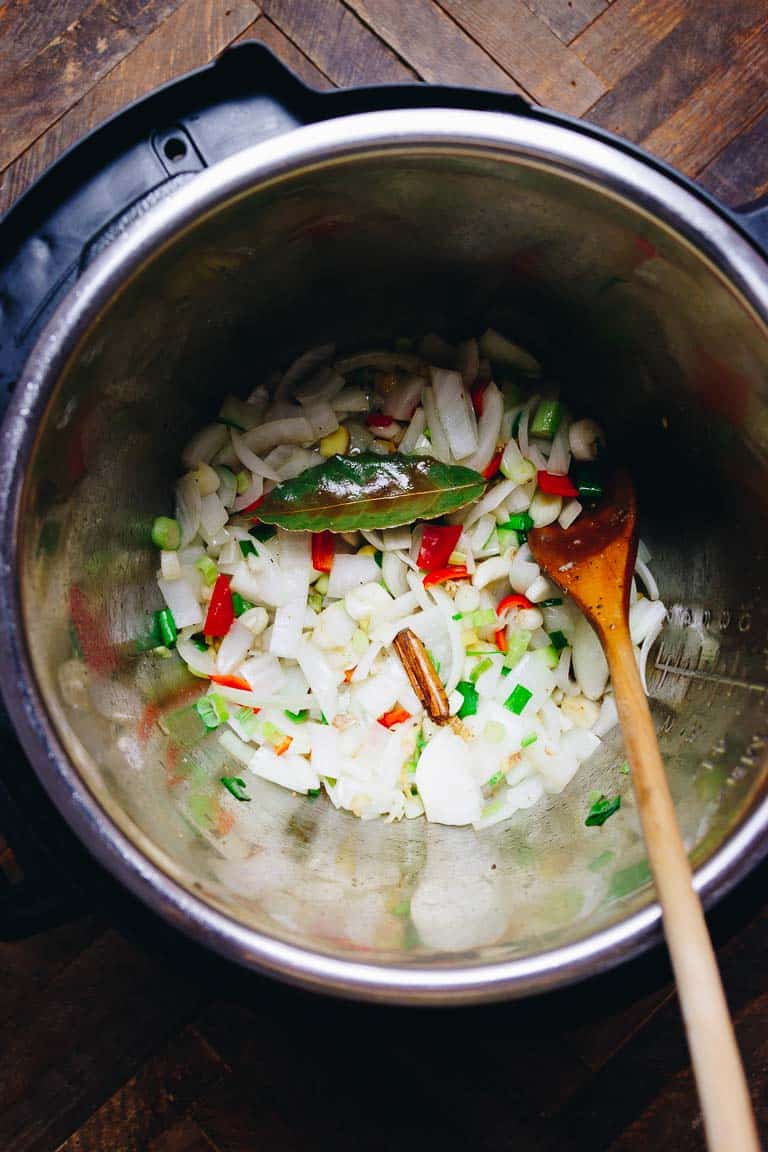 The most underrated cut – beef shank
There are two types of beef shanks when you shop at specialized Chinese butcher stores – regular beef shanks and golden beef shanks. Now the latter term does not mean that the shank comes in golden color but rather it means the cut is higher end than the regular one.
The shape of the beef shank in Asian markets looks different from Western stores, such as WholeFoods. In Asian stores they are cut in long and lean tube shape and often without the bones whereas in Western stores the shanks are cut horizontally across the shank bone. In the recipe below, I use the Western style cuts.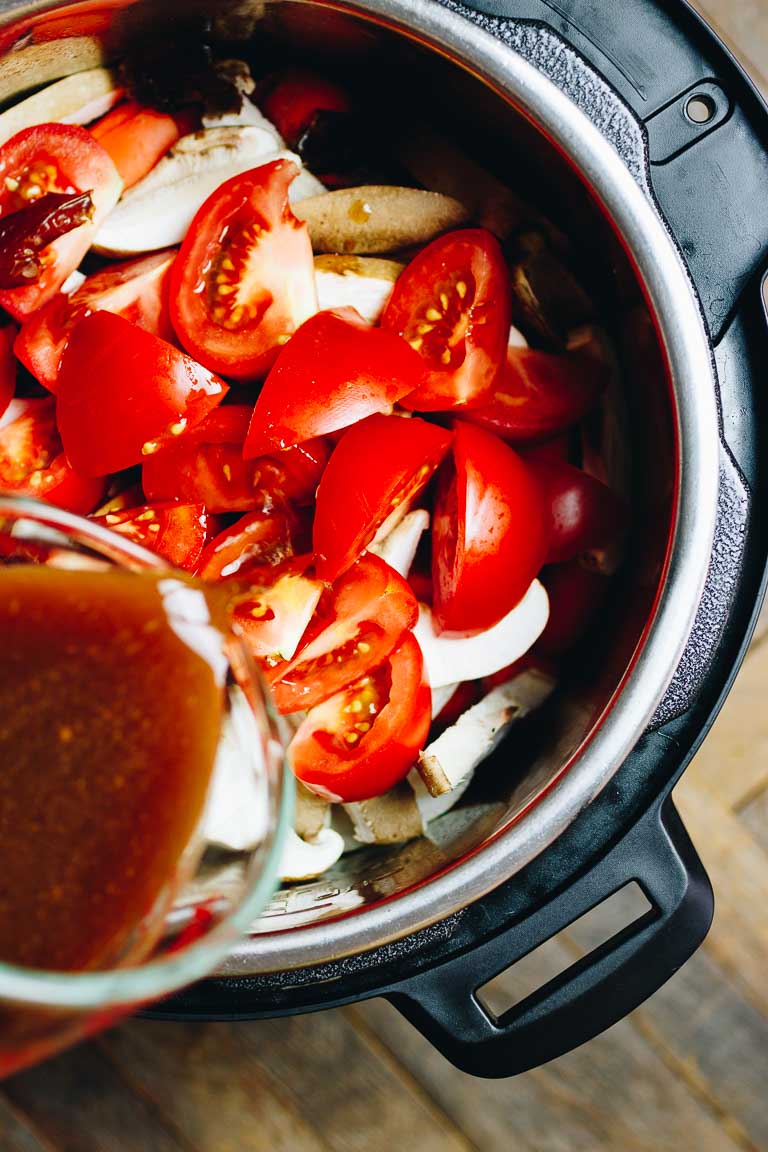 Beef shanks are cheaper because they are considered 'tougher meat' that's more chewy but if you shop at Asian stores, particularly Chinese stores, they are way more pricey. This is because most Asian recipes call for beef shanks to make beef stews, beef noodle soup, and braised shank appetizer.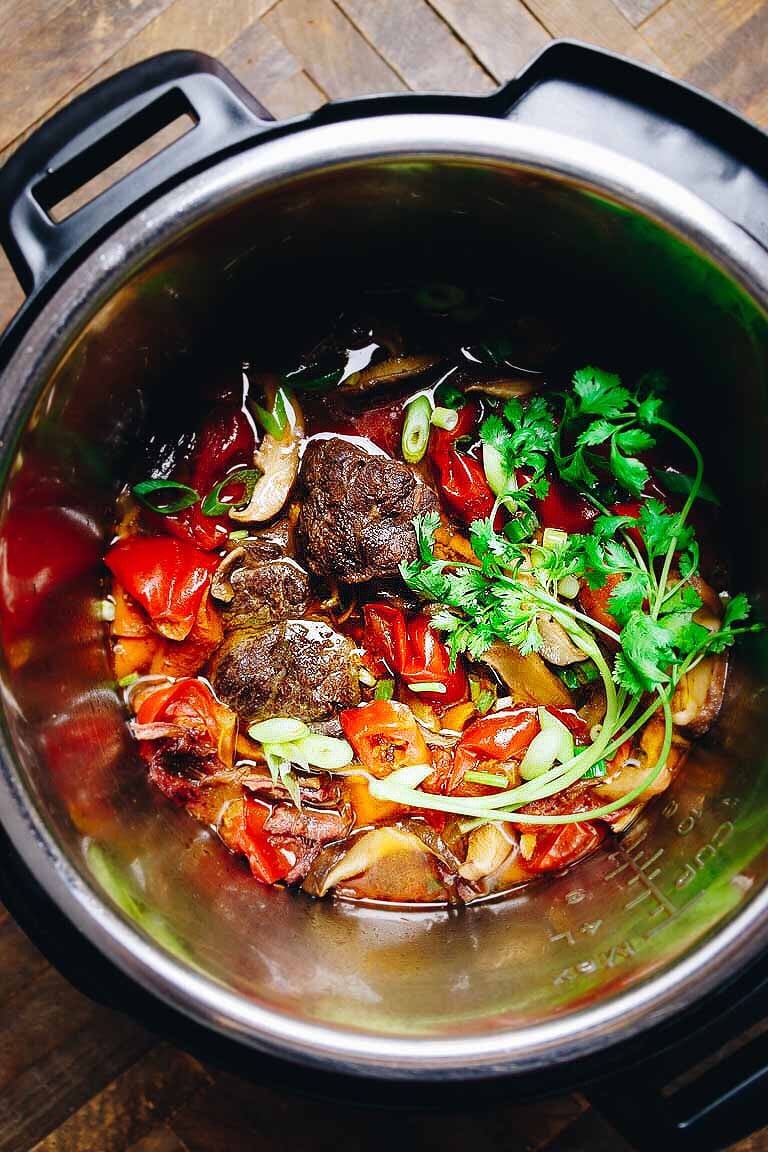 I immediately realize that the price per pound is so much cheaper in Western markets so why not use them to make a pot of Instant Pot Taiwanese Beef Stew and share it with my lovely readers. The beef is so fragrant and tender. The broth is out of this world.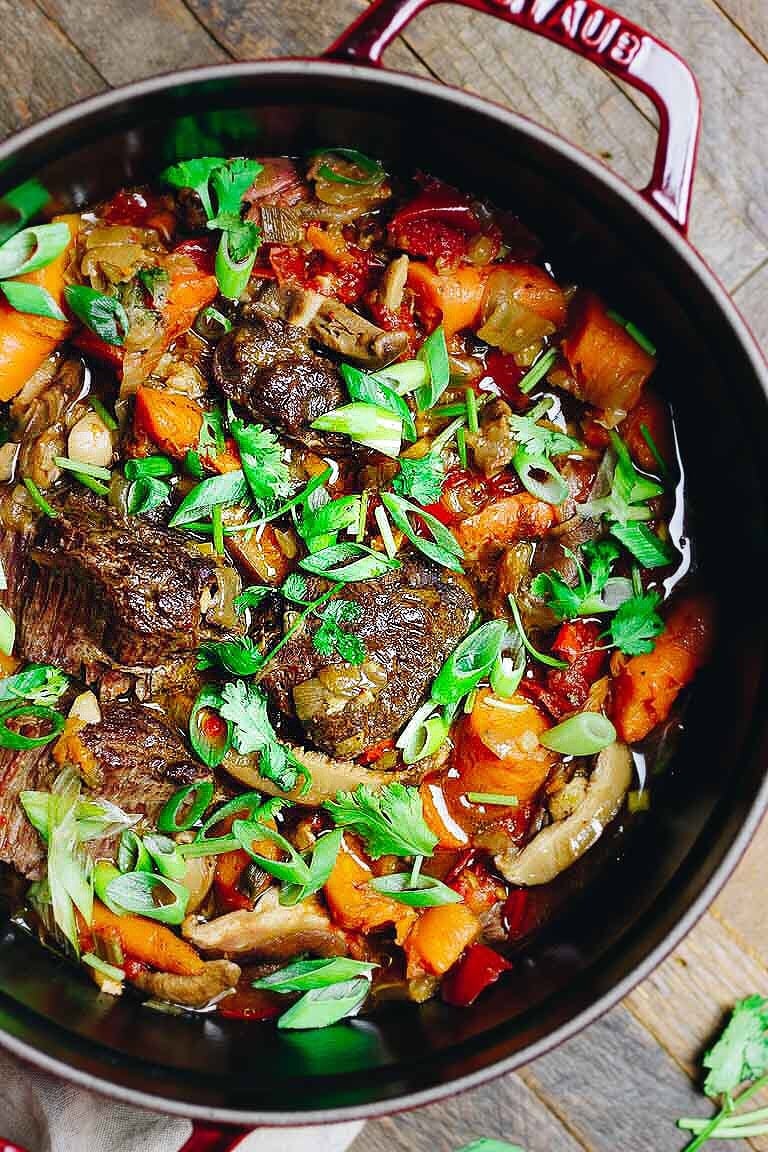 Stew or Soup?
The original Taiwanese beef noodle is a soup recipe. I use the same aroma and seasonings and turn the recipe into a beef stew. Be that as it may the stew liquid is on the more soupy side. And since the broth is very fragrant you can easily dilute the broth the next day and add some zoodles or any gluten-free or paleo friendly noodles to the broth. The stew liquid contains a lot of good-for-you beef gelatin so definitely worth saving every single bit!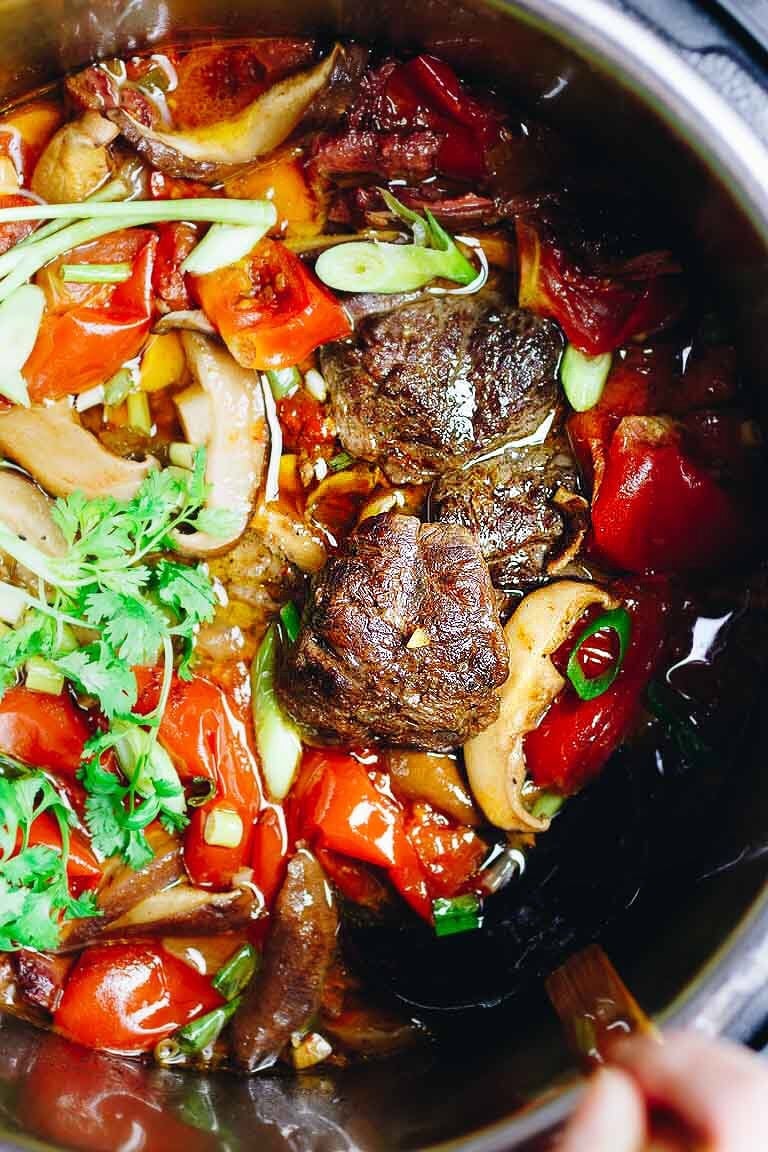 I love how easy and straightforward it is to make my Instant Pot Taiwanese Beef Stew. My husband loves it over mashed sweet potatoes and I love pairing it with a side salad or cauliflower fried rice. Make a big pot and swap a few sides, you can easily create meal variety!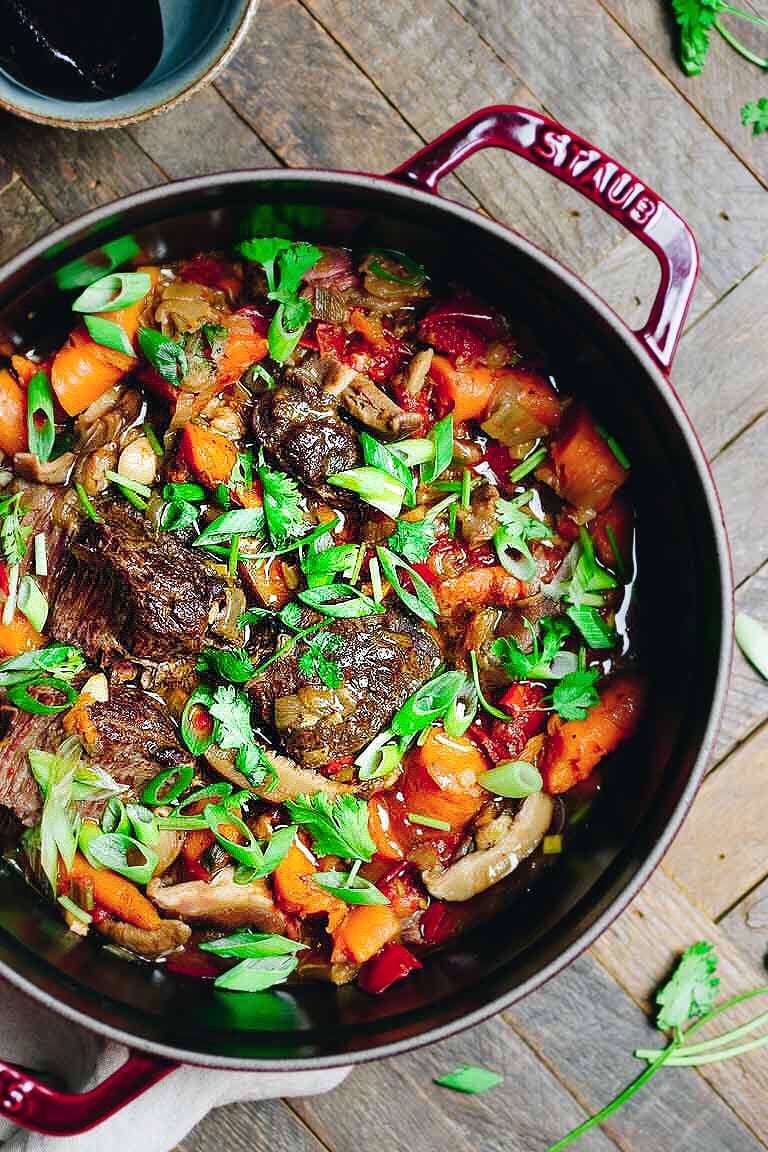 So my friends this Instant Pot Taiwanese Beef Stew is –
Tender
Super flavorful
Gorgeous stew
Fast, Easy
No added sugar
Paleo, Whole30, and Keto friendly.
If you make this Instant Pot Taiwanese Beef Stew, be sure to leave a comment and rate the recipe. It'll help my blog tremendously and I thank you in advance.
If sharing on Instagram, be sure to tag @iheartumami.ny. I'd love to see it!
And if you've read this far, why not SUBSCRIBE to my blog and Make 10 delicious Paleo meals in under 10 minutes each. I guarantee you are going to love it!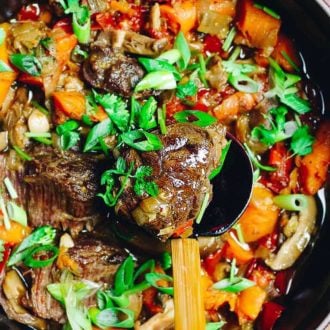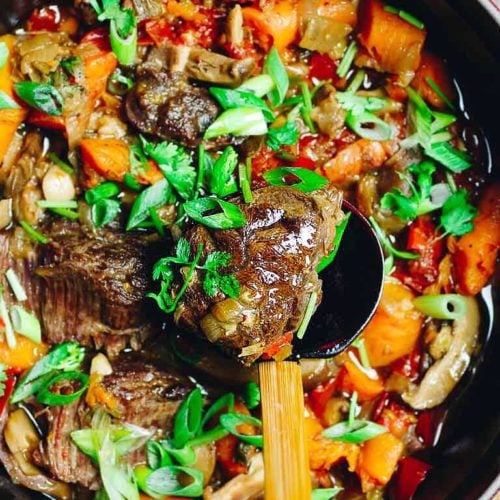 Instant Pot Taiwanese Beef Stew (Paleo, Whole30, Keto)
Instant Pot Taiwanese Beef Stew originally is a famous Taiwanese Beef noodle soup recipe. The beef shanks are tender and super flavorful. If you love a good pot of beef soup/stew, definitely don't miss this Paleo, Whole30, and Keto beef stew recipe!
Print
Pin
Rate
Ingredients
Aromatics:
1 medium yellow onion, , roughly diced
10 large garlic cloves, , chopped
2 tbsp finely chopped ginger
1 piece red chili pepper, , serrano, fresno, or jalapeno, remove seeds
One inch cinnamon stick
1 piece dry bay leaf
4 bulbs scallions, , chopped and separate white and green parts
Other:
4 large loose carrots, , diced to roughly 1 ½ inch chunks
3-4 medium size tomatoes, , roughly diced
3-4 whole pitted dates, , roughly break open in half use your hands. Omit for Keto
4-5 oz. fresh shiitake, , sliced (roughly 4 to 5 whole full size caps)
Avocado oil, saute use
Cilantro, garnish, optional
Beef:
2.5 lbs beef shank, , bone-in (Alt. short ribs, stew beef, or oxtail)
Roughly ¼ tsp coarse salt + ¼ tsp ground black pepper per side
Instructions
Prepare the ingredients under 'Aromatics' and 'Other'. Set aside. Season the beef shank with coarse salt and pepper on both sides. Mix well beef stock with coconut aminos, five spice powder, and salt. Set aside in a bowl.

In a 6-quart Instant Pot, press Saute. When the panel shows Hot, add 2 tbsp avocado oil, sear the beef about 3 minutes per side. Set them aside. If not enough oil in the pot add 1 to 1 ½ tbsp oil. Saute onion, garlic, ginger, chili pepper, cinnamon stick, bay leaf, and white scallion parts. Season with a pinch of salt and saute until fragrant (about 15 seconds). Press cancel/keep warm.

Add Stew seasonings. Use a wooden spoon to scrape the pot so nothing is stick to the bottom. Place beef on top of the aromatics. Add diced carrots, tomatoes, dates, and shiitake. Seal the lid and valve – Manual – High pressure – for 45 mins. Wait for 15 minutes before quick release.

Carefully remove the beef shanks. Debone then add them back to the pot. Garnish with green scallion parts and cilantro, if using. Serve with a side of simple salad, mashed potatoes, or cauliflower/broccoli fried rice!
Notes
The stew will gel once cooler. For the next day, you can add a bit more beef stock and turn the stew into beef 'noodle' soup by adding spiralized veggie noodles.
For the original Taiwanese Beef Soup that's a stovetop version, please check it out here. 
Nutrition
Serving: 1serving, Calories: 289kcal, Carbohydrates: 15g, Protein: 40g, Fat: 7g, Saturated Fat: 2g, Cholesterol: 66mg, Sodium: 623mg, Potassium: 1164mg, Fiber: 3g, Sugar: 6g, Vitamin A: 12135IU, Vitamin C: 23.4mg, Calcium: 78mg, Iron: 4.9mg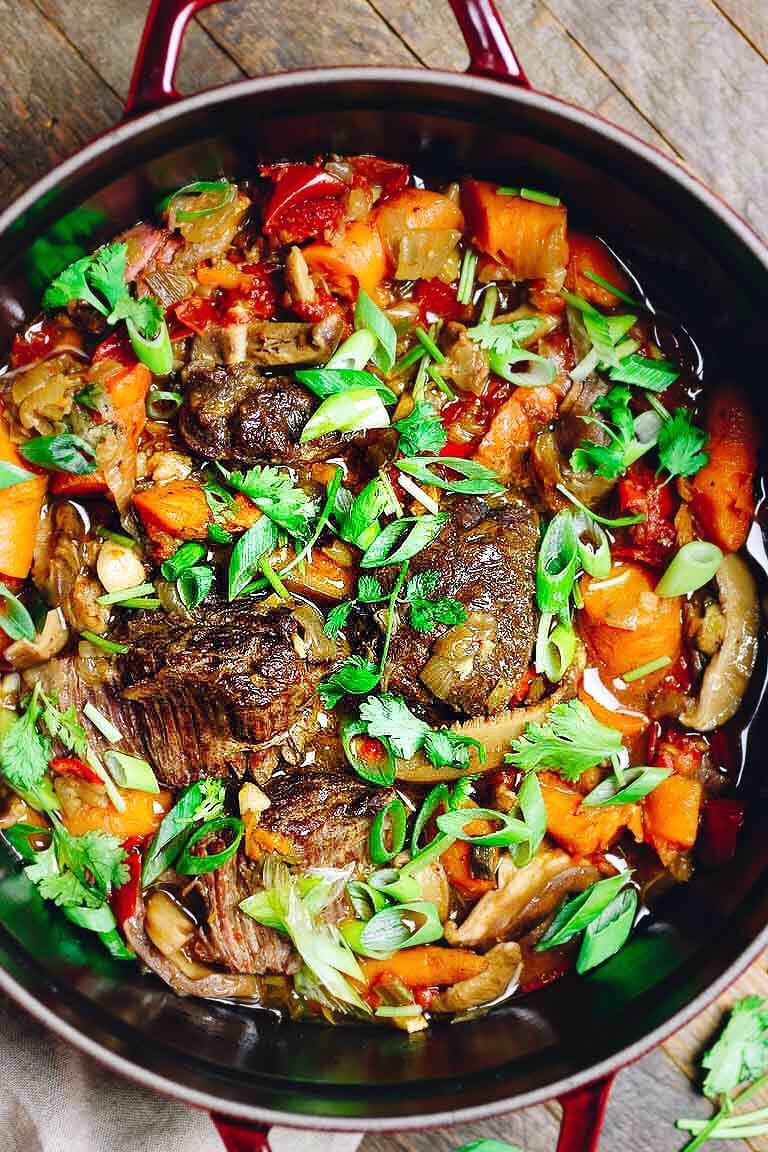 Love Instant Pot Recipes? Also check out my Instant Pot Vietnamese Brisket Pho, Instant Pot Vietnamese Beef Stew, Chinese Chicken Bone Broth, Instant Pot Butter Chicken, Pumpkin Chicken Korma, 1-minute Strawberry Compote, and Best Whole30 Instant Pot Recipes.