Paleo Chilled Cold Tofu Substitute
Paleo Cold Tofu Substitute recipe made with cashew tastes creamy and nutty delicious! This soy free and Keto friendly cashew tofu made with cashew flour is inspired by Japanese Goma tofu. If you think tofu tastes plain and boring, this recipe will change your mind! 4 ingredients and tastes better than regular tofu! Serve with my Paleo Thai 'Peanut' Sauce, chopped tomatoes, cilantro, and scallions for a quick and healthy Paleo Tofu Salad in no time!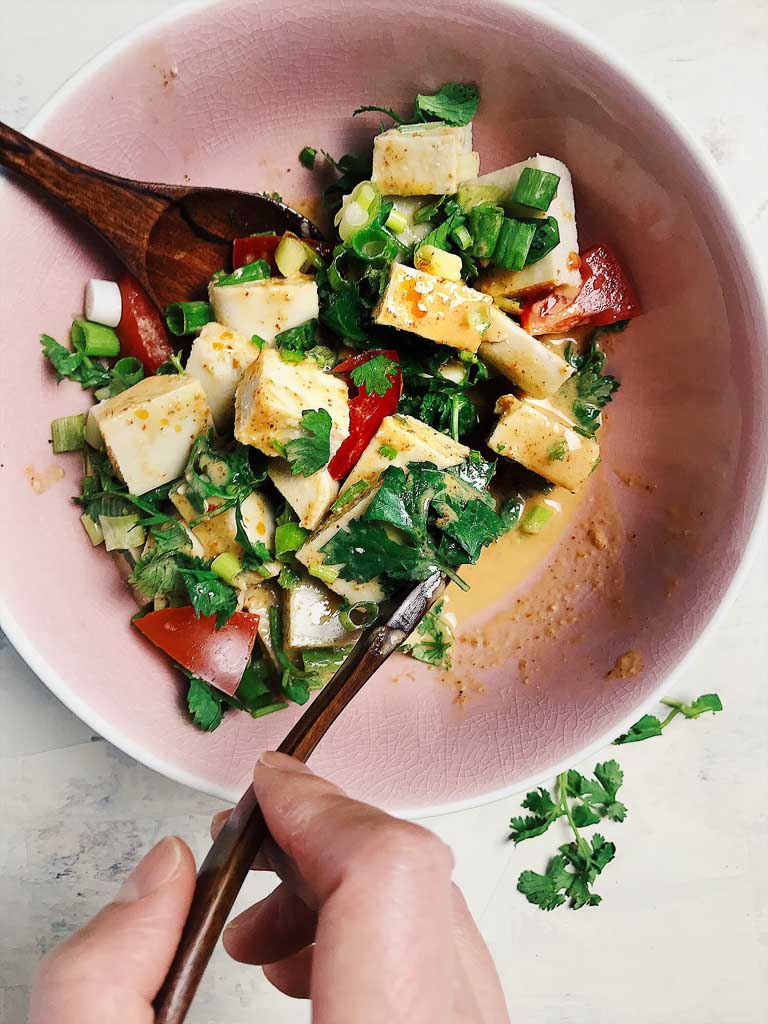 Paleo Cold Tofu Substitute Recipe
Super excited to share my Paleo Cold Tofu Substitute recipe with you today ! I've been working on this Paleo Tofu recipe for more than a month and have finally landed a version that's low in carbs and easy to make, and that tastes creamy delicious !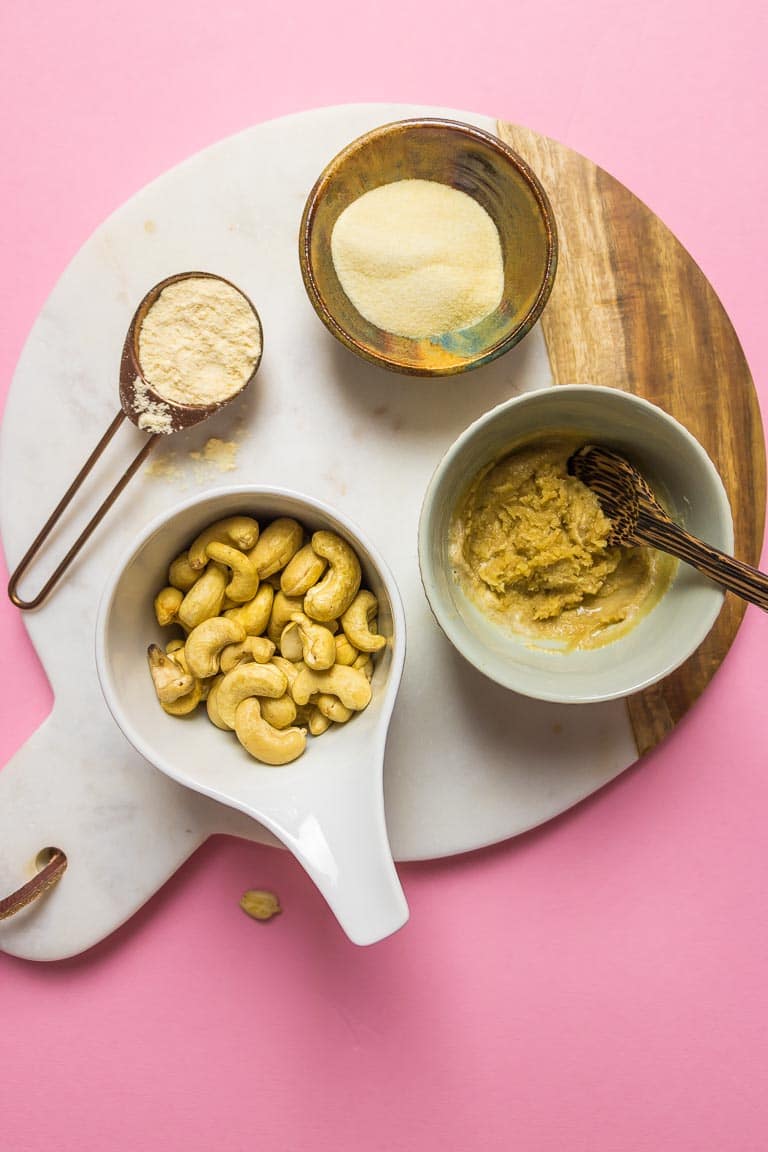 Easy, Low carb, and Creamy delicious !
Growing up in Asia, I'm definitely a tofu fan. Tofu comes in various texture, shape, and some flavor variety. If you've tasted the real tofu made from the real (not genetically modified) soy beans, it's the best thing ever – so creamy and milky delicious. The real tofu is definitely not taste-less and boring like the most ones we have today.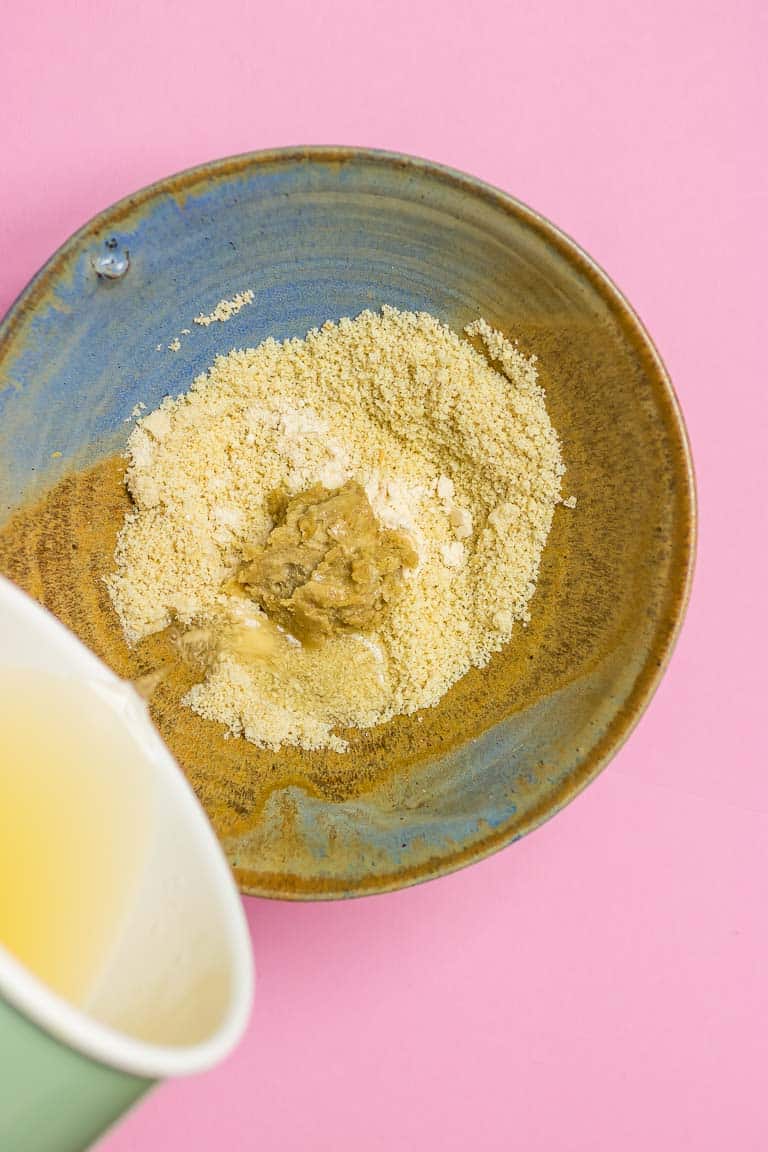 Soy free and bean free cold tofu
I want my Paleo Cold Tofu Substitute recipe low in carb, easy to make, yet creamy delicious. If the substitute version does not provide healthy benefits, why bother to recreate it ? This cold tofu version is inspired by Japanese Goma Tofu. Goma means sesame and it's served chilled/cold as a side dish or salads.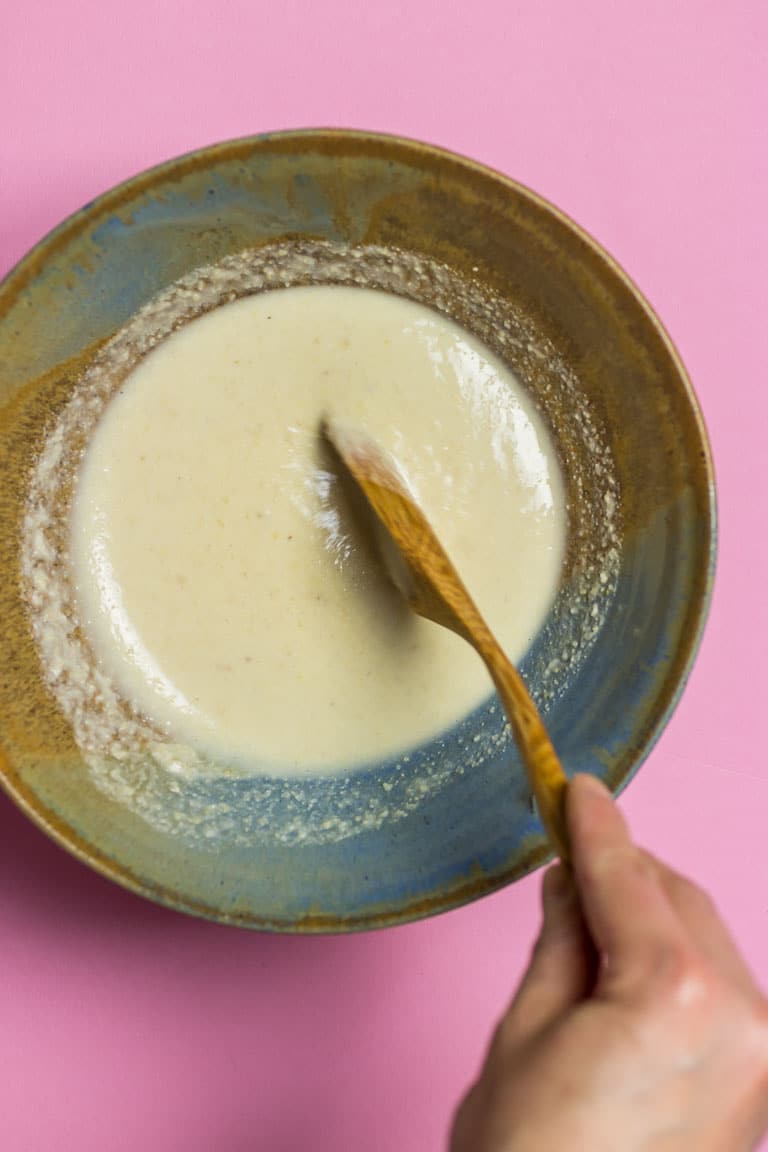 Chilled/Cold v.s. Pan-Fried
To keep the Paleo Tofu low in carb, instead of using starch, I use gelatin to help binding the ingredients. Because gelatin melts under heat, you can't pan fry this Paleo Cold Tofu Substitute recipe. There will be another version that I'll share very soon that you can use to pan-fry. Be sure to check back here often for update !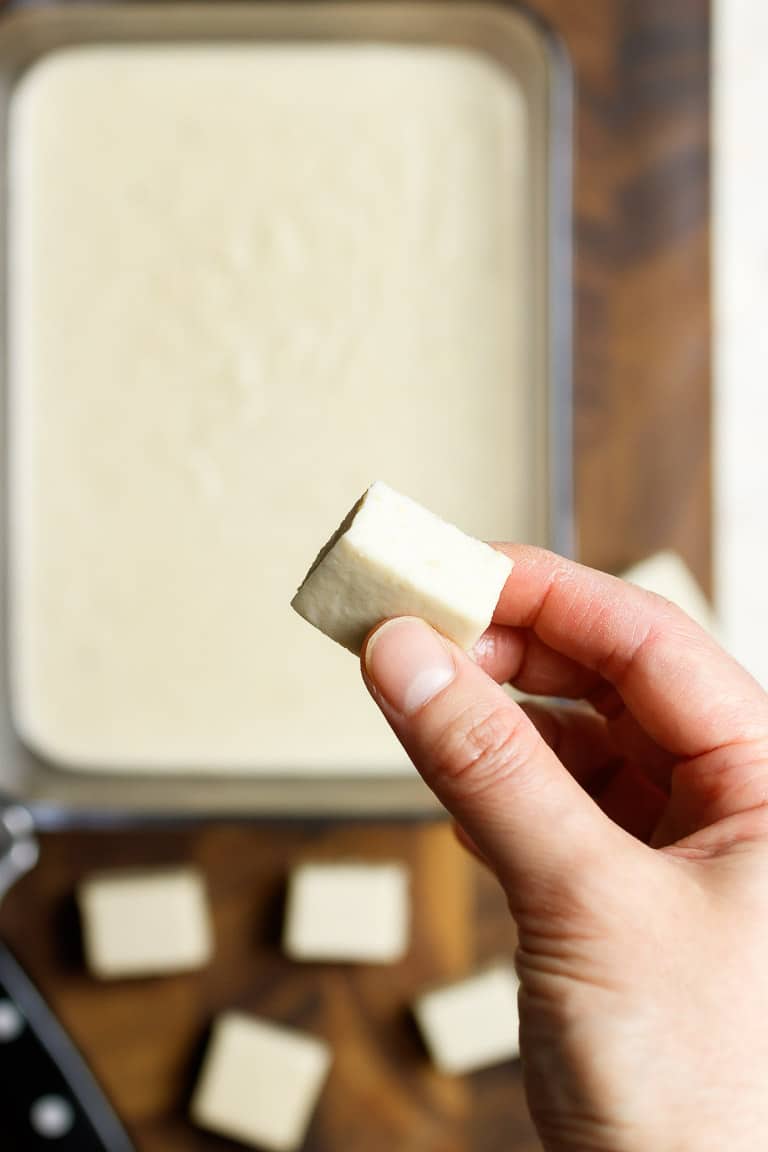 Flavor and Texture
Instead of using tons of flour or starch, I use either beef gelatin or agar agar powder (a plant based thickener) to make my Paleo Cold Tofu Substitute recipe. You will not taste the beef gelatin flavor because it's in very small quantity instead, the nutty flavor from cashew or macadamia nuts will hit your taste buds first, followed by an almost nut butter cream-ish flavor that melts in your mouth.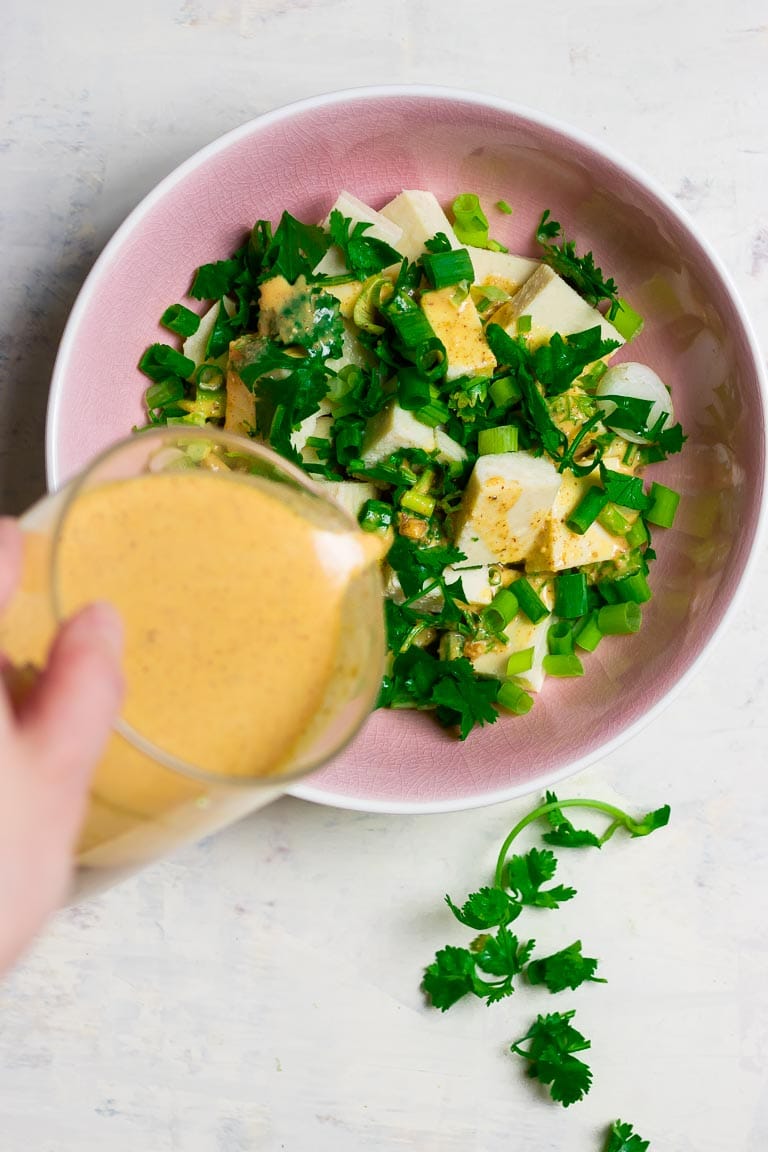 The texture of this Japanese-inspired Paleo Cold Tofu is different from the real tofu or Burmese chickpea tofu (AKA Shan tofu) that's made from chickpeas. It has tofu-like spring/little bouncy texture like we are familiar with but is more satiating and creamy. My husband, Nate, who is not a tofu fan and even he loves and asks for this Paleo Cold Tofu salad all the time (see picture below).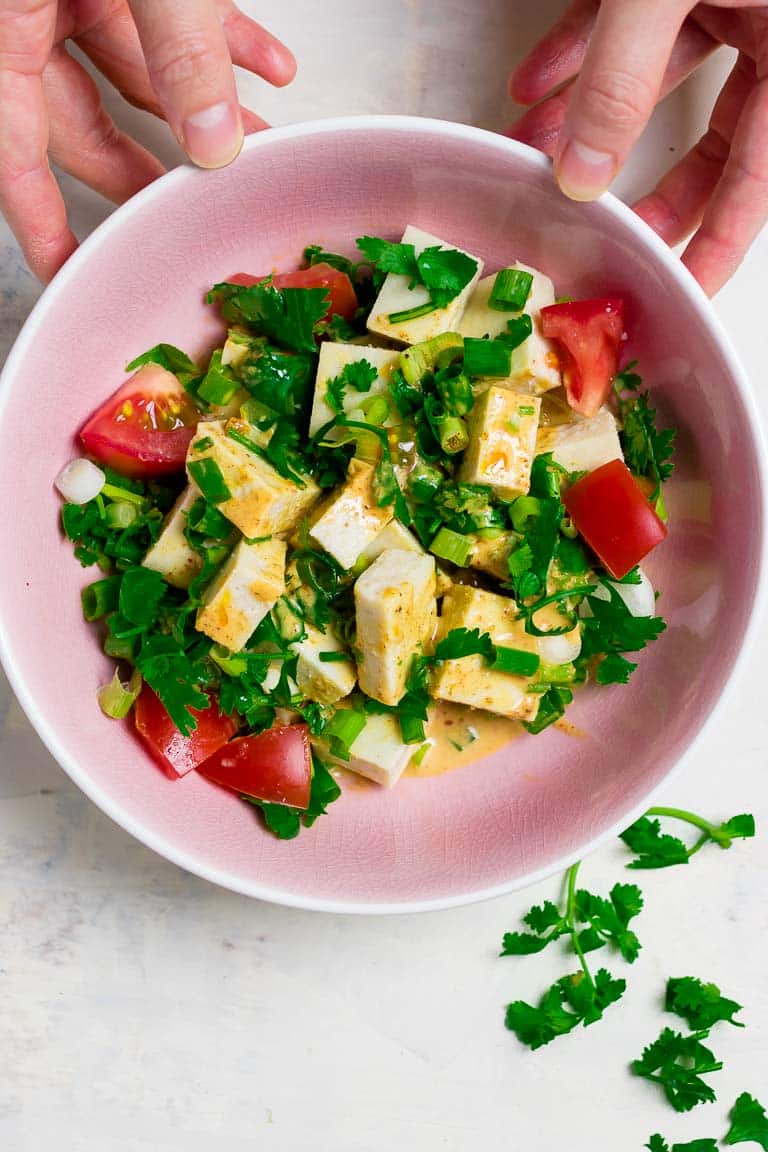 How to serve my Paleo Cold Tofu Salad ?
You can use any salad dressing you want. My favorite is my Paleo/Whole30 Thai No Peanut 'Peanut' Sauce. They are match made in heaven ! The nutty flavored Paleo tofu, paired with creamy and naturally sweet Paleo Thai 'peanut' sauce is absolutely delicious ! Add some chopped tomatoes, scallions, cilantro (optional), and mixed baby greens…voila ! You'll have a bowl of Paleo Cold Tofu Salad in no time !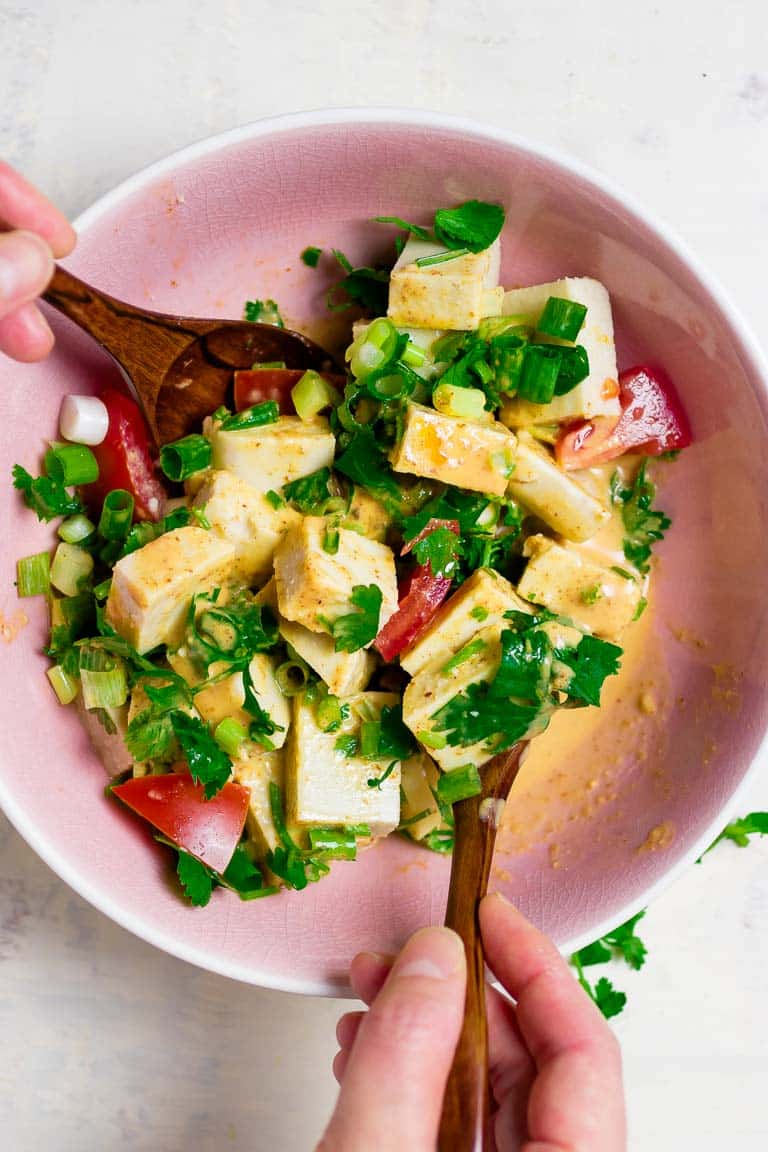 So my friends, this Paleo Cold Tofu Substitute is –
Soy-free
Bean-free (no legumes)
Low carb
Easy to make
Healthy
Creamy delicious
& Paleo Keto friendly with Vegan option.
Hungry for more ? Subscribe to get my newsletter delivered straight to your inbox !
I guarantee you are gonna love this Paleo Cold Tofu Substitute recipe. Let me know how it goes! Leave a comment and rate the recipe. And don't forget to take a picture and tag it #IHeartUmami on Instagram. I'd love to see what you come up with. XOXO !
Paleo Cold Tofu Substitute (Keto, Soy-Free, Low Carb, Easy)
Easy Paleo Cold Tofu Substitute recipe is soy free and Keto friendly made with cashew flour, inspired by Japanese Goma tofu. Healthy low carb tofu has never tasted so creamy delicious. 4 ingredients and tastes better than chickpea tofu! Serve with my Paleo Thai 'Peanut' Sauce, chopped tomatoes, cilantro, and scallions for a quick and healthy Paleo Tofu Salad in no time!
Print
Pin
Rate
Instructions
Toss the nuts in a small 4-cup work bowl. Scrap the bowl a few times until the nuts are finely ground to almost powder-ish. Add the nut flour with salt, coconut flour, and tahini paste (optional) in a large heat-proof mixing bowl. Set aside. Bring 1 cup of water to boil, gradually add-in 1 ¼ tbsp beef gelatin while stirring the water with a wooden spoon until the gelatin is completely dissolved (about 3 minutes).

While the gelatin water is still hot (but not pipping hot), slowly add the liquid into the nut flour mixing bowl. Use a wooden spoon to stir carefully until there are no lumps (about 1-2 minutes).

Add the entire mixture back to the same pot you used to boil the water. Heat the mixture over medium-low heat for about 2 to 3 minutes or until the mixture becomes thicker, almost like a thick grits texture. Stir frequently with a wooden spoon.

Pour the hot mixture into a heatproof and flat bottom rectangular container. You don't need to grease the container. Use the back of a spoon to quickly spread the mixture into all corners and gently tab the container a few times to even out the surface. Let cool then store in the fridge for 1-2 hours until it gels. Store in the fridge at all time. Best finish within 5 days.

To serve: Slice them into cubes. Serve with my

Thai no peanut 'peanut' dressing

. Add any leafy greens, chopped tomatoes, scallions, or cilantro if you like ! Serve cold and immediately.
Notes
Copyright notice: If you like to share my recipes or photos on your blog, you must get written permission first. Use the contact form to send me a message before using any of my content on your blog/website. Modification of this recipe does not void the copyright. We routinely scan websites that violate copyright issue. If you want to re-write the recipe and with modified ingredients in your own words, we ask for a follow link back to this original post. Thank you! 
For vegan options: Dissolve 1 tsp agar agar powder with 1 cup hot boiling water. Skip 1 tbsp coconut or cassava flour in the recipe. And use either finely ground cashew flour or macadamia flour. Agar agar has stronger gel consistency than beef gelatin so you will not need coconut or cassava flour to bind the ingredients.
You cannot pan fry (heat) this version of the Paleo Cold Tofu. The gelatin makes this Tofu Substitute recipe low in carb but it will melt when in contact with heat. I will share a second version that can be pan fried and without nuts soon. Please check back here often ! Thanks ! 🙂
Not sure what agar agar powder is ? Check out this article and then decide if agar agar is okay for you or otherwise just use beef gelatin for extra protein & collagen ! I guarantee that you won't taste the beef gelatin at all.
Beef gelatin to Agar agar ratio / conversion: 1 to 1 ¼ tbsp gelatin = 2 tbsp agar flakes = 1 tsp agar powder.
The nutrition label is calculated with beef gelatin, coconut flour, cashew flour, and without tahini paste for one serving out of four total. 
Nutrition
Calories: 103kcal, Carbohydrates: 5g, Protein: 5g, Fat: 7g, Saturated Fat: 1g, Sodium: 82mg, Potassium: 106mg, Fiber: 1g, Sugar: 1g, Calcium: 6mg, Iron: 1.1mg
Want main dishes that go well with my Paleo Cold Tofu Salad ? Check out my Paleo Cold Ramen Noodles, Paleo Chicken Broccoli Stir-Fry, Chicken Cabbage Stir-Fry, Easy Beef with Broccoli, and Instant Pot Taiwanese Meat Sauce !