Mandarin Chicken Salad with Asian "Peanut" Dressing
This Mandarin Orange Chicken Salad is fresh and full of sweet mandarins and crisp cabbage. With crunchy almonds and an unbelievably addictive creamy Paleo Asian peanut sauce, it's one of my favorite salads to bring to potluck or for easy supper. Keep the extra almond butter made peanut sauce in the fridge. You'll want to drizzle it on everything!
This Mandarin Chicken Salad pairs perfectly with Crispy Orange chicken, Mongolian Chicken, or Baked Gyoza Meatballs.
Mandarin Chicken Salad (Paleo, Whole30)
This simple Mandarin salad recipe is made with cooked chicken, shredded green cabbage, radicchio, sweet mandarin oranges, crunchy slivered almonds, and an unbelievably creamy and sweet Asian-inspired Whole30 peanut salad dressing.
The crisp cabbage and bitter-sweet radicchio pair beautifully with the creamy and little sweet dressing. I also added my own touch – with Tatsoi (塌棵菜)- in my salad bowl to make this Asian-inspired salad recipe uniquely mine.
It's incredibly easy to make yet full of flavor and nutrition. I'll show you how to make the best version and with shortcut recommendations.
The best dressing for Mandarin Orange Salad with Chicken
For a salad that's crip and crunchy, I select a salad dressing that's creamy and a little on the richer side to balance the texture. A thicker-styler salad dressing incorporates well with crunchy shredded greens so that every bite is full of flavor.
The key to my Asian Peanut Sauce salad dressing is the Mandarin orange juice concentrate from a can. I use WholeFood's canned Mandarin orange and it's sweetened with pear juice and with no added sugar. That concentrated flavor really adds a good sweetness to the dressing.
I also use almond butter to replace peanut butter. You can also use cashew nut butter or sunflower seed butter for a nut-free version. You can learn more about the salad dressing in my original recipe post.
I usually make a double batch to enjoy throughout the week and it never lasts that long because you'll want to drizzle it on everything! We use it not only as dressing but also as veggie dip with carrot and celery sticks. OMG try the sauce once and you'll know what I mean. 🙂 #SuperAddictive
How to make Mandarin Orange Salad with Chicken
This Mandarin chicken salad is really easy to make. I place everything in a big salad mixing bowl and prepare the dressing on the side. When it's ready to serve, I toss the two together and voila! colorful, tasty and nutritious meal ready in no-time! It's also great for office lunch!
I prefer using fresh shredded green cabbage and radicchio. You can also use shredded purple cabbage. Radicchio is more bitter than purple cabbage but it counterbalances the sweet almond butter made salad dressing really well.
Feel free to use teriyaki chicken, yakitori chicken, or crispy lemon thyme chicken thighs for extra flavor! Today, I use cooked chicken to keep it simple and easy.
How to create variety and make your own favorite version
The beauty of this Mandarin orange salad with chicken is that it's super versatile. You can really add in anything and it would still be super delicious! Just make sure to pair it with my paleo peanut sauce because that's what makes this whole salad recipe extra tasty!
Can you use tangerines?
In short, yes but here are some details. Tangerines are a specific type of mandarin orange. They are less sweet and a bit more tart than mandarins. I've tried this recipe with fresh tangerines and canned mandarins and I have to say I prefer the canned version more. The oranges are tender, sweet, and extra juicy and the juice from the can makes a wonderful natural sweetener for salad dressing.
This article talks about the different types of oranges – mandarins, tangerines, clementines, and Satsuma Mandarins. It's worth checking it out.
Can you prepare this Mandarin Salad in advance?
Yes! Separate the dressing from the salad and combine them before you are ready to serve. I also prefer to add the mandarins last after I mixed everything so that they don't fall to the bottom of the bowl.
You can see a picture of how I pack them for lunch salad-in-a-jar – with the dressing at the bottom and greens over the top. Feel free to add a boiled egg and roasted sweet potatoes to make it more hearty.
Tips for the Best Mandarin Chicken Salad
Use freshly shredded green cabbage so that the salad tastes extra juicy. If using premade store bought, make sure the greens look fresh and not dry or look past their prime time.
Bitter greens like radicchio work really well with the creamy "peanut" dressing. This might be the only occasion I enjoy radicchio so I highly recommend you give this veggie a try!
Canned mandarin oranges and the concentrated juice surprisingly work better than fresh ones in this recipe. Read the ingredient lists to make sure there's no added sugar.
Feel free to use grilled chicken or meatballs for extra flavor!
The peanut sauce turns thicker in the fridge. To thin, add a bit more juice.
More salad recipes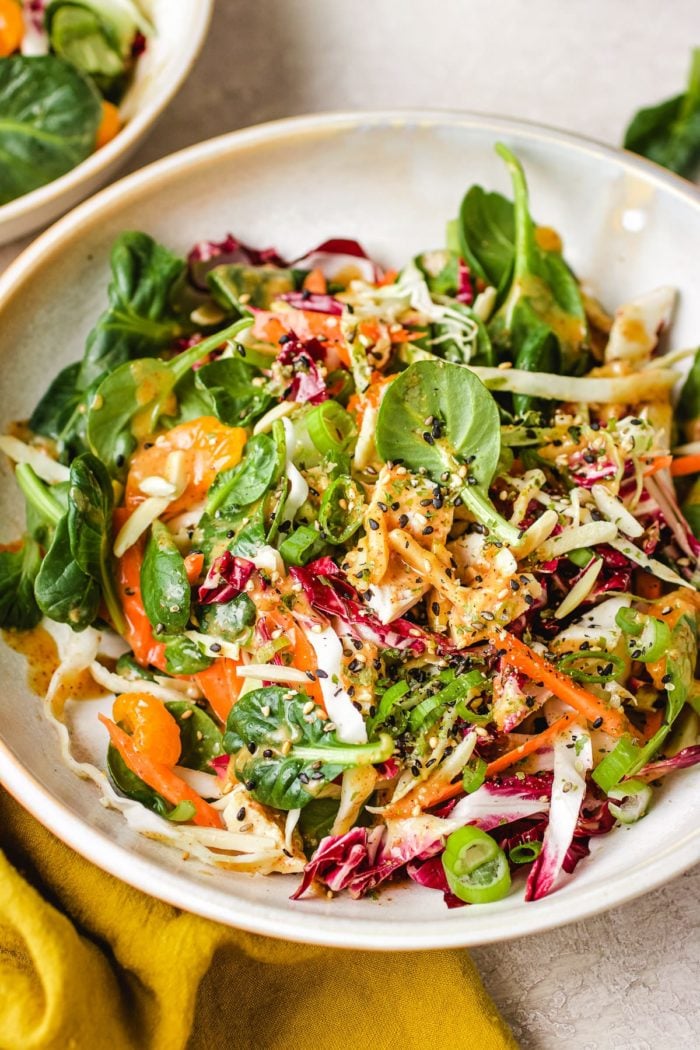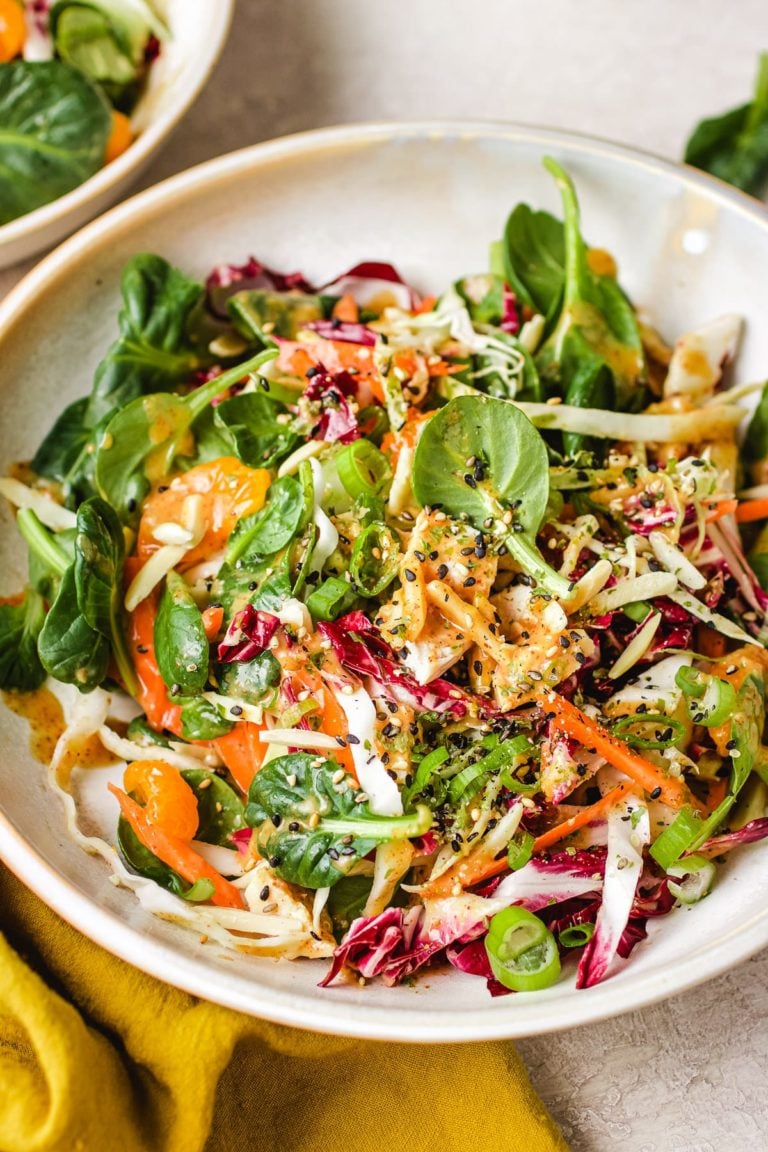 Friends! This Mandarin orange chicken salad has quickly become one of my top favorites. It's not only easy to make but also super versatile. You'll notice that I introduce some lesser known veggie – tatsoi – to my salad recipe and it just shows you that you can basically throw-in any type of greens you want to make it your own favorite! Be sure to pair your Mandarin chicken salad bowl with my creamy paleo and whole30 "peanut" salad dressing. It kicks the flavor to the next level and I can totally see this salad might quickly become one of your favorites, too!
If you give this recipe a try, please rate the recipe and leave a comment below. My readers love learning from each other. It also helps me continue to deliver free content to you. Thanks in advance!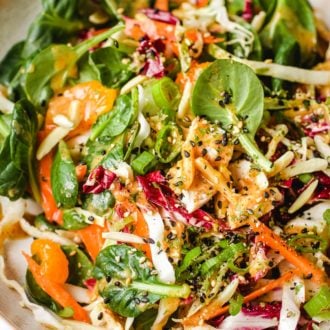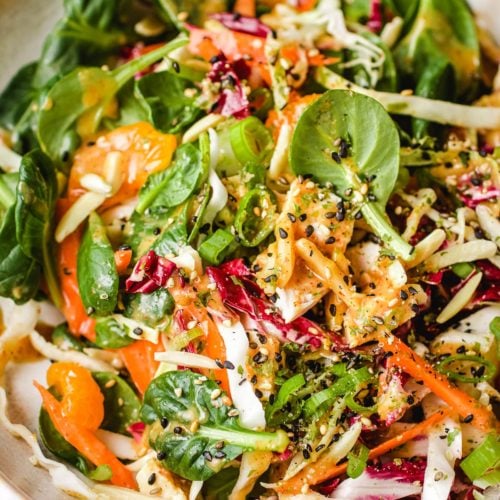 Mandarin Orange Chicken Salad (Paleo, Whole30)
Mandarin Orange Chicken Salad recipe is Paleo/Whole30. With sweet mandarins and crisp veggies, drizzled in a unbelievably delicious Asian peanut sauce.
Print
Pin
Rate
Ingredients
4 cups shredded green cabbage
2 cups thinly sliced radicchio or purple cabbage
2 cups tatsoi, see notes
2 cups julienned carrots
0.5 lb cooked chicken breasts or thighs, diced
2 bulbs scallions, chopped
0.5 cup slivered almonds
Coarse seas salt to taste
10.5 oz canned mandarin oranges, I use WholeFoods in pear juice
Toasted white or black sesame seeds, optional
For the Asian peanut sauce/salad dressing: (makes 1 cup)
2 tbsp coconut aminos
3 tbsp almond butter, or cashew nut or sunflower seed butter
0.25 oz grated garlic
0.25 oz grated ginger
1.5 tbsp rice vinegar
⅓ cup olive oil
Instructions
In a large salad mixing bowl, add ingredients from cabbage to almonds.

Drizzle the salad dressing over the salad bowl. Toss and incorporate well. Season with salt to taste. Place the mandarin oranges on top. Sprinkle toasted sesame seeds, if using. Serve at room temperature or slightly chilled.
Notes
Tatsoi is a type of Asian baby greens. The texture is similar to baby spinach and it tastes milder than bok choy. Feel free to substitute with more green cabbage or carrots.
Radicchio tastes slightly more bitter than purple cabbage. The bitter flavor balances really well with the sweet almond butter made "peanut" sauce.
Use grilled teriyaki chicken, baked chicken meatballs, or add cooked shrimp to create variety!
Nutrition
Serving: 1serving, Calories: 316kcal, Carbohydrates: 14g, Protein: 17g, Fat: 22g, Saturated Fat: 3g, Cholesterol: 32mg, Sodium: 169mg, Potassium: 546mg, Fiber: 5g, Sugar: 5g, Vitamin A: 8249IU, Vitamin C: 27mg, Calcium: 105mg, Iron: 2mg
Also check out my 40 Easy Paleo Dinner Recipes, Whole30 Salad Dressing Recipes, 25 Low Carb Meal Prep Ideas!