Paleo Asian Meatballs
Paleo Asian Meatballs with jumbo juicy ground beef Paleo Asian flavored meatballs, half baked and half roasted in the oven until fork tender. These ground beef Asian meatballs are Paleo, Whole30, and Keto low carb!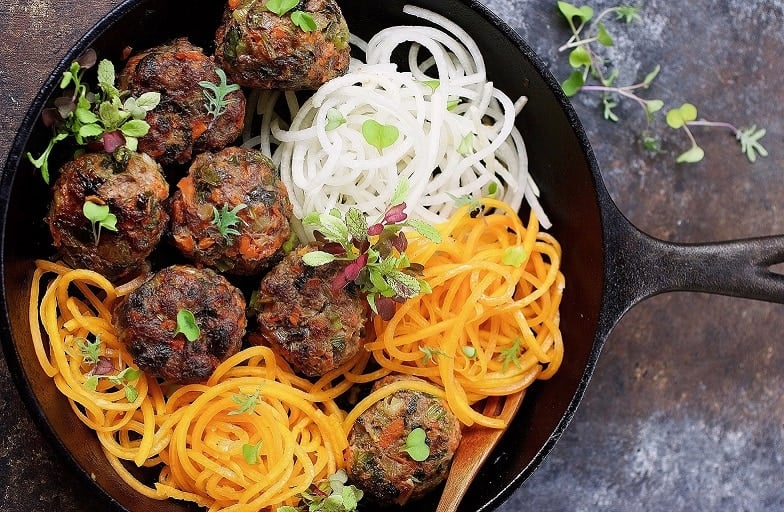 Love meatballs? Then you certainly don't want to miss Winter melon soup with meatballs and Lions' head meatballs!
Watch and share the 1-minute cooking demo to see how I use a muffin tin to make the juiciest Paleo Asian Meatballs!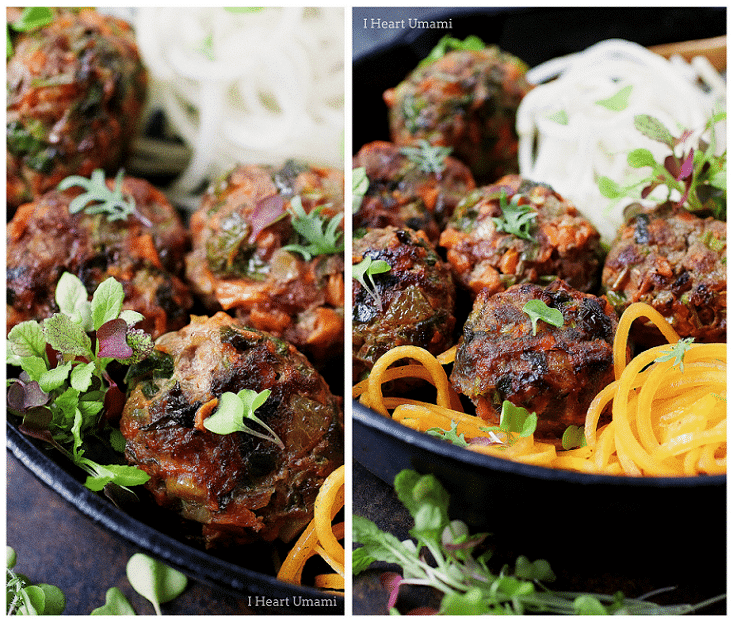 Paleo Asian Meatballs Made In Muffin Tin
To make these Paleo Asian Meatballs juicy and flavorful, I added more vegetables and used little starch.
The texture of the meatballs is meant to be soft and fork tender so I found that a muffin tin holds the meatball shape super well.
Because the muffin tin preserves the meatball juice, you can use the juice as dressing over low carb butternut squash/ zucchini/ sweet potato noodles.
It's rich and savory. Perfectly delicious !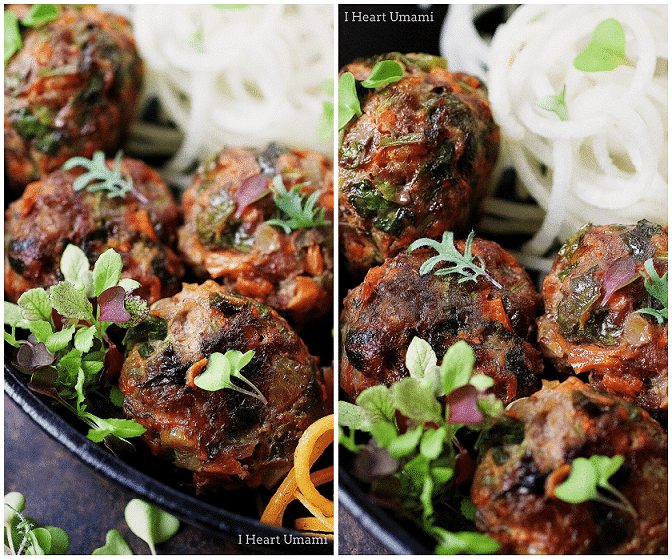 A Few Tips From My Kitchen
When forming the meatballs, use your hands to make sure that the meat and the veggies cohere well.
A few people have told me that using an ice cream scoop is faster and easier to make meatballs but in this case, because we're using very little flour/starch (lower carbs) and more vegetables, you need to use your hands to apply some pressure to form the meatballs or otherwise they might fall apart in the oven.
Carefully flip them halfway through the baking time and you'll have the most tender and juicy Paleo Asian Meatballs.
Scroll down to find more make-ahead tips in the recipe. If you've tried my recipe(s), please rate and leave a comment below so others can learn from you as well!
I sometimes write about stuff I think you'll like. I Heart Umami has affiliate partnerships with a few very selected companies that align with the Paleo food philosophy. I may get a share of the revenue from your purchase with no extra charge to you.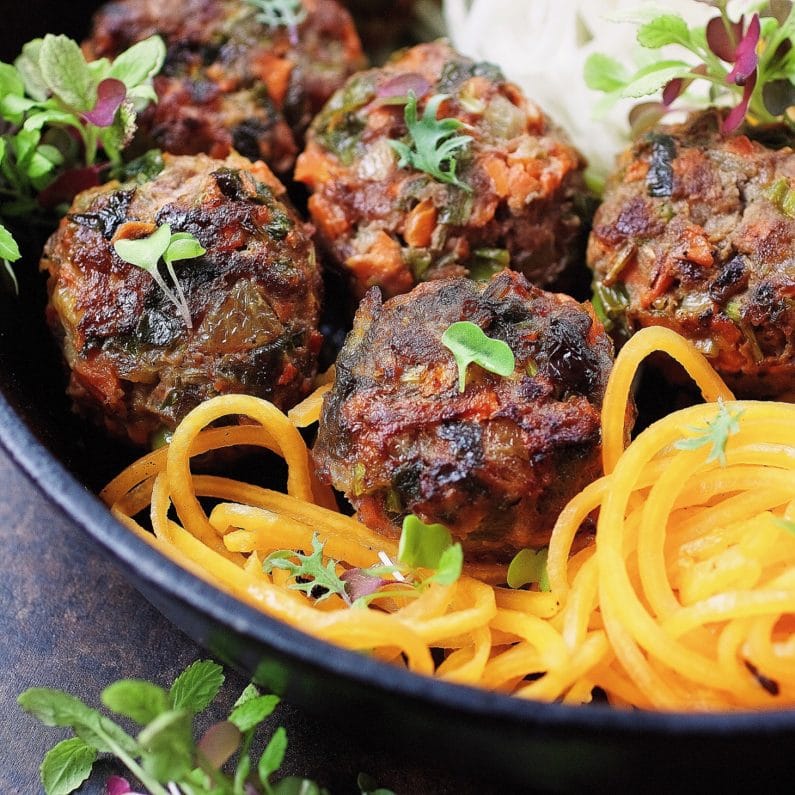 Paleo Asian Meatballs recipe
Jumbo and juicy Paleo Asian flavored meatballs that are half baked and half roasted in the oven until fork tender. These meatballs are also Keto and Whole30 friendly. Hands-on time: about 15-20 minsBake time: First side 15 mins. Flip side 10 mins at 410 F/210 C.
Print
Pin
Rate
Ingredients
1 1/2 lbs ground beef
1 cup carrots, finely chopped
Half 1 whole small yellow onion, diced
1 cup Italian flat parsley, finely chopped
3 bulbs scallions, finely chopped
1 1/2 tbsp fresh grated ginger
Coconut oil (to grease the muffin tin)
Optional pairing:
1 tsp minced garlic
Butternut squash, sweet potato, or turnip spiralized noodles
Cooking fat of your choice to saute the noodles
Instructions
Finely chop carrots, yellow onion, flat parsley, scallions, and prepare grated ginger. If use a food processor, toss the ingredients a few times but do not over process them. It will be too watery.

Preheat oven to 410 F/210 C. Combine ground beef, ingredients under "Meatball seasonings", and ingredients from Step 1. Combine and mix well.

Lightly grease a muffin tin with coconut oil. Use your hands to gently apply some pressure to form the meatballs. Make sure the chopped veggies and the ground meat are coherent well. Form about 18 individual meatballs.*

Bake the meatballs in the muffin tin. First side about 15 minutes. Use a small spoon to carefully flip them and bake the flip side for an additional 10 minutes.

In the meantime, heat ½ tbsp cooking oil in a large skillet over high heat. When hot, lower the heat to medium, add minced garlic and squash noodles. Give them a quick stir-fry until the noodles are softened yet still crisp. Season with salt and black pepper to taste.

To serve: scoop out the meatball juice inside the muffin tin and use that as dressing over meatballs and noodles.
Notes
Tips: * If you find it difficult to form meatballs without them falling apart, you can either add a bit more sesame oil or arrowroot flour/powder. To make the meatballs ahead, complete the entire cooking process, let cool,  and store them in glass and air-tight containers. Be sure to drizzle over some meatball juice before sending them to the freezer.
Nutrition
Serving: 69g, Calories: 107kcal, Carbohydrates: 3g, Protein: 8g, Fat: 7.2g, Saturated Fat: 2.9g, Trans Fat: 0.3g, Cholesterol: 23mg, Sodium: 283mg, Fiber: 1g, Sugar: 1g, Vitamin A: 1350IU, Vitamin C: 9.1mg, Calcium: 20mg, Iron: 1.1mg