Paleo Teriyaki Chicken
Paleo Teriyaki Chicken with super crispy skin! Juicy chicken brushed with sweet savory teriyaki sauce and pan fried to golden crispy! Whether you use my homemade keto teriyaki sauce or paleo Whole30 teriyaki sauce, simply brush the sauce over and you'll have the best chicken dinner ready in no time!
The first time I made this Crispy Chicken Teriyaki dish: Gone. Every crispy crunchy morsel was gone in less than 20 mins.
If you are looking for an air fryer version, my Air fryer teriyaki chicken is another one you don't want to miss!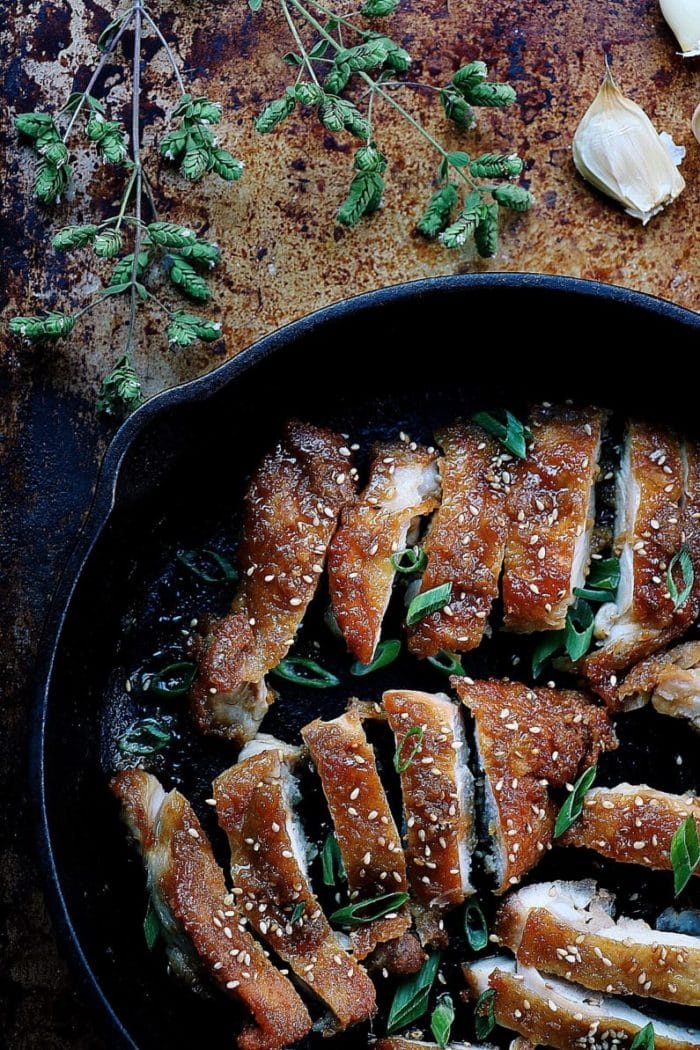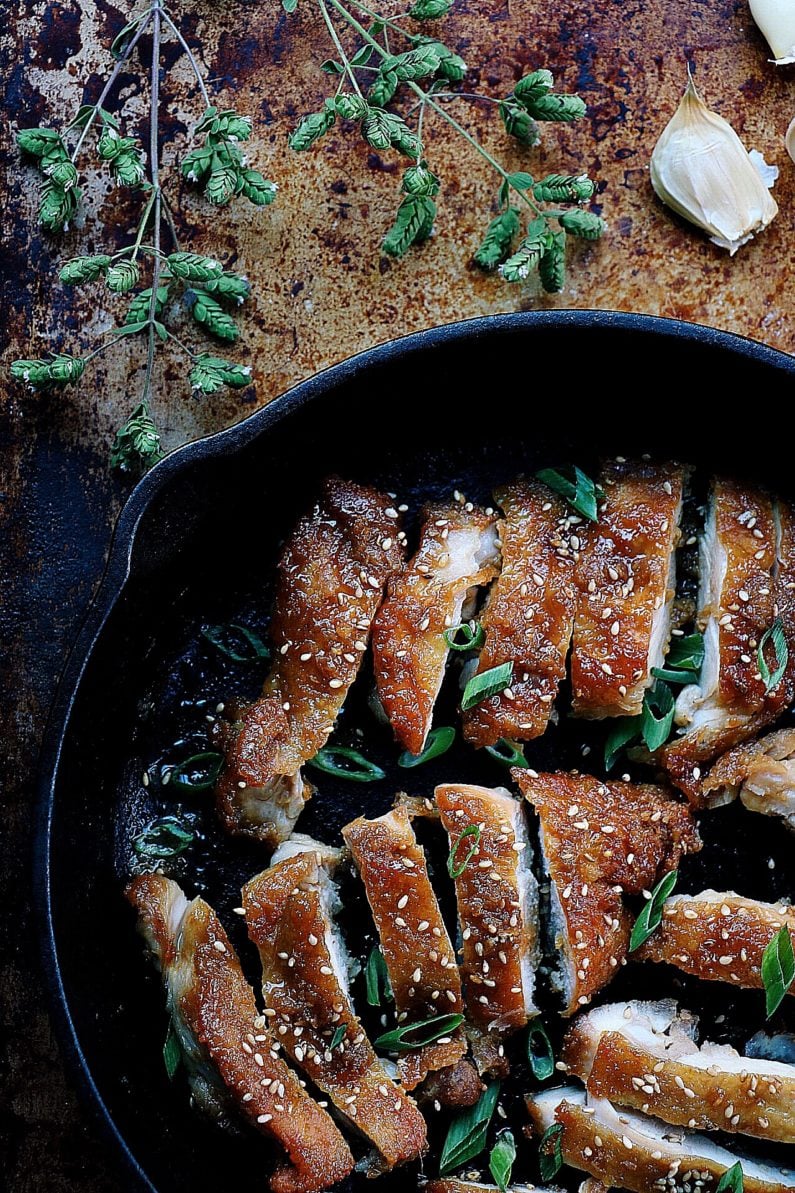 I also know you've been burnt a few times.
A recipe that says easy and quick to put together but ends up taking you more time than expected and leaving you with more dishes to clean.
I tested this recipe on Instagram live stories after a long-day at work + gym after 7pm. It's always a rush to prepare dinner but I enjoy sharing real-life dishes with you. You get to see exactly what ideas I came up with and I get to create amazing meals in real time, real life.
Sometimes I eat out, sometimes 80/20 Paleo, but most times I prepare meals like this Crispy Teriyaki Chicken to reward myself after a long day at work.
After all, dinner should be a rewarding experience.
There are two ways to prepare this dish but please make sure you purchase the chicken (breast or thigh) with skin on.
Wear an old t-shirt (or an apron if you own one) and use a lid to cover the frying pan. The chicken will render a lot of fat during the crisping process so be careful about the splatter.
Watch and share the cooking video below. I guarantee this Crispy Whole30 Teriyaki Chicken will become one of your favorite last minute weeknight meals !
Paleo Crispy Teriyaki Chicken (Paleo, Whole30, Keto)
There are two ways to make this dish – pan fry or bake in the oven. I personally feel pan fry is quicker and easier. If you use chicken thigh, de-bone the chicken first for best results !
Print
Pin
Rate
Ingredients
1 ½ lbs chicken thigh, skin on (alt. Chicken breast with skin on), about 4 pieces
Sea salt to taste
Toasted white sesame seeds, optional
Chopped scallions, optional
½ tbsp ghee, to pan fry the chicken
Instructions
Pan-fry method:
Pat dry the chicken and remove the bone (if you use chicken thigh). Lightly season the chicken with a bit salt over the skin.

Heat 1/2 tbsp ghee over medium/high heat. When hot, add chicken. Skin side down. Pan fry about 10 mins until the skin is crispy. *be careful about the splatter. Use a lid to cover the pan and prevent from splattering.

Flip and pan fry the other side until the chicken is completely cooked through. Drain the oil from the saute pan and set chicken aside.

To make the sauce:
Combine ingredients under "Teriyaki sauce". Heat the sauce over medium to medium-low heat. When the sauce is thickened, add chicken back to the pan. Coat the sauce over the chicken.

To serve:
Wait for 5 mins before slicing the chicken into bite sizes. Sprinkle toasted white sesame seeds and chopped scallion (optional). Serve with steamed broccoli, mashed potato, or cauliflower rice.
Nutrition
Calories: 284kcal