Bok Choy Stir-Fry
My Bok Choy Stir-Fry recipe with a delicious Chinese garlic sauce is simple and easy to make. No need to steam first! You are only 3 ingredients and 15 minutes away from the best vegan and vegetarian-friendly Shanghai baby bok choy dish you have ever had.
I will show you a quick and easy way to make perfect crisp and tender bokchoy stirfry every time. From how to cut bok choy to cooking it, consider me your go-to for all Chinese vegetable recipes.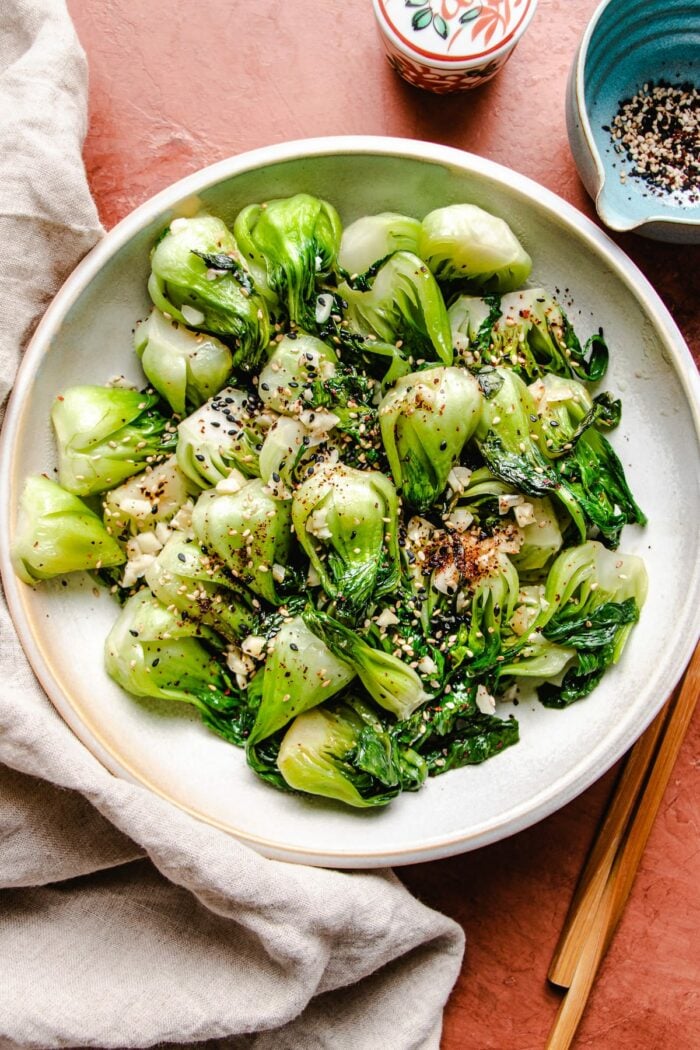 Why this recipe is the best
This bok choy stir fry recipe is perfect for someone just getting started cooking with Asian greens to a seasoned pro.
Simple technique: Perfect for all sizes of bok choy, from baby to large and everything in between.
Healthy and simple: 3 ingredients (salt and oil not included) are all you need for this super simple stir fry greens recipe.
Delicious: A perfect side dish that tastes phenomenal hot or cold, even the next day!
Ingredients
This healthy stir fried bok choy recipe has so few ingredients (only 3!) I recommend using the freshest bok choy you can find. Look for clean white stems and dark green leaves. You may come across bok choy in various colors, including purple and red; go ahead and try them. The colors are fun and just as tasty as the green variety. Learn more about bok choy variety.
Must have: Baby bok choy, garlic, avocado oil, and coarse sea salt.
Good to have: Toasted sesame oil, toasted sesame seeds, and red pepper flakes.
Bok Choy in Chinese
Bok choy is a popular vegetable in Chinese recipes. It's a type of Chinese cabbage that translates to "vegetable" and is a staple ingredient in any traditional Chinese kitchen. The Mandarin characters are 青菜 or 小白菜(pronounced qīngcài, xiăbáicài)
How to prepare bok choy for stir-fry
Different sizes of bok choy require different preparations. The size used determines how to cut bok choy for delicious stir fry and how to clean it properly.
Baby: Cut in half lengthwise.
Medium: Slice the bok choi into quarters lengthwise.
Large (big) bok choy: Separate the stalks and leaves. Dice into bite-size pieces, keeping the chopped piles separate.
Please read my "How To Cut Bok Choy" article for additional information. It contains excellent tips to help you cut your Asian greens quickly and confidently.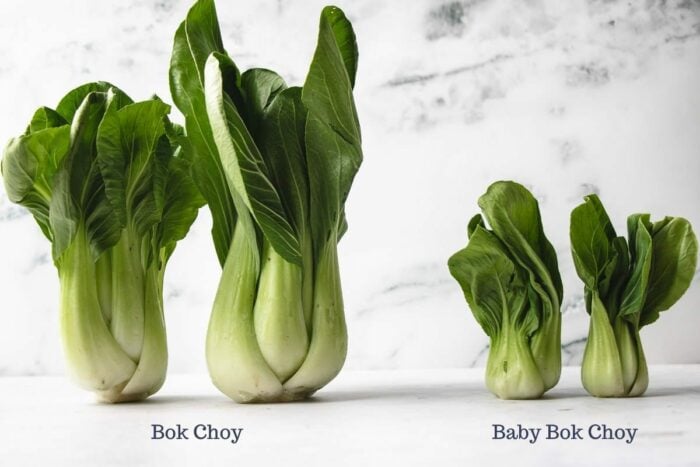 Bok Choy Size Matters!
I recommend cutting and preparing your bok choy based on the size so that it cooks evenly.
Large: 10-11" height, best diced.
Medium: 8-9" height, quarter it.
Baby: 4.5" height, halve it.
How to cook it
When you think of a bok choy recipe in Chinese cooking, you may think you need a large wok for stir frying pak choi; though I love making stir-fries with a wok, you can, however, still make a fantastic stir fry using a large skillet or large frying pan.
Many boc choy recipes encourage you to steam your greens or blanched bok choy before stir-frying; that is not necessary! I will show you a much faster and easier way that tastes just as amazing, if not better!
Follow my step-by-step instructions below, where I will show you how to cook bok choy in a stir fry so that you have perfectly crisp and tender bok choy every time!
Slice or dice your bok choy according to size; if using a large bok choy, keep your chopped dark leafy greens separate from your white stems, as they will require different cooking times.
Rinse and pat dry – wash away any grit or dirt from the leaves and stems, and most importantly, pat dry.
Use a wok or large pan (big enough that it won't be overcrowded).
Place the bok choy cut-side down for 3 minutes without stirring. Add the garlic and seasoning. Stir-fry the bok choy for 2-3 more minutes.
This bak choi recipe is mouthwatering whether it's served hot, warm, or cold the next day. Any way you choose to serve it will deliver delicious results.
Variations
Whether it's a stir-fried chicken with bok choy or an oyster sauce recipe with bok choy, there is something for every palate. If you want to make your baby bok choy stir fry next level, here are some great ideas you will want to try.
Extra umami flavor: If you want your mind blown with an explosion of savory flavor, I highly suggest you try adding a stir-fry sauce like my Vegetarian Oyster Sauce. I promise you are going to love it!
Throw in some tofu: Perfect for vegans and vegetarians. Tofu bok choy stir fry is tasty and a great way to add a kick of protein.
Mushrooms are a great addition: My Sauteed Baby Bok Choy with Mushrooms hits all the right notes. A perfect weeknight side dish!
Add chicken: You can also add chicken to this stir fry with bok choy recipe, a tasty way to add extra protein! Try my paleo chicken stir-fry!
Versatile: Use the same cooking method here with other sturdy Asian greens; you can even add bok choy to Chinese Broccoli stir-fry.
Common FAQ
How to clean bok choy
Bok choy is notorious for hiding grit and dirt between its leaves and stalks. The best way for cleaning is either chopping your bok choy first and then washing it or using your hands to gently pry the stalks apart without breaking them and rinse with cold water.
How to store bok choy
You can store bok choy in your refrigerator's vegetable crisper or in an airtight container wrapped with a paper towel to absorb moisture. There is no need to wash bok choy to store it; save the washing for when you are ready to start cooking.
What to do with the leftovers
You can store your stir fried shanghai bok choy in the refrigerator in an airtight container for up to two days. My favorite way to eat the leftovers is cold from the fridge the next day. Trust me; it's delicious!
Umami tips
Listen for the sizzle: Keep your pan hot (medium-high heat) throughout the cooking process.
Dry the bok choy: Make sure you thoroughly pat dry the bok choy after washing.
Size Matters: Baby and regular bok choy can be halved or quartered; large bok choy can be diced.
Pan temperature: It should be HOT, but not smoking hot. See tip #1.
Monitor pan moisture: Your wok or sauté pan should not be wet. Some beads of moisture are ok, but excess water in the pan will lead to soggy vegetables.
Bok choy stir-fry recipe
Bok choy stir fry recipe with a simple Chinese garlic sauce. Follow my tips to cook perfectly tender and crisp baby bok choy in no time. The same recipe also works for regular or large bok choy.
Print
Pin
Rate
Instructions
Prepare the bok choy for stir fry:
Slice the baby bok choy in half length-wise. For medium-size bok choy, quarter it. For large-size bok choy, Dice into bite-size pieces, keeping the chopped piles separate. Please refer to the notes section.

Rinse the bok choy until they are clean with no dirt between the stalks. Set it aside to drain and pat them dry before stir-frying.
Cook bok choy in stir fry:
Preheat a large 12-inch saute pan over medium heat until you feel gentle warmth when placing your palm near the surface.

Add the oil and place the bok choy cut side down. Pan sear over medium heat for 3 minutes without moving them. You should hear the sizzling sound throughout the whole entire stir-fry process. If not, turn the heat up a bit.

Sprinkle in the salt and the garlic. Stir fry the vegetables for 2 to 3 more minutes. The bok choy is ready when the leaves are wilted and the stalks still have some crunch. Your pan should not be overly watery.

Transfer them out of the pan and garnish with sesame seeds and red pepper flakes, if using.
Notes
You should hear the sizzling sound throughout the whole entire stir-fry process. If not, turn the heat up to medium-high.
If your pan is too wet while you are stir-frying, that means 1) your cook time is too long and 2) your pan temperature is not hot enough during the preheating step.
Sizes of bok choy: baby bok choy is about 4/12-inch, medium size bok choy is about 8 to 9-inch, and the large size bok choy is 10-inch and taller.
For large-size bok choy, I recommend separating the stalks and the leaves into 2 piles and dicing them to bite sizes. You'll follow the same steps for cleaning and drying. Saute the stalks first then add the leaves.
Check out my detailed guide on how to cut bok choy.
Nutrition
Serving: 1serving, Calories: 77kcal, Carbohydrates: 3g, Protein: 1g, Fat: 6g, Saturated Fat: 1g, Polyunsaturated Fat: 1g, Monounsaturated Fat: 4g, Trans Fat: 1g, Cholesterol: 1mg, Sodium: 365mg, Potassium: 14mg, Fiber: 1g, Sugar: 1g, Vitamin A: 5047IU, Vitamin C: 52mg, Calcium: 131mg, Iron: 1mg
Made a dish and love it? Please remember to rate the recipe and leave a comment in the comment section below! It helps my blog grow organically so I can continue sharing free and awesome content with you. Thank you!