Spicy Cucumber Salad
Spicy cucumber salad is an iconic Chinese dish with bold flavors and a refreshing crunch. Great as an appetizer or healthy side, this refreshing spiral cucumber salad has the right amount of spice from my garlic chili sauce in the Asian cucumber marinade dressing.
This viral TikTok cucumber salad is easy and gluten-free, low-carb, vegan-friendly, and ready in 25 minutes! For more hot Asian cucumbers, try my Korean cucumber salad (oi muchim) banchan with spicy gochugaru or this tasty gochujang cucumber kimchi.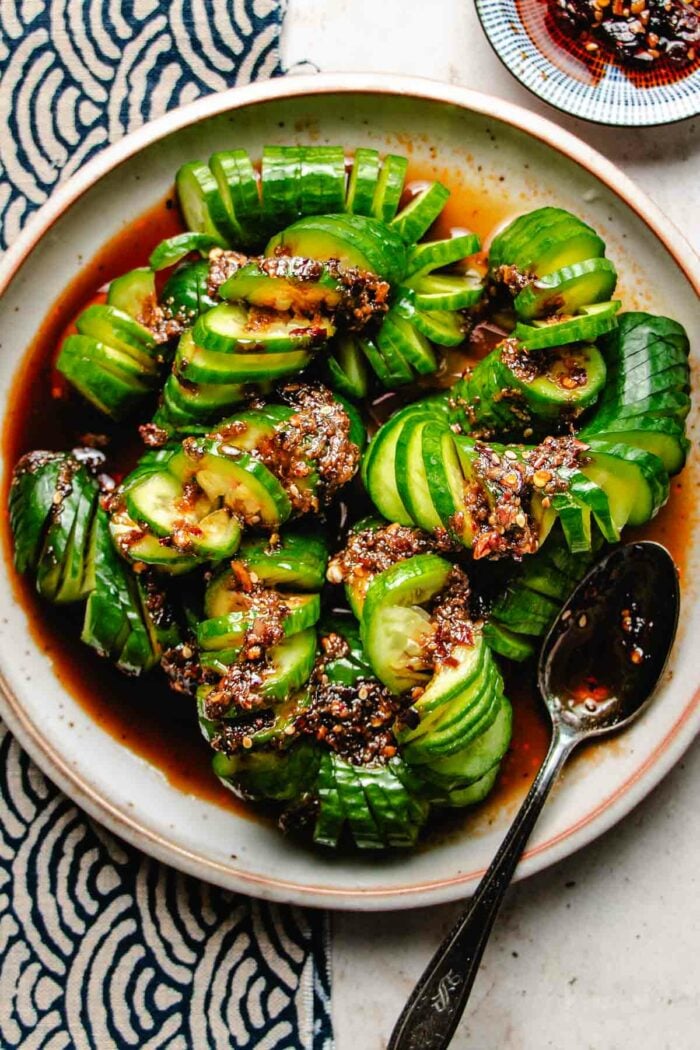 Ingredients
This spiced cucumber salad Asian side dish uses few ingredients with lots of nutrition and fiber. The seasoning dressing uses the perfect cucumber salad spices for a garlicky, spicy, tangy, and sweet dish you can't get enough of! (It truly is the BEST seasoning for cucumbers!) Here's what you need: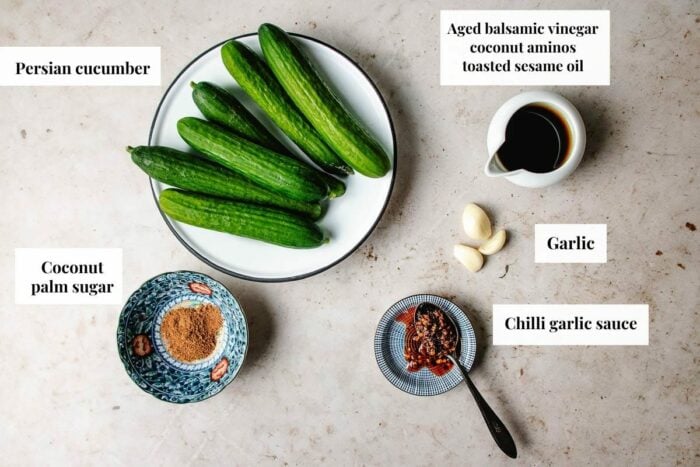 Cucumbers: Persian or Japanese cucumber, a teaspoon of coarse sea salt
Marinade dressing: Garlic cloves, aged balsamic vinegar, chili garlic sauce with Korean chili flakes, toasted sesame oil, coconut aminos or soy sauce, coconut palm sugar or brown sugar
Substitutions and variations
Use a different cut for the cucumbers:
Ingredient substitutions:
Sugar: Sub maple syrup or keto brown sugar for fewer calories and carbohydrates
Vinegar: Use balsamic vinegar, Chinese Chinkiang vinegar (black vinegar), or rice vinegar for a sweeter flavor.
Cucumbers: Korean cucumbers, English cucumbers, or Kirby cucumber will work.
Gochugaru: This gives the sauce a sweet and smokey flavor. If you don't have Korean red pepper flakes or chili powder, you can buy a garlic chili sauce. I don't recommend using regular crushed dry chili pepper flakes.
How to make the dish
This spicy Asian cucumber salad is so easy with minimal prep time! Simply slice the accordion cucumber, mix the Chinese seasoning for cucumbers, and chill the seasoned cucumbers in the fridge for 10 minutes. The addictive cucumber recipe is ready to serve in 25 minutes total time! Simply the best!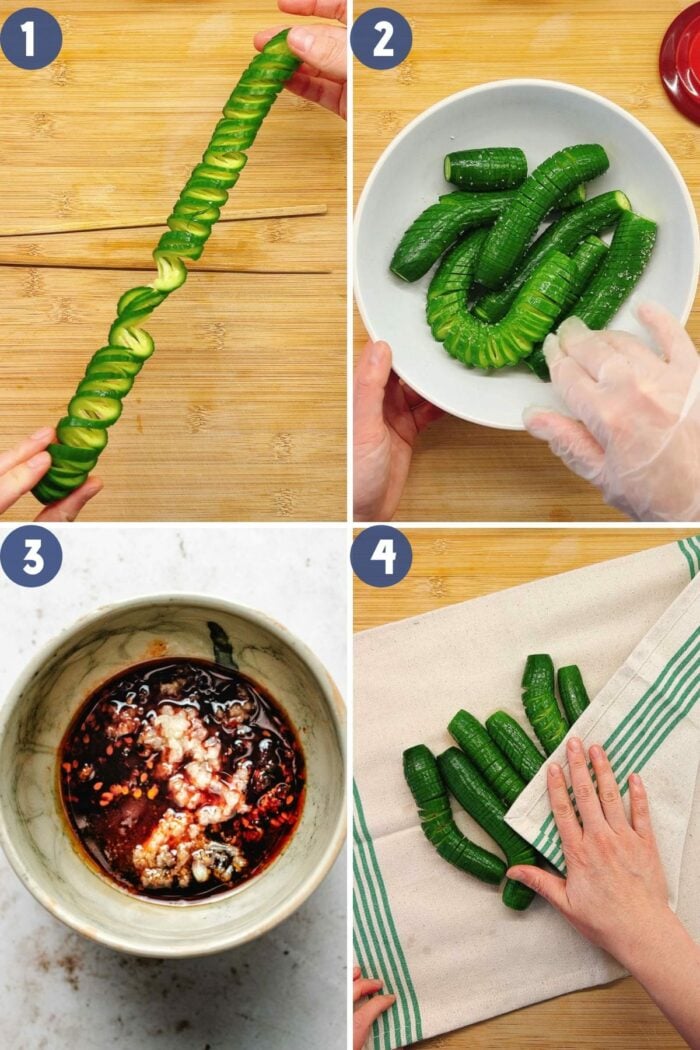 Spiral-cut cucumber (read on for details!)
Salt the accordion-style cucumbers and set aside for 15 minutes (This will draw out excess moisture to keep them crunchy—any longer and they will get too soft.)
Mix the dressing seasoning to put on cucumbers in a small bowl.
Lightly rinse the cucumbers and pat dry—no need for multiple rinses here, as the salt will help to season the dish. There is no salt in the marinade.)
Pour on the marinade and chill in the fridge for 10 minutes before serving.
How to spiral-cut cucumbers
This easy knife-cut technique is a classic Chinese preparation resulting in a snake-like spiral with incredible texture. This technique went viral on TikTok. It provides a lot of surface area so the cucumbers can absorb maximum flavor. Plus, it makes for a nice presentation. Here's how to make spiralized cucumber: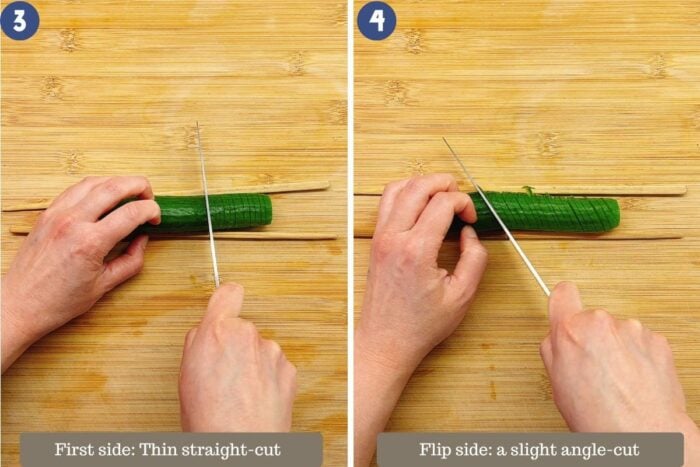 Trim the tips off the cucumber.
Place the cucumber between two chopsticks. These will act as guards so you don't cut all the way through.
On the first side, make thin straight cuts along the width of the cucumber, stopping the blade when you hit the chopsticks.
Flip the cucumber over. On the flip side, make thin diagonal cuts at a slight angle.
Leave the spiral cucumbers whole or cut in half before returning to your dish for salting.
Storage and make-ahead
To store: Once marinated, this salad stores well for up to 4 days in an airtight container in the refrigerator. The cucumbers will release water over time but will continue to soak up the marinade dressing and taste amazing chilled! Pro tip: Excess liquid can be drained and poured over rice as a yummy sauce!
To make ahead: Spiral cut, salt, rinse, and pat the cucumbers dry in advance. Make the marinade in advance. Store them separately in airtight containers. Drain excess water from the cucumbers and toss in the marinade when you're ready to eat.
What to serve it with?
This addicting cucumber salad Chinese side dish is the perfect addition to any Asian meal. As an appetizer, serve it alongside this easy gluten-free wonton soup with homemade chicken and shrimp wontons.
For a cold appetizer, I love this silken tofu recipe with creamy roasted sesame dressing, green onions, and sesame seeds. It's ready in under 5 minutes! For a grain, try these spicy garlic chili noodles, ready in just 15 minutes.
For protein, I find the heat of this salad balances the sweetness in my honey sesame chicken Panda Express copycat recipe perfectly. If you prefer seafood, this sweet and garlicky General Tso shrimp is the way to go! It's pan-fried and made with fresh and healthy ingredients—yum!
FAQs
What are the best cucumbers for salads?
Persian, Kirby (mini cucumber), Japanese, Korean, or English cucumbers are the best for salads. They have minimal seeds and thus are less watery than other varieties.
Why do you salt cucumbers before salad?
As sliced cucumbers sit, they release moisture over time. Salting and rinsing the cucumbers helps to draw out excess moisture to prevent a watery salad.
Why is my cucumber salad watery?
Watery cucumber salad can occur if you don't salt and rinse the cucumbers first to draw out extra moisture. Using a cucumber with too many seeds can also result in a watery salad.
Do you rinse cucumbers after salting?
Generally, yes. This ensures your salad doesn't have too much sodium. If the marinade seasoning has no salt in it, only a light rinse is required.
Are cucumbers peeled for salads?
This depends on the type of cucumber and the thickness of the skin. American cucumbers should be peeled, but English, Korean, Japanese, or Persian cucumbers don't have to be.
If you enjoy this sweet and spicy slinky cucumber salad, be sure to give my Asian cucumber salad a try, too! This Asian salad with cucumbers uses garlicky and tangy honey chili vinaigrette.
My Chinese smashed cucumber salad is a garlicky and refreshing option that is ready in minutes. For another spiral-cut salad, I recommend this Japanese cucumber salad with a roasted sesame dressing. Serve them alongside these dairy-free Thai peanut cucumber noodles!
Umami Tips
Selection of Cucumbers: Use fresh, crisp cucumbers for the best results. Persian cucumbers, Japanese cucumbers, Korean cucumbers, or Kirby cucumbers are good options. They have fewer seeds, are not as watery, and have a sweeter taste. Ensure the skin is firm and not wrinkly.
Preparing Cucumbers: After washing, if you use Asian cucumbers you don't need to peel the skin. If you use English or regular cucumbers, please peel the skin.
Deseed the cucumbers: This step is optional. Removing the seeds will make the salad less watery.
Salting Cucumbers: This helps draw out excess water and intensify the cucumber flavor.
Lightly rinse the cucumbers: The dressing does not have salt so you don't want to rinse the salt completely off. A simple light rinse is all you need.
Spice Level: Adjust the spice to your taste. The most common ingredients to add heat are chili oil, chili garlic sauce, or gochgaru flakes.
Dressing: A common dressing for spicy cucumber salad often includes ingredients like soy sauce, rice vinegar, sesame oil, garlic, and sugar. The palm sugar helps to balance out the heat and acidity.
Marinating Time: Allow the cucumbers to marinate for 10 minutes in the fridge before serving to let the flavors meld together.
Serving: This salad is best served chilled. You can serve it the same day or chill it in the fridge to serve it the next day.
Save the excess liquid from leftovers! Rather than draining and dumping extra sauce from the cucumbers and the dressing, use it to pour over rice for added flavor.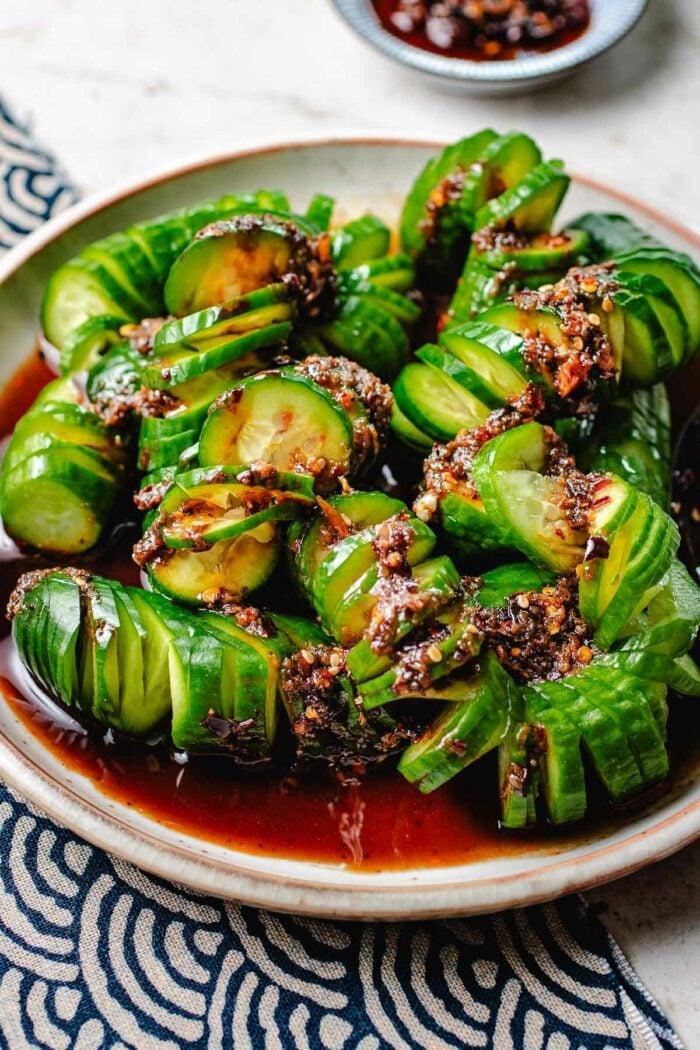 Spicy cucumber salad recipe
This Spicy Cucumber Salad comes with a homemade Chinese chili garlic dressing. It's easy to make, healthy, and made with simple ingredients!
Print
Pin
Rate
Ingredients
12 oz. Persian cucumber, or Japanese cucumber
1 tsp coarse sea salt
For the cucumber dressing:
Instructions
To spiral cut the cucumbers (accordion style):
Trim the tip ends of the cucumber. Place one cucumber between two chopsticks that you don't mind scuffing up. This prevents you from cutting through the cucumber. Make thin straight cuts on the top, about 2 mm slices. Flip the cucumber over (with the unsliced surface facing you), and make thin slices on a slight angle-cut.
Salt the cucumbers:
In a large bowl, add the cucumbers and sprinkle with salt. Use your hands to gently toss and distribute it evenly. Set it aside to rest for 15 minutes.
Make the marinade dressing:
In a small bowl, combine the ingredients from garlic to sugar. Stir and mix well.
Rinse and pat dry:
Lightly rinse the salted cucumbers until tap water and gently pat them dry with a clean paper towel.
Serve:
You can either cut the cucumber length in half or serve it whole. Transfer the cucumbers to a serving plate. Pour over the dressing and let it chill in the fridge for 10 minutes before serving.
Notes
Lightly rinse the cucumbers:  The dressing does not have salt so you don't want to rinse the salt completely off. A simple light rinse is all you need.
Make-ahead, storage: You can spiral cut, salt, rinse, and pat dry the cucumbers in advance. You can also make the marinade in advance. Store them separately and toss them to combine when you are ready to eat. The cucumbers will continue to produce excess moisture. You can discard the water before combining them with the dressing.
Save the excess liquid from leftovers! Rather than draining and dumping extra sauce from the cucumbers and the dressing, use it to pour over rice for added flavor.
Nutrition
Serving: 1serving, Calories: 39kcal, Carbohydrates: 7g, Protein: 1g, Fat: 1g, Saturated Fat: 0.3g, Polyunsaturated Fat: 1g, Monounsaturated Fat: 1g, Sodium: 815mg, Potassium: 138mg, Fiber: 1g, Sugar: 3g, Vitamin A: 89IU, Vitamin C: 3mg, Calcium: 19mg, Iron: 0.3mg
Made a dish and love it? Please remember to rate the recipe and leave a comment in the comment section below! It helps my blog grow organically so I can continue sharing free and awesome content with you. Thank you!