How to cook kelp noodles
Learn how to cook kelp noodles for soups, stir-fry, pasta-like dishes, and more! By following my easy, step-by-step instructions, you'll learn how to make any dish you want using these noodles.
If you are less familiar with these noodles, see what are kelp noodles and the various ways you can include these gluten-free, paleo noodles in your everyday meals.
What are these noodles
Kelp noodles are low-carb and made from seaweed, sodium alginate, and water. The noodles are easy to prepare and go with a lot of common dishes. To learn more about them, see my article on kelp noodles.
Benefits of kelp noodles
There are many benefits of seaweed noodles. Besides being low-carb, they are also fat-free and gluten-free, and are rich in minerals such as iodine. Plus, each serving only contains six calories!
The noodles are flavorless, so it's easy to cook any dish using these noodles. Add them to salads, stir-fries, and soups without cooking them.
How to cook the noodles
Ingredients
Kelp noodles
Lemon juice
Baking soda
Prepare and soften the noodles
Remove noodles from the packet and rinse them lightly.
Soften the noodles by massaging them for 1 minute in a mixture of lemon juice and baking soda.
Rinse them under running water. Drain the water and the noodles are ready to eat.
Tips on softening the noodles
They only need a 1-minute soak. Oversoaked noodles will result in mush.
You can also combine baking soda with lime juice if you don't have any lemons.
After the treatment, the clear seaweed noodles are ready to eat. You don't need to boil the noodles.
Where to buy the noodles
You can easily buy these keto kelp noodles if you know where to look.
The best way to get them is to order directly from sea tangle company or gold mine, which are famous brands for these noodles. Alternatively, you can also buy them from Amazon or your local Whole Foods.
Recipes you can use
Once prepared, you can use them for many kelp noodle recipes, such as stir fries and soups — here are some ideas you can add to your list.
Make a low calorie kelp noodle stir fry by giving pad woon sen a try. My Thai glass noodle stir fry hits the spot with its sweet and savory flavors from the fish sauce and yummy chicken and broccoli. You can also swap the sweet potato noodles in keto japchae with low carbs kelp noodles.
On days when you need a pick-me-up, add them to this hearty winter melon soup with meatballs. If you love vegan hot pot as much as I do, they make a great alternative to udon or white rice noodles.
Common FAQ
What do kelp noodles taste like
They are flavorless, making them a great low-carb alternative for everyday meals.
Are kelp noodles keto friendly
Yes. With only a net six calories per serving, kelp noodles are paleo, perfect for low carbohydrates recipes. (source)
Can you boil kelp noodles
They are ready to eat after you soak them briefly in a lemon and baking soda 'bath'. So you don't need to boil them.
Are kelp noodles already cooked?
Although packaged noodles are edible, I highly recommend softening the noodles before eating them for the best texture.
Storage and make-ahead
You can keep unopened packaged noodles in the pantry, as they are shelf-stable.
Once opened, they should be stored in the fridge and used within 3 days.
The noodles cannot be kept in the freezer.
More ways to enjoy the noodles
When you know how to prepare kelp noodles, they can be used as a substitute for rice, noodles, and even pasta. Check out some of the fun variations that you can try.
Toss the softened noodles with a few tablespoons of these sauces to make different appetizing "pasta" recipes with exciting flavors. Combine them with garlic chili sauce for something flavorful and spicy. For an umami savory dish, throw in shacha sauce with the noodles.
If you want a unique combo, raw kelp noodles are delicious with a drizzle of creamy Thai peanut sauce on its own, or in a fresh salad bowl. You can also dip them in my spicy, sweet, and sour Thai dipping sauce. Pair these dishes with crunchy vegetables such as carrots and pepper.
Umami Tips
They are flavorless noodles that are perfect for all types of dishes.
The noodles are gluten-free, a good source of iodine, and a great low-carb alternative.
You don't need to boil them but you need to soften them before eating.
After crunchy kelp noodles are softened, they are ready to eat.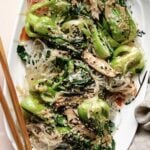 How to cook kelp noodles recipe
Learn how to cook kelp noodles and the right way to soften the seaweed noodles easily with great flavor and taste, plus recipes you can use!
Print
Pin
Rate
Instructions
Take the noodles out of the packet and discard the water. Lightly rinse the noodles under tap water for a few seconds.

In a large bowl, mix the lemon juice with baking soda with a spoon. You'll see bubbles immediately. Immediately add the noodles to the bowl, and massage them for about 1 minute. The noodles will soften.

Transfer the noodles to a colander rinse under running water for 1 minute. Set aside to drain well. The noodles are ready to eat. You can combine the noodles with your favorite dressing, cooked protein, and vegetables.
Notes
kelp noodles are fat-free and gluten-free, and are rich in minerals such as iodine.
These noodles are flavorless, so it's easy to cook any dish using these noodles. After you soften the noodles, add them to salads, stir-fries, and soups without cooking them.
Recipes you can try:
Made a dish and love it? Please remember to rate the recipe and leave a comment in the comment section below! It helps my blog grow organically so I can continue sharing free and awesome content with you. Thank you!