What are kelp noodles
What are kelp noodles? They are keto-friendly, low-carb, and low-calorie seaweed-based noodles. When properly prepared, they have a smooth and silky texture and taste exactly the same as glass noodles. So why not go for this healthier alternative?
Once you know how to cook kelp noodles, you can choose to enjoy them raw, or stir-fried, added into winter melon soup with meatballs, as well as fresh salads.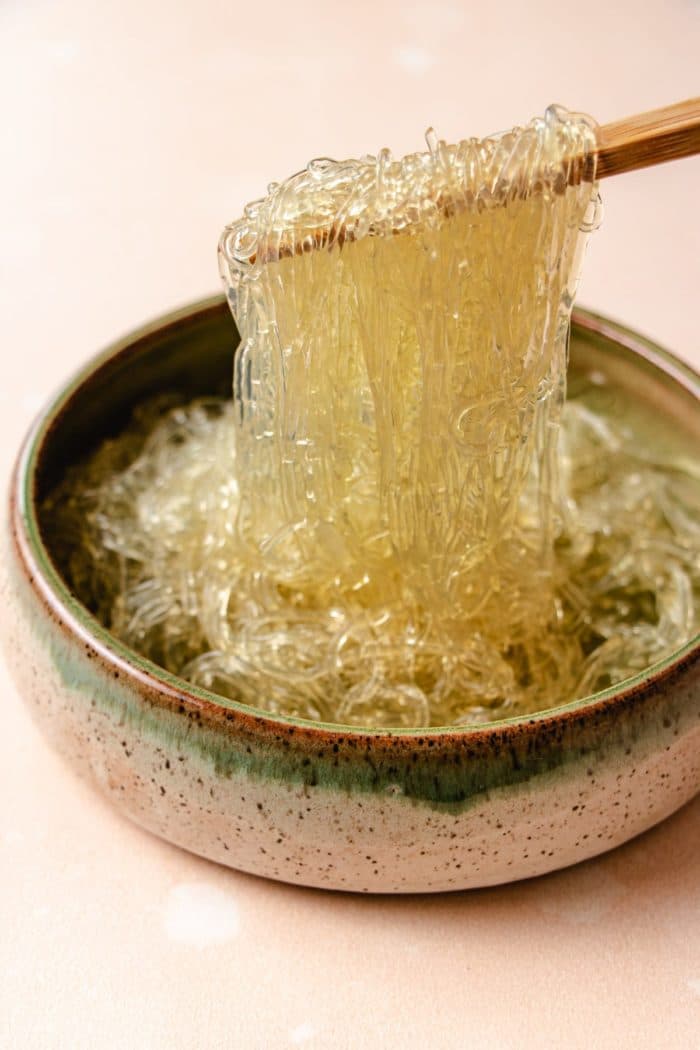 What do they make of
These noodles are made of 3 ingredients — kelp (a type of brown seaweed), sodium alginate (salt extracted from the seaweed), and water. The seaweed is first cleaned, and then dehydrated, before being pulverized. They are then molded into transparent, gluten and fat-free noodles which have become popular today.
So what do kelp noodles taste like? It's actually flavorless, which makes it a great alternative to pasta, rice noodles, and cellophane glass noodles. You get all the nutritional goodness without any salty or fishy flavor.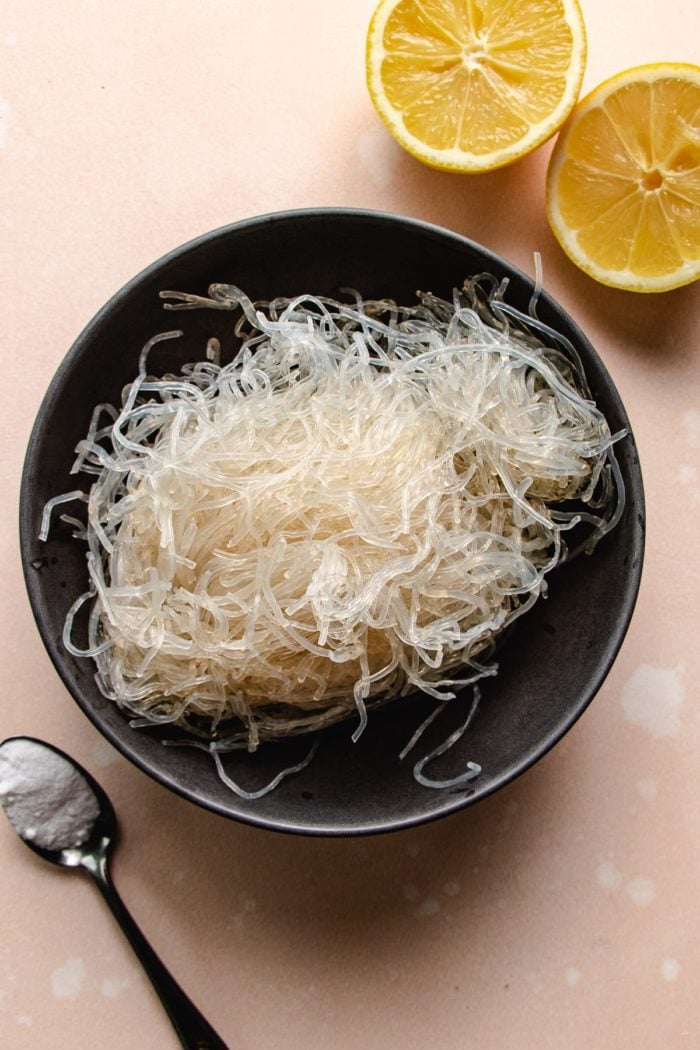 Why do people love these noodles
There are a lot of health benefits of kelp noodles. They are jam-packed with minerals such as iodine and antioxidants, as well as dietary fiber. (source) You'd be glad to know that they are lower in calories, so you can enjoy these noodles without the extra carbs.
Both cooked or raw they are flavorless, making them easy to pair with any dish. So when you know how to use and prepare them, you can savor the flavors and silky smooth texture of the noodles.
Kelp noodles vs. Shirataki noodles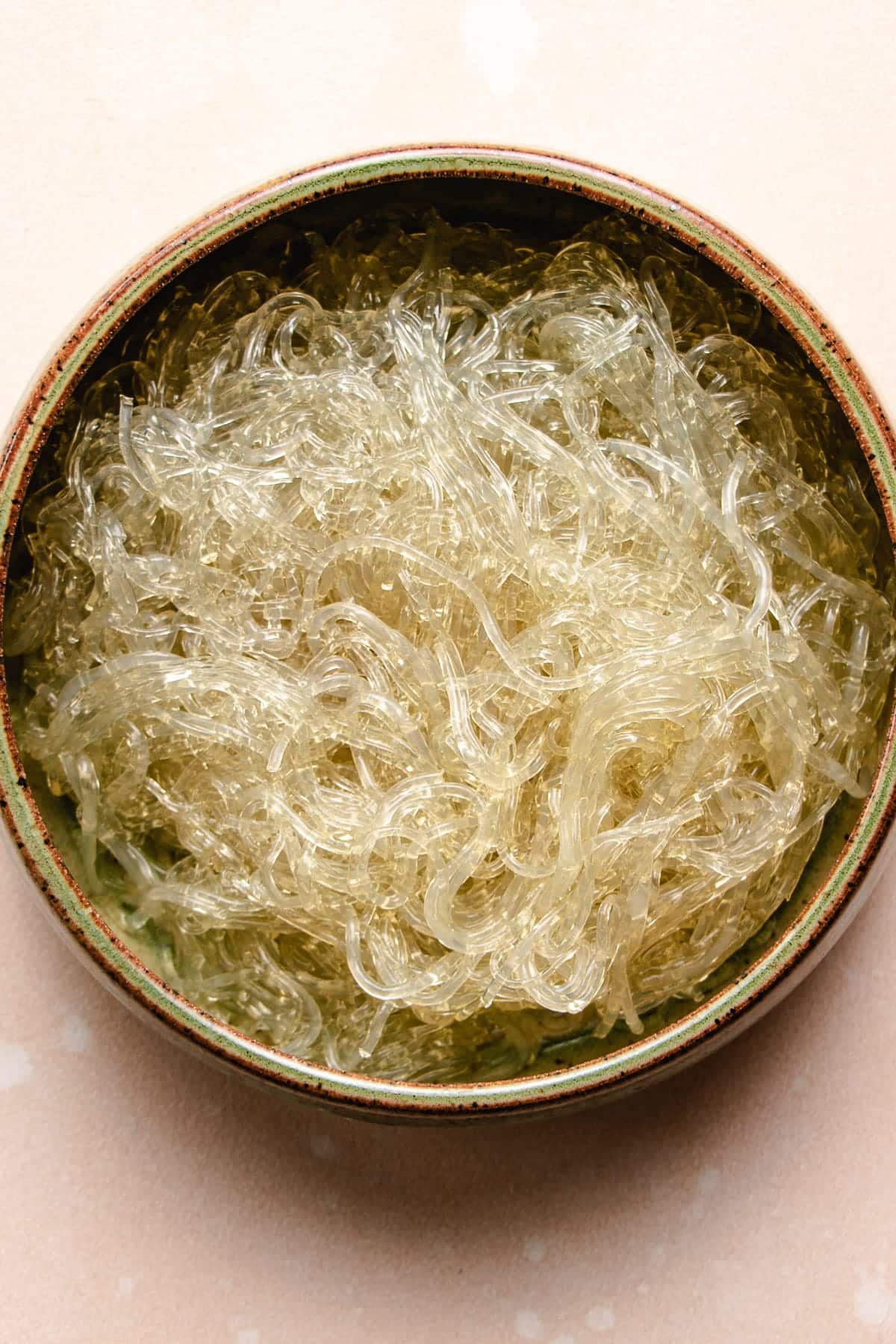 Similarities:

Both are low-carb and keto-friendly noodles.
You can enjoy them raw, so they can be prepared quickly.
They can both be used in soup, noodles, and salads, so they can be eaten cold or hot.
Differences:

Shirataki noodles are made from the konjac plant, a type of root vegetable.
Kelp noodles are made from kelp, a type of sea vegetable.
They have a neutral taste, whereas shirataki noodles have a faint fishy flavor.
Shirataki noodles retain their rubbery texture, before and after they're prepared.
Noodles made from kelp have a unique texture, but turn silky smooth once they're softened.
You can substitute any noodles recipe with seaweed noodles, such as this creamy and delicious shirataki noodles recipe.
How to prepare and soften kelp noodles
Preparing kelp noodles is so easy, it'll only take less than 5 minutes! Once you know how to make the noodles soft and prepare them, they are ready to be enjoyed as is or can be added to a stir-fry dish, such as this chicken cabbage stir-fry.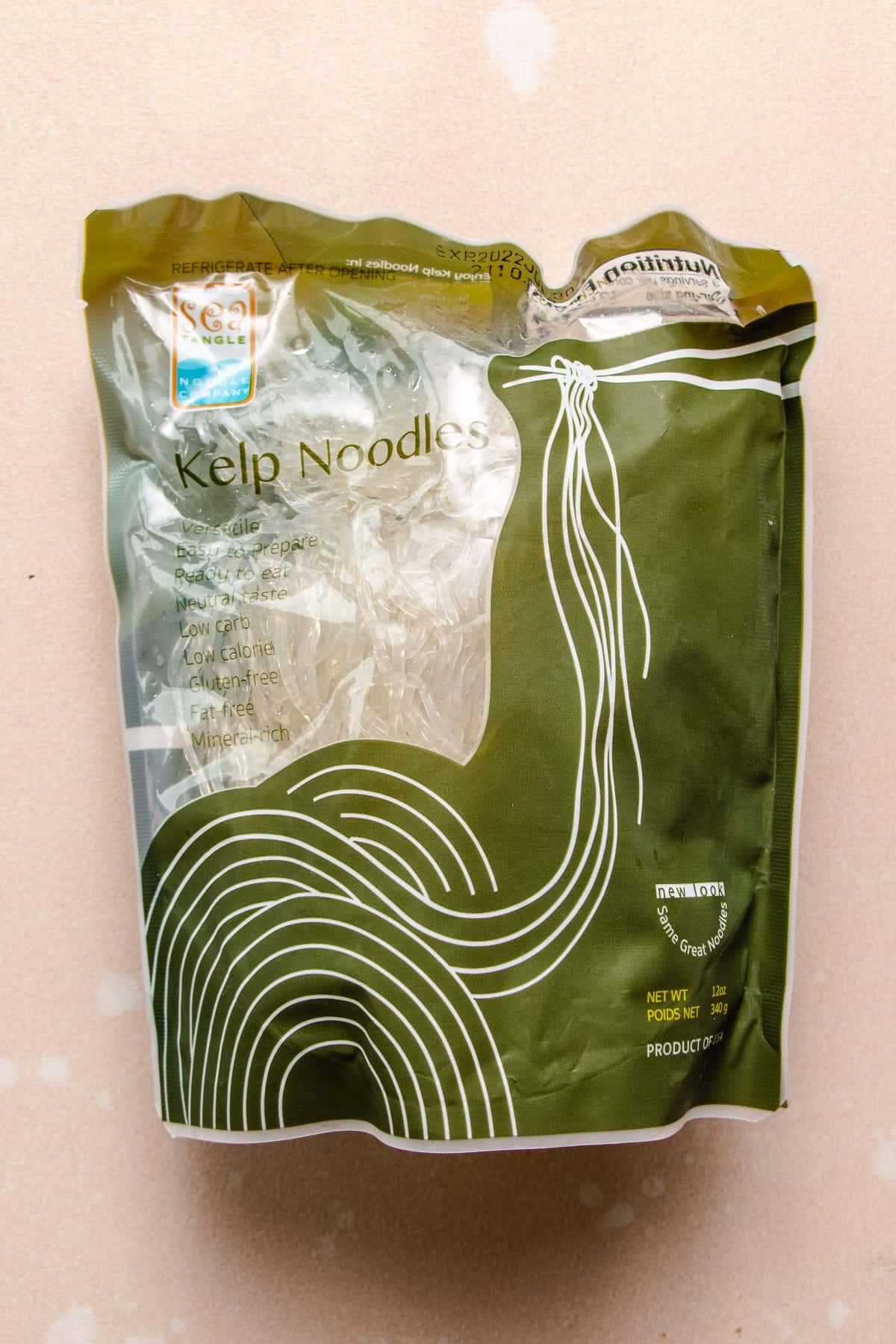 Remove the packaging and briefly rinse the noodles under running water.
The noodles are rubbery before the treatment.
Massage them into a mixture of lemon juice and baking soda for 1 minute to soften them.
Using a colander, rinse them under running water for a minute before setting them aside. Drain excess water before serving and enjoy.
For the exact measurement and ingredient substitution suggestions, see my post on How to cook kelp noodles.
Tips for softening the noodles
Use lemon or lime juice with baking soda to soften the noodles.
When softening the noodles, they don't need to be marinated.
You don't need hot water to boil the noodles, rinse and add them to the lemon and baking soda will soften the noodles.
You can also use vinegar with baking soda. However, the noodles will pick on a faint vinegar flavor.
Recipes you can use
There are many ways to eat kelp noodles, but most people don't know how. You can cook the noodles by stir-frying, adding them to hot broths or casseroles, or eating them raw. Here are some healthy seaweed noodles recipes to get you started:
You can enjoy this filling keto japchae for a quick Korean weeknight dinner. You can also change it up with a sweet and savory Thai-flavored pad woon sen.
If you prefer something warm and hearty, my winter melon meatball soup will fulfill your craving on a cold winter night. You can also add noodles to my vegan hot pot.
Noodle varieties
The sea tangle company offers 4 flavor varieties — original, green tea, konaberry, and moringa. They all have similar textures and tastes, however, the flavored varieties offer extra antioxidant benefits.
Out of all 4, the original version is the most sought-after. This is my go-to brand if I couldn't find them in a grocery store near me.
Serving suggestions
There are a variety of uses when cooking with noodles made from kelp. They are great for keto meals.
You can pair the noodles with my bok choy stir-fry, add the noodles to the bok choy salad, or bok choy soup. All of them are healthy, easy, and delicious.
What is kelp noodle made of?
They are simply made from 3 ingredients — kelp, sodium alginate, and water.
Are kelp noodles the same as glass noodles?
No, they are not the same. Although both taste very similar when properly prepared, noodles made with kelp have a much lower calorie and carb content.
Do kelp noodles taste like pasta?
Noodles made from seaweed can be used to replace pasta. However, because these low-carb noodles don't contain any starch, the texture is not the same as wheat flour pasta.
Are kelp noodles healthy?
Yes. Aside from being gluten free, kelp noodles are very healthy. The nutrition facts include 6 calories in every serving, with less than 5g of carbohydrates per serving, with no cholesterol. (source)
Where to buy
If you're wondering where to buy kelp noodles, here are some places you can browse.
Sea tangle kelp noodles are commonly used, but you can also check out gold mine which is another well-known brand. You can find them both on Amazon or in local Whole Foods Markets.
Storage tips
Unopened, packaged noodles can last for months in the pantry. Be sure to keep an eye on the expiration date. On the other hand, opened and rinsed noodles should be refrigerated and used within 3 days. Do not store the noodles in the freezer.
Umami Tips
Kelp noodles are a low-carb, low-calorie option that is also gluten-free and fat-free. They are also a rich source of trace minerals.
Thanks to their high nutrient content, noodles made from kelp are keto-friendly and can be added to any dish, be it stir-fries, soups, or even raw in salads.
To soften the noodles, rinse them in baking soda and lemon for 1 minute, the noodles will soften and you can enjoy the silky smooth texture of the raw noodle, or added to your preferred dish.
Now you know what kelp noodles are, see my post on How To Cook Kelp Noodles for salad, stir-fries, and add them to soup!