General Tso Shrimp
My sweet and little spicy General Tso Shrimp recipe smothered in sticky general tso sauce will have you OBSESSED! One pan and 10 minutes are all you need to whip up my super healthy version of this classic American Chinese dish.
Want more drool-worthy stir fried shrimp Chinese food recipes? Skip the takeout and create your favorite Chinese restaurants meals at home, like my Keto kung pao shrimp or Chinese shrimp and broccoli.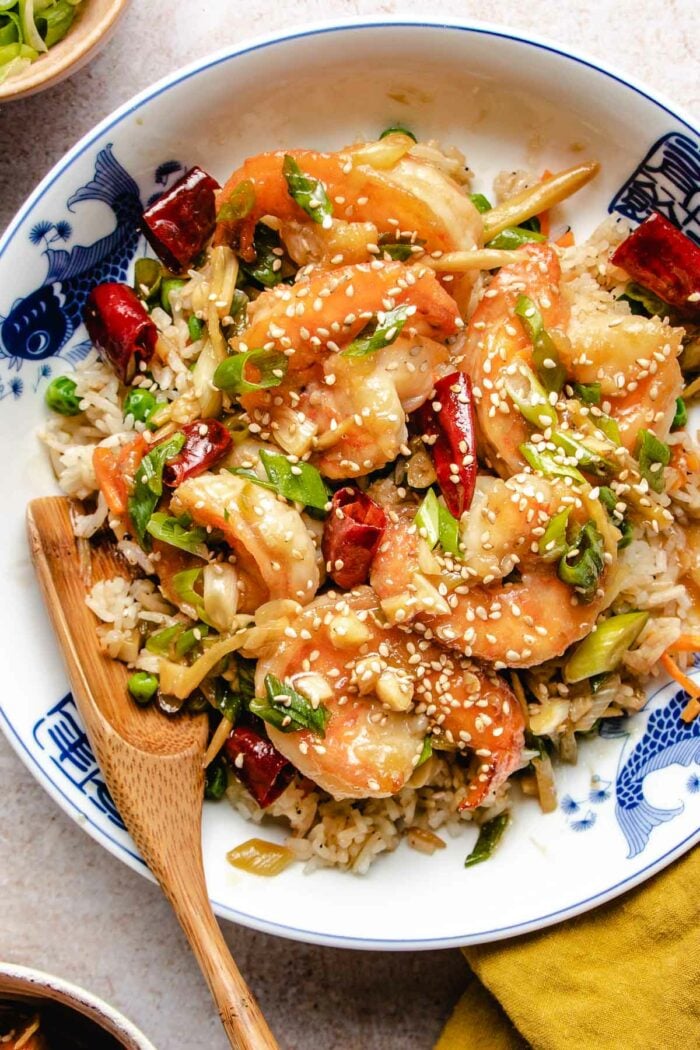 Why this dish is the best!
My homemade version of general tso's shrimp recipe is beyond delicious! Here are a few reasons why you must make this immediately!
Packed with flavor: Savory and garlicky mixed with a splash of sweet (not tooth-achingly, though) and the perfect amount of spice.
Ready in minutes: This fantastic general tso shrimp recipe comes together so fast that it's perfect for even the busiest weeknight meal.
Healthier: All of the flavor without deep frying or breading. Homemade sauce and healthy ingredients make this a feel-good meal.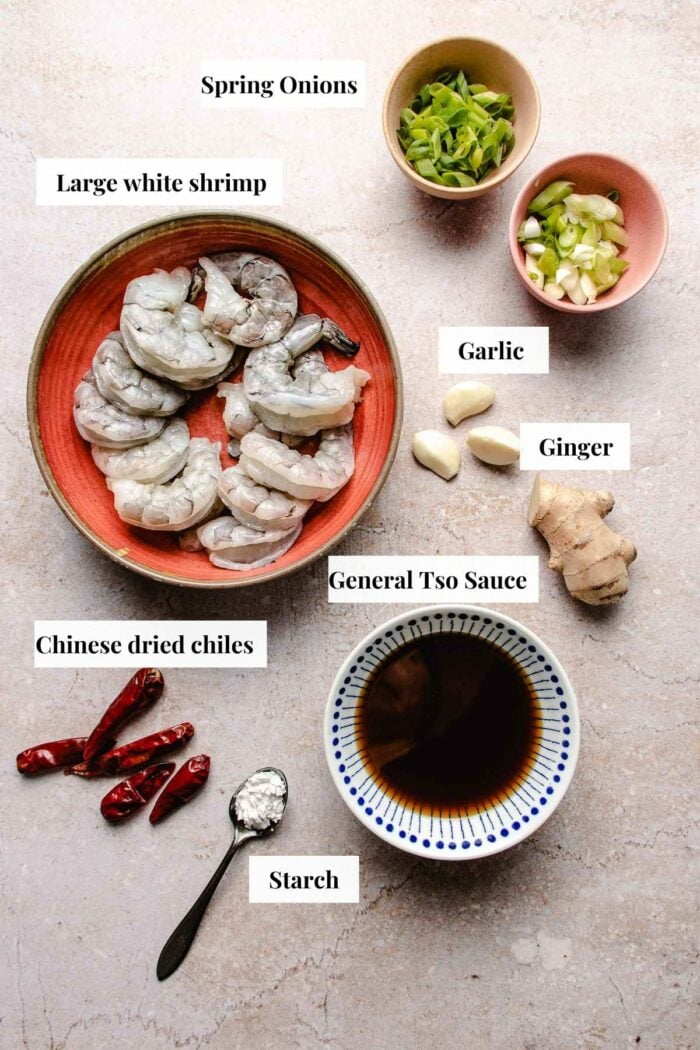 Ingredients
All the flavor of fried shrimp Chinese food without extra calories! My general tao shrimp calls for a few simple ingredients you can easily find in your pantry or specialty shop. Below I l break down the three types of ingredients you will need:
Large Shrimp: I use Large or Jumbo Shrimp (10/15 or 8/12 count per pound)
General tso sauce: Chicken stock, coconut aminos, aged balsamic vinegar, coconut sugar, and tapioca starch.
Additional: Garlic, ginger, Chinese dried red chili peppers, scallions (or spring onions), salt, avocado oil, and toasted white sesame seeds (optional).
Ingredient substitutions
Making homemade takeout is a breeze with my general tsos shrimp recipe. The best part is that you can change things up in a pinch and still have a wonderfully delicious dinner. I've listed some great ideas below for you to try.
Smaller Shrimp: If you can't find the large shrimp, go ahead and use a smaller size.
Less spicy: If you want to tone down the spice level try using red bell peppers or sweet peppers instead of chilis or red pepper flakes.
No coconut aminos: No problem! You can use gluten-free soy sauce or tamari instead; just add a bit of brown sugar to even out the saltiness.
Chinese rice wine: Add a splash of rice wine just before you finish cooking to evaporate the alcohol and add an authentic flavor (this is not gluten-free).
Prefer to air-fry: Keep the stove off and add general tso sauce to my air fryer bang bang shrimp.
General Tso Sauce
The general tso's sauce at most takeout places has too many added sugars and starches. Making this little spicy sauce from scratch ensures a healthier meal, not to mention the taste with loads of ginger and garlic to make your taste buds dance!
How to make the dish
In just a couple of minutes, you can easily create your favorite takeout at home. Follow my simple step-by-step directions below for an easy weeknight meal.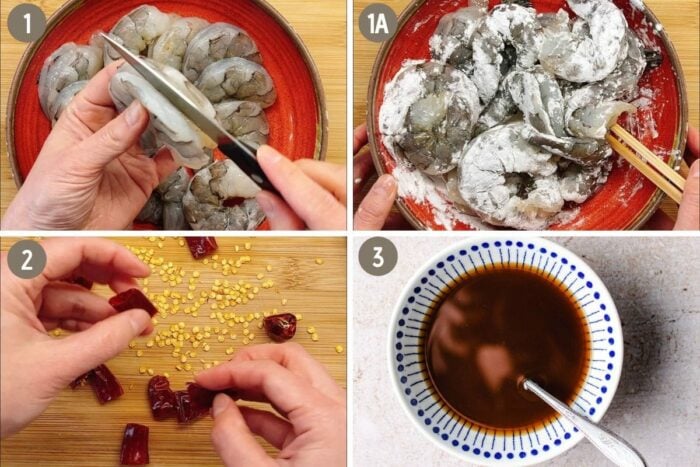 Butterfly the shrimp: Make a slit along the spine of the shrimp and toss in tapioca starch in a large bowl.
Prep ingredients: Prepare your ginger, garlic, scallion whites, and dried chilis (see more below). Set aside.
Make your sauce: In a medium mixing bowl, mix your sauce ingredients.
Cook the shrimp: Preheat a large skillet over medium heat; add the shrimp and oil once it's hot. Do not overcrowd. Pan sear shrimp until they are light golden in color. Remove and set aside.
Cook aromatics: Add oil to your still hot pan and combine garlic, ginger, white parts of the scallion, and dried chilis. Season with salt and cook for 10-15 seconds.
Add the sauce: give your sauce a quick stir and add it to the hot pan, cook for 10 seconds and then add the cooked shrimp.
Thicken the sauce, garnish and serve: Stir sauce often to coat shrimp and cook until sauce thickens. Turn off heat and transfer to a serving plate, garnish with green onion and sesame seeds and serve.
How to use Chinese dried red chilis
Dried red chilis may be used cut or whole. When used whole, they are used primarily for decoration and do not add much flavor. For my general toast shrimp recipe, you will need to cut the chilis to release their amazing taste, beautiful color, and subtle spice.
Use kitchen shears to cut your chilis into 1" long pieces.
Shake out the seeds (this will keep the heat from being overpowering).
Ready to use for stir-fries!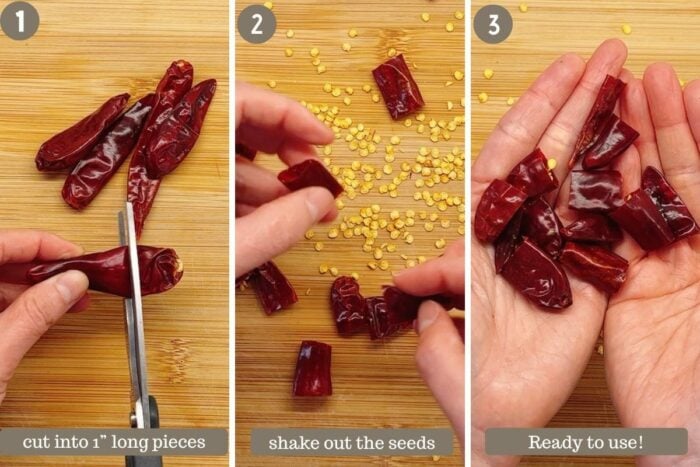 Variations
Are you feeling like switching things up? This dish is super versatile. Change out the sauce or the protein and create a whole new dish. Here are some of my favorite variations.
Sweet and nutty flavor: Try using my homemade gluten-free hoisin sauce.
Extra savory flavor: Try using my vegetarian oyster sauce for the utmost in umami deliciousness with a touch of sesame oil.
Spicy Garlic flavor: For a mouthwatering garlicky dish with a touch of sweetness and the perfect hint of spice, try using garlic chili sauce instead.
Chicken: If you don't have shrimp, try chicken breast or chicken thighs. Diced them up and seasoned them with salt, pepper, and garlic powder.
Veggie lovers: Add Chinese broccoli or broccoli florets for general tso broccoli or try cauliflower, brussels sprouts, or bell peppers.
Serving suggestions
This dish is perfection on its own, or you can make it a meal with these easy meal ideas.
Try general shrimp with Chinese garlic green beans, or pair it with my bok choy stir fry recipe for an instant hit.
Want an idea perfect for the whole family? Start with a bok choy soup, and for the main course, serve your homemade general tso shrimp over a bed of rice (shirataki fried rice is a tasty choice).
How to store and reheat
My general tso recipe is next level, it's unlikely you'll have leftovers, but if you do, I have a few suggestions below to keep them super fresh and tasty.
Store leftovers in an airtight container in the refrigerator and eat within 2 days.
Reheat in the microwave on high power for about 1 minute.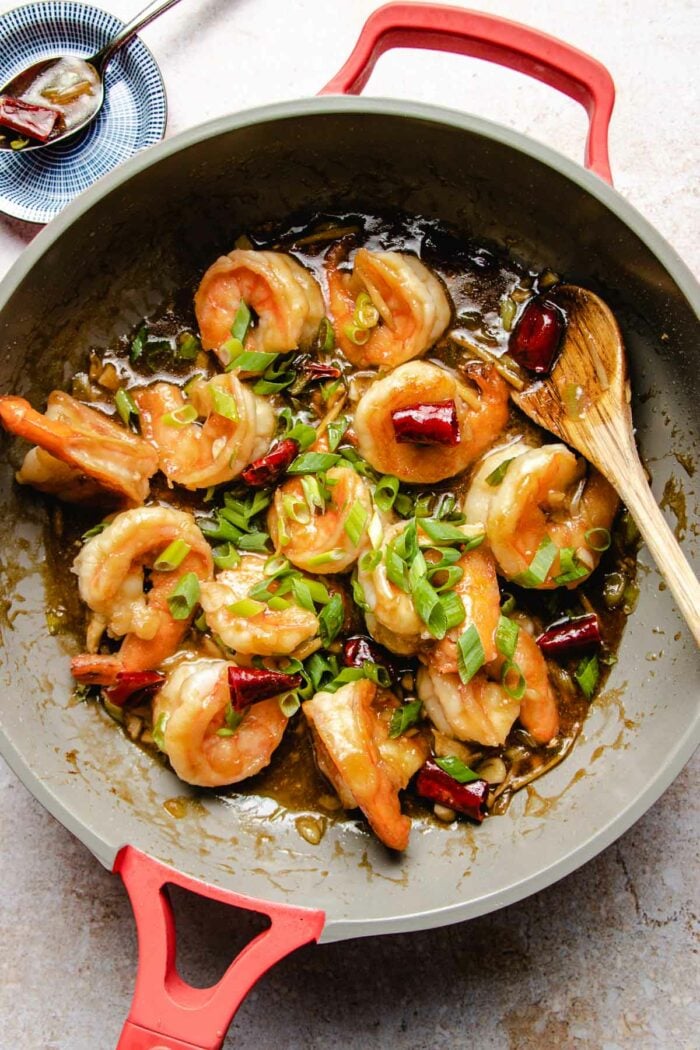 Common FAQs
What does general tso's shrimp taste like?
This fan favorite takeout has a savory, umami flavor with a pop of fresh ginger, garlic, and some subtle spice.
Difference between general tso and kung pao shrimp?
Both are similar, but the significant difference is general tso is sweeter and spicier, whereas kung pao is more hot and spicy with peanuts.
Can I use frozen shrimp?
Yes. You will need to defrost frozen shrimp first. The larger white and blue shrimp are tastier options than the pink shrimp.
More homemade takeout recipes
If you love the idea of making takeout at home but need some inspiration, I have a few ideas for you to try:
And for all of you shrimp lovers, you must try my shrimp, egg, and tomato stir-fry or Vietnamese garlic shrimp; I promise you will be addicted!
Umami Tips
Butterfly shrimp: Ensures even cooking and an amazingly tender texture and taste.
No wok needed: You can use any large pan or skillet you have on hand.
Cook the sauce and shrimp separately: This keeps the shrimp from becoming overcooked and chewy.
Done in a flash: It won't take long for this dish to be ready, so my pro tip is to prep everything in advance.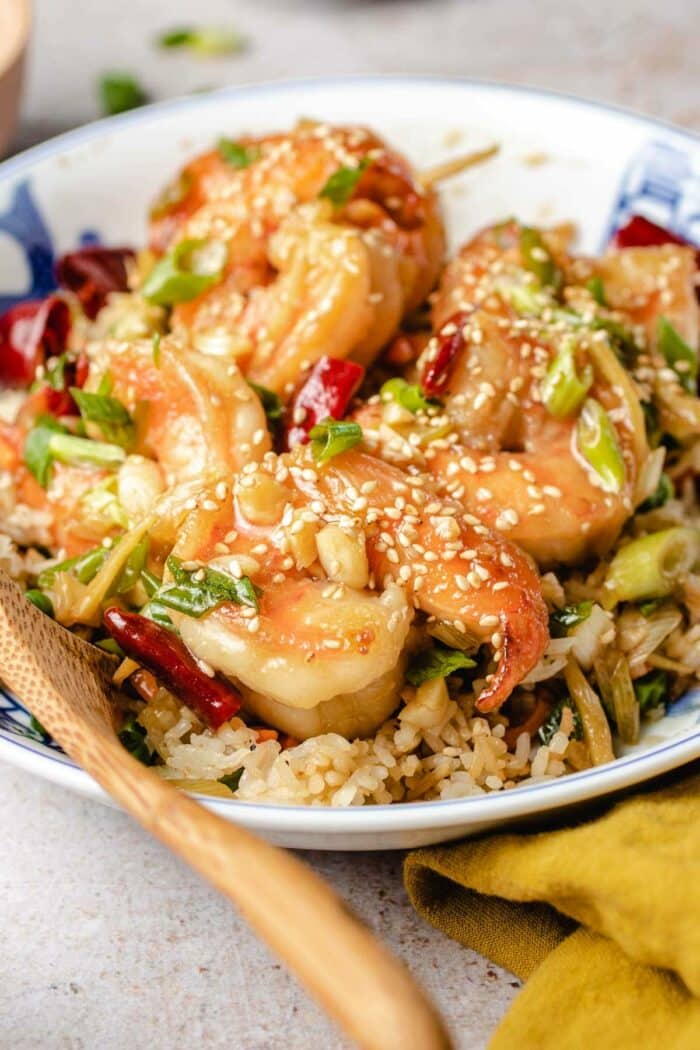 General Tso Shrimp Recipe
General Tso Shrimp recipe smothered in sticky general tso sauce is made in one pan and ready in 10 mins.! This dish tastes savory, a little spicy, sweet, and delicious!
Print
Pin
Rate
Ingredients
1 lb large shrimp, peeled and deveined
1 tbsp tapioca starch
0.6 oz garlic clove, finely minced, 4 medium cloves
0.3 oz ginger, julienned
3 bulb scallions, diced and separate white and green parts
4-5 whole pieces Chinese dried chilies, cut into 1-inch (3cm) sections with seeds removed
3 tbsp avocado oil, divided
2 pinches coarse sea salt
Sprinkle toasted white sesame seeds, optional
Instructions
Butterfly the shrimp by making a shallow slit cut at the back of the shrimp. In a bowl, toss the shrimp with starch.

Prepare and set the garlic, ginger, white scallion parts, and dried chilies on a plate. Set aside ready to use.

In a bowl, mix well the general Tso sauce.

Preheat a large non-stick or ceramic pan over medium heat until it feels hot but not smoking hot. Add 2 tbsp oil and the shrimp to the skillet in a single layer. Turn the heat up to medium-high and pan-sear the shrimp for about 3 minutes per side or as soon as you see they have a light golden color crust. Scoop them out and set them aside.

Your pan shouldn't be watery after searing the shrimp. If that's not the case, clean the pan before moving on to the next step.

While the pan is still hot, add 1 tbsp oil. Add the ginger, garlic, white scallion parts, and dried chilies. Season with 2 pinches of salt and saute over medium heat for 10-15 seconds.

Stir the sauce again before adding it to the pan. Turn the heat up to medium-high and stir the sauce for 10 seconds then return the shrimp to the pan.

Keep stirring and tossing to coat the sauce over the shrimp for another 10 seconds. The sauce should turn thicker and bubble. If not turn the heat up for a bit longer.

Off heat. Transfer the shrimp onto a serving plate, garnish with green scallion parts, and sesame seeds, if using. Serve hot.
Notes
How to use Chinese dried red chilis: when used cut – Use kitchen shears to cut your chilis into 1" long pieces and shake out the seeds (this will keep the heat from being overpowering).
Butterfly shrimp: Ensures even cooking and an amazingly tender texture and taste.
No wok needed: You can use any large pan or skillet you have on hand.
Nutrition
Serving: 1serving, Calories: 214kcal, Carbohydrates: 10g, Protein: 16g, Fat: 12g, Saturated Fat: 1g, Polyunsaturated Fat: 2g, Monounsaturated Fat: 8g, Trans Fat: 1g, Cholesterol: 143mg, Sodium: 983mg, Potassium: 197mg, Fiber: 1g, Sugar: 2g, Vitamin A: 477IU, Vitamin C: 2mg, Calcium: 72mg, Iron: 1mg
Made a dish and love it? Please remember to rate the recipe and leave a comment in the comment section below! It helps my blog grow organically so I can continue sharing free and awesome content with you. Thank you!